Shopping Cart Recovery: What To Do With Abandoned Carts?

9

min read
Reading Time:
6
minutes
People visit your website, browse through multiple products, add items to their shopping cart but despite all your efforts, end up exiting the website. This could be due to various reasons ranging from technical issues in the website to an external factor such as a new Netflix film that has grabbed their attention.
In the eCommerce world, this is known as shopping cart abandonment. Products that are added to the shopping cart but are not purchased are considered to be "abandoned" by the shopper.
While there are proven techniques to reduce shopping cart abandonment on your website, it is impossible to completely reduce it to zero.
There will always be extenuating circumstances that drive a consumer to abandon a sale, whether it is an offline distraction or a text from a friend.'
This makes it imperative for retailers to keep some checks in place to recover these abandoned carts.
What is shopping cart recovery?
Shopping cart recovery is the process by which eCommerce retailers reach out to customers who abandoned their cart, convince them to revisit the cart and then go on to complete the purchase.
It serves as a big opportunity for eCommerce retailers to recover otherwise lost revenue.
Why should eCommerce retailers recover abandoned carts?
Despite more awareness about the fallouts of cart abandonment and strategies adopted to counter it, a ReadyCloud study in 2018 suggests that 75.52% of carts are abandoned every year.
Though cart abandonment leads to a significant loss of sales, it is seen that most eCommerce retailers fail to put in place an effective marketing strategy to win back abandoned users. Simply believing that retargeting through Facebook and displaying retargeting ads will not do the trick.
Thus arises the need for a structured cart recovery strategy to effectively recover lost business.
Another compelling reason to have a concrete shopping cart recovery strategy is that the cost of recovering an abandoned cart is generally much lesser than the cost of acquiring a new customer mainly because the customer is already in the loop, the retailer knows exactly what the customer is looking for and can offer personalized deals.
Recent studies show that around 75% of people who abandon their shopping carts usually plan to come back to complete the purchase. So if you don't have cart recovery strategies in place, you will end up leaving money on the table!
How to recover abandoned shopping carts?
When it comes to cart recovery, there are three basic approaches depending on the amount of customer information you have. Though behavioral triggers and Adword remarketing are commonly used to recover abandoned carts, cart recovery emails have proved to be the most effective and time-tested method.
Believe it or not, nearly half of all abandoned cart emails are opened and over a third of clicks lead to purchases back on the website!
Cart recovery emails have proven to produce an incredibly high ROI in addition to being very simple to write and send.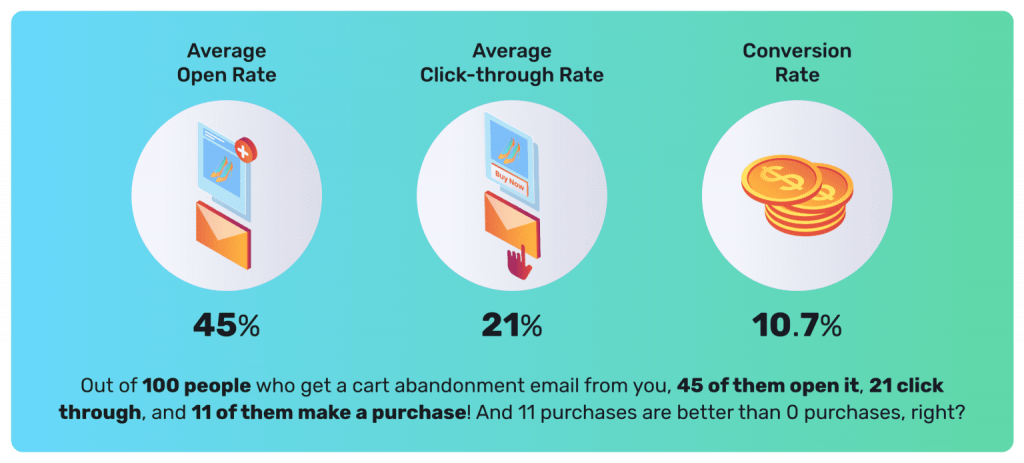 Source: Bolt's checkout
How to write the best Abandoned Cart Email?
Here is a complete cart recovery email checklist.
Include pictures of the products in the cart to visually entice the customer

Provide social proof in the form of ratings/reviews of the products by other shoppers to convince the customer

A clear return/exchange policy goes a long way in gaining the customer's confidence

Provide the complete price of the product including shipping charges as a lack of transparency in pricing annoys the customer

A clear call-to-action button that links to the cart is crucial as it simplifies the process and increases the chance of purchase
But shoppers get emails from multiple websites every single day. How can retailers make their emails stand out?
An AI-powered shopping cart abandonment tool that recommends visually similar products and styling suggestions personalized by understanding each shopper's visual style can power compelling cart abandonment emails that make cart recovery a habit. These emails add value to shoppers and one open can lead to shoppers opening every subsequent email as the content is completely personalized. This not only recovers the cart but also tells the shopper that the retailer understands them.
5 golden rules for writing a successful shopping cart recovery email
1. Including a catchy yet concise subject line
An office worker receives around 121 emails a day on average. The average open rate is 16%. This means, only around 20 emails are opened daily.
So what decides whether he opens your email or not?
Chances are that if he likes the subject line, he will open it. In fact, 35% of email recipients open an email based on just the subject line.
A good subject line must not only grab the reader's attention but should immediately remind him of the abandoned products.
The goal is to kindle the user's curiosity and make him open the mail which is the first win for a shopping cart abandonment email.
Here are a few examples of interesting subject lines to draw inspiration from:
Last chance. Only 3 pieces remaining
Warning: Unattended items in your bag may be eaten by gnomes
Eyeing something? Enjoy free delivery today

Source: Barilliance
2. Showing the product (and other visually similar products)
There is no better way to remind the customer about the product and entice him than using attractive images of the products he abandoned.
By putting the image right in the middle of the email, chances are that the customer will be tempted to go back and make the purchase.
Here is an example of a company making use of an attractive image to grab the user's attention: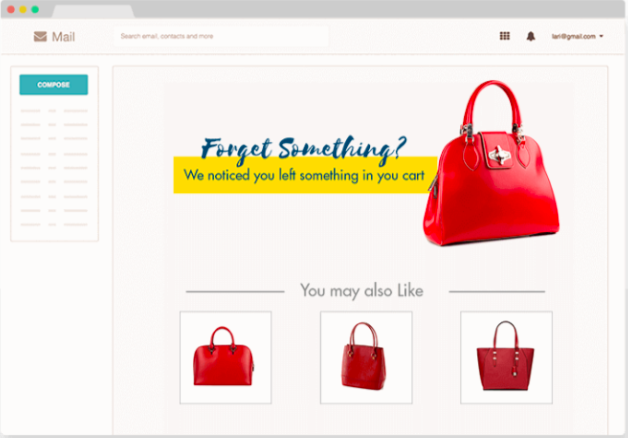 Source: Vue.ai
The strategic placement of images can be used to solve another problem as well. While some shoppers may not have liked that particular item, they may have liked the style. A "You may also like" section can go a long way in such a situation. This gives the shopper visually similar choices to the products in the cart, allowing them to pick another piece similar to what they had browsed but abandoned.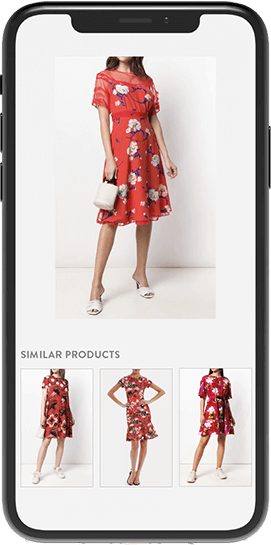 3. Using a friendly tone while writing copy
Customers will respond better if you sound like a caring friend, instead of a profit-oriented corporate brand.
The best way to do this is by making use of a friendly and informal tone while writing copy. However, the end goal is still the same; to let the customer know that he has left something in the shopping cart and he must come back to complete the purchase.
Personalizing the copy wherever possible helps in connecting with the customer and hastens the process of reclamation.
4. Personalized styling options tailor-made for the user
Sometimes, a shopper may abandon his cart because he won't know what to pair with an outfit. In such cases, personalized styling options and showcasing an array of accessories based on the shopper's style profile can prove to be the catalyst that makes the shopper revisit the abandoned cart.
It is no coincidence that 80% of shoppers prefer to buy from retailers that offer personalized experiences.
A cart recovery email that includes various personalized styling options can not only help recover the cart but also help in generating more revenue by upselling.
5. Giving small discounts on abandoned products, and getting the timing right
It is important how and when you use discounts/coupons.
Offer them too quickly and users will think your original price was way too much. Offer them too late and some users will be gone forever by then.
Rather than having large discounts on a variety of products on the website, providing a small, personalized discount will go a long way in converting shoppers as customers like the personalized care a retailer shows them.
Another way to do this is by sticking to the original price but adding value for the customer through other methods such as free shipping or loyalty program incentives.
Since the products have already been added to the cart, shoppers don't have to be convinced about the value of the product. They just need a small nudge and a well-timed discount can provide just that.
One can learn a lot from Anese when it comes to offering the right discount at the right time.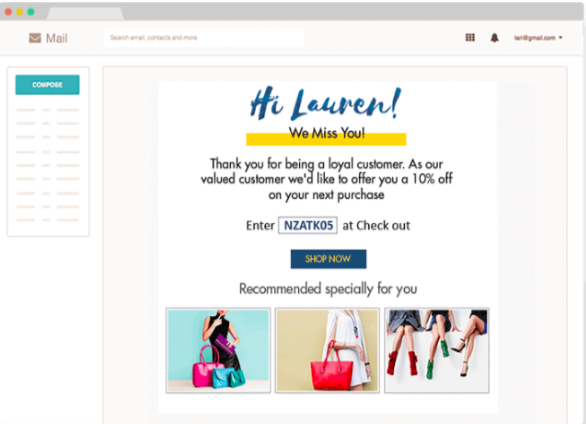 Conclusion
Shopping cart abandonment is a major problem faced by eCommerce retailers for quite some time. Well executed cart recovery strategies will allow you to bring back customers who abandon their cart and convert them into loyal customers.
The best part about cart recovery is that there is good money in recovering abandoned carts! And remember, the cost of recovering an abandoned cart is considerably lower than the customer acquisition cost.
To read more about the ins and outs of shopping cart abandonment, check out our ultimate guide about Shopping Cart Abandonment.