Shopping Cart Abandonment in Ecommerce – The Ultimate Guide

17

min read
Reading Time:
12
minutes
What is Shopping Cart Abandonment?
Shopping Cart Abandonment is when a high-intent shopper visits an eCommerce website, adds at least one or more products to the shopping cart, and proceeds to exit the website without completing the purchase. Products that are added to the shopping cart but are not purchased are considered to be "abandoned" by the shopper.
Shopping cart abandonment has absolutely nothing to do with the visibility of the website or the offers run in the advertisements. So this cart abandonment problem cannot be solved by giving away more freebies. This requires a careful analysis of why exactly users are bouncing away from the website despite clearly liking the products.
88% of Web buyers say that they have abandoned an online shopping cart without completing a transaction.
– Forrester
How to Calculate the Shopping Cart Abandonment Rate?
Ecommerce cart abandonment rate can be calculated and monitored by ecommerce retailers to understand specific reasons for increase/decrease in revenue. This helps in understanding the percentage of purchase intent showcased by the visitors of the site, who don't buy even after having items in the cart.
Shopping cart abandonment rate = [ 1- (total no. of completed purchases/number of carts created) ] x 100%
Cart Abandonment Rate is calculated by dividing the total number of completed purchases by the number of shopping carts created. Subtract the result from one and then multiply by 100 for the abandonment rate.
Why is Shopping Cart Abandonment a problem for retailers?
With the whole retail apocalypse theory falling flat and the "resurrection" of brick and mortar retail, it's finally understood and widely accepted that it's no longer a fight between retail and eCommerce.
Instead, it is all about customer experience at each and every touchpoint, be it online or offline, eCommerce is no longer the juggernaut that retail has to fear.
Instead, while we have seen legacy retailers who ruled the market slip and fall like Sears, Toys R Us after failing to adapt to changing expectations, we have also seen several eCommerce companies fold.

Physical stores and eCommerce websites have their own pros and cons. For instance, eCommerce offers people the convenience of sitting at home and shopping without having to move at all.
However, retail offers a physical experience that eCommerce websites can never replicate. Sephora Studio, Nike's experience store, Lululemon's Mindfulosophy are examples of very successful shopping experiences that have won over famously-fickle millennial shoppers.

When you actually talk to consumers, they still want to shop by touching and trying on. They still want to connect, to step into space, and feel something.
– Forbes

Ecommerce websites, however, have one unique problem that retailers typically never face. This is called shopping cart abandonment.
How Shopping Cart Abandonment impact E-commerce?
Retailers were reported to have lost a whopping $4.6 trillion to abandoned merchandise in ecommerce shopping carts according to Business Insider. Abandoned carts have a huge impact on the turnover of the company. These are shoppers who were interested in the product and yet abandoned their cart due to certain reasons; most of which are avoidable with the right strategies.

Reasons for Shopping Cart Abandonment in E-commerce
To understand why shoppers abandon their carts, we need to deep-dive into what these shoppers do on the website.
Retailers need to differentiate between shoppers who come in with an intent to buy and those who are there to window shop only.
High-intent shoppers usually know what they are looking for, if not at the product level, at least at the category level. They typically add products to wishlists and shopping carts to shortlist them.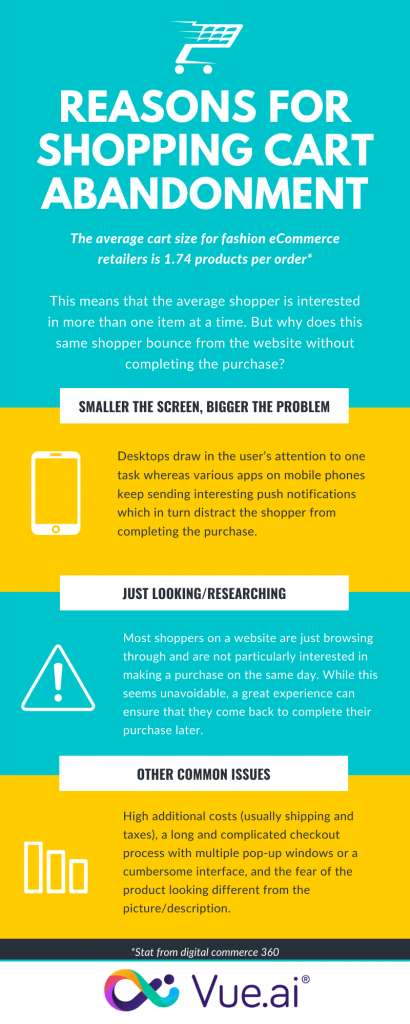 Shoppers who add products to the cart can be broadly categorized into those who complete the checkout and those who don't. When we look at the cart itself, we see the following.

The average cart size for fashion eCommerce retailers is 1.74 products per order.
-Digital Commerce 360

This means that the average shopper is interested in more than one item at a time. But why does this same shopper bounce from the website without completing the purchase? To answer this question, it is important to understand shoppers and the reasons why they abandon their carts.

The device shoppers use may lead to cart abandonment as shown below.
The smaller the screen, the bigger the problem.
Desktop… 73.1% average shopping cart abandonment rate.
Tablet… 80.7% average shopping cart abandonment rate.
Mobile…85.6% average shopping cart abandonment rate.
Part of the problem is rooted in technology. There could be little or no optimization for mobile.
-Forbes

This is also due to the inherent nature of the device. Desktops draw in the user's attention to one task whereas various apps on mobile phones keep sending interesting push notifications which in turn distract the shopper from completing the purchase.
Mobile phones are also most commonly used to browse for items while on-the-move or in-between other tasks. This means, the shopper had no intent to purchase in the first place and this might make it difficult to convert the shopper.
Here are some other reasons for shoppers abandoning their carts

– SalesCycle
This shows that most of the shoppers who abandon their carts on a website are just browsing through and are not particularly interested in purchasing on the same day.
This seems to be the biggest reason for cart abandonment. While this seems unavoidable, a great experience can ensure that they come back to complete their purchase later.

Apart from technology limitations, many other reasons contribute to a shopper not completing their purchase. A few other common reasons for cart abandonment are high hidden costs which aren't mentioned upfront(usually shipping and taxes), a long and complicated checkout flow with multiple pop-up windows or a cumbersome interface, and the fear of the product looking different from the picture/description.
9 Proven Ways to Avoid Digital Cart Abandonment in E-commerce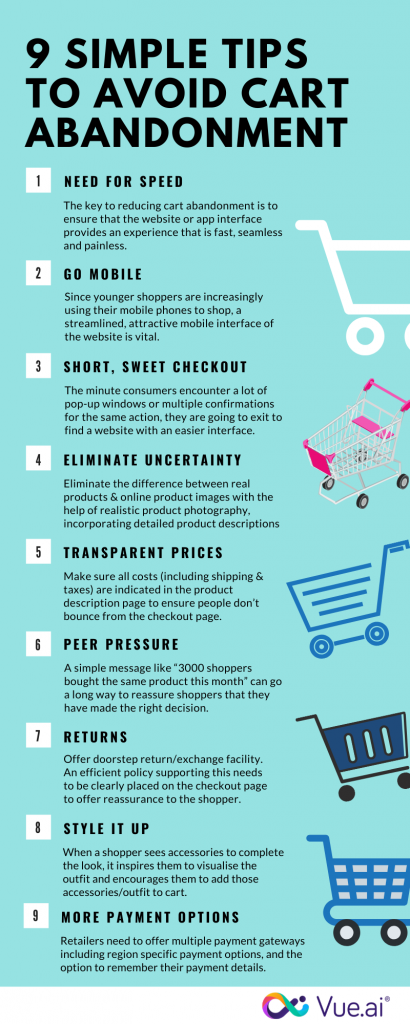 1. Need for speed!
24% of customers cite "Website Crashed" and 15% cite "Website Timed Out" as reasons that they didn't complete a purchase.
– Shopify
In this fast-paced era with an element of impatience, where people exit a website if it takes more than a few seconds to load, the key to reducing shopping cart abandonment is to ensure that the website or app interface provides an experience as seamless and painless as possible.
This means, using techniques like lazy loading to keep load times as low as possible. Keep testing the speed of the website after each update. This is especially important because shoppers remember the sites that give them a bad experience very well.

2. Go Mobile
Approximately 4 billion people own a mobile phone. Of that number, 25 per cent of them use it as their sole method of accessing the Internet.
-Retail Dive

Since younger shoppers are increasingly using their mobile phones to shop, a streamlined, attractive mobile interface of the website is vital to getting more online sales traction. If the interface is haphazard and not user-friendly, then this, combined with the usual distractions (calls, messages, social media..etc) will lead to increased cart abandonment rate.

Mobile-friendly websites were great but it is time to upgrade to a mobile-optimized or a responsive website. In fact, the best way to capture the millennial market would be to have a native mobile app developed for both Android and iOS as no website compares to a native app in terms of ease of use and navigation.
This has been proven time and again by some of the world's biggest retailers like Amazon, eBay, Groupon, H&M, etc.
3. Keep the checkout short and sweet
More than a third (35%) are turned off of a brand by just one bad experience, so getting the user experience right is of paramount importance.
– Biz Report
With an abundance of eCommerce websites providing shoppers with more choices than ever before, shoppers tend to lean towards the ones with easier checkout flows.
The minute they encounter a lot of pop-up windows or multiple confirmations for the same action, they are going to exit to find a website with an easier interface. Same way, if they find a website with an enhanced UX, that brand is going to earn their loyalty.
87% of online shoppers said they would abandon their shopping carts during checkout if the process was too difficult. And on top of that, 55% admitted they would abandon their carts and never return to the retailer's site.
– Retail Dive
Shoppers don't like filling up registration forms, verifying email IDs and phone numbers, and entering their billing and payment details but this is necessary for every eCommerce website.
A simpler way to do this would be to allow shoppers to register with their social media accounts. Simple steps like this can go a long way in avoiding shopping cart abandonment

The cart page must appear uncluttered and present a clear picture of the chosen products. Prominent details on the page must include a breakdown of the price in terms of cost, shipping, and taxes, information on the return/exchange policy, and delivery.

A well-designed checkout process and – crucially – one which works well on mobile as well as desktop is vital.
– SalesCycle
Traditional eCommerce websites can take a leaf out of Amazon's handbook by facilitating a one-click order process. The social media app, Instagram recently launched a new feature that allows potential shoppers to click on a picture with the outfit they like and purchase it directly through the app without visiting the actual website. This says a lot about how much modern shoppers value a quick, efficient shopping experience.
4. Eliminate uncertainty:
One of the major complaints of online shopping is the difference between the real product and its online description or product images. This can be reduced by realistic product photography, incorporating more detailed, catchy product descriptions, and by including videos of the product that show a more realistic image of the product and its attributes.
The importance of keeping all descriptions honest and as real as possible cannot be stressed enough. Heavily-edited photos are a big no in an age where shoppers value credibility over everything else.

In the eyes of the digital consumer, a product is only as good as the information associated with it. 
– RetailDIVE
Fashion websites need to stop using flat lay images and ghost mannequins. On-model fashion imagery can improve conversion rates considerably. And it is not enough to have a model of just one body type and skin colour.
Shoppers today want to know how the dress will look on their skin tone and body type. But photoshoots with multiple models are bound to cost a lot of money. This is where AI can help. An on-model fashion imagery generator can save costs, increase the number of conversions and save a lot of time.
5. Keep all prices transparent
63% of abandoned carts are due to unexpected costs such as shipping at checkout.
-Statista
Most websites show one cost in advertisements or even on the PDP (Product Description Page) and then increase costs in the cart. This makes shoppers wary of the sudden increase in price. The easiest way to avoid shopping cart abandonment is to make sure all costs (including shipping and taxes) are clearly indicated in the product description page.
This ensures that people don't bounce from the checkout page seeing a jump in the total cost. One thing websites can do is to build the tax in within the product cost, and mention the cut-off rate for free shipping and delivery (if it exists) at the home page or the product pages. This will ensure transparency and credibility.
The good news is that 58% of shoppers say they'd add items to their cart to qualify for free delivery
-Retail Dive
6. Peer Pressure
The best person to convince a shopper is another shopper. A simple message like "3000 shoppers bought the same product this month" can go a long way to reassure shoppers that they have made the right decision. When shoppers feel that they've got the best deal for their price, they are positively inclined to go through with the purchase.
A website can also assure them of this by including information about savings, shopper ratings, and reviews for each product page which is a great way to foster trust.

Social proof is another way to improve credibility and boost checkout rates, There are several tools that allow companies to display social media posts on the website. This shows shoppers what other people think of the website and the product, providing social proof to nudge the shopper to checkout.
7. Returns
One of the greatest advantages of eCommerce is their ability to offer doorstep return/exchange facility. An efficient policy supporting this needs to be clearly placed on the checkout page to offer reassurance to the shopper. Free returns allow shoppers to buy items without any worry and doubt.

– SalesCycle
8. Style it up!
Another effective element to include in the shopping cart abandonment page is styling recommendations based on the products in the cart. When a shopper sees accessories to complete the look, it inspires her to visualize the outfit and encourages her to add those accessories to her cart or at the very least, purchase the clothes to be styled with similar accessories she already owns. This increases the size of the cart and provides a great experience
9. Multiple Payment Options:
With the abundance of payment options available, retailers need to offer multiple payment gateways including region-specific payment options, and the option to remember their payment details. New payment partners may also offer special deals and cashback schemes enticing the shoppers to complete their purchase.

Cart Recovery: What to do with abandoned carts?
While the strategies mentioned above would certainly reduce shopping cart abandonment rates, it is impossible to make it zero. This makes it imperative for retailers to keep some checks in place to recover these abandoned carts.
NO MATTER what you do, the shopping cart abandonment rate will never be zero.
There will always be extenuating circumstances that drive a consumer to abandon a sale, whether it is an offline distraction or a text from a friend.'
– Retail Dive
Cart recovery is surprisingly easy and can save a lot of money for eCommerce websites. The cost of recovering a cart is typically much less than the cost of acquiring a new shopper. This is also because the company knows exactly what the shopper is looking for and can offer personalized deals.
Companies have to make major improvements in how they engage with their customers by developing more relevant, personalized engagement, within a single channel or across channels, based on a customer's behavioral cues. Those signals can be basic, such as "cart abandoned" or "browsed but didn't buy," or more nuanced, such as activity by segment and time of day, gleaned from mining customer data. In effect, these signals become triggers that invoke an action. A decisioning engine develops a set of triggers and outcomes based on signals and actions the company takes in response.
– McKinsey
Using cookie-based retargeting can easily bring back shoppers. This retains the contents of their carts for a longer period of time. Combined with personalized advertisement, this is bound to bring the shopper back to complete their purchase.
"Retargeting generates greater online sales by keeping your brand front and center and bringing "window shoppers" back when they're ready to buy."
-AdRoll
But what is a tried and tested way to recover abandoned carts?

The easiest way to lead shoppers back to the website is by sending them an app notification or an email reminding them that they've left their cart without completing the purchase.

62% of retailers send cart-abandonment emails
– Digital Commerce

Cart abandonment emails are simple and the ROI is incredibly high.
How to write a perfect Abandoned Cart Email?
Here are the 5 basic rules for a successful cart recovery email

1) Picture of the products in the cart
2) Ratings/Reviews of the products by other shoppers
3) Return/exchange policy information
4) Complete price of the product including shipping charges
5) A clear call-to-action button that links to the cart
But shoppers get emails from multiple websites every single day. How can retailers make their emails stand out?
An AI-powered shopping cart abandonment tool that recommends visually similar products and styling suggestions personalized by understanding each shopper's visual style can power compelling cart abandonment emails that make cart recovery a habit. These emails add value to shoppers and one open can lead to shoppers opening every subsequent email as the content is completely personalized. This not only recovers the cart but also tells the shopper that the retailer understands them.
1. Keep the subject line interesting and fresh

An office worker receives around 121 emails a day on average. The average open rate is 16%. This means, only around 20 emails are opened daily. This makes it all the more important for the subject line of an abandonment mail to be interesting and fresh. This makes the user get curious and open the mail which is the first win for a shopping cart abandonment email.
2. Show visually similar products in the email

Once a shopper opens the email, they need to be enticed to go back and complete the purchase. While the shopper may have liked that particular item which is in the cart, they may have liked the style. A "You may also like" section can go a long way in this case. This gives the shopper different choices which are visually similar to the product in the cart, allowing them to pick another piece similar to what they had browsed.
3. Inspire your shoppers with different ways to style the outfit

There are times when a shopper won't know what to pair with an outfit and will end up abandoning the cart because of this. Personalizing styling options based on the shopper's style profile can prove to be the catalyst that converts the shopper. The same top can be styled in several different ways as shown below. An email with different styling options can not only help recover the cart but also increase the size of the cart.
4. Give small discounts on the products in the cart

Instead of having large discounts on various products on the website, having a small, personalized discount will go a long way in converting shoppers. As the items are already in the cart, shoppers don't have to be convinced about the value of the product. They just need a small nudge and even a small discount can provide just that.
Conclusion
Ecommerce shopping cart abandonment is a problem that has been plaguing eCommerce retailers from the outset. A combination of strategies that work best for your business will allow you to attain the two-fold goal of preventing mass cart abandonment and converting shoppers who abandon carts into loyal customers. One thing is for sure, there is good money in recovering abandoned carts!
---
---