The Ultimate Guide to Product Tagging for eCommerce in 2023

11

min read
Reading Time:
8
minutes
Product tagging is the need of the hour – whether you are a multi-million dollar retailer or a new start-up.
Potential market slowdowns and global recession fears in the retail industry are prompting retailers to focus on cost-saving and sustainable options for growth.
One such option to optimize and drive growth is to focus on how retailers track and market products with product tags.
Product tags describe product attributes in retail stores, online and offline. It drives traffic and conversions on websites.
This guide will explore everything you need to know about product tagging. By the end, you'll have all the knowledge you need to start tagging your products for the most impact.
What is product tagging?
Product tagging is the process of attaching metadata to your products in the form of tags or labels. This includes creating, assigning, and managing labels (or "tags") for each product to describe, categorize, and structure its position within a retailer's inventory.
It is used to segment different product features to enable many identification methods. This can be through a standard feature or a specific niche product search.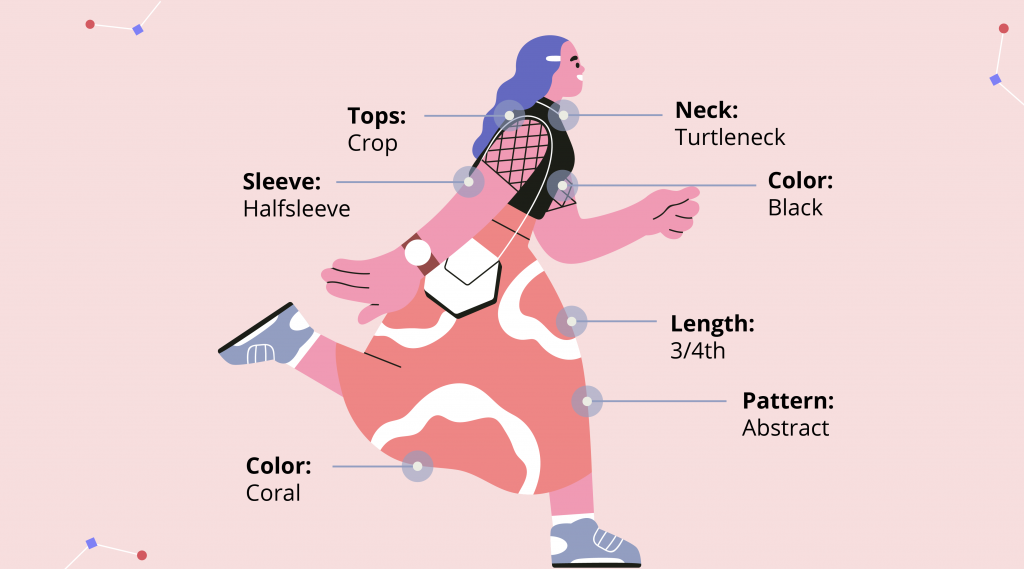 Product tagging also helps curate categories for product search. Including all this information in the catalog allows retailers to manage products. It also enables them to display products, even with a large inventory.
What is the purpose of product tagging in eCommerce?
After the pandemic, more consumers are shopping online.
According to Invesp, the average conversion rate in all segments of all eCommerce markets increased by 19.63%. Conversion rates are up from 1.61% to 1.92% in July 2022 compared to July 2021.
The research proves that eCommerce is growing as the preferred channel for purchase.
Brands and retailers must now create convenient and accessible shopping journeys. Especially ones that fulfill shoppers' wants and needs.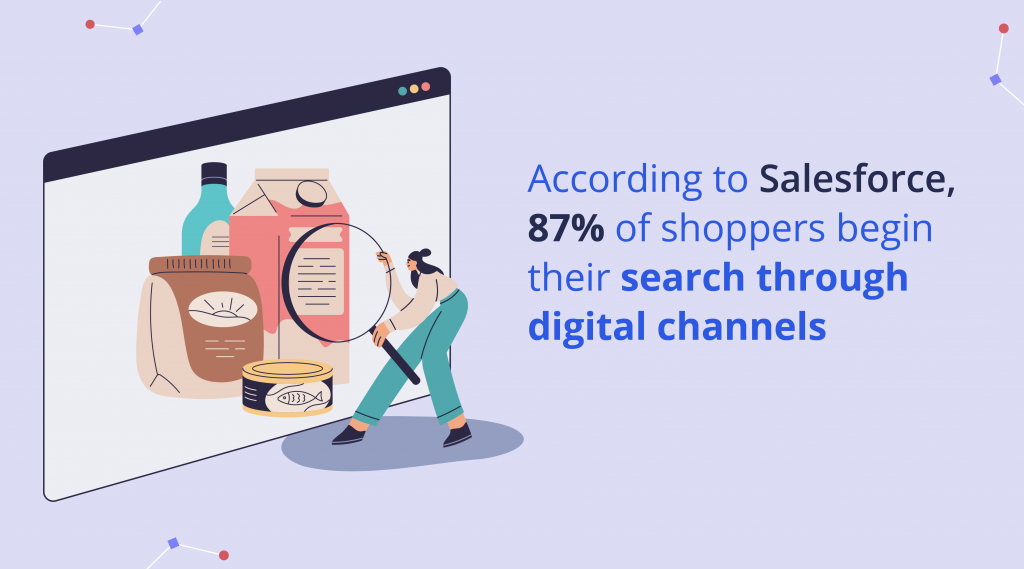 Shoppers are increasingly using online channels to discover products.
And for retailers, getting customers to the website is only one step in the process. Curating the customer experience journey is a more elaborate challenge.
The website should be a space for them to discover, explore and make a purchase.
Imagine a kitchen cabinet organized with many ingredients, each with its label. What product tagging does is it optimizes how one can choose among these ingredients.
The label may contain the type of ingredient (pulse, sauce, vegetables, seasoning, etc.), the kinds of dishes the one could use it in, the food type (carbohydrates, protein, fat, etc.), and taste levels (salty, sweet, spicy, sour, etc.).
This level of detailing gives the person many choices. It also encourages experimentation and exploration of the ingredients.
Product tagging in eCommerce is a simple yet effective method. It facilitates shoppers' discovery of a product in multiple ways. Retailers can also create shopper journeys through many search entries curated to their tastes.
Why is product tagging important?
Potential customers can use product tags to find products more efficiently. Shoppers can discover products on search engines, website advertisements, or social media platforms.
Product tags allow retailers to track inventory and sales more effectively.
Additionally, retailers can use product tags to track the performance of their products. Analytics helps distinguish the ones that are selling well and which need improvement. This also helps in cross-selling and upselling products.
When placed suitable, product tagging can be a potent marketing tool. It can help boost a brand's visibility online, better track sales and inventory, and sell products.
What role does product data play?
Product data is the foundation for Product tags.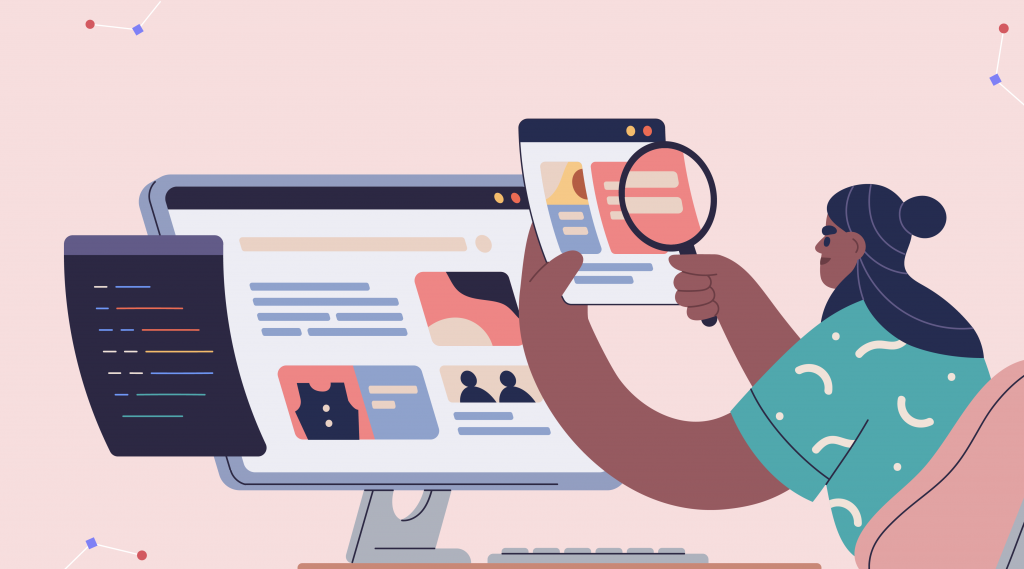 The use of data comes into play in many ways. Retailers can use it in the form of extensive inventory records or to curate personalized customer journeys. A product's metadata includes information about all the items in the list. For example, it can include images, titles, attributes (style, color, cut, etc.), prices, descriptions, availability, etc.
When product data is inaccurate, customer experience suffers. This affects the retailer's inventory management capabilities on the backend.
Catalog management becomes simple when product data is consistent, detailed, and accurate. Retailers can easily organize and structure their products into a hierarchy. Also, create relevant product groupings for your customers and business goals.
Product Tagging and Customer Experience
eCommerce sales surpassed 5.2 trillion U.S. dollars worldwide in 2021. These are set to reach new heights in the coming years.
Now is the opportune moment for retailers. Curating strategic steps toward upgrading customer journeys will be a game changer.
Retail often involves a large inventory. Displaying various products often makes customers sift through multiple website pages. This increases the risk of shoppers getting lost, frustrated, and leaving.
Risking customer dissatisfaction is a critical issue.
A large inventory also means thousands of barcodes and SKUs! Without rich product data, looking for specific products becomes more challenging.
Retailers will tag the product with the information needed to appear in a search engine. This practice guides the customer when they search for a description or brand. Customers should be able to navigate online stores without hassles.
The product tagging experience enables ease of browsing. More straightforward product discovery and exploration can lead to increased sales for retailers.
The first thing a customer will do when looking for products or brands is to search for them online.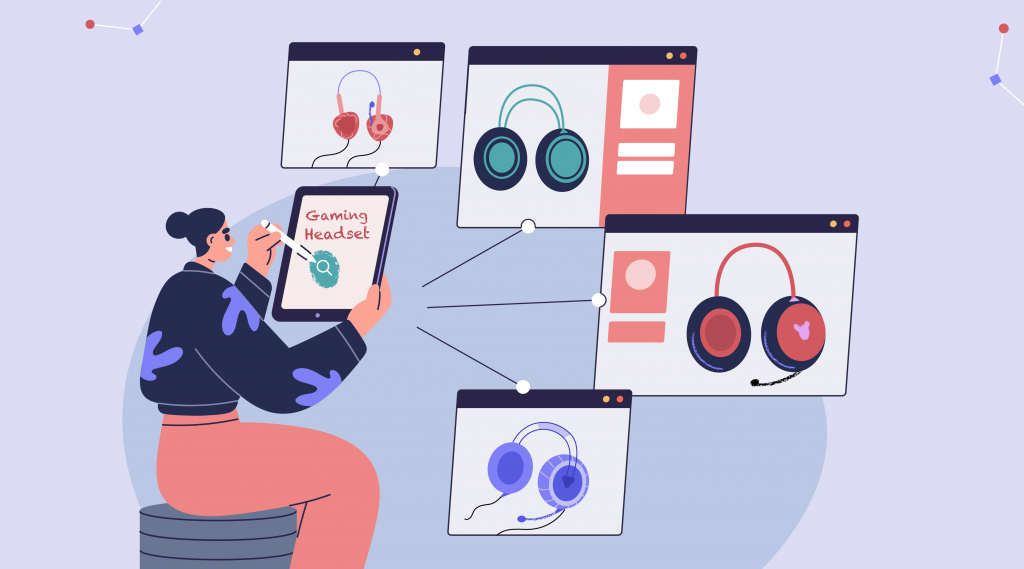 Tags are also used to track customer behavior. Businesses gain marketing insight from understanding how customers interact with tagged products. They can better tailor their marketing efforts and improve the overall customer experience.
What are the common pitfalls of product tagging for eCommerce?
While product tagging has many advantages, it also has noticeable drawbacks. These are some issues brands and retailers frequently encounter:
Time-consuming and challenging to scale
Manual tagging of thousands of products and SKUs requires a lot of coordination and tracking. Retailers can better utilize these human efforts in eCommerce's creative and customer-facing process. Not only that, but with constantly changing inventory, the job never ends.
Expensive
As products accumulate, retailers need to hire additional staff frequently. Otherwise, retailers risk being slow to bring products to market. Manual tagging, subject to staff availability, can impact sales, especially for trendy or seasonal items.
Inconsistent and incomplete
Manual tagging requires synchronizing an increasing number of attributes. These can range from product categories, models, styles, and features from multiple sources.
Executing manual tags on time is a massive, time-consuming task.
Irregular updates
Product tags should be considered an ongoing project, not a one-time effort. As the product line changes and evolves, so should the tags. Regular reviews and updates of these tags are necessary. It ensures they are still accurate and relevant.
When products are inconsistently tagged, retailers miss out on a competitive edge. For example, synonyms or thematic terms are frequently used in searches and potential sales.
Best Practices for eCommerce Product Tagging
Regarding tagging products on your eCommerce site, there are a few best practices to follow. These will ensure accuracy and consistency. Here are a few tips:
1. Use descriptive and keyword-rich tags
2. Keep your tags short and to the point
3. Use different tags for different product variations
4. Organize your tags into categories
5. Update your tags regularly
Using descriptive tags is one of the best practices for eCommerce product tagging. This practice also enhances features for customer experiences. They also help with search results.
For example, each customer may have a specific category or requirement. Detailed product tags can map across various products and pick the most suited.
Tagged products allow shoppers to browse easily and facilitate many options.
By following these practices, retailers can be sure that their product tagging is accurate and consistent. Tags will help improve the products' overall searchability and discoverability.
How do retailers benefit from product tagging with AI?
Faster tagging, Faster Go-to-market
With AI, retailers and marketplaces can enrich and enhance their product data and onboard products faster, adding to overall productivity. This enhanced data also produces high-quality tags generated in a few minutes.
Lower Bounce Rate
Retailers can effectively utilize AI to improve site engagement!
With enriched data, shoppers can find the products they are looking for faster.
Better search – Shoppers get better suggestions for the products they are typing on search. For example, AI reduces bounce rate with next-best recommendations when no products are available.
Improved catalog coverage – Relevant products are visible to the shoppers. For example, a shopper might call a clothing item a sweatshirt, and another might call it winter wear. In this context, data is enriched with AI to account for both these descriptions, thus increasing the overall coverage of a catalog.
Better personalization – Enriched data forms the base for personalization, the foundation for curating shopper journeys. Better personalized journeys enable more engaging shopping and increased conversions.
Improve Product Discovery
Thirty-two percent of online shoppers worldwide cited ease of purchase as a motivator to increase their use of social commerce. Product tags can help customers find the products they are looking for more quickly or provide suitable alternatives.
The difference between a good and a great search is the relevance of the results to the customer. With AI and improved product discovery, the retailer's website becomes a space for shoppers to easily discover, explore and make a purchase!
More Detailed Attributes
Automated product tagging contributes to the overall content workflow. It improves the visual attributes of the products.
Retailers can use AI solutions for faster image recognition and extracting enriched product data attributes. When online stores add various tags, AI makes it easier to distinguish between them based on visual characteristics.
Automated Product Tagging
eCommerce retailers can create detailed tags and product metadata in faster intervals. Automated product tagging saves a lot of the time and cost involved in manual labor. It improves the efficiency of the process and the accuracy of product tagging.
How does automatic product tagging for eCommerce work, and what are its benefits?
Automated product tagging provides many advantages to online retailers. These advantages stem from the richness and consistency of the product tags. The rest of an eCommerce store's systems are ultimately powered by product data.
Automatic tagging is beneficial in the following ways.
Rich tags allow you to gather detailed information about your customers. This information fuels personalized shopping experiences and more relevant recommendations.
Second, rich tags assist you in increasing product discoverability.
Combining these two will make it easier for shoppers to find what they want. While also removing friction from the purchasing experience, resulting in increased sales.
Another benefit of automatic product tagging is that all products are appropriately tagged. Appropriate tags are essential for two reasons.:
First, it helps customers to find the products they are looking for more easily. Second, it helps to improve the store's search engine optimization (SEO). Search engines evaluate the number and quality of product tags when ranking results.

Finally, by automating manual tasks, employees can better use their time. They can focus on high-value jobs rather than data entry.
Conclusion
Retailers can now improve the chances of shoppers having an engaging customer experience with product tagging.
Product tagging is vital for several reasons:
It helps potential customers find your products with ease.
It allows you to track your inventory and sales more effectively.
Product tags can help you promote and sell your products more efficiently.
Using AI-based product tagging, shoppers can search and discover products without friction. Vue.ai's product tagging solution, helps eCommerce retailers create detailed tags and product metadata in a matter of minutes – saving a lot of the time and cost involved in manual labor.
Vue.ai's Product Tagging is a product suite containing product tagging, image moderation, and assortment analysis.
It uses data extraction and data prediction to enhance product data. With AI, it extracts and enriches product data from structured or unstructured visual and textual inputs.
The automated process is instant, learns from feedback, and can learn customized tags. It helps save manual effort, time, and resources.
Overall, AI-powered product tagging can be a valuable tool for eCommerce stores. It can save time, improve accuracy, and ensure that all products are appropriately tagged.