20 Biggest Ecommerce Challenges In 2024 + Simple Solutions

14

min read
Reading Time:
10
minutes
Ecommerce Challenges ! Remember when the Titanic was sinking and the band continued to play? Well, retailers in 2024 are the band!
Ever since the World Health Organization declared covid-19 a global pandemic, there seems to have been a boom in everything ranging from the extra pounds in many people to the number of food channels on YouTube.
However, monthly retail sales volume is one among many things that have constantly been declining. In fact, in the United Kingdom, the Office for National Statistics has reported a 5.1% drop in retail sales due to covid-19 – the highest ever drop since its inception 30 years ago.
With forty-three retailers (including industry leaders such as Art Van Furniture and Lord & Taylor) filing for bankruptcy, 2024 is on track to have the highest number of retail bankruptcies in a decade, according to a report by S&P Global Market Intelligence.
However, if you are an e-commerce retailer, the pandemic can be a double-edged sword for you!
E-Commerce: Silver lining to the 2024 retail sector
While most retail sectors have taken a hit, one of the most intriguing changes taken place in 2024 is the shift to digital. With more people at home, the number of Google searches has multiplied and people have started using e-commerce to buy products they previously would have bought in physical retail stores.
According to Sanjay Gupta, Country Head and VP, Google India, the silver lining to the whole situation is that businesses have squeezed four years of change into four months since the lockdown began, from a business transformation and skills perspective.
In Microsoft's quarterly earnings report to Wall Street, Satya Nadella's statement on digital transformation further fuels the argument that the e-commerce sector will thrive in the 'new normal'.
"We've seen two years' worth of digital transformation in two months. From remote teamwork and learning to sales and customer service, to critical cloud infrastructure and security—we are working alongside customers every day to help them adapt and stay open for business in a world of remote everything."
– Satya Nadella, CEO, Microsoft
By 2040, it is estimated that 95% of purchases will be made online, so now is the right time for retailers to face ecommerce challenges & find solutions for them. With consumers increasingly relying on online shopping, e-commerce is opening doors of opportunity to many entrepreneurs.
Furthermore, those ecommerce sale opportunities are growing at a rapid rate. However, as we all know, there's no rose without a thorn!
Here are 20 ecommon challenges that new e-commerce businesses face.
20 Biggest Ecommerce Challenges in 2024 & Solutions to solve them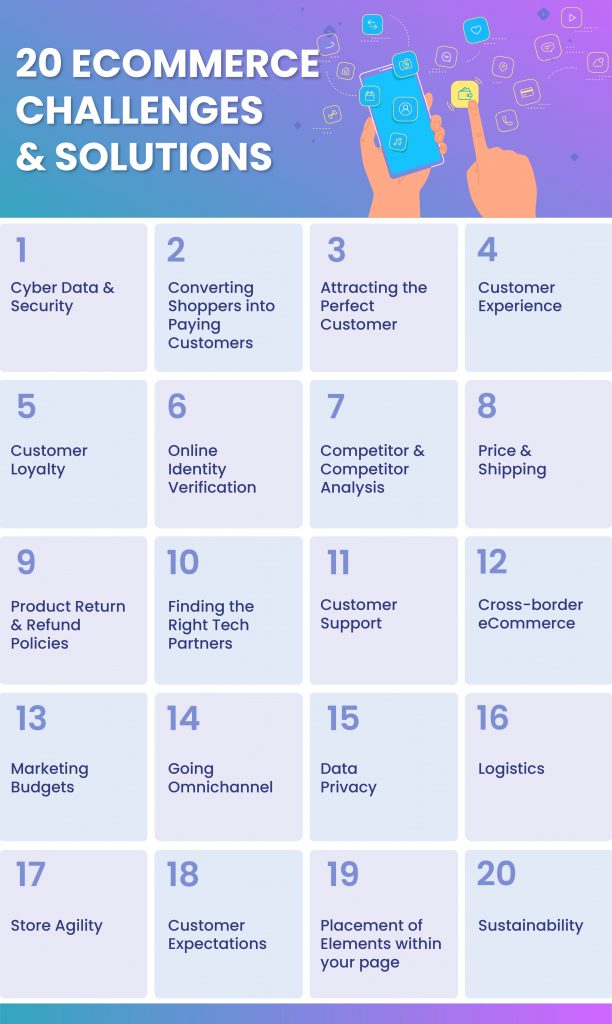 1. Cyber & Data Security
When it comes to eCommerce, one of the biggest challenges faced is security breaches. There is a lot of information/data that is involved while dealing with eCommerce and a technical issue with data can cause severe damage to the retailer's daily operations as well as brand image.
Solution:
Be vigilant and always back up your data. Post that, you can install security plugins onto your website to prevent it from getting hacked. There are several plugins out there, pick one that works best for your eCommerce website.
2. Online Identity Verification
When a shopper visits an eCommerce site, how would the retailer know if the person is who they say they are? Is the shopper entering accurate information? Is the shopper genuinely interested in the eCommerce products?
If you do not have the accurate details or information, how do you proceed? Well, it does become tricky. The solution would be to invest in online identity verification.
Solution:
There are different ways to incorporate online identity verification. Some examples include biometrics, AI, single sign on, one time password, two-factor authentication and so on.
3. Attracting the Perfect Customer
Shoppers have a myriad of options to choose from these days. If they are looking to buy a handbag, they do some thorough research before finalizing on one. If shoppers have several options, how do you make sure they pick you? How do you go about finding that perfect customer that wants your product, at your rate and to the places you can ship?
Solution:
Partner with companies that help you target your customers. Digital marketing is preferred over traditional marketing because they can target your ideal customer. While this might not happen overnight, with A/B testing, finetuning and analysis – your products could be showing up to potential customers on different social media platforms.
4. Customer Experience
Customer experience or user experience is key to a successful eCommerce website. Shoppers expect a similar if not same experience as one they would get in a brick and mortar store. The flow of the website, the segmentation of the website and the retail personalization of products based on the shopper's preferences are imperative.
Solution:
There are several ways to improve the user experience. The most important would be to have a clean and simple website so that shoppers can navigate through easily. The next point would be to have clear CTAs (call to action) so that the shopper knows exactly what to do. Here is a post that shows you 10 ways to improve user experience.
5. Customer Loyalty
Here are two facts that show the importance of customer loyalty:(a) It can cost up to 5 times more to acquire a new customer than retaining an existing one and (b) the success rate of selling to a current customer is 60-70% compared to only 5-20% success rate of selling to a new customer.
The above two facts are testament to how important customer retention or loyalty is. Once a customer makes a purchase or utilizes a service from a retailer, they have to make sure that they keep this customer for life. But how is this possible?
Solution:
These are a few different methods that can be used to retain customers. The first would be to have excellent customer service – a customer is happy to have purchased a great product, but they are ecstatic when the customer service is on point. The next step is to keep in touch with the customer via a method that they like – be it an email, SMS or blog posts – be sure to find out what works best for your customer. The last point would be to let them know about new products, sales promotions and special coupon codes for being such loyal customers.
6. Converting Shoppers into Paying Customers
One of the biggest ecommerce challenges is to convert visitors into paying customers. An eCommerce website might have a lot of traffic, a lot of clicks and impressions but they aren't making the sales they anticipated. What can they do to get more sales?
Solution:
The first and foremost would be to understand why your shoppers aren't converting – are you targeting the right audience? Is your mobile website working seamlessly? Do your online platforms face technical challenges all the time? Does your customer base trust you? Do you personalize your website for your customers? Always think from a shopper's perspective and see if you are doing everything possible to make them paying customers.
7. Competition & Competitor Analysis
Have you heard of a Jam Experiment? Well it has quite a controversial conclusion, which is – the less you offer customers the more likely they are to actually purchase something. A lot of people these days are fatigued by all the options that are out there. A simple search (personalized search) for something like headphones will give you thousands of options – how does one make a choice?
From a retailer's standpoint, how do they stand out from the crowd? How do they bring shoppers to their website, instead of buying a similar product from their competitors?
Solution:
Always do a thorough analysis of your competitors. Find out what products they are selling, how they are generating leads and how they keep in touch with their customers. The next step would be to make sure you stand out – be it the colors you use, the topnotch functionality of your website or amazing user experience. And finally, offer services or products that are unique and relevant to your customer base.
8. Price & Shipping
We have all heard of customers that prefer to purchase products from places that have free shipping. eCommerce giants like Amazon provide such attractive shipping deals that customers seldom want to look at other places. How does one bring down costs for shipping?
Solution:
While all eCommerce sites cannot completely get rid of shipping costs, always look to find options that work for your customer base. Would a subscription reduce the cost of shipping? Would a certain time of the month give them lower shipping costs? Or is there a carrier that is reliable but offers a cheaper rate? Be sure to do your research and find the best possible solution for your shoppers.
9. Product Return & Refund Policies
According to ComScore, more than 60% of online shoppers say that they look at a retailer's return policy before making a purchase. When an eCommerce site says "no returns or refunds" it makes a shopper nervous and less likely to trust the retailer. When shopping online, customers want the flexibility of making a mistake that doesn't cost them.
Solution:
Customer satisfaction is the most important factor for any retailer. Therefore having a flexible return and refund policy not only helps with customer satisfaction with it also helps with customers making purchases without being nervous.
10. Choosing the Right Technology/Partners To Fix Your eCommerce Challenges
Choosing the right technology or partner will make or break your business. A retailer's growth might be stunted because their technology is limiting them or because they have hired the wrong agency to help them manage their projects.
There are a lot of aspects that need to be in place for a successful retail business, but a good technology foundation is crucial.
Solution:
Partner with Vue.ai, a unified Visual AI platform that is redesigning the future of retail commerce to fix all your eCommerce challenges. Using image recognition and data science, Vue helps retailers generate product, and customer intelligence, and combine these with market insights, to power growth.
Nothing has propelled eCommerce like the conditions of 2024. While there have been a lot of exciting and positive changes, there are still online businesses that struggle with the challenges that eCommerce brings. The above mentioned solutions are fixes that can help any eCommerce business move closer to their ideal customers and targeted sales.
11. Customer Support
With the scale of eCommerce increasing rapidly and with the rising number of users facing everyday issues with eCommerce services, Customer support has been augmented with chatbots which enable faster processing and response to tickets. However, many customers find themselves feeling uncomfortable or dissatisfied with automated responses from chatbots.
Solution:
The solution to this eCommerce challenges is fairly simple – eCommerce companies should utilize a combination of technology and human assistance to deal with customer support by tagging specific issues that require human assistance and distinguishing the queries that can be handled by a chatbot.
12. Cross-border eCommerce
A lot of eCommerce sites tend to stagnate due to the lack of interaction with customers outside their geographical and linguistic range. Users that do not speak the primary language used on the site tend to look for other retailers that can offer them a better user experience. Moreover, the differences in pricing, tax rates, etc., deter users from purchasing across borders.
Solution:
Implementing a multi-lingual site that is translated for customers that do not speak the primary language of your site can make a huge difference in attracting customers and also improving your conversion rates. Using technology to enable an easy conversion of currencies and taxing the products appropriately will also significantly contribute to growth.
13. Marketing Budgets
With digital marketing becoming the norm for most eCommerce businesses, more companies are flocking towards their digital and social media ad spends. With the demand for clicks and virtual advertising space increasing, so does the price. This can become very expensive for small and medium-sized retailers and in fact, this is one of the biggest eCommerce challenges that they face.
Solution:
Create specific customer profiles that will help your business with targeting your social media and digital ads so that you significantly improve your return on investment on your spends.
14. Going Omnichannel
Selling your products through multiple channels enables you to increase your overall revenue and Average Order Value(AOV). A customer that shops on multiple channels is likely to spend three-times more than the average customer. However, if not done right, some channels might lead to losses if they don't attract the right customers and the required volume of customers.
Solution:
Use the data you receive from the different channels you operate on to identify the top-performers and optimize them for your customers and reduce your spending on the platforms that do not gain the traction that you need.
15. Data Privacy
Customers today are aware of the importance of their data and the need for data privacy. Device manufacturers like Apple are going the extra mile to ensure that their users' data are kept safe from third-parties. However, user data can also enable platforms to provide them a better user-experience.
Solution:
Collect Zero-party data, where your customers will intentionally and voluntarily share their data with your brand as opposed to collecting third-party data, which is what customers these days are extremely cautious about.
16. Logistics
Companies across the world are affected by supply chain issues every year, and considering it is a layered process, issues and errors occur at multiple steps during the process, which leads to added expenses and delays.

Solution:
Gain visibility of your entire supply chain. Supply Chain Visibility enables you to track your inventory accurately and also establish a clear communication system that can help you stay up-to-date with different parts of the supply chain process.This is one of those eCommerce challenges that requires time and effort, but is also extremely essential.
17. Store Agility
How rapidly can you roll out new features, post and market fresh content? Due to the rapid evolution of ecommerce, it is crucial that you implement an agile company model. Staying relevant and up-to-date with trends is crucial for eCommerce businesses to survive and thrive and provide their customers the best possible user-experience.
Solution:
This is more of a process than a solution – ensure that your team is adaptable and has processes set to deal with changes, both internal and external to enable quick decision-making.
18. Customer Expectations
Modern consumers these days are increasingly informed and aware with the advent of new technology and exposure to multiple brands and services. The modern consumer has high expectations for the kind of products and services they pay for and are constantly on the lookout for better experiences.
Solution:
If you wish to solve this problem for your e-commerce business, a thorough awareness of contemporary web design trends is required. A thorough examination of current trends will enable you to recognise the adjustments that your company needs to make and assist in making them.
19. Placement of Elements within your page
This might come across as surprising – but the design and placement of important elements such as the navigation bar, tabs etc., on your website can significantly impact your conversions and sales because your user-interface contributes to the customer's experience on your site. Users tend to be wary of sites that they cannot easily navigate through
Solution:
Constantly improve on your User Interface design, utilize A/B tests to understand what designs your customers respond well to and remove any unnecessary hindrances that hamper your users from fully engaging with your site.
20. Sustainability
Retailers are now being incentivized to market their goods and delivery services as having a low environmental impact due to the increased global attention on sustainability due to consumer demand. Nearly 60% of consumers are ready to alter their purchase patterns in order to lessen their impact on the environment.
Solution:
Improve the efficiency of your supply chains and identify key areas where your carbon footprint can be reduced for improved environmental impact.
---
Related Article – Shopping cart Abandonment in Ecommerce – The Ultimate Guide
---