Old Trends Recycled: The Comeback Of The Print Catalog

7

min read
Reading Time:
6
minutes
For at least three years now, retail industry experts have been hotly debating store closures with one half predicting offline retail doomsday and the other calling for a more evolved store concept. The same applies to several trends that are making a comeback in a new avatar, particularly in fashion retail. At a time when brand Fila was gasping for a new lease of life, the 90s nostalgia trend made a comeback, and with it, the mom jeans and loose sweatshirts that first made the brand popular.
Not just trends, even entire businesses themselves are making a comeback. Take, for example, Toys R Us. Early last year, Amazon made the move that would, in polite terms, be called a hostile takeover of the toy brand's business model, virtually collapsing a toy giant.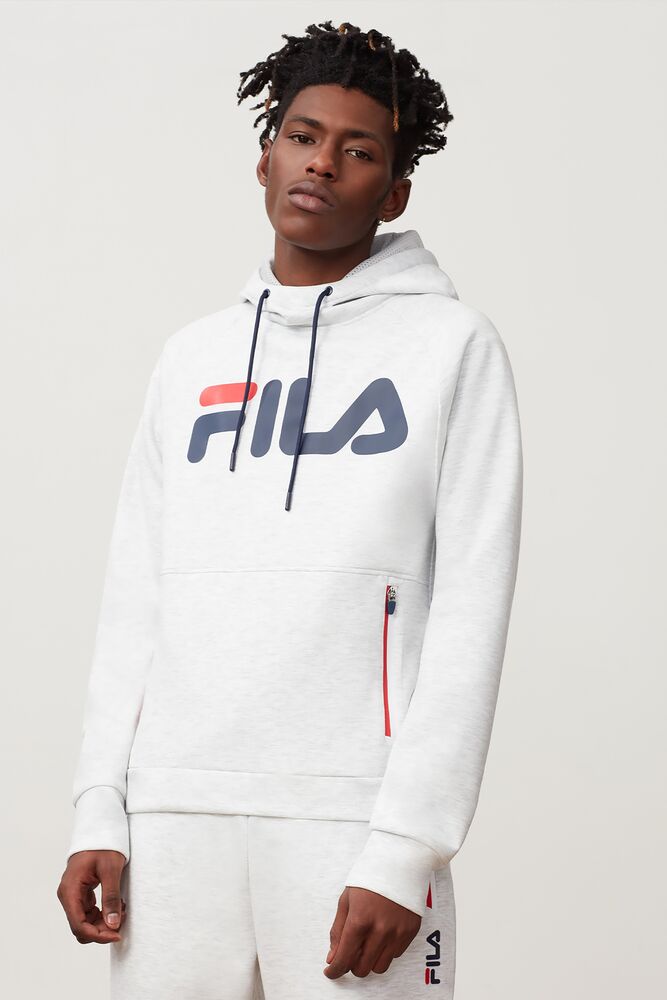 But Toys R Us is making a grand comeback and is set to open ten new stores by 2020. What's interesting to note is also the fact that Toys R Us is going back to a retail concept- that of a physical store- that is currently being deemed dead. It will be interesting to watch the new, evolved stores that the brand presents which brings us to the comeback of yet another once-wildly-popular trend in fashion retail- the print catalog.
A Brief Account Of Why The Catalog Works
Back in the nineties, when television and print media were our only looking glass into the big, aspirational goal that was the world outside, the print catalog was a powerful conversion machine.
This logic, and the undying human need to see good pictures before buying, drives immense catalog sales even today.
According to a report from FGI Research, some customers would be so upset with the brand if catalogs were withdrawn that they would spend up to $800 less with the brand every year. If we spin that around, that's $800 worth of potential sales per customer per year if a catalog is indeed sent to them.
To put that in perspective, the average spends from the groups that would be unaffected or welcome the decision is about $400 per person per year.
There's a reason IKEA or even a digitally-native brand like Bonobos are releasing print catalogs. And that's got to do with just how much more of a sticky medium a catalog is.
As opposed to an email campaign that showcases about eight products on average, a catalog can be quite extensive. In fact, in January this year, Amazon sent out a 68-page catalog titled A Holiday Of Play to millions of American consumers. For a brand that has built its fortunes on digital assets, it might seem strange that it would look at print campaigns. If anything, this just goes to show that marketing is now a multi-mix model and no retailer can get away with ignoring one medium in preference for another.
Successful Print Catalogs We've Seen So Far
For a brand that sells through an online channel, how would an offline marketing campaign fit? To answer this question, Amazon did away with the prices in the catalog, as you can see in a copy here. Instead, what it does have is the suggested age group and product code that can be used to search for the product on Amazon. Amazon found an innovative way to do that- people can scan the image and it takes them to the product page.
What's also interesting to note is that this catalog is not meant for adults. In a clear shift in how they shop, millennial parents, allow their children a lot of freedom in choices. Hence, the catalog comes complete with a holiday wishlist creator and even a ton of stickers. Also, we can't ignore the Bonobos print catalog.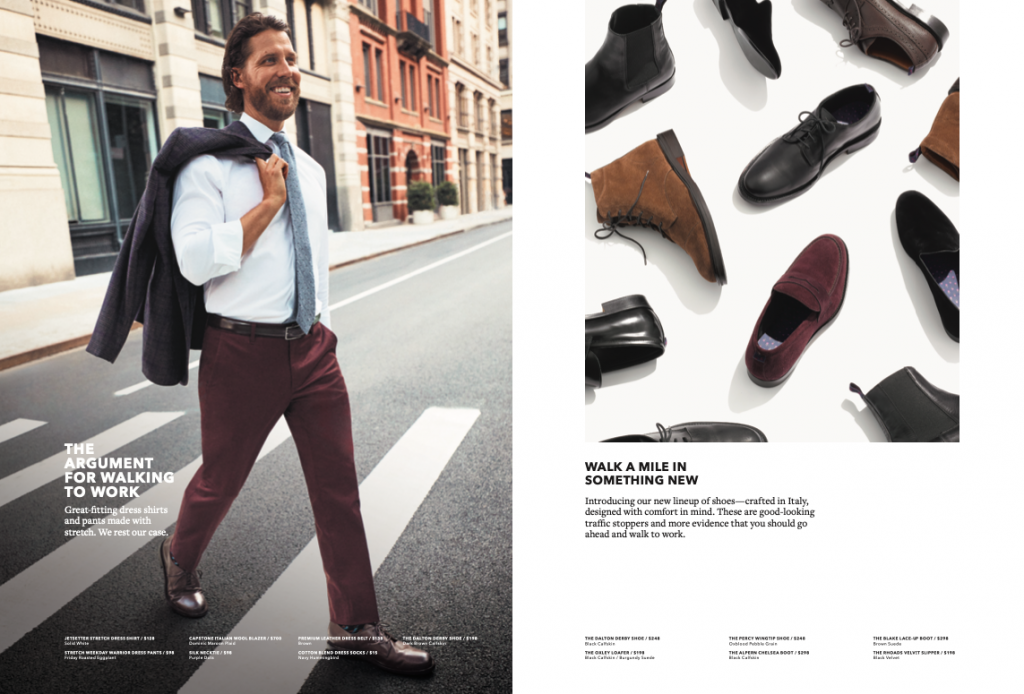 Back in 2017, CNBC published an article titled 'Millennials are more interested in catalogs than your grandmother is'. In this article, statistics showed that for every $1 spent on a catalog, the top ROI was about $8-$10 and the average ROI was at least $4. This means that a print catalog has an ROI of 400% at the very least.
The executives at Bonobos were paying attention because, in the same year, they printed a print catalog and did something that no Digitally Native Vertical Brand (DNVB) had done before. As catalogs go, this was a pretty traditional one and stuck to a theme. But it created waves for being the first such brand to experiment with a print catalog.
Brands and consumers alike agree that there's nothing that can replace the tactile experience of flipping the pages of a catalog and spending time with each product. This also explains why the same brands haven't yet experimented with digital catalogs. They don't come with stickers.
Catalog 2.0: What Stays And What's Changed=
For all the experiments that brands are running with their print catalogs, there are those customers who are asking for a digital version they can flip on their iPad. While a digital catalog may lack the tactile element, there are creative ways to make it engaging as well. In that sense, IKEA's entire social media presence is a catalog in itself, and the brand pioneered 'shoppable' looks before it became a thing on Instagram. This is a great approach for brands that already have a dedicated, engaged audience base on social media.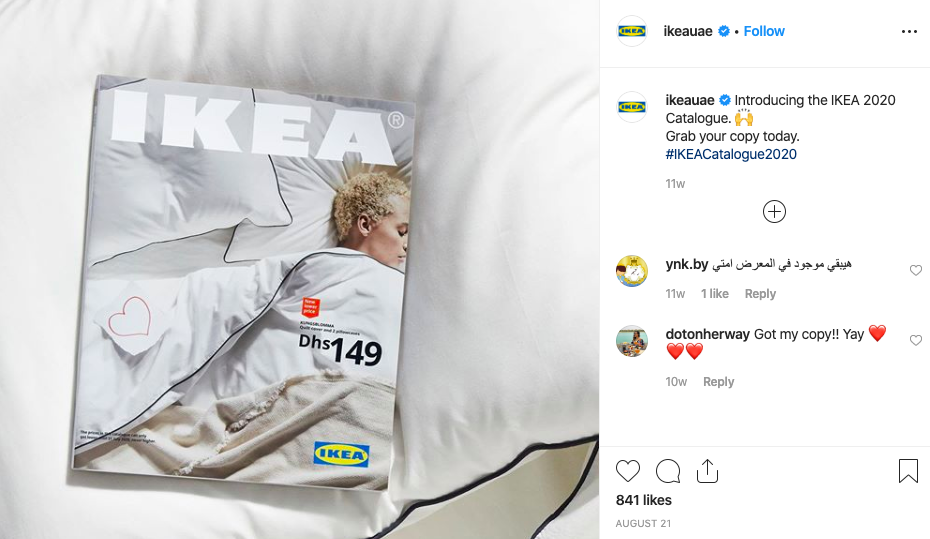 Speaking of Bonobos, they're no strangers to doing digital catalogs and they have one for every menswear theme conceivable. Part of the reason why catalogs work is that they serve as a strong call to action- they inspire, inform and prompt conversion all in one go. With that objective in mind, a digital catalog can work too, as long as it triggers the right responses from consumers. For example, a digital catalog can incorporate AR functionality using the device's camera to help the customer 'wear' every look they're seeing and then place an order on the web-store.
Using the touchscreen functionality of tablets and smartphones, customization can be turned into a tactile drag-and-drop style experience that involves the customer in the creative process. Indeed, we see this as the way forward for several brands- using the newest technology available to create unique experiences. It just so happens that these experiences are a mix of online and offline interactions.
Measuring The Success Of A Print Catalog
Dissidents of the print campaign often make one very strong argument against the use of offline marketing tactics, and particularly ones with the individual impact such as the catalog- how do we measure the success of such an endeavor? There are some ways to solve this problem. For one, every catalog can be marked using a unique serial number and customers can be encouraged to enter the serial number on the website to get a closer look at products, or even just a discount. What's also important is to track the behavior of users who scan QR codes and visit websites. What is the next step they take?
How many QR codes are they scanning and in what categories? Such data can help with customer segmentation and to provide even more targeted information. For example, if someone is looking at several different bunk beds, they are likely doing up a children's room and could use a few extra suggestions, including themed bedrooms. Tracking the journey and behavior patterns also helps retailers see who started the journey with a catalog in their hands.
It's also interesting to note that for a millennial shopper, a print catalog is a much bigger novelty than its digital counterpart since they've grown up with a smartphone in one hand. A smart print catalog that allows the retailer to track buying behavior offers both newnesses to the consumer and easy tracking for the retailer. Soon, we see retailers big and small mailing out catalogs, probably as early as the upcoming holiday season. The trick, though, is to stand out with smart product imagery, easy links into the buying journey and, you guessed it- stickers.