Personalized Styling: Enhancing Customer Retention Strategy

6

min read
Reading Time:
5
minutes
Ecommerce has brought markets closer to shoppers. People can buy anything and everything they need with the single click of a button. This comfort means something different for retailers – there are almost no convenience based decisions that shoppers make anymore. The location of a shop and how easy it is to get there isn't a criteria anymore. Consumers can pick from options that are literally all around the world. Earlier, a retailer would be compared in relation to the shops that are next to theirs. The aim would be to be the best place in a neighborhood so that they become the easy choice for people shopping around the area. This works a little differently now – shoppers can have multiple online shopping sites open in different tabs of their browser. You can't just be the best shop in your street anymore, it has to be something much bigger than that. There are new eCommerce retailers popping up everyday – the competition out there is brutal. This stands no different for fashion. There is no dearth of options for shoppers looking to buy clothes online. It has been studied that 88% of online consumers are less likely to return to a site after a bad experience. And why would they – they have the whole world of fashion eCommerce to explore.
Getting customers to return to your site is crucial though. Considering it is five times more expensive to get a new customer than retain an existing one, losing a repeat shopper can be a very expensive mistake. But how in the world does one secure the loyalty of shoppers? It can be tough, but definitely not impossible. By giving shoppers what they are looking for, retaining them becomes as easy as pie. However, just like how there are some smart decisions involved in making a pie, there are some involved in retaining customers too. This is where the power of AI comes in. With image recognition, Vue.ai's personalization engine is able to put together outfits for every product your shopper is interested in. Unique Style Profiles for each shopper ensure that these curations match their tastes.
This kind of Personalized Styling can make you the easy first choice for your shoppers. Customer retention is impacted positively in many ways. We explore four here:
Personalized Styling Inspiration
By giving your shoppers styling ideas, you are transforming the experience they have on your site. You aren't just a website where they can buy clothes from anymore – you are a style inspiration hub. You become their go-to destination when they want a wholesome fashion shopping experience. This becomes very addictive – you do not want to go back to just seeing different products individually when you've been exposed to the world of styling. After all, Personalized Styling like this is a luxury that has never been accessible to the everyday shopper before.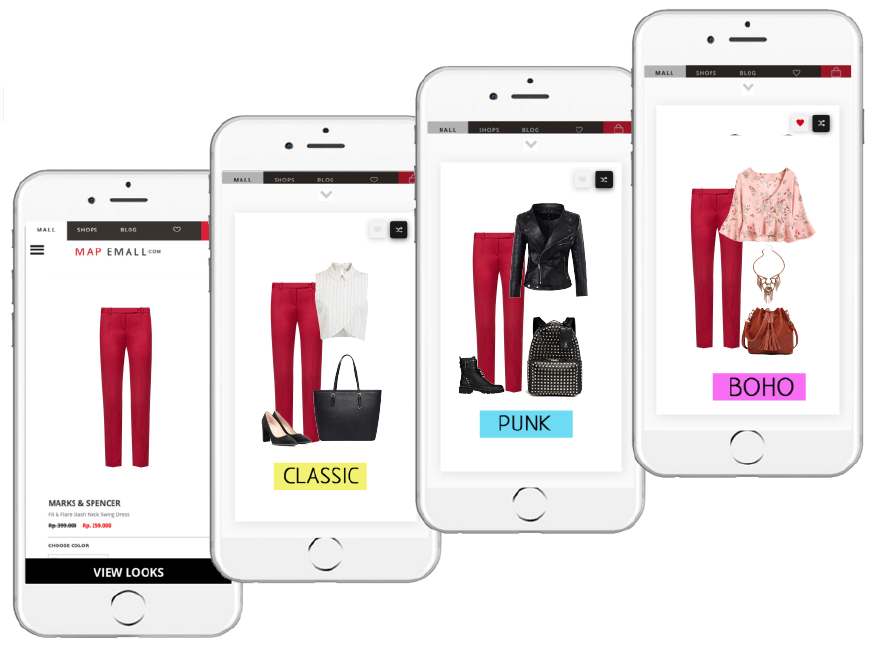 It was reported that nearly half (46.7%) of US internet users started product searches on Amazon compared with 34.6% who went to Google first. Amazon transformed the way we knew the internet – where Google was the first point for any search. You can now do that for fashion retail. Shoppers can start their fashion journey on your website – where they get both products and ways to style them. Like Oscar de la Renta said, "Fashion is about dressing according to what's fashionable. Style is more about being yourself." VueCommerce's Style It tool combines the best of both and provides fashion styling that's personal to each shopper.
Style It becomes smarter with every session. It learns more about your shopper's preferences and all of these make their Style Profiles more and more robust. So every time your shopper comes back to your site, they get improved suggestions. Without even realizing it, your shopper becomes hooked to your site – a place that understands their fashion sense in a truly personal way.
Site Merchandising Win: Product in Context
Site merchandising is not something any ecommerce retailer can ignore now. For a fashion retailer, merchandising is essential – and has a lot of aspects to it. Incorporating AI-powered Personalized Styling on your website becomes a part of your site merchandising strategy. With Personalized Styling options, your shoppers view more products, and hence buy more products, directly impacting the average order value and your revenue. Style It's recommendations lead to over 3X increase in the number of products your shoppers view in one session. Your shoppers get to explore a lot more of your website than they otherwise would have.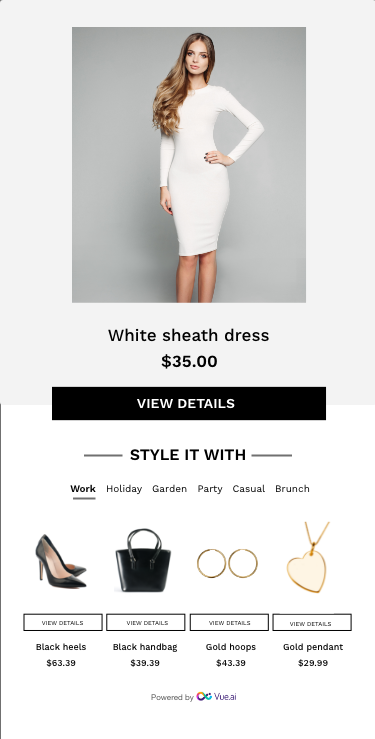 64% of women shopping on their phones say that seeing images of products in context positively influences their purchasing decisions. Style It puts together styled outfits for different occasions, putting your product in the context of other products in ways that are also useful for shoppers.
Looking at products styled in different ways is also a matter of great convenience for your shoppers. Someone looking at blouses and different ways of styling them in your website would not want to go to another site that doesn't provide that. The benchmark has been set – this is now the bare minimum that your shoppers expect.
Showcase Your Products' Versatility
With Style It, you are helping your shoppers visualize different ways in which they can wear your product. A black dress on your site can be styled differently for different occasions. Your shoppers may not know this – their initial perception may be clouded, not letting them see the versatility of your product. Putting different ideas of styling for each product right in front of them drastically increases the value of the product in their eyes. Your shoppers can also shuffle to 'remix' the options shown – constantly giving feedback to the engine. Every shuffle shows a different way the product can be worn – in a way that the shopper likes.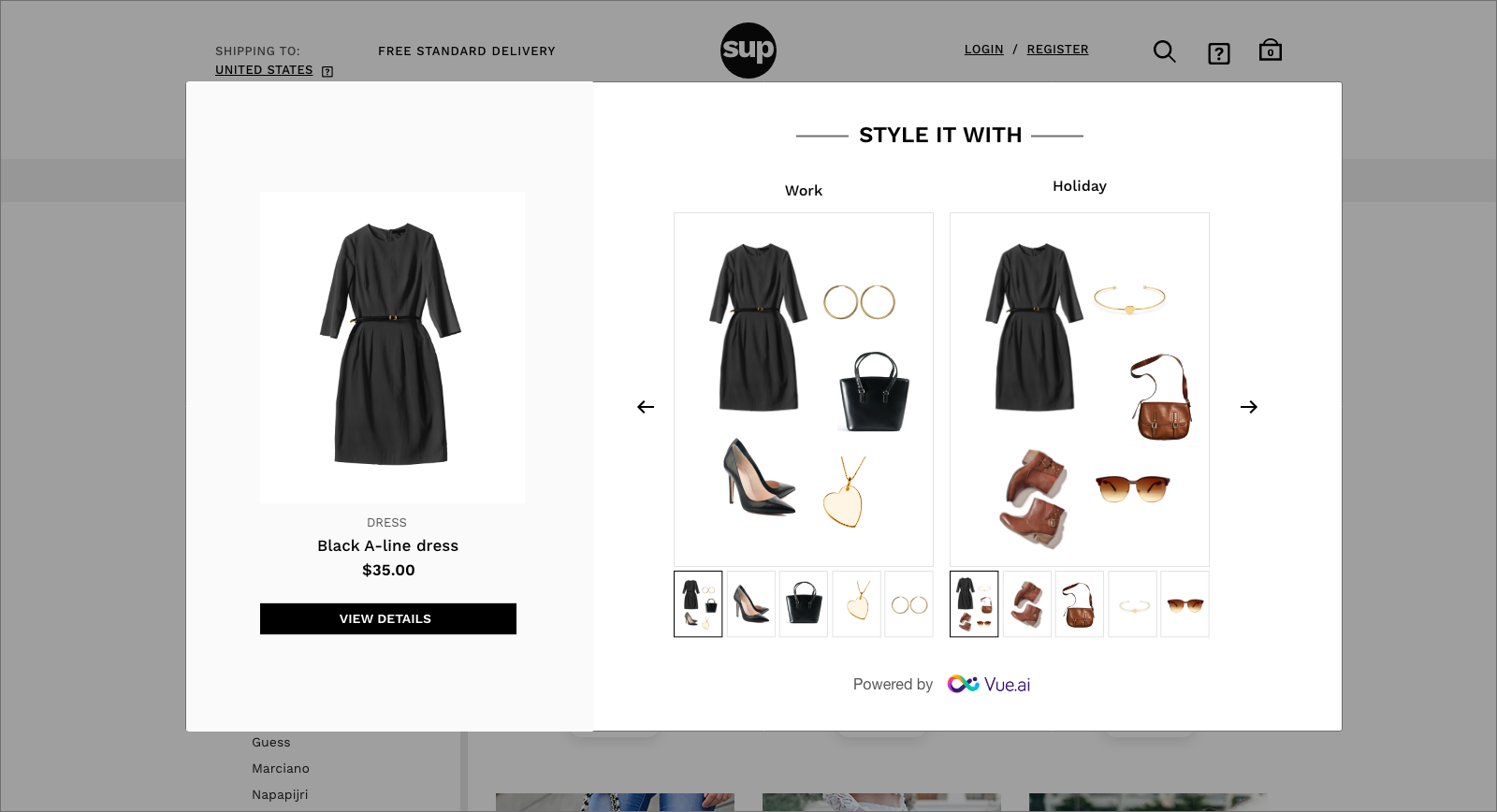 If your shoppers originally liked your product, they have multiple more reasons to now. After all,of consumers say loyalty is primarily driven by likeability and improving your products' value for them is a sure way of increasing likeability.
AI Personalized Styling across Shoppers' Fashion Journey
Style It follows your shoppers across their journey on your website. You can choose to incorporate styling into any page or part of your website or app. It doesn't just stop there though. You can also add Personalized Styling recommendations to your emails and push notifications – any point where you interact with your shoppers can be a place to give them styling inspiration.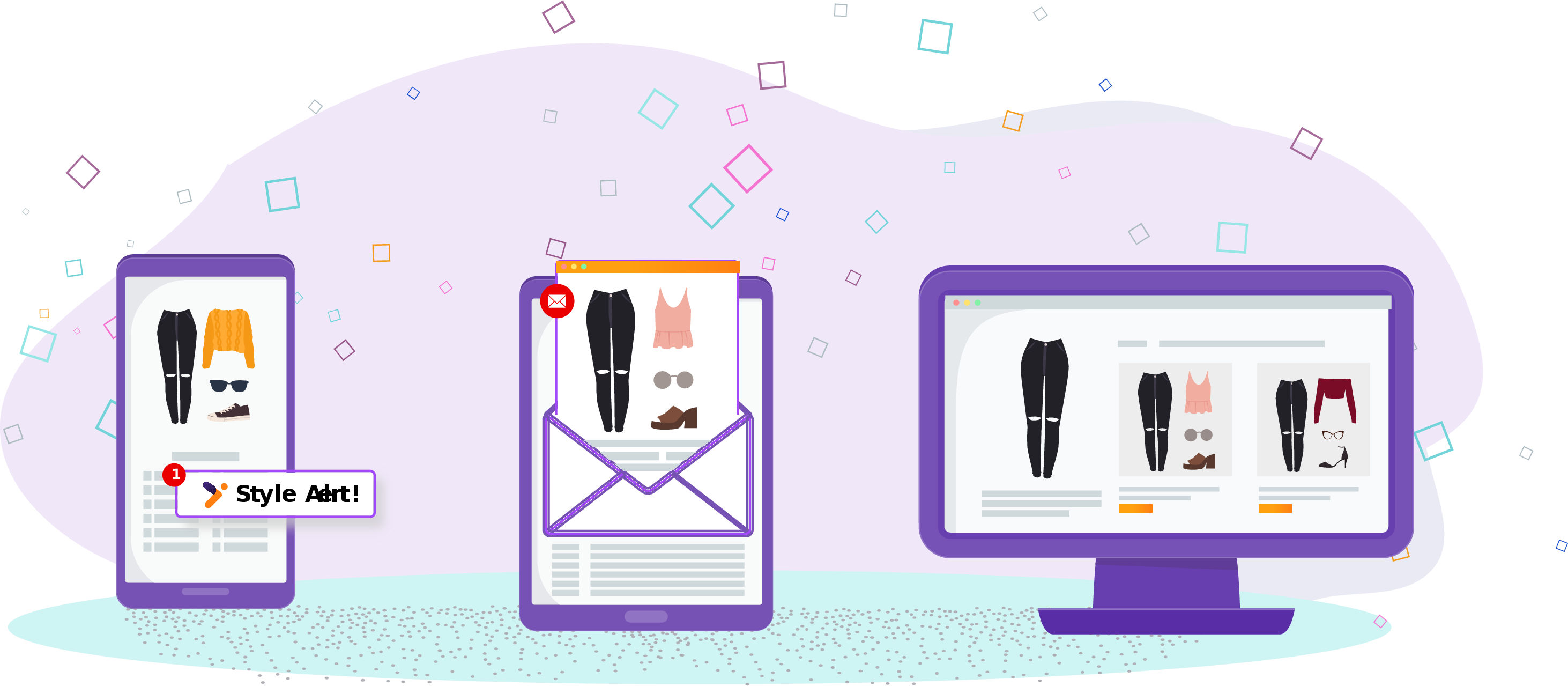 This way, when a shopper has been inactive for a while, you can bring them back by giving them styling ideas they would love. Personalized styling even when they are not actively shopping is a wonderful way of constantly being on your shoppers' minds.
Get, Set, Retain!
Repeat customers spend 67% more than new ones. Retained customers are not just saving you the money it takes to acquire new ones, they are also drastically improving your revenue. AI-powered Personalized Styling is an incredibly stylish, and efficient, way of improving customer loyalty.
With VueCommerce, customer repeat visit rate goes up by 35%. That's a lot more shoppers whose loyalty you can secure!
To learn all that VueCommerce can do for you, click here.
Read more about Outfit Recommendation Solution