R-VUE London: A Short Recap!

4

min read
Reading Time:
5
minutes
We held our third R-VUE in London this week! R-VUE is Vue.ai's signature conference that takes place across the globe. It facilitates intimate conversations about everything that's changing and transforming the world of retail, with the very people who are changing it. Our London edition was hosted in collaboration with TechStyler at the lush green conservatory at the Barbican Centre in London. We had a panel discussion featuring some of the brightest stars of UK retail, namely Remo Gettini, the CTO of Depop, Katie Baron, Head of Retail at Stylus, Susan Young, Head of Trading & Operations at John Lewis & Partners and Julia Dietmar, CPO at Vue.ai. The panel was moderated by Brooke Roberts-Islam, founder of TechStyler.
Here are a few photos and highlights from the event!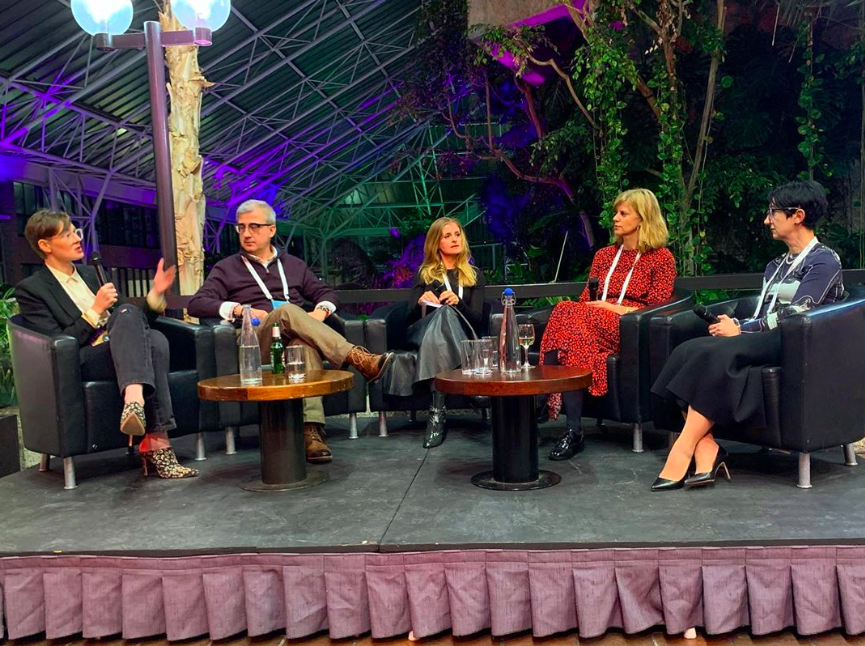 The Changing Face of Retail and Why AI Is Crucial
The topic of our panel discussion was 'The Changing Face of Retail and Why AI is Crucial'. All the panelists discussed the significance of digitization and the productivity that automation offers, apart from sharing wisdom from their own experiences.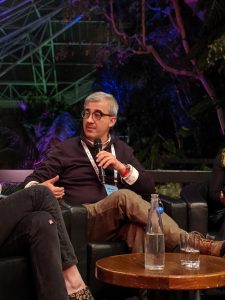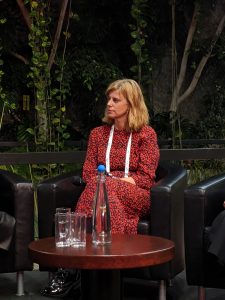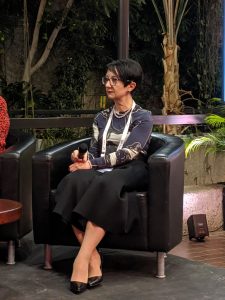 Remo Gettini – CTO, Depop
Did you know that 90% of Depop's 15 million users are under the age of 25? Remo Gettini, CTO of Depop, spoke about the importance of community and why data usage and applications should manifest in a way that touches the consumer and the consumer's lifestyle directly. He spoke at length about how Depop invests heavily in community and that at times, the transaction of resale by itself, was accidental.
It is pivotal to use and manifest data to increase customer engagement—as opposed to just collecting data for operational procedures—to offer a hyper-personalised shopping experience to each customer!
Susan Young – Head of Trading & Operations, John Lewis and Partners
Susan Young, Head of Trading & Operations at John Lewis and Partners, spoke about the advanced digitization efforts being undertaken at John Lewis & Partners, including 3-D sampling. She spoke about how automation does not take away jobs, but instead, frees up time for their staff to do more critical analyses and creative decision-making. She also spoke out about how AI works hand-in-hand with manpower to understand the consumer better instead of replacing jobs in the world of fashion
Automation does not take away jobs from people—it simply gives people more time to focus on value-added services that help add context to customers' online experience!
Julia Dietmar – CPO, Vue.ai
Julia Dietmar, the Chief Product Officer at Vue.ai, spoke about the many ways that retailers could use machine learning, AI and automation across their value chain to collate data about both their customers and their processes. She stressed on the need to build a 360 degree view of customer habits across offline, online and mobile app channels. She also spoke about the need for retailers to provide hyper-personalized and hyper-individualized experiences to buyers.
Using AI to cover all digital touch-points of a customer—social media, past purchases, email activity—in a 360 degree scope to understand, identify and offer them what they want, even before they become aware of it will be essential for retailers!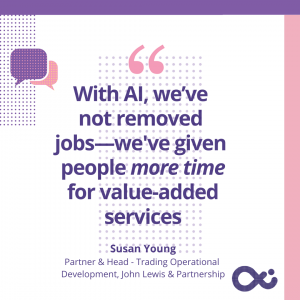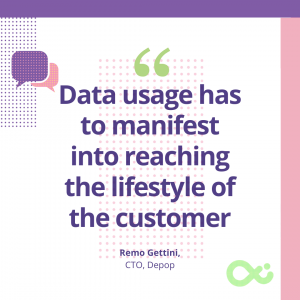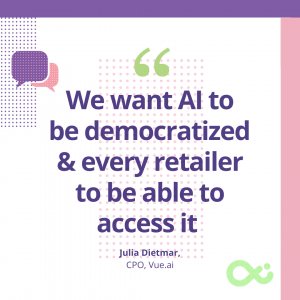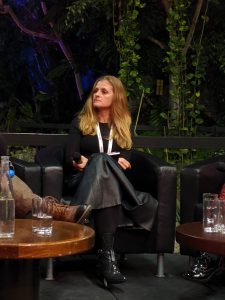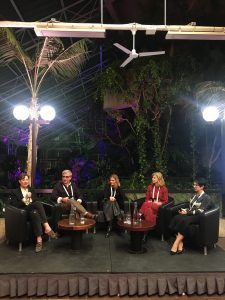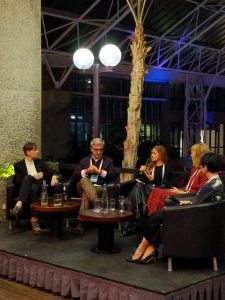 Katie Baron – Head of Retail, Stylus
Katie Baron, the Head of Retail at Stylus, spoke about all the ways that AI is being implemented across retail as well as the numerous technology trends that are currently present in the retail landscape. She also spoke about how AI can be used to give consumers a complete picture, which will be essential in the resale market. She revealed that AI would be the best possible tool for consumer engagement, over anything else.
A brand's ability to personalise the online journey—even if it means using 3D sampling so a customer can do a trial online—will be a game changer in the years to come because customer loyalty is closely linked to the website's potential to show them exactly what they are looking to purchase!
Brooke Roberts-Islam – Founder, Techstyler
Finally, our moderator for the evening, Brooke Roberts-Islam, after navigating expertly through the conversation, concluded that AI is not an additional feature for retail anymore, it will be a necessity. Brooke also revealed the brand director at Selfridges, had remarked that personalization contributed to 20% of their sales! She spoke about the depth of analyses that AI is capable of.
Dictating trends to consumers will not work anymore, the time has come to use AI to listen to consumers, understand what they want and successfully push it out to them!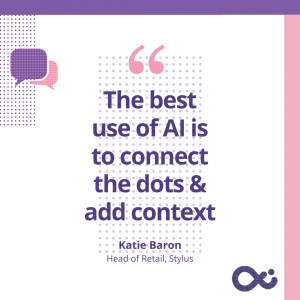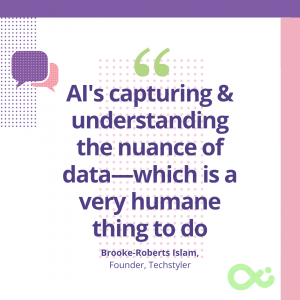 In conclusion, it was an incredibly successful event which saw an attendance of 65+ retail leaders from the UK.
Download the report for more insights – https://bit.ly/2DE1BWr