5 reasons Why D2C brands Are Doing Well During The Crisis

3

min read
Reading Time:
3
minutes
D2C brands have seen a massive uptick during the pandemic to the extent that even heritage brands like Pepsi have entered the fray!
At R-Vue Connect, our exclusive digital summit for retailers, we explored how D2C is tasting success during times of adversity, how D2C brands are approaching AI and technology in the context of customer experience, the additional steps they are taking on customer retention and more.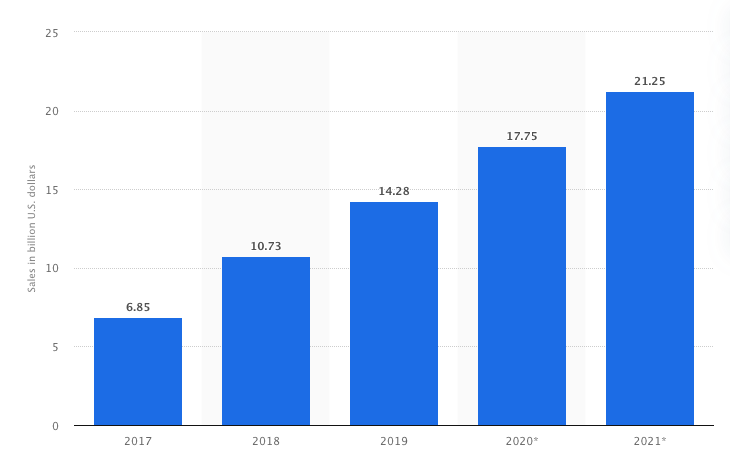 Reasons why D2C brands are doing well during the crisis:
1. Shift In Consumer Behaviour
As shipments and physical store visits came to a complete halt when lockdowns were imposed, revenues slowed down as well. Interestingly, D2C brands noticed a surge in online tractions and the resurgence of revenue via digital streams even after the lockdown!
The key takeaway from this shift to digital? New customers coming in at a faster pace, and existing customers coming back more frequently than was observed pre-lockdown.
D2C brands observed that digital is becoming the natural channel — for both existing customers and new customers.
2. Evolution Of E-Commerce
Discounts drew the first generation of e-commerce buyers online. The second generation however, is now looking at e-commerce as a genuinely better way to purchase.
India is at the inflection point as China was in 2003 during the SARS outbreak— 2003 was the year Chinese consumers were forced to go online.
D2C brands are trying to capitalise on this buzz in digital activity. WakeFit, for instance, had plans to launch a new home collection in December 2020. However, after observing a spike in online activity, the brand expedited its R&D, production & manufacturing and launched its collection during the lockdown!
3. D2C Brands & Customer Retention
Among India's 450 million connected users, 100 million shop online, and from this bracket, an estimate of 40 million users shop online regularly. D2C brands must prioritise this bracket of consumers in their digital transformation efforts right now.
What happens after, is that 450 million users will grow to 800 million in a few years and as the number of players increase and brands try to grow, the cost of customer acquisition will skyrocket. This is precisely how customer retention becomes important.
As brands scale and acquire, they cannot afford to in a situation where they can't service a customer again, simply because reacquiring the customer will become too expensive!
4. D2C Brands Value Storytelling
There are 3 different types of consumers:
consumers who discover a brand when they're looking for something
those who have had great offline experiences with the brand
and those who shop the brand simply because they like the brand
The greatest stickiness is from customers who identify with the brand's values and its story. This is the segment of consumers that direct-to-consumer brands are actively acquiring, converting, and holding on to.
The messaging of the brand's products, values and story – both online and offline – have to be consistent at all times because consumers today are very aware of what's going on around them, and have clear, specific expectations from a brand.
5. D2C Brands Value Customer Feedback
Most D2C brands therefore, highly value customer feedback which they prioritise and fix to deliver maximum customer delight. The receipt of customer feedback is an ongoing process. What does this imply? The most successful D2C brands are backward integrated.
Fundamentally, D2C exists to serve its community.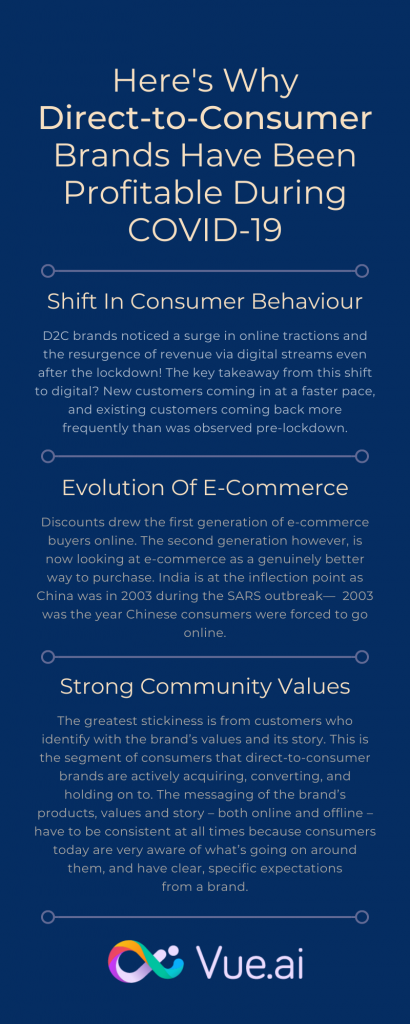 If you missed our R-Vue Connect session on 'The Rise of D2C' – access the recording here.