Pop-up Economics: Reshaping The Fashion Industry With New Paths to Purchase

5

min read
Reading Time:
4
minutes
In a world where consumers always want the best shopping experiences, having an online-only or just a brick-and-mortar presence doesn't cut it. The landscape of brick-and-mortar retail stores has been evolving constantly and now is all about experiential retail for consumers. This poses the perfect environment for the $50 billion industry of pop-ups to flourish. While the concept itself is certainly not new, pop-ups are increasingly trending as a way for brands to provide consumers the immersive shopping experience they crave.
In fashion, providing bespoke shopping experiences, and keeping the shopper excited for new unforged experiences and products, make or break a sale. 
How do some brands adopt this strategy?
Exploring Unchartered Territory
Being in the right place, catering to the right kind of consumers is an extremely crucial driver of growth for any brand. Fashion brands are looking to test new products or markets to open pop-ups before setting shop permanently. Pop-ups can save brands abundant costs because they don't require long-term retail leases and excess inventory, proving to be extremely cost-effective.
Also, for those online-only fashion brands that want to test the waters in physical retail, pop-ups are clearly the way to go. They cost 80% lesser than a permanent retail space and are easy to set up, proving to be an economical, quick way to explore offline reach.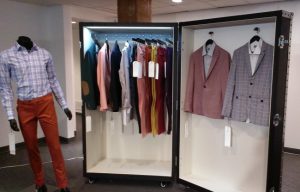 Known for its affordable offerings of bespoke suits, menswear brand Indochino is an excellent example of a brand that took to pop-up shops to test its offerings in multiple markets. With its Traveling Tailor tour, the brand had style consultants stationed at its pop-ups to help shoppers get measured, fitted, and styled. Apart from basic measurements, the style consultant gathered detailed inputs right from where a shopper would wear the suit down to the selection of color, pattern, and lining. After this, all the shopper had to do was pay for their customized suit and enjoy the pleasure of having it delivered right to their doorstep.
Increasing Brand Engagement And Awareness
Pop-ups are a great way for brands to engage with shoppers in an environment where they are more likely to interact intensely. These stores help a brand extend its reach to a different demographic segment than its mainstream shoppers, ie consumers drawn in by social media buzz or perhaps passers-by who haven't chanced upon the brand earlier.
As many as 88% of shoppers reveal that they research products online and then eventually purchase them in a store. This is also true in the case of fashion where potential customers are comforted by being able to try before they buy. Shoppers want to feel the fabric and texture and see the colors and patterns of the outfits they want to buy before actually investing in them. Setting up pop-up stores can help fashion brands solve this issue with minimal investment while also addressing shoppers' concerns on the spot and having a more direct influence on buying decisions.
Marc Jacobs' namesake fashion label once did a brilliant job of this by using one of its pop-ups to promote its Daisy fragrance line. The store known as the Daisy Marc Jacobs Tweet shop accepted social currency in exchange for its products. All shoppers had to do was tweet, put up photos on Instagram, or post on Facebook with the hashtag #MJDaisyChain and they could walk out of the pop-up with Marc Jacobs products.
An Avenue To Understand Consumers Better
There's certainly no denying that plenty of valuable consumer data can be extracted online via sources like clicks and dwell time. However, the data that fashion brands can obtain in real life through pop-ups tend to be more authentic, courtesy of face-to-face interactions. Pop-ups can in fact prove to be a goldmine for those fashion brands looking to understand their consumers better because shoppers who walk-in end up voluntarily sharing details and insights that would have most likely been quite difficult to capture online.
While brands can certainly go the way of surveys, face-to-face interactions at pop-ups prove more effective in getting first-hand, immediately relevant customer inputs on products and services.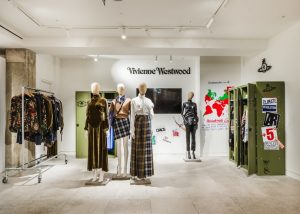 Take Vivienne Westwood's pop-up store that opened in London last year for instance. The designer used the store to express her radical opinions by offering an exclusive collection inspired by military outfits accompanied by an army base store design and graphics of taking on huge corporations that fail to offer sustainable solutions.
The Vertical Connection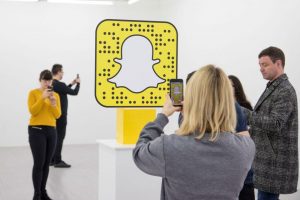 With vertical integrations are its peak, with the toy brand Lego and their recent collaborations with Snapchat launching a limited edition clothing line at a pop up in Soho, London. The only catch? the physcial store was empty except for a Snapcode mounted on a lego plinth. Designed to be a complete AR boutique experience , the entire collection of streetwear was made online shoppable entirely through the app. The collaboration is first many new innovative, retail experiences strategized to hit the markets in the upcoming years.
Pop-ups can work extremely well to surprise and delight consumers and give them the unparalleled shopping experience they seek if done right. Fashion brands that use them to connect with shoppers beyond the products being sold and showcase innovative ideas that bring the "can't miss" aspect of pop-ups to the fore are likely to win big. Also, ensuring that pop-up shops are in line with their brand values and bridge the gap between offline and online is crucial and can go a long way with consumers. So, fashion brands need to go the extra mile to ensure that pop-up stores while being exquisite remain relevant to shoppers' changing needs every step of the way.