Patagonia: A Brand That Says 'Don't Buy Our Jacket'

7

min read
Reading Time:
6
minutes
In this cut throat world of business, we often hear about companies destroying their competitors by implementing myriad of strategies. Very rarely do we hear about companies that willingly destroy its own best-selling product, in order to save the environment. Patagonia is that rare entity.
Known for its environmental activism, the California-based outdoor clothing and gear company decided to dethrone its top product because it was ruining the natural landscapes, back in the early 1970s.
The Story Goes Like This
Before Patagonia became 'The Patagonia' that we know now, founder Yvon Chouinard had established a climbing gear company known as Chouinard Equipment in 1965.
A surfer and rock climber himself, Chouinard spent the period between 1957 and 1965 forging pitons that were reusable, unlike the soft iron ones that climbers left in the rock. With selling price of $1.50 each, word soon spread about his hand-made pitons among other mountaineers. To meet the surge in demand, he partnered with Tom Frost, an aeronautical engineer in 1965 and formed the company.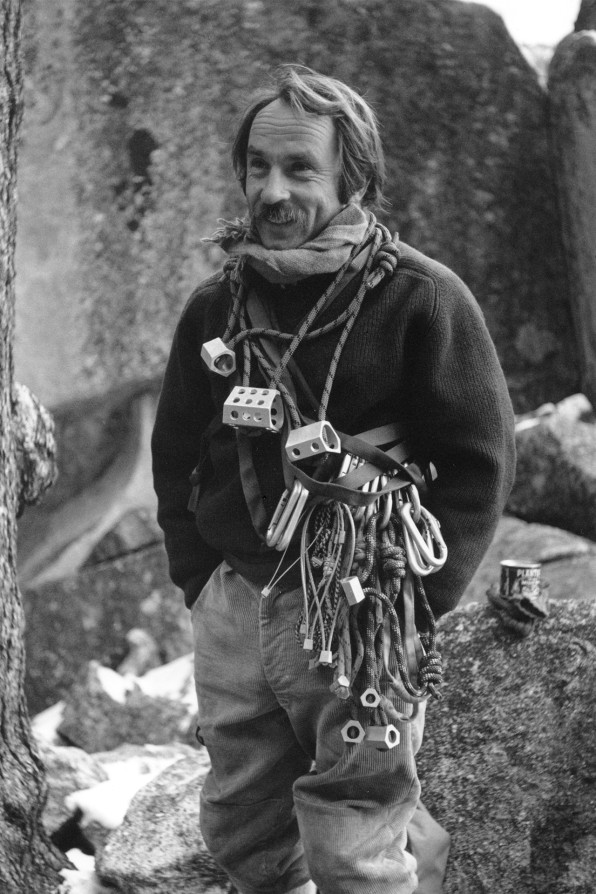 Together, they researched, developed and manufactured hardened steel pitons and other tools. The equipments that are credited for initiating ice climbing were used by climbers in Yosemite Valley. These metal spikes went on to become one of the top selling tools and the biggest revenue generator (70%) for the company.
However, in 1970 Chouinard recognized the adverse effects of the steel pitons on the cracks of Yosemite. In a bid to prevent further damage, the duo introduced new tools to promote 'clean climbing' – mountaineering without hammering, altering and changing the rock. While the new aluminium chocks helped the company grow its business, it did end up flattening the sales of their biggest seller – steel pitons.
Simultaneously in the 1970s, Chouinard unintentionally started the trend of colourful and durable clothes for climbers, at a time when bright activewear for men wasn't a common trend.  During his climbing expedition to Scotland in 1970, he bought a colourful striped rugby shirt, which was made to endure the aggressive push-and-pull actions of rugby matches. The shirt's enduring capacity made it a perfect fit for mountain climbers.
After seeing Chouinard wear it, demand for similar shirts started pouring in, which laid the foundation of Patagonia. By 1972, the company was selling polyurethane rain jackets, bivouac sacks, boiled-wool gloves, mittens and schizo hats sourced from different parts of the world.
In 1989 after filing bankruptcy, Chouinard Equipment was re-established as Black Diamond Equipment. And, Patagonia became a separate entity as a dedicated outdoor clothing firm.
Responsible Fashion in Style
Chouinard might not have set out to build a clothing brand. But once the sales of Patagonia started doubling and tripling, the brand became conscious of the environmental crisis that a clothing label could lead to and their contribution to it.
One of the first steps that they took towards conservation and sustainability was donating 1% of the sales to the environment, right from the 1980s. This initiative led to the formation of non-profit organization 'One Percent for the Planet', which was created by Yvon Chouinard and Craig Matthews in 2002. As of now, more than 1200 members spread across 48 countries are a part of it.
When the company realized the ill-effects of standard cotton, they made it a point to study organic cotton and made necessary changes to their supply chain.  
That's why the founder's move to replace the revenue-generating tool with an environment-friendly alternative back in the 70s doesn't come as a surprise to those who are familiar with Patagonia's brand ethos.
Even when they hire someone for their team, sitting at the top of the 'desired skills list' is the candidate's commitment towards saving the planet.
What adds to the appeal of Patagonia, even more, is that it never compromised on the aesthetic appeal, quality and comfort of the clothes, while concentrating on environmentalism. It would have been very easy for them to design boring, uncomfortable and unfinished clothes in the garb of nature-friendly organic clothes. But they didn't.
When other brands kept active outdoor wear limited to the shades of browns, greys and forest greens, Patagonia introduced a sea of bright colours like cobalt blue, iced mocha, teal green, bright red, aloe green, and seafoam green.
Consumers accept that it is a premium outdoor wear brand. But it is worth the money when compared to other brands that offer the same product minus the environmental benefits. A happy customer described the quality of Patagonia's jacket by stating, "The sweater is buttery soft and incredibly warm considering how very medium the thickness is… Somehow the outer layer of material also manages to be slightly water-resistant despite feeling like the softest cotton you've ever touched. Plus, it doesn't hurt knowing that the pullover is made from organic cotton, which means no harmful fertilizers or pesticides were used in the growing process."
Anti-Consumerism in the Era of Fast Fashion and Exclusive Luxury
The seriousness of Patagonia's pursuit of global environmental sustainability can be gauged after reading its returns policy that has neatly listed out DIY Repair & Care Guides, Ironclad Guarantee, Worn Wear and Return & Repair Policy.
On one hand, we have brands like Burberry that burnt its unsold stock of clothes, bags and perfumes worth $36 million, because they didn't wanted discounted products of their brand to be available in the market. On the other hand we have Patagonia that runs a campaign titled 'Don't buy this jacket' and actively encourages consumers to get their clothes repaired instead of buying a new one.
Chouinard's brand is the finest example of anti-consumerism and sustainable business model, when others are running towards fast fashion and elitism.
In that 'How I Build This' podcast, Yvon Chouinard talked about the brand's return & repair policy by sharing, "We now have the largest garment repair centre in North America. We'll repair every single piece of Patagonia, no matter how old it is, indefinitely. In fact, we have got a truck that is going around the country repairing people's clothes, no matter whether they are Patagonia or not. And we are trying to teach people that you don't throw things away, you repair them. And then we have committed ourselves to owning the product forever. So when we sell you a jacket we still own it. If you get overweight or you are tired of the colour or whatever, you want to get rid of it; we will help you sell it to somebody else. If it breaks down we'll fix it. If it's finally completely shot, you give it back to us and we'll recycle it into more garments."
Path to Political Activism
Patagonia has always been one step ahead of it its competitors when it comes to adopting environment-friendly policies.
However, in the last few years, the active-wear brand has pushed the boundaries of political activism by choosing sides and expressing its displeasure over certain policy changes made by the Trump administration without hiding behind ambiguous statements.
This is a brave move, considering how political opinions can affect businesses – negatively and positively.
In October 2018, the company endorsed two Democratic Senate candidates. The following November, Patagonia kept its office shut on the Election Day so that its staff could register their votes. The company's CEO, Rose Marcario recently announced their plans to donate $10 million, which it saved due to 'irresponsible tax cut'. Addressing this development, Marcario wrote in her post, "Based on last year's irresponsible tax cut, Patagonia will owe less in taxes this year—$10 million less, in fact. Instead of putting the money back into our business, we're responding by putting $10 million back into the planet."

As a result of Patagonia's political activism, liberals have expressed an increased interest in the brand's products.
Patagonia's rapid shift towards political environment and its effect on the natural environment is reflected in its latest mission statement. It changed from 'Build the best product, cause no unnecessary harm, use business to inspire and implement solutions to the environmental crisis' to 'We're in business to save our home planet.'
When we have leaders who still believe that global warming is a 'hoax', the work of brands like Patagonia that are mindful about every chemical that they use in their products, becomes imperative. The retail industry needs more brands like this that are not only  serious about their commitment towards the environment, but also willing to take bold moves, focus on creating high-quality products and don't shy away from demanding answers from the authorities.
As for Patagonia, if the company  continues to invest in start-ups that are on a similar mission to save the planet, then nothing would be able to stop the growth momentum of this brand.