Adaptive Clothing: Fashion Meets Innovation

11

min read
Reading Time:
9
minutes
For most of us, the decision of picking what to wear, however trivial, is the part of the process that involves maximum effort. The physical act of getting dressed is something that feels very natural. Wearing clothes doesn't take much effort. However, this isn't the same for people with disabilities. What we might shrug off as normal can be very difficult for someone facing a disability – be it physical, cognitive or any other. From not being able to button a shirt to excruciating pain because of a pair of jeans that are a snug fit – dressing up can be a whole different story.
What we take for granted is a privilege or even out of reach for many. Clothing matters. What you wear matters. Clothing has the power to change lives. It can make you feel like you. Not having the power to wear what you want can lead to isolation.
But you may be surprised to learn that people with disabilities and special needs have had to improvise with clothing – for years. They're unable to wear what they want because of their physical and cognitive challenges. And that's a soul-crushing experience.
Back in 2008, Don Horton, an assistant football coach, struggled to get a dressed post a game as Parkinson's disease made him acutely aware for the first time that life was going to get difficult. His wife Maura heard his account of the episode and noticed something that she had never seen before – an expression of fear, sadness and humiliation. Maura's business idea was born one day when she clicked her magnetic iPad shut. She realized magnets were the key to solving her husband's button problem. She experimented with the magnets' strength for a while and the fabric thickness to create a dress shirt that would allow her husband to easily fasten his shirts. She even had to create a casing that would protect the magnets from water and detergents and that would also enable them to hold tightly.
Adaptive clothing (like Maura's MagnaReady brand) is designed to improve the quality of life for seniors and people living with sensory, mobility and cognitive challenges. After all, living with disabilities is hard enough. Getting dressed shouldn't be a stressful task too. Horton said that she never planned to start a business. But today, 68% of MagnaReady customers now refer a friend after their first buy.
The Consumer Is the Starting Point of the Design Process
Adaptive fashion, for most designers and brand owners, begins with the simple need to solve a problem for someone close to them. This means the consumer is always the starting point, never an afterthought, in adaptive-clothing design. Horton and many others have created various clothes, fasteners and solutions in order to help loved ones living with disabilities maintain their independence and perform daily tasks that most of us take for granted.
FFORA is a fashion lifestyle brand that serves more than 30 million U.S. citizens who have a physical disability. The company's final products are always designed with a person's specific needs and want in mind. This positively impacts not only that individual's life but also the lives of millions of others facing a similar challenge.
"It is vital that disability is involved not only in the design process but also [in] every aspect of our company, including employment," said Lucy Jones, founder and creative director at FFORA.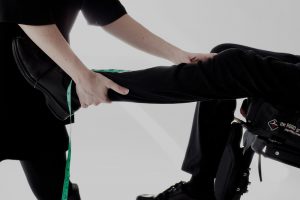 Target has been at the forefront with a line of adaptive clothing for kids designed by Stacey Monsen whose daughter has autism. Monsen often struggled to find clothing that fit her daughter who has limited fine motor skills and is not potty trained. She needed clothes that cover a bulky diaper and enabling easy access. But most of these clothes were made for babies and toddlers. So she used her design experience – along with feedback from several Target shoppers and companies that work with special needs children – to create clothing for the Cat & Jack collection.
For instance, bodysuits allow for easy access during diaper changes, while wheelchair-friendly jackets have side-openings and zip-on sleeves for easier dressing. Functionality was essential – but the clothes needed to be cool, too.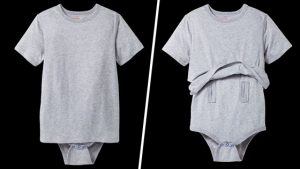 "It's not just about making the routine of getting dressed easier for kids. It's also about offering clothing options that are fashionable and be able to express your child's personality and still meet their needs," Monsen said.
Tommy Hilfiger, best known for high-end sportswear, launched Tommy Adaptive in 2017 – featuring things like adjustable pant hems, magnetic buttons, wrist loops to help wear pants, one-handed zippers and more. From Tommy Hilfiger to Target, more and more designers and big box brands are beginning to become more inclusive and listen to the needs of their consumers with disabilities.
Adaptive Clothing – A Multibillion-Dollar Retail opportunity
There are millions with unmet needs in the U.S. and in the world. In the U.S., more than 54 million people have been diagnosed with arthritis, 30,000 with ALS and over one million with Parkinson's disease. Chaitenya Razdan co-founded a company called Care + Wear that produces specialized "healthware" clothing. The company collaborates with clinicians, designers and patients to keep patient dignity and comfort at the center of all their creations. Razdan estimates the global healthware apparel market to be worth close to $40 billion.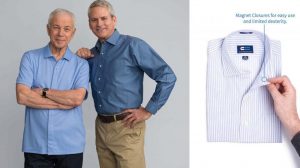 In India, there is a huge demand for adaptive clothing, but hardly any designers or brands cater to this segment. Shalini Visakan is one such designer who is married to a wheelchair-bound polio survivor. She began tailoring clothes for her husband in 2016 and now has a client base of close to 60 in Chennai, India.
"For instance, while being transferred from the chair to a car, or to a seat in an airplane, he would be lifted with his elbows; this was painful and often resulted in dislocation. So I designed trousers with strong cloth loops, like handles, on both sides of the waist," Visakan said. "The person can be lifted using these loops," she adds.
In Kochi, India, Joe Ikareth Move Ability Clothing provides clothing and accessories solutions for differently abled people. Well-designed clothes for this segment of customers boosts their confidence, gives them better self-esteem and changes the way people look at a person with physical or cognitive challenges.
"Being different does not exclude us from access to public spaces, jobs, education, and travel so why should it deprive us of a smart wardrobe?" said J D Madan, a wheelchair-bound entrepreneur who gets his clothes designed by Visakan.
The Couture Experience For People With Disabilities
Disability-friendly clothing certainly doesn't have to be boring or sacrifice stylishness. In recent times, British designer Lucy Jones has won recognition for her "Seated Design" collections created for wheelchair users. She hopes her "approach to Seated Design will create a conversation within a fashion that is far overdue. It is up to designers to better the fit, practicality and comfort of our garments, and it is vital that we see the value of involving disability into all aspects of design. To that end, designers should share, design, develop and listen to the needs of all individuals."
For her design, Jones had to consider things like how seams might chafe legs constantly in the seated position or the angle of the pelvis when seated.
"Dressing is such a basic and intimate need," said Open Style Lab co-founder Grace Teo. "We hope to restore the independence and dignity of dressing to people with disabilities." Open Style Lab, founded in 2014, is an organization dedicated to creating functional wearable solutions for people with disabilities. Its mission is to enable access to style regardless of your cognitive or physical ability.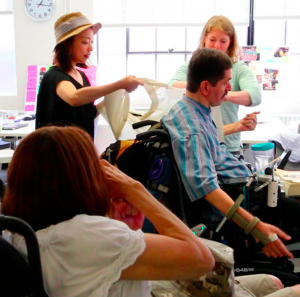 Every summer, the team at Open Style Lab creates bespoke outfits for four or five people, who have disabilities ranging from paralysis to nerve sensitivity. Now when you think of couture, you think high fashion, expensive custom clothing, usually created for the uber-rich. But there's another way to look at couture: custom clothing made by design students at Parson for people with disabilities. Teo and her team at Open Style Lab have served 50 clients and worked with more than 150 students by collaborating with occupational therapists, engineers, and physical therapists at events and hackathons globally. Teo's own personal encounter with a temporary disability post an accident made her aware of the difficulties disabled people face.
"I think it's just looking next door most of the time. Not seeing disability as something foreign or another afterthought. To really ask what people want. What are they doing? How are they living? And then we can create," Teo said.
Adaptive Fashion Pioneers
Sasha Radwan founded Special Kids.Company, an online adaptive clothing retailer after hearing about an extended family member in her parents' native Egypt who was disabled. The kid died 10 years later after being institutionalized at age 18. SpecialKids.The company sells clothing for kids with physical and mental challenges.
"We design the garments around what parents want for their children, what occupational therapists are asking for, what children are saying they're most comfortable in," Radwan said.
Before finding Special Kids.Company, 49-year-old Kevin Iverson would scour the web for garments adapted to his needs. He struggles with incontinence and is short. So, he finds the company's clothing a perfect fit.
Marks & Spencer Easy Dressing kidswear clothing line was conceived, designed and developed over two years, starting with a survey of 300 parents. It's been designed to be as similar to the main kidswear range as possible.
"Parents passionately told us that disabilities don't define their children, so the adaptations shouldn't define their clothes, it's why all the products are inclusively designed and modeled closely on our main collection," explained Rebecca Garner, Marks & Spencer kidswear designer.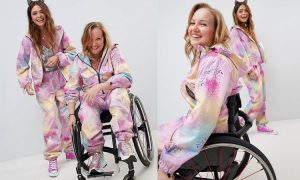 Retail's multi-billion opportunity to positively impact lives
Adaptive clothing empowers people. 1 in 10 Americans have some form of disability, and those numbers rising as people age, adaptive fashion is a growth opportunity. It's up to manufacturers, brands, retailers, and designers to ensure people of all abilities have clothes that fit their needs and wants.
"Clothing transforms me, defines me, gives me confidence. You may not feel the same way about fashion, but I bet you have a favorite T-shirt or a pair of jeans that transforms you, makes you feel good, makes you feel like you," Mindy Scheier said as she began her TED talk in 2018.
Her middle child Oliver was born with a rare form of muscular dystrophy (MD). He had to wear leg braces and a feeding tube. And everyday tasks for him – that we take for granted – were incredibly challenging. Just like his friends, Oliver wanted to wear jeans to school, but couldn't find any that fit properly over leg braces and that were easy to put on and take off. It was a nightmare for him. "It became a constant reminder of what he could and could not do," Scheier added.
"Wearing sweatpants every day makes me feel like I'm dressing disabled," Oliver told his mother, as she recounted in her talk.
In 2014, Scheier launched Runway of Dreams, a nonprofit that promotes inclusive clothing design. Its mission is to educate the fashion industry. According to its website, "it's founded on the basis that clothing is a basic human need. The Runway of Dreams Foundation develops, delivers and supports charitable initiatives to broaden the reach of adaptive clothing and promote the differently-abled community in the fashion industry. Through adaptive clothing donations, employment opportunity initiatives, adaptive design workshops, awareness building campaigns and scholarship programs, the Runway of Dreams Foundation is empowering people with disabilities with opportunity, confidence, independence and style."
Grace Teo's goal, too, is to serve people who are ignored and people who are not seen. She wants to build a stronger community by bringing clinicians, companies and collaborators with disabilities together. She said she advocates "for more rights and create opportunities for all people when working with large companies like IKEA – to act and think inclusively for people with disabilities." 
The adaptive clothing market remains virtually untapped. Designers and brands that cater to this market could not only create a positive economic and social impact but also gain first-mover advantage by becoming the go-to provider of certain adaptive fashion styles. Clothing can be transformative. Clothing equals confidence. Now, take a moment to think back to the process of putting on your favorite pair of jeans. Think about what you chose and how it makes you feel.
It's time for the fashion industry to look up, pay attention, and positively impact the millions of lives that matter.