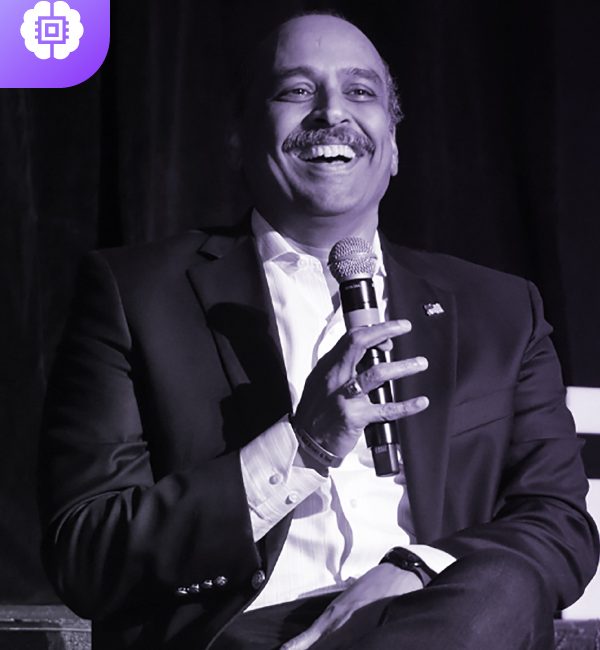 The rise of enterprise IT from backroom to the boardroom: Murali Sundararajan, EVP & CIO, Victoria's Secret
About this Podcast:
In this podcast, Murali Sundararajan, EVP and CIO at Victoria's Secret, discusses digital transformation and AI in the retail industry. He highlights the shift in perception of IT from being an expense to an enabler and an integral part of the business. The key driver of change is the reliance on data, making IT an essential asset.
Post-pandemic, retail has undergone significant changes, with a focus on convenience, personalization, and the role of technology. Murali emphasizes the importance of data in real-time decision-making and the role of AI in processing data efficiently.
He also discusses the impact of AI in various areas, such as medical approvals, where AI can streamline data mapping, making the approval process much faster. Murali envisions AI transforming the entire value chain, from product creation to legal processes.
In managing digital transformation, Murali suggests visualizing it as a maze where the exit is the desired outcome. He recommends understanding where each team member is in their change curve and adapting strategies accordingly. Flexibility and decisive action are crucial, and using success stories as anchor points can propel the entire team forward.
Murali provides valuable insights for those navigating the complexities of digital transformation in today's dynamic business landscape.

Episode Transcript:
Shyam Ravishankar
Hey there. Welcome to the AI Transformation podcast by Team MAD Street Den. I'm Shyam and I host this podcast with my founder, Ashwini Asokan, at MSD, we've been bringing together leaders from across the world CIOs, COOs, digital transformation heads, CTOs, product and marketing leaders who've been crucial to transforming their businesses with AI. In this episode, we're happy to welcome Murali Sundararajan, EVP and CIO at Victoria's Secret. Murali is a global Fortune 500 executive leader and a board member with strong general management and operational leadership experience in the retail industry for the last 30 plus years. Murali is a proven, results oriented technology innovator and patent owner with extensive knowledge and experience overseeing both domestic and global technology operations. Over to you, Ashwini.
Ashwini Asokan
Welcome, Murali. Thank you so much for taking the time to do this podcast with us at Mad Street Den. Then we are big fans of the work you do. We saw what you contributed to our conversations at the Rebuild event this year's to begin with, and so we thought we must have a little bit of a follow through in the form of a podcast right after. Um, so thank you so much for taking the time, Murali.
Murali Sundararajan
No, thank you for the opportunity. It's nice talking to you. It's always had fun talking to you or any other startup company for that matter.
Ashwini Asokan
Wonderful. You have served in very senior roles across Lowe's and now Victoria's Secret. And there's a very long history of you kind of driving almost a CIO kind of a role. And now an CEO of Victoria's Secret. What does this role really mean? Right. Especially today versus, say, even five years ago or three years ago. Right. Just tell us a little bit about the before and after kind of a situation of what it means to be the CIO in today's day and age where everything is so much hype around all things AI. What is it, three years versus now?
Murali Sundararajan
Now , I think, I Think, if you think about probably 20 or 30 years before, technology was not considered as an asset. Right. When you say when anytime, when people talk about the IT in the books as part of the business, IT was never considered as an asset before in the sense that people you are an expense organization because you're not generating any revenue. Right? But any of the organization marketing, even though they spend, they generate. And if you are a merchandiser, you, you spend, you generate, but IT you spend a lot of money, but you don't generate anything on your own because, that's the reason people treat them. You're not an asset, right? You're more on the expense line item. But I think the trend overall changed after a while. And then people calling IT as an enabler because people had seen that is the platform makes the business successful. So IT got into the role of being an enabler for the business. So now IT is part of the business right now. I think that's where the shift is happening in the industry because in every one of them, even if you want to do the merchandising, so people are talking about digitizing your merchandising process means IT is in-built in. So so there is no situation wherein any of the business life cycle technology is always there. So you are part of the business right now. So no, it's not even enabling, know you are part of the business, you're not anybody different and then you are completely a part of the asset in the entire organization and you get an equal seat at the board or at any level, have the compensation because you are part of the whole process, right? I think that's a shift that's happening.
Ashwini Asokan
That's a huge shift, actually. This is the first time I've heard about this at all to see that, to see technology as an expense line item versus actually revenue generating or a cost cutting or an enabler of the business itself. Right. And that shift, what do you think led to that shift, especially now? I mean, I mean, it's been slowly happening, but but is there anything that's accelerating that shift right now?
Murali Sundararajan
I think the biggest one is changing is because a lot of reliance on data right now, because without data, nothing happens. Right. I think people were generating a lot of data before, but nobody was taking a lot of attention to the data before. You get a weekly report, you get a daily report that was happening for a long time, but it's there. But people are always look at them as a rearview mirror and then say like, okay, now I need the data to figure out what I did last holiday. What do we need to course correct and change, But it was not in the right in the middle of decision making right now. Right. So that shift change is probably five, ten years before and that's when the the concept of Hadoop came in and IOT came in and all of them. But even then, the speed in which the data that we are getting it, the amount of time that you need to process and make it meaningful for decision that hits the ground only now I think that's that's when the acceleration been so much. But I think there was robotic process automation came in and helped a lot of modeling helped everything. So now now this is taking to the next level in terms of the speed. So in my opinion, I think the data is the critical one and people started relying on the data to make the decision made the complete shift. So.
Ashwini Asokan
What are I mean again. Right. So data as being the primary driver of that change or the role of technology. Right. And data being something that you basically collected. Right. The big data madness where everybody collect it to now you're saying this decade is about actually putting that data to use. Right. And in almost like a real time manner, I guess, is what I'm what I'm hearing you say. Right. What are the say, three, four things. Right. Because I think one of the other things one of the other really big things that have happened in the last, say, 2 to 3 years, again is the post pandemic world of retail seems to be completely different from the pre-pandemic retail world. Right. And and on one hand, you could argue, oh, the more things change, the more they stay the same because you went through that whole online only. Now everybody is off back offline. So on one hand, people are definitely back offline after a little bit of a gap that we saw during Covid. But also, interestingly, they've not just come back offline. They've actually spun up and maintain and continue to grow their online presence in very interesting ways. Right. And and so this concept of omnichannel, which we've been talking about for ten years, it finally feels like the Covid period accelerated that pretty crazily. Right. So can you tell us a little bit about pre pandemic and post pandemic retail specifically and with the kind of massive focus on all things data. What are some of the things you're seeing out there in the market as it relates to what has happened post pandemic in the context of data and how retail is responding?
Murali Sundararajan
I think I think the responding is different. I think if you think about pre-pandemic, yes, the data was still critical. People were still collecting data. And then there are a lot of IOT happened pre-pandemic. Right. So there is no shortage of data. There are a lot of Hadoop systems came in and people are making creating the models and all of them. So in my opinion, the difference is in the previous pandemic or even before the concept of generative AI people are talking about, there were a lot of automation happen, no doubt about it, but they are all focused on running everything in autopilot mode. So when you say the autopilot mode, it means I know what my data required. I figured it out. I built the model, now I know I can able to run it right so I don't have to worry about doing manual work of curating my data. So people are focusing on making an autopilot kind of efficiency because that was good enough for keeping up with the pace. So when pandemic hit and people all went into the online mode, and I think you can see there was a struggle for all of us to get settled into this new way of doing it. So now it becomes more convenient, right? The convenience is to say, like, I can just click two button and get everything delivered to my door. Like personally, I did order an iPad the morning 9 a.m. and I got my iPad delivered at my doorstep at 11 a.m. two hours I got my iPad. Do I need that one? No. But if I compare multiple different website, the price is same and somebody can give in two hours. I'm like, I'm just going to take it, right? Why do I need to say no for somebody who can able to deliver shorter, Right? So so now so that convenience has become a choice. I think people are going into the restaurants before now. People are like, Can I do the pickup and deliveries by somebody else? Can it come through Uber? Can it come through DoorDash? Right. So now when people are looking for, they go to Amazon. If the Amazon can not able to deliver in two hours, they can go to their DoorDash app and then see can somebody deliver through DoorDash in 2 hours. Right? You're going to pay service charge. People are okay to pay the service charge for the convenience. Right. So now the time to market shifted pretty much fast enough. So because of the change, the autopilot, whatever was doing is not fast enough. I need the data need to be curated much more faster. So what it means is I need somebody sitting next to me like a co-pilot doing the pattern matching and figure out what you're going to be asking you for real time.
Ashwini Asokan
Real time. Everything. Real time.
Murali Sundararajan
Yeah, because I wanted to. I want to think for you. I wanted to curate for you. I need to be making you to think about that you're not even planning to buy right now. I can show you some of the screen and you can say I can do it in two hours, even though you don't need them. Like, what's wrong in me taking two hours and get it done right? And there is no concern on returning nowadays. Think about return process completely changed. Right. That return doesn't have to worry about. I need to go find a place to drop in. People found multiple different ways to do the returns. There is one company working. Even the return, they're trying to do the pick up. So you can just say, I want to return. You pick up from my house, they can come and pick up from your house for the return. You don't even have to go. So when you make those processes much more convenient for the customers, then the convenience creates a lot of demand for how do you react to the data, what you get right now. So now that put more pressure on how fast you can able to come back with the answer then now people become more personalized. Right now I need to see what I want to see. I don't want to see all of them. So now the personalization becomes top of the chain again. Personalization was there ten years before. It's not anything different, but now it's become much more critical because people don't have patience. People don't have time to think about. I just need now I just need to figure out whoever can give it to me right now. So there is a competition at the same time is the store gone out of the door. I'm like, No, people wants to go to the store, have an experience, have the touch and feel they still want the social element to be there. But if the if there is a brand new product that you're going to launch, I want to go touch and feel. But once it becomes part of my normal stuff when I wanted to order for convenience and I use digital. So it is completely transforming.
Ashwini Asokan
So it feels like customer experience, context of that experience, speed and accuracy of that experience. And then predicting all of this is before the person even wants it, right? So yeah, right. Okay. Yeah. Yeah. Internally, what about internally? I think operations wise processes wise inside the company, Right. Inside large enterprises and large retailers mostly, right. I think one of the questions that we constantly kind of think about is you have said many times before there are hundreds of applications that run across, you know, every year you guys are you're bringing in and implementing so many new technologies every single year. Right. How does that cycle work? Because it's a never ending machine and there's so many moving parts. Where does, you know, let's say a customer facing experience related application versus an internal, operationally efficient, you know, investment? How do you balance these things like which what gets airtime first? Which one gets more priority? Is it the revenue growth? Is it the cost saving? Is it the, you know, efficiency? How do you play? You know, how do you juggle those balls?
Murali Sundararajan
No, I think that that battle was there all the time. But again, that one Gartner makes it very, very clear. I think for any specific to the IT, they put them into three buckets of expenses. One is to run the business, grow the business, transform the business, right. So if you think about the one drives the business value is grow the business and transform the business. That's what drives the business value. Run the business. It's like a steady state in the sense like you're given. So we always give an example of your expectation is when you turn your switch on, it means the light needs to glow, right? You don't even think second is like, I don't care what happens behind the scene. You need to flip the switch, you need to work. That's what happens to the people coming into the office or working from remote when they turn on the laptop. It should get connected. It just needs to work. What happens behind the scene to make this all work when you turn it on. That is typically running the business, right? So the focus is the how much ever efficiency that you can able to create, make the run the business the smallest percentage possible.
Murali Sundararajan
All that means is I am releasing capacity from it for other two blocks, which is grow the business and transfer the business. The more and more I push up it means I'm adding more value to the business. The more and more I push down. It means I'm dragging the business from the growth. I think that's where we need to value to say, okay, do I do the right job of balancing my number so that because again, it's a contradictory right. So when I grow the business, to your point, I'm going to add more application. It means me next year my steady state is going to become bigger. I cannot make this big enough because then I don't give enough value to the next one. So I need to be constantly reinventing in terms of how do I keep my number either same or reduced. So that's where the automation of it comes in on its own. So I think that's where the automation now the AI is going to play a role to say, how do we make my operations streamlined so that I can able to keep reducing while I keep adding new app
Ashwini Asokan
That's a fantastic explanation, right? How do you keep things at the same level, whether at an expense or a number of applications while your business grows. I think that's a fascinating way to think about the IT space as a whole, right? Like and it's also a really, really interesting challenge because the complexity only keeps growing, right? There's more data sources, there's more ways to automate. There's just more and more and more. And it's interesting. I don't know, there's almost like this little bit of an analogy. I don't know if in the space of housework and women, you know, there used to be this whole thing that machines were supposed to make women's life lives a lot easier. No, it just added a whole other layer of complexity. Right? Because all of a sudden you're doing way more than you ever did before. Right. And at the same time, you know, so it's very interesting parallels. I'm just thinking. But you also mentioned that in the case of enterprise, you're saying things should also stay the same. You don't get to spend more. It's not like you get to so lots of again, lots of juggling, I think between quality, quantity, cost, right and time. Um, yeah. What are, you know and you brought up model. So I'm going to bring this up and I'm actually going to pause for a second because I know Shyam just messaged me Murali, is it possible to just tilt your display just a little bit so we get more of your more of you and a little less of the. Ah, there you go. Perfect. Thank you.
Murali Sundararajan
Okay.
Ashwini Asokan
Thank you. Does that work Shyam?
Shyam Ravishankar
Yeah. Perfect. Thank you so much.
Murali Sundararajan
Okay.
Ashwini Asokan
Um, so let's jump into the topic of AI here. You brought it up. What are some of the most exciting things you're seeing when it comes to retail and AI? And, you know, give us a list of all the things that excite you and specifically a couple of things that you are deeply looking into.
Murali Sundararajan
No, I think AI is a fascinating thing. I think you heard me multiple times. This is not the first time I'm looking AI So I'm working with AI for the last 10-12 years with a lot of companies. But again, the pace is completely changed. Somebody asked me a question like why there is so much energy now rather than ten years before multiple things happen again. Covid is also one more reason why things paced differently, right? The communication with all the people together happened instantaneously at the same time. Whether people go through the social media, Instagram, Google, you name anything, the people get the information instantaneously. It means there is some gossip, there is some real knowledge is happening. It's all of them, right? Again, I hear from my son every time. I'm like, I hate when the patient come to me for the thing. It's like Doctor My Google said, I'm like, if the Google said.
Ashwini Asokan
They have already googled all your symptoms.
Murali Sundararajan
Why the hell you want to come to me? Right? I think nowadays technology has become the same thing. Like Google says or Instagram says something that you don't even know whether it is relevant or not relevant. It is fake, but there is always there is some realism is also there built into it. So because of all of them, the hype of the technology went way up. At the same time, technology also evolved in terms of its intelligence because of the ChatGPT and generative AI. So I think one of the example that people are talking about is it's because of the LLM. It can able to consume data so fast. At the same time they can able to do the pattern matching. So one of the thing I was hearing from a couple of the friends or people talking about the FDA process for the medical approval, it goes through a longer period of time because it's not because it's the toughest bureaucratic red tape is it's more with respect to the data mapping. Right? So people have to map the data in a certain way so that once the data is properly mapped, it makes it easier for people to compare the results and then validate all of the components before they do the approval. Right. So it's almost if you think about it, you got you got the the testing paper, the people say you ought to circle them in pencil in a specific format. The reason is when you feed those data in, it knows all the right answer Instead of people manually correcting it means you need to create those templates.
Murali Sundararajan
Everybody to follow the same template before you can process it. So if you think about that same concept, people have to curate so much data before they become a common format. Then it goes to approval and then if there is any change, the format changes. Again, you have to redo it all of the mapping one more time. So what this LLM changed the world right now is they gave all those previous 800 scenarios of documentation to the LLM. So no LLM process the whole data. Now they send the new set of data in five minutes, reproduce templates. The new data has been filled in in five minutes, which used to take five months for people to do it before. That's the efficiency is going to change the entire world in terms of how people are thinking. Because now we talked about the data was not fast enough. No, the data and processing is fast enough. It is also predicting in terms of how you can able to do so. It's going to touch every scenario because it's going to touch how the product creation is happening, how much design variation we can able to get from all those generative APIs and you can go through the entire value chain one after the other, not only on the product. And if you think about the legal team, right, think legal team is processing so many contracts, I just give the whole data to them.
Murali Sundararajan
Any new data comes in. There is no physical activity. They're going to say, these are the five places you need to go have negotiation, done deal. You don't have to review any of them, right? But the human mind has to be different in the sense now you have to start relying on your machine, telling them to do only the four things. It's not that, okay, you did your job. I'm going to do my old thing back again. I'm like, Then you're not efficient, right? Got to be careful because AI is not intelligent If your data is bad, right? If the data is, it's like a garbage in, garbage out, you put the garbage in, you're going to get the same garbage out. So you got to be careful. But your focus need to be validating the quality of data. And then as long as you validate the quality, you need to believe the outcome that is generated and then continue. Otherwise you're not adding efficiency. I think that's where the challenge of adapting is going to come. So now the technology is leapfrog, but the process is taking its turn to come there. When these two matches, then there is a factor of people human is going to interfere. So you need to go at the same speed to get to where we need to get to.
Ashwini Asokan
That's lovely. That's a lovely way to put it. And before we wrap up, I think one of the biggest questions that that I know is on everybody's there are so many people just purely let's talk people, because you mentioned people. And I want to wrap up with that note because I invariably find the best nuggets from most people who had organizations as large as you do. Um, the nuggets that come from managing people and organizations at some level is, again, the more the more things change outside, the more they stay the same inside, right? There's a lot of that. But I think the question coming back to the question around people, what are there are so many people today who are going on this journey of managing digital transformation or AI transformation for organizations around the world. Right. Um, I you know, two years ago, Chief Digital Transformation Officer was not even a role, right? Today it is any which way you turn the CIO and CDTO roles have also almost become like synonymous with each other. They're the same role, right? Essentially, you're bringing about transformation of on scale thanks to data centric systems. And there are this is one podcast where a lot of people in the digital transformation space spend a lot of time on. And so what are some 2 or 3 things, a pieces of advice you want to leave, you know, with people who are bringing about business transformation and digital transformation at multiple levels, right? It could be squarely in the space of data alone within a CDO in their office, or it could be a CTO in their office or it could be CIO and their so it could be across the organization. Many different people kind of ushering in that transformation. What are some 2 or 3 things you, you know, you have in the form of advice for them as they go through this? Because I think one of the things we see as a company who's who's very steeply kind of, you know, we're very deep into this space with everybody. And there's a lot of a bigger the larger set of questions are around which way should we go. Right? There are so many options, so many vendors, so many choices, everybody pulling in one direction or the other, like how do you make decisions and move forward? And then kind of, I don't know, because you sleep in the bed, you make. Right? It's a hard set of problems. And with talent churning so quickly, every 18 months, your team is gone, right? This there's like problems everywhere. How what kind of advice do you leave with folks who are listening to this?
Murali Sundararajan
Think I'm much of a visualization person because all my example is always focused on how my head, my brain works. So anytime you talk about change management, there it is an organization change management or there's a self management or your whole team needs to pivot and focus on the future. My brain always works in the concept of the maze, right? I think if you take the maze and then your vision is your exit door, you know where your exit door is going to be because that's your outcome you want to achieve, right? So if you are crystal clear, then you need to know that's my exit door. But how do you get there is different, right? Then you take an aerial view and then look at everybody where they are in their own change curve. That's the example, right? But in the maze you can see them each and every one of them in a different location. Some of them are closer to the door, but they don't know they're closer to the door. Some of them are too far and they have to take so many detours to get there. So if you think about it from that angle, from the aerial view, you need to understand where each and every one is at that particular moment and you need to drive them to the gate right When you drive them to the gate, don't put a fixed route. Say this is the only way I need to go, then it means you are becoming inflexible because to your point, there are so many things are changing in the industry. In a moment of a time. You don't want to be a person locked into the corner, cannot able to do it fast enough. At the same time, you should not be indecisive, right? You have to make the decision to move forward. So you have to make calculation to figure that's the reason this aerial view of the maze is going to help you to say if these ten people are going to be closer to the date, use them as an anchor point to show some win so that other people can say like, oh, that ten people got the win, I need to take the same win so you can propel your action right from there. That's the reason I always say take the view and then see how you can able to pivot because it's maze know you know where they are being blocked and where you need to detour them to take a different view for them to take this. So that's that's how I look at my the way how the whole thing works. That's how my brain works to navigate.
Ashwini Asokan
That's a lovely way to think about it. Thinking about because it is a maze and you don't know the entry, you don't know the exit, you don't know where anyone is and trying to figure out, you know, which way to kind of it's almost like navigate. It is way, way finding. You know, they talk about wayfinding, right? This it is way of finding it really is way finding when there are so many options and so many ways to go. Um. Yeah. That's fantastic. That's wonderful. Well, thank you for being such a champion model and thank you for taking the time to do this with us.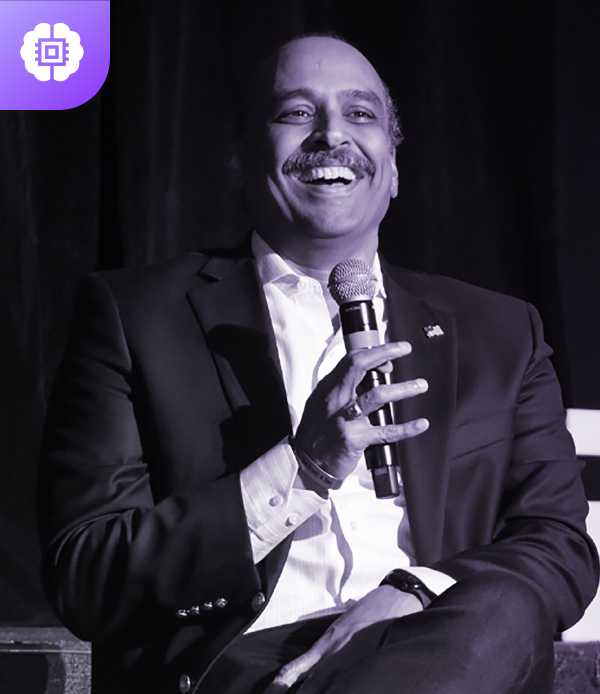 Murali Sundararajan
EVP & CIO, Victoria's Secret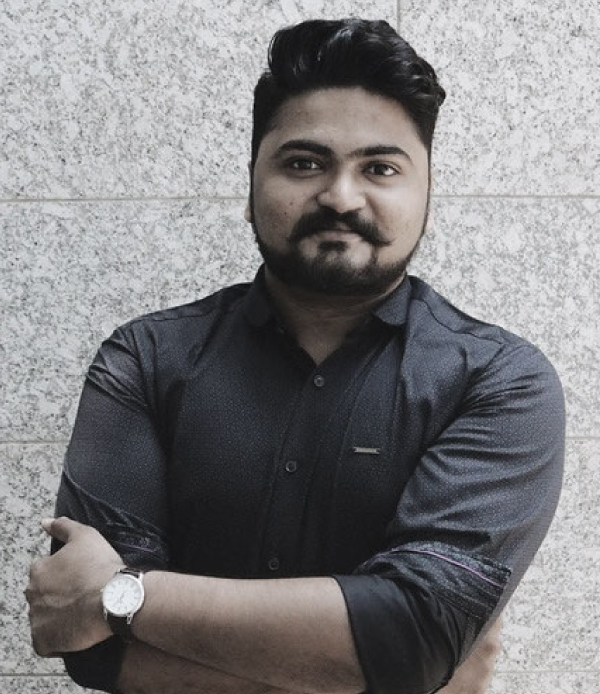 Shyam Ravishankar
Manager - Digital & Content Marketing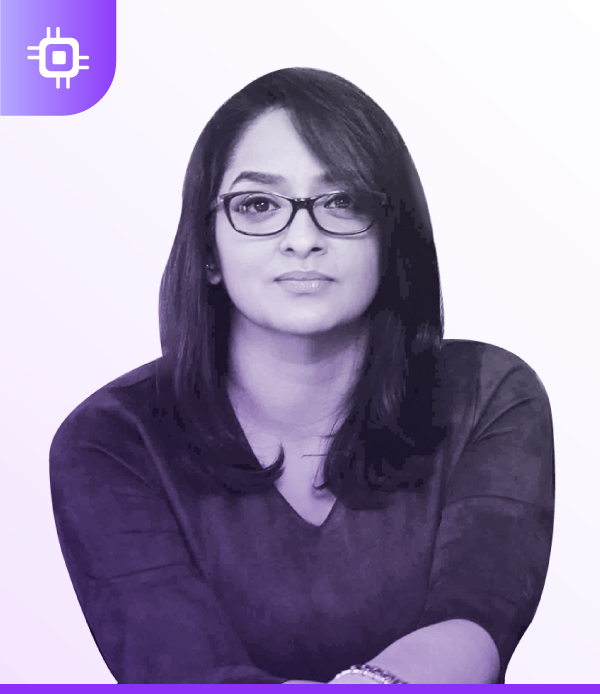 Ashwini Asokan
Founder & CEO, Vue.ai