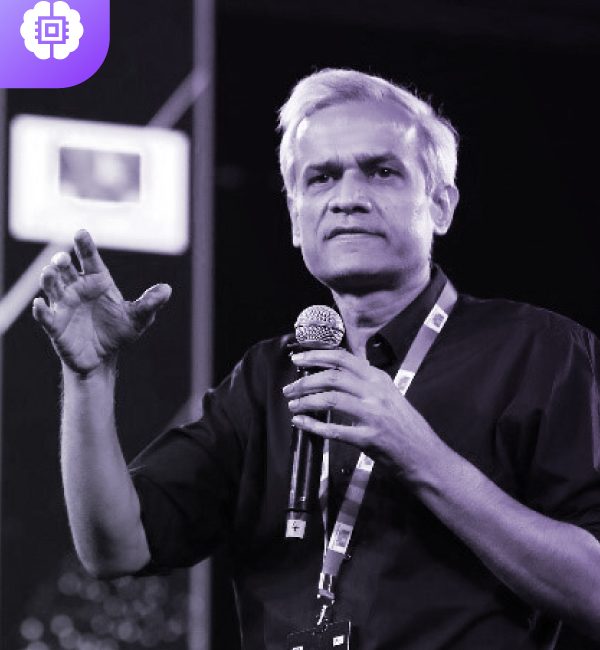 Exploring the Corporate Culture of Aditya Birla Group: Insights from Chief Data Analytics Officer, Pankaj Rai
On being a coach and a player, amidst blurring job titles
Through a serendipitous journey of fortuitous decisions, Pankaj Rai has embraced diverse roles in various industries over the course of his multi-decade career. His fearlessness towards change and wholehearted acceptance of the outcomes have become the guiding ideals he holds dearly. In an inspiring podcast, the Chief Data Analytics Officer at Aditya Birla Group sheds light on the transformative potential of AI and data analytics in revolutionizing businesses.
As Chief Data Analytics Officer:

The focus is on being a coach and a player, helping to build data analytics capabilities in each group company to drive transformation and better decision-making. Aditya Birla Group is a Fortune 500 global conglomerate with a diverse portfolio of businesses, including metals, cement, chemicals, fashion, and finance. Pankaj's role involves developing a data analytics culture across the group companies.

Balancing centralization and decentralization:

Aditya Birla Group's approach is to have a central data analytics function that acts as a thought leadership entity and an advisory, while also helping to develop data analytics capabilities in each group company. This model allows for a balance between centralization and autonomy while considering the diverse businesses within the conglomerate.

Consideration of context:

Pankaj highlights the importance of considering the context when implementing any approach to transformation. The growth mindset and willingness to innovate may be more suitable in certain contexts, while in others, external factors like regulation and market conditions might limit the scope for innovation.

Serendipity and Growth Mindset:

Pankaj attributes some of his success to serendipity but also acknowledges that having a growth mindset and being open to new challenges and opportunities played a significant role in his career trajectory.

Blur in roles:

Pankaj mentions that roles such as Chief Data Analytics Officer, Chief Data Officer, and CIO are increasingly blurring. There is a need to focus on driving transformation and value creation rather than getting stuck in traditional role definitions.
Pankaj offers three key takeaways for CIOs, CDOs, and other professionals:
Break away from past thinking and structures; adopt an entrepreneurial mindset.

Focus on the customer as the center of your efforts, rather than being bound by industry definitions.

Embrace ecosystem thinking, fostering collaboration and partnerships for better outcomes.
Episode Transcript:
Shyam Ravishankar
Hey there. Welcome to the Transformation podcast by team MAD Street Den. I'm Shyam and I host this podcast with my founder, Ashwini Asokan. At MSD, we've been bringing together leaders from across the world CIOs, COOs, digital transformation heads, CTOs, product and marketing leaders who've been crucial to transforming their businesses with AI. In this episode of the AI Transformation podcast. We're very happy to welcome Pankaj Rai, the chief data analytics Officer at Aditya Birla group. Aditya Birla group is a Fortune 500 global conglomerate headquartered in Mumbai, India, which employs over 185,000 people. Pankaj has a professional experience of 30 years in strategy, consulting and financial services. He was formerly a senior vice president at Wells Fargo. Head of analytics at Dell and head of PMO at Standard Chartered Bank. Over to you, Ashwini.
Ashwini Asokan
Thank you so much for joining us on the AI Transformation podcast. This is a place where we've had CIOs from around the world join us and tell us stories about their journeys. But also, you know, there's so much debate in the market about what transformation really means today. And this I think the process itself has become a fairly challenging one involving a lot of moving parts. Um, you seem to have a very colorful history between Aditya Birla and before that, Wells Fargo and before that Dell and um, very large organizations. Can you tell us a little bit about your journey, Pankaj, and how you happened to get here as a CIO here of Aditya Birla?
Pankaj Rai
Yeah. So, you know, all of the things that have happened so far in my life are all, I would say, unplanned and accidental. No major decision making was done. No data was utilized in doing those things. So at the time when I'm graduating from college, as you might guess, based on my hair color, the two options were there engineer and doctor. And since I was really, you know, hated blood and biology, I think it was very natural for me to gravitate towards the engineering option while I had.
Ashwini Asokan
The other option that was there.
Pankaj Rai
Yeah. Had the admission to Maulana Azad Medical College was in Delhi. So I could have gone to that college and sort of become a doctor. But clearly I chose engineering. And so it was more by elimination as you can make out. And then the next option which presented to me was doing Masters in electrical engineering going abroad, which was usually the next one. And while writing the statement of Purpose SOPs, I realized that I didn't have, you know, any interest in doing that. So I, you know, didn't go with that option. And thankfully I got an MBA admission. So again, there was some other thing which came up which seemed at least worse between the two, and that was chosen. And after the MBA also got I two jobs, one was selling light bulbs for Wipro and the other was doing consulting for Feedback Ventures. It appeared that sitting in an AC room and writing PowerPoint is better than selling light bulbs outside in the field. So that was chosen that way. And subsequent to that, of course, after doing consulting for two years, you know, a friend of mine said, Why don't you come to do banking in ICICI Seems seems a much nicer job where you're giving money rather than just advice. So I took that up and later on someone said, You should work for a multinational. They pay you more, you get more exposure. So I went to GE Capital doing the same job, getting paid more, and then the whole offshoring industry was booming and someone said, Why don't you go into this offshoring world? So I went to Standard Chartered, it was in Singapore helping set up a shared service center, which then brought me to Dell in Bangalore because they also had a new shared service center. And someone said, You come over here and this is a new opportunity, new startup, Dell and all that. So I spent some time there and then someone said, Why don't you do data analytics? Because Dell wants to do that. And I went there and then someone called me to Wells Fargo from where someone called me to Aditya Birla group. So like I said, all big decision in my life, including my marriage, were based on very less data and suggestions of.
Ashwini Asokan
You know, those of the most successful folks who humbly managed to say the story in a in a rather, you know, and attribute all that success to just, you know, a coincidence of events or serendipity. I'd love to say, you know, that it takes a lot to participate in that serendipity, right? Because at each point in time, you could have stayed with the choices you made as opposed to exploring. So I think there is even a lesson in there about just I don't know. See something interesting jump in. Right. And and and that kind of serendipity typically does tend to open up opportunities and very non-linear jumps. Would you say that's true for you?
Pankaj Rai
Yeah. No, I think I agree with you that I think there's always an option to be with the status quo and not change. And I find that a lot in many people who have been 20 years in the same company and have nothing, no, no issues with anyone staying 20 years, but many a time, those people are feeling that maybe they should have made a move earlier and they stayed too long and all of that. So my view is that you shouldn't have any regrets. You know, whatever decision you take, it should you at least should think that you made the right choice based on the available, you know, data that was available. So, yeah, it's hard to say what did I think in all of my job changes, maybe I was getting saturated and there was someone who was telling me something exciting about a new place and I always had someone in that company. So there was a friend in a target company who said, Don't worry, I'm here, I'll take care of you. So I think that comfort also allowed me to make those jumps because someone said that, don't worry, I'm there. So I think, I don't know, maybe that is what was different here. But yeah, so I think the the lesson that I learned again serendipitously was that initially it was consulting and consulting is all about consumers, customers, decision making strategy. What are you doing? Why are you doing all of that? Talking to very senior people. Next one was banking where you were, you know, giving money to people to set up projects and all. So there you are, getting an economic understanding of what is happening around you. And then there was this whole offshoring where you understood how global corporations you know did things, how did they offshore, what did they offshore, how did they make decisions, how were global processes set up and so on and so forth. So I think many of these things, which is a combination of business strategy, economics and, you know, global, you know, ideas were very helpful when I got into the field of data analytics because to me, data analytics was a tool to help people take better decisions. But understanding the economics of it, understanding the strategy of it, I think is very critical. So many a times I feel that I'm very fortunate to have had those experiences before coming into data analytics because I'm able to look at the big picture, look at the economic lens and then apply, you know, some of these, you know, thoughts and not in isolation.
Ashwini Asokan
Understood, understood and Pankaj, how would you how would you summarize your role right now as a group CIO of Aditya Birla? And if you could also just tell us a little bit about your vision itself for where the company is headed and where you would like to take the organization? We'd love to hear a little bit about that.
Pankaj Rai
So Aditya Birla group has this set of corporate functions, as we are called, in a separate legal entity which is called Aditya Birla Management Corporation Private Limited. And that's a, you know, to me at least, I haven't seen a similar model in any other large conglomerate. I think every conglomerate or every, you know, large company has some corporate function. So I was in GE, they were a corporate function, but they were part of the same P&L. You had a dotted line, solid line, all of that type of thing. But having such a diverse set of businesses and having a set of corporate functions sitting in a different entity who are designed to be not a shared service, but a thought leadership type of an entity. I find it to be a bit unique over here. I don't see a, you know, global model out there, although I'm told that some of the ideas over here were picked up from G because, you know, I think Ramcharan was a coach in the early days and he gave a lot of ideas and he was also a coach to Jack Welch. So I'm told and I see a lot of things which are there in GE and which I find over here. So I think this whole construct is very different from anyone else. And therefore, it's hard to compare this construct to someone else. So our corporate function, which is data analytics function, is the new baby in the block. We were formed five years ago. All of the corporate functions which you can imagine are HR, finance, legal M&A, marketing, sustainability, innovation, you know, whatever you can think of, all corporate functions exist and they have all existed for a long time.This was the newest one and which came in and then Covid happened and it wasn't able to establish itself. And you know, post that I joined two years ago. So,the so the way it was set up was I think being in consulting and some of these firms said that, you know, as a group you guys need to develop this, you know, data muscle and you better set up this function. And that's how it came into being. Now, when I came in two years ago, I found that, you know, the job of these functions, any of these corporate functions should be that thought leadership, COE, future thinking, all of that. But to do that, you got to have peers in group companies with whom you can work with. So all my peers within the ABMC construct had peers. So if you are a group CIO, you have CIOs in different companies. If you are the sustainability head, you have sustainability head. If you are the marketing COE head, you have marketing head. So everyone had a peer except me. I didn't have any peer. There was no analytics head in any group company for that matter. I mean, there were analytics people in some group companies, but it wasn't a function within that. So one of the thoughts that we as a team came together and said, You know what? If we have to amplify the impact of this new muscle that has come into this corporate function and make it reverberate across the group, we got to develop that muscle elsewhere as well, which some of our peers have the advantage of because they are, you know, older function and they have already existed. So the way therefore we figured out that our role ought to be is to one of the measures will be that have we created that muscle in every group company? And the reason it is important is that I think only when you have the capability to run the business in the group company can a central function do change the business. So while every corporate function is required to do change the business, but unless you have the run muscle, the change muscle cannot be developed. So that led us to believe that we will have to act as a coach and a player, both to on one hand develop that muscle inside at the same time, try to help do some transformational activities. So that was the high level vision statement that will be a coach and a player who will develop some assets which everyone can use. We'll also have develop some people capabilities in every group function so that they can take care of the run the business so that we can focus on the change the business, which is what our, you know, focus should be.
Ashwini Asokan
In that sense, it's a little different in that, you know, it's not that all functions were all business analytics needs were meant to be centralized. That's not it. It's almost like a decentralize it and bring about the culture of data analytics across the business groups as opposed to centralizing. I see. So in that in that sense, I think it is a little interesting and different than some of the other larger.
Pankaj Rai
And the reason it cannot be any other way because it might appear that it was a choice. I don't think there is any choice over here. It is it has to be this way. And the reason for that is that each of the group companies are independent public listed companies. So if you think about them as independent public listed companies with their independent board and all of those things, I don't think it makes sense even from a governance perspective, to have, you know, diverse people sitting in different group companies report into a, you know, separate entity, so to say. Right? So I think therefore, the idea of having this place as a COE and an advisory to help strengthen them, I think is the right thing to do. I think doing it any other way would not have been the right approach. Plus in the agile world that we reside in, I think you have to develop, you know, every group company to have those capabilities and not imagine that a central team will drive it. So therefore, think today if someone has to do it again, they should think of this model that you better be a coach and a player both and not imagine that you can do it all for themselves because I don't think that's the best thing to do.
Ashwini Asokan
Yeah. How do you manage? Because one of the biggest issues that typically happen in large conglomerates, we end up typically working with, you know, multi-business type of companies across the globe and. One of the questions that comes up all the time, right, is there is the whole duplication versus autonomy, right. At what point do you do you kind of how do you tread that line? Right. Because everybody is going to be making their own choices, their own build versus buy Choices. Everybody is making their own server hyperscaler choices, their own stack choices, and you could end up getting this kind of massive, you know, Frankenstein of sorts across the organization without data necessarily flowing in a way in a singular manner. Are those issues as a result or if they're not issues, you know, how have you managed to handle that?
Pankaj Rai
Yeah. So I think the answer there lies in how did we translate that vision statement of creating a data analytics culture in group companies into an operational model of, you know, how do we take it forward and what will success look like? So what we did was and you know, this is s where also relied on my previous experience in GE when I was a Six Sigma guy. I felt that, you know, whenever you have to drive change, you got to have a common language. So we adopted a Gartner framework as a common language to say, you know, this is how we will think about whatever we are trying to do. Now that Gartner framework has three layers. On the top it talks about, you know, creating a digital ambition aligned to your strategy and figuring out what all you need to do. Those activities can be in three buckets. You know, enable, optimize, transform. Low, medium, high. The middle layer is an operating model which talks about talent, culture, governance, you know, all of those types of things. And the bottom layer talks about the technologies and tools to make it happen. So the way we have started to evangelize this framework is to say there are these three layers. The top one is ways of thinking. The middle one is ways of working, and the bottom one is ways of doing. Now, most of us seem to be always focused on the ways of doing what project to do, what platform to build, what data lake to build all of that. And there's a lot of experimentation happens. But we believe that for us to sort of create that culture, you got to look at all the three layers, starting from the thinking layer to the ways of working layer to the doing layer together. And experimentation has to happen in all the three layers. So you got to keep experimenting and pushing the boundary on your way of thinking and what you are doing, how you're doing. You have to continue to do that in your ways of working. On how you think about talent, funding, culture, governance. And you have to certainly do it in the ways of doing, which is, you know, trying out different ways of trying to solve the problem. So I think that is the approach that we have taken. So the way we have organized ourselves is we have a set of people who are analytics solutioning people. They are aligned to each group companies think of them as internal relationship managers, so they go and orchestrate those, you know, digital ambition discussions to say, okay, how do you want to do it? What you know, what will be your people strategy? What are the projects? So we participate or at least try to participate only in a few sort of transformational projects because we think that there are so many things that any company needs to do. Only the you know, so like I said, enable, you know, optimize, transform only the more critical ones, difficult ones or IP oriented ones are the ones our team should go. All the others. We have a list of partners. We have, you know, many things that other people have done. So we bring and think of our role more as an orchestrator rather than a doer. So what we are doing is we are trying to do a bunch of these transformational projects and as these projects take hold, we create the data pipeline. So the second team is the data engineering team to say that we will create platform which can have reusable assets. So the platforms in our case are energy management, logistics, procurement, you know, the customer, all of those things. So think of them as horizontals. And we also have a partnership person whose job is to say that partner first. So whatever is to be done, can we get a partner to do that rather than spend our time doing something which has already been done outside? So that is the approach that we are taking where we work with the business as a consultant. So to your point now to make all of these things happen, they might want to need a data lake and say, you know what, We have a view on how to create data lakes. You can have your own this thing you can have our, you know a centralized one. You can go through GCP, you can go through that, you know. So for all of these things, we have created our own frameworks and approaches which we use in an advisory capacity, and we don't try to enforce anything because the diverse group like ours, which has different stages of maturity, I don't think one size fits all. So we try to truly act as an internal consulting team, which then tries to bring common pieces together by way of platforms and frameworks which can be reused by other group companies or other functions.
Ashwini Asokan
This is very, very interesting Pankaj because I think, you know, in a lot of places, I think that tension between a centralized office that actually runs the agenda versus, you know, an office that drives culture. I think in this case, you've made a very clear kind of, uh, there's a very clear line drawn there. Would you would you say that's that's a fair way to summarize it, that, that, that the line is one of we set the agenda, we help set the agenda, work with to inform choices and help change in culture as opposed to set the agenda yourself. It seems like there's a fairly straight line over there between those two things. Would you agree?
Pankaj Rai
Yes, and I think it's also important to recognize the context in which this approach will work. So my personal assumption is, and I've been in various different companies with different phases of their growth. So let's say you are in a company which is shrinking, which is in a difficult market which doesn't have the money. I'm not sure whether this growth mindset type approach that I told you will work because when you are trying to conserve money, all of that, I think that's the worst time to create a culture of any sort. You know, you are reacting and responding. So I think what I described to you is only possible when you are an environment which is in a growth mindset, growth phase. So I think we are fortunate to be sitting in an Indian conglomerate, which is super ambitious. Every business is a market leader of sorts. Every business wants to, you know, double in size in some shape or form. So I think in this context, the approach that articulated is a, you know, possible to work. But it's possible that if I was in a global organization and I've been in several one of them who are in a downward spiral, I don't think this approach would have worked. So I think you have to figure out the context and the approach has to fit into that context.
Ashwini Asokan
And within the scope of what you're doing right now and what Aditya Birla group is doing, it sounds like even there, there are a variety of very different businesses, right? Can you just tell us a little bit about all the different businesses and you know, how the story kind of comes together there on the business side?
Pankaj Rai
Yeah. Yeah. So I think I think largely, you know, this is about 60-70 billion dollar conglomerate. The big businesses which sort of contribute the largest amount to the top line and bottom line is Hindalco, a aluminium and copper company, you can call it a metals company and Ultratech cement, which is a cement company and they are both sort of large market leader companies. The third large company is a company called Grasim and they are all they are all listed on the stock exchange. Grasim is a sort of a diversified company. It has got chemicals and insulators and, you know, recently launched a paint business. So they are fairly diversified company. Then there are a few private companies. Also there's a company called Birla Carbon, which makes carbon black. There's a, you know, trading company which is again privately held. Then there is, you know, some retail companies like Aditya Birla fashion, you know, the Van Heusen, Louis Philip, they also now have Sabyasachi and many other, you know, brands. And then there's Aditya Birla capital, which has got several financial services companies. So if you think about companies which have a brand and a consumer, they are fashion and finance. All the other companies are sort of B2B largely commodity, although Ultratech Cement has its own brand and I'm sure you know, the aluminium may command some premium in some segments and so on and so forth. But largely commodities is where the group is strong in and they are all, you know, while they are all in the nature of manufacturing industries, I won't say they are high tech manufacturing. To me, high tech manufacturing is making turbines and automobiles. We are largely in commodities. If you look at the products, you know, whether it is, you know, aluminium or chemical or cement or carbon and or VSF and all of that, they are mostly process industries, largely, you know, commodity oriented, unlike, let's say, creating an automobile, which is heavy engineering and all of those types of things. So I think you have to distinguish within the manufacturing world also into commodity versus, you know, precision engineering, so to say. So we are more on the commodity side and then of course on the retail side, in the in terms of the split of revenue and profit, the consumer businesses, which is fashion and finance, which are fairly visible to everyone outside, contribute less than 10% to the overall, you know, contribution to revenue and profit. So I think therefore our team's effort in focus is a lot on some of these manufacturing businesses which are not very visible to the outside world being B2B and commodity.
Ashwini Asokan
Very interesting and it definitely feels like, it's raining manufacturing in this part of the world. You can't seem to get out of that zone at all. At least when it comes to India, it feels like a we're on a massive run that's working, um.
Pankaj Rai
The way, the way I articulate our story to our team members is to say, you know, India is a, you know, 3 trillion economy, and we all know that it will become a 30 trillion economy one day. And it's only a matter of time whether it becomes that in 20 years or 25 years. But all the youngsters, I tell them it will happen suddenly in your lifetime. So if you think about the addition of 27 more to the current 30, where will it come from? It has to come from pretty much everyone. Your startups, your, you know, multinational companies, your government spending, your, you know, big conglomerates like us. You know, everyone has to contribute in whichever area they are. So I think that we are in for a 25 year bull run in terms of growth. And therefore, I think that the approach and the framework that I speak about is probably going to be relevant for the long run. It's not something that will change because this whole growth mindset is, is, you know, going to continue for a long time.
Ashwini Asokan
What about the chapter before Wells Fargo? How different was that from where you are now?
Pankaj Rai I
I think banking and healthcare are two industries which are heavily regulated and rightly so, because if you think about, you know, the two things that we we all worry about is our money and our health. So, so decidedly I think regulation plays a huge role in both of those industries. So, you know, heavily regulated industry, I think the scope to do a lot of breakthrough innovation is absolutely low, you know, because you can't be experimenting a lot in areas which are, you know, very, very sensitive, so to say. So therefore, when people talk a lot about, you know, transformation and innovation and all of that, I think those industries are probably the last to adopt any of those things, although they make tons of money because they are regulated and which also creates entry barriers for new people to come in. But it also makes those industries a bit less, you know, open to trying out new things. So I think that the general mindset in a in a banking world, while it is, it is nice and I learned a lot. I don't think you can try out a lot of different things. And the other thing is that if you are sitting in a shared service center away from the head office, the ability to try innovation is even lower because you are again away. So in fact, I tell people that, you know, I worked for ICICI and all I said, all these large banks in India, if you are sitting in the Indoor office, it's highly unlikely that you will be asked to innovate on ICICI. You have to be in Bombay and same way if you are in Wells Fargo, you better be in New York or San Francisco and so on. So if your intent is to, you know, do innovation transformation, I think the location and the industry also matters.
Ashwini Asokan
What I mean, I'm going to wrap up with one last question here. Right. Um. You mentioned a couple of years ago, Chief Data Analytics Officer wasn't really a title, you know, um, is increasingly becoming a title today, right? And it almost I don't know. It feels like it. Um, this the Chief Data analytics officer, Chief Data Officer, CIO. It feels like everybody in lines are beginning to blur, right? Because there's a lot of questions around transformation and think lines are largely beginning to blur around the question of transformation and whether it's cloud transformation, data transformation. And now one thing that we passionately believe about in our company AI transformation, what are, say, three things you would like to leave the audience with and assume the audience is an audience of new CIOs, new CDTOs, new CDOs. Um, what are three things that you'd like to leave them with Pankaj?
Pankaj Rai
Yeah, I think the first thing that I believe that maybe everyone should just, just think about is to not focus on a lot of those mental models and structures that were created in the past because they are yesterday's mental models, yesterday's org structures, yesterday's processes. So to me, even the designations, the org design and many of those things are a incremental change from the past. And I don't think people and while you know, you need to have an org design and you need to have a JD and all of those things to run an organization. But I think the less people look at those things as gospel truth and look at themselves to say, hey, you know what, I'm an entrepreneur. They have given me this title, but my job is to create value in whichever way I can. I think that is the mindset. All of us at any level in any organization need to have today. Because the way the world is evolving, the way the things are changing. I think if you are hindered by your job title or what you did in the past or how the organization is designed or who your manager is, I think it's all in your mind. I think you have to get rid of some of those thought processes. While they may exist on paper, try to be more entrepreneurial than that. So that's number one, which is to sort of break away from the past thinking past manifestations in various forms, whether it is or org design or process or whatever that number.
Pankaj Rai
I think number two is that I think the industry context is also changing so much that you have to also get rid of your idea that which industry I'm in. Because many times if you were to ask Amazon which industry they are in ten years ago, they may have you may have got one answer in five years ago, another one. And today there may be a different answer which basically says that don't think Amazon looks at itself in an industry. So this again, industry construct is a relic of the past. I don't think people are thinking about, you know, what industry I'm in. Everyone is focused on creating a difference in the life of the customer in whichever way they can. So I think the second thing I would say is to think about the customer as the center and your job as a company or an individual or whatever function you are in to say, how can you make a difference? What can you learn more? What can you orchestrate more? Because in the past we have been very used to doing things on our own. So I would say that creating an ecosystem, bringing the entire ecosystem to play versus trying to do on your own would be the third thing to bring to the table. So those are the three, you know, getting rid of the past two, getting rid of the idea that I'm part of an industry, but focusing on the customer And thirdly, thinking ecosystem are the three things that come to my mind.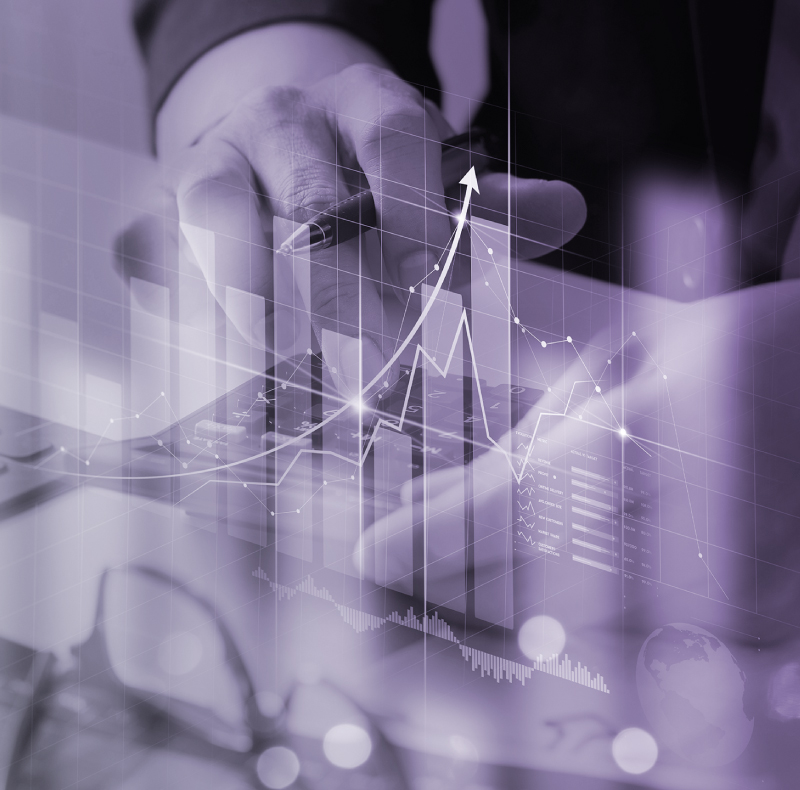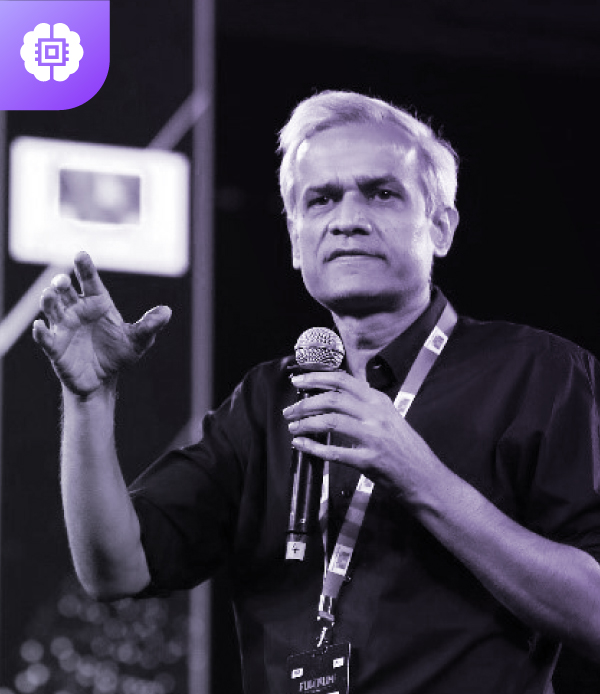 Pankaj Rai
Group Chief Data and Analytics Officer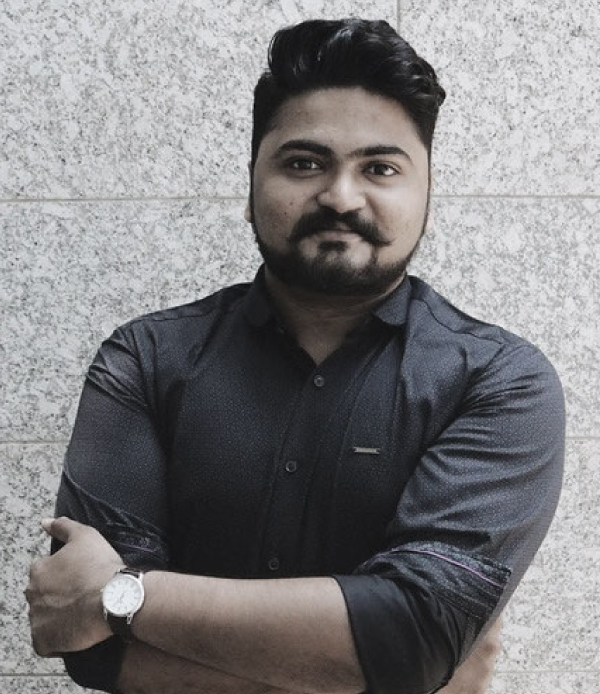 Shyam Ravishankar
Manager - Digital & Content Marketing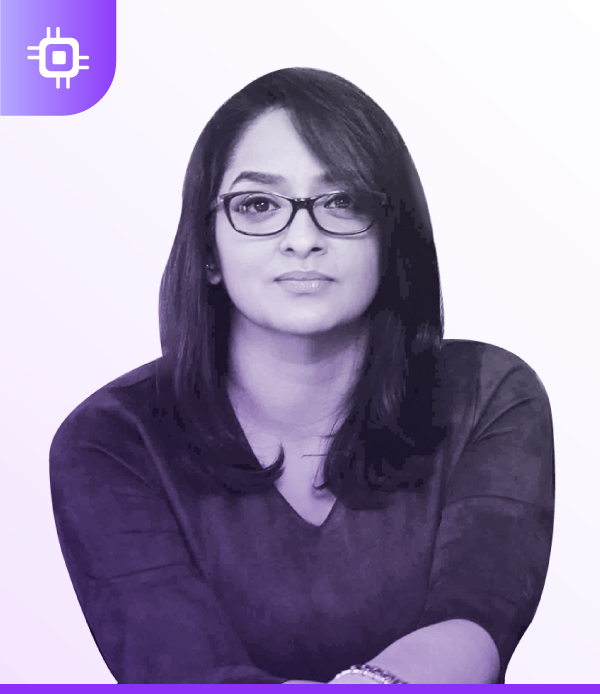 Ashwini Asokan
Founder & CEO, Vue.ai