Catalog Data Enrichment with AI and Automation

5

min read
Reading Time:
4
minutes
At a glance, building and maintaining a product catalog can seem like a tactical task. But there is more to look into this matter than what meets the eye. Whether you are a manufacturer, retailer, supplier, or distributor, quality of catalog data makes all the difference in sale. From automating digital merchandising to counterfeit product identification, Today, computer vision's role has expanded into every part of retail i.e, right from managing inventory to in-store aids to making smarter decisions. One of the areas in the retail industry where automation comes into play, is Catalog Data Enrichment which allows retailers to generate and handle data effectively. 
Going Traditional To Digital
Moving data from a traditional brick-and-mortar store set up to an online store can seem like a daunting task. From designing the eCommerce website and persona, to ensuring all your products are tagged and displayed accurately, to preparing content for marketing strategies, moving to the eCommerce world is a complex process, but a very important one, especially in the digital age. Retailers often struggle with inconsistent data across products owing to different sources like third party and vendors. Fixing data quality becomes something of paramount importance since it affects the data across the retail system itself.
Today, reviewing large catalogs manually, is a time consuming process. Retailers must switch to faster tagging methods to ensure their products GTM faster thereby keeping up with the industry. Automating this tagging process yields rich and robust tags.
Data Discrepancies
Data discrepancies exist throughout the retail process. Identifying and tackling them at the very beginning, ensures that the data across your system is consistent, clean and rich. Having poor quality images, duplicate images of the same product, multiple image types or images not conforming to the brand guidelines, maintaining one excel sheet for all the products, mixing up the SKU numbers are all common problems that retailers face due to inconsistent data. 
|| Studies show that poor data is costing fashion e-commerce business 6% of their annual revenue. That's an expected $45.9 Billion chunk by the year 2022.
Manually labelling is time consuming, erroneous and lacks uniformity. Studies show that it takes more than 30 hours a week to tag just 200-300 products. 
Catalog Data Enrichment
Catalog Data Enrichment using AI and automation can reap many benefits. Aside from getting clean, rich and consistent tags, automating the process also yields deeper insight into catalog data. With minimal manual intervention, clean, consistent tags and SEO-ready tags increase catalog quality and visibility, improving product discovery. Automated product tagging increases your business's operation efficiency and ensures a seamless product discovery experience for the shoppers. Having accurate and relevant product content increases engagement and reduces bounce rate of the website.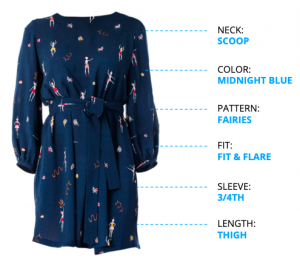 Rich Product Data Generation
Rich product data sells. Having optimised for search, it scores well for readability, and has robust metadata. These metadata tags result in highly specific, SEO friendly keywords. It helps the retailer to curate ensembles and highlight the right merchandise for the right customer by understanding their personal shopping preferences. Using these fashion specific keywords for SEO and Adword tags helps increase catalog invisibility across marketing and sales channels. Product discovery is also maximized through image and search text on site. The visual tags are augmented with textual tags to allow for more precision and relevance in search results, leading to an enhanced browsing experience for the customers. It also provides a deeper insight on trends in sales data for better inventory and forecasting decisions.
AI As A Solution
Using computer vision, visual AI and NLP systems produces clean and consistent data. Catalog assessment is the first step of the process, which identifies missing or incorrect metadata. Following which, Catalog audit, the second step, identifies the source of the product image, i.e., if it is a catalog garment, a model image or a social media professional's image. This helps the retailer understand their inventory structure and enables them to make better decisions. Automation engines verify if the product images and its associated metadata are aligned.
The Image Search and Image Recognition engines identify duplicates within the catalog or across different catalogs from multiple sellers which is crucial for an accurate assessment of the inventory. Effective catalog management means that retailers can keep track of SKUs and as a result plan inventory better. AI – enabled tagging, the third step, extracts visual attributes beyond just color or pattern, and detects category, pattern, neckline and even dress length. The NLP systems generate non-visual tags that create apt product titles and descriptions.
The VueTag Solution
VueTag is an AI-powered image recognition solution that automatically tags products by extracting accurate, detailed product attributes from images at a fraction of time and cost. The AI tagging engines extracts visual attributes from the products to create tags while the NLP engines generate the title and descriptions. This makes the QA process easier and efficient. The tagged data can then be exported as a CSV or XLS file, or integrated via API or into any PIM/CMS systems.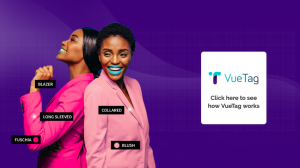 Manually tagging 10,000 products with approximately 8 tags per product will cost you a lot of time and money (approx. 1 month with up to 3 people working on it). It will also result in tags that are inconsistent, and erroneous. Switching to VueTag, an automated tagging solution tags products in real time, saving you 90% of human and operational costs. It also yields consistent and highly accurate tags, thereby improving your overall catalog quality. Features like Bulk Edit help you review large quantities at once, saving you even more time and effort! 
Learn more about Product Catalog Data Enrichment data with AI and Automation from our webinar with Forrester>>