World's Best Fashion Weeks Beyond The Big-Four Circuit

7

min read
Reading Time:
6
minutes
When it comes to worldwide media attention, four fashion weeks dominate the scene twice every year- New York, London, Paris, and Milan. However, these fashion weeks cannot, in all fairness, showcase every good brand and label. A lot of upcoming designers therefore choose to make their entry through other events before showcasing at one of these fashion weeks.
Over time, several countries have come up with their versions of fashion weeks. While they may not command the same level of global attention, these events are much more than just a week of extravaganza- they give local designers and artisans a chance to showcase their creations to a discerning audience. Often, some of these designers go on to gain success on the global platform.
Here, we take a look at six such events. They are the ones that have managed to surprise, either with their themes or with new and inspired designs, and designers.
Tokyo Fashion Week
Started in 2005, Tokyo Fashion Week has a lofty ambition- that of turning the Big Four into the Big Five. Until 2015, Mercedes Benz was the event's title sponsor, a trend that changed with Amazon taking over in 2016.
To measure the true impact of a fashion week, its streetwear is scrutinized just as much as the looks on the runway. New York Fashion Week is primarily known for off beat, interesting styles while the European shows focus on innovation, traditional craft, and more classical styles. However, Tokyo has a different vision for its fashion week. It is a combination of  urban streetwear meets iconic Japanese heritage. Expected from a country with a heritage and culture that is as rich and as old. Tokyo treats its history with care, and this is clearly visible in the fashion week.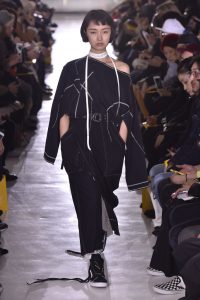 Today, several international brands showcase at Tokyo Fashion Week- a clear expression of consumer interest and purchasing power. Some international designers who showcased at the most recent Spring/Summer '19 edit include The House Of AmZ and Atelier Grandi from the United States and Canada respectively.
Berlin Fashion Week
With three of the four major fashion events happening in Europe, one would think that the continent has had enough. However, Berlin Fashion Week proves otherwise. Forbes has called Berlin the most undervalued fashion capital in all of Europe and one look at its fashion week is enough to see why.
World War II had a substantial impact on the German economy. Berlin, once considered the frontrunner in designing ready-to-wear styles, lost several designer outlets during the war.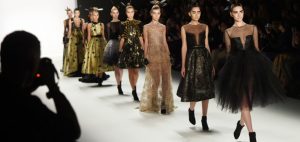 At the turn of the millennium, trade fairs like Bread&Butter set up office in Berlin and pushed for a fashion week. Escada and Hugo Boss both call Germany home, so it is no surprise that they choose to showcase at the Berlin Fashion Week almost every year.
What makes Berlin Fashion Week stand out is the emphasis it places on new designers. Label Augustin Teboul was founded in 2010 and has already won the Start Your Own Fashion Business award which is considered equal to the Vogue Fashion Funds. Alexandra Kiesel is one of Marc Jacobs' favorite new entrants on the scene, and she calls Berlin Fashion Week home, too.
As always, the city's open culture is only an added plus for designers. They can choose to exhibit at one of the many pop-up shows that happen across the city during the same time, almost guaranteeing them some media attention. 
Venice Fashion Week
The third entrant on our list also happens to be in Europe! If you want to take a look at the future of fashion weeks, you should probably head to Venice. Venetian craftsmanship has always been highly prized around the globe, and now, local designers are using these themes in their collections in a week that is filled with drones, pyjama parties, and ideas that the world needs to pay attention to.
What's more, the event calls Venice the capital of slow fashion. For 2018, the theme of the fashion week was slow, artisanal, sustainable, and ethical fashion. All designers who attend the Venice Fashion Week were encouraged to think of ways to build zero-waste fashion merchandise which respects their local artisans and revives craft that might otherwise lose to fast fashion.
Daniela Giacometti's Apart is an effort to showcase just this heritage from Venetian artists. Michela Giaofatto and Fabiana Filipp both make clothes that are proudly made local and with a focus on functionality. Atelier Pietro Longhi tries to recreate and popularize traditionally Venetian garments- this is haute couture as it originally was.
While still in its nascent stages, the Venice Fashion Week gives us hope that there are themes and elements from, and for, the future that is important to this small but growing cohort of designers and buyers.
Australia Fashion Week
With over two decades of history, the Australian Fashion Week is probably the oldest event outside of its biggest competitors. That's a bit of a surprise because it is also one of the most under-reported.
In its very first outing in 1996, it featured the likes of Akira Isogawa and Wayne Cooper, and everyone assumed that there would be no looking back. Over time, it had its memorable moments from the time when Eva Herzigova walked by in a $500,000 bikini or when Ksubi sent a hundred live rats down the runway. Talk about a statement?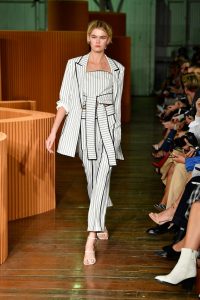 Memorable moments include that time when Dita Von Teese walked the ramp with a giant M.A.C lipstick in tow, and when designer duo Anna Plunkett and Luke Sales found unprecedented success with their own label, after turning down an internship with John Galliano.
India Fashion Week
The India fashion week started as an annual event in 2005 before moving to the usual two-shows-per-year format. Started in collaboration with the Fashion Design Council Of India, the purpose of this event – to provide a global stage to both Indian designers and handloom makers. In over fifteen years since, the event showcases the perfect merger between a serious fashion week, a Bollywood outing, and a commercial crowd-pleaser.
While primarily a brand-conscious audience, Indian consumers are opening up to the idea of traditional looms and handiwork that may not always come in the form of a designer label. Anita Dongre's Grassroot initiative is a significant step in showcasing handloom clothing on the fashion week runway.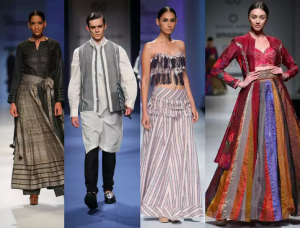 Several fashion editorials point out that 'excess' seems to be a continuing theme at the India Fashion Week. However, we think that by not complying with the standard Spring/Summer and Fall/Winter format, India Fashion Week gives birth to a lot of trends and clothing which might otherwise never see the light of the day.
Shanghai Fashion Week
When it comes to doing things on a grand scale, China is right up there, at the top. The Shanghai Fashion Week is no exception as it attracts buyers from within and outside China. Vivienne Tam and Jenny Packham showcased at the most recent show, thus giving the event an extra boost in the 'global appeal' department.
Designers outside of China also find that showcasing at the Shanghai Fashion Week brings them media attention and tons of buyers- Berlin's Zimon Lee is proof of that. Anaïs Jourden, Deepmoss, Awaylee and C+ Series are just some of the many up-and-coming names to watch out for that showcase at Shanghai as a ritual. Chinese startups that work in the fashion retail space also find that this is a serious event where the chance of finding patrons for their products is very high.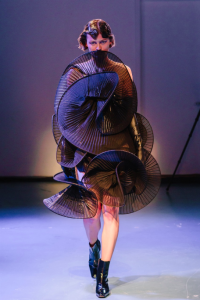 Simply put, Shanghai Fashion Week is not an event limited to designers alone. It brings together several stakeholders in the fashion retail industry and creates a world of opportunities for all of them- a model that the bigger fashion events can seriously begin to consider.
A Case For Collaboration
When we look at the sheer degree of innovation at each of these events, we can't help but hope that all of these events find a way to work together to bring more value into the retail chain. While some of these events represent local interests, the very same designers have gone on to gain international fame. In their turn, fashion weeks that make it easier for designers to participate in a series of them as opposed to just one, would be encouraging more talent and on a much larger platform.
Seeing as most of these fashion week shows are owned and operated, at least in part, by the same group (IMG), we think that this dream could be realized sooner than we think.