Why Makeup Users, And Brands, Are Heading Over To YouTube

7

min read
Reading Time:
6
minutes
Instagram has grown to become one of the best platforms for product sales. Looking at the social share website for recommendations, purchases have become almost instinctual. Using product tags, everyone can now sell products through the platform, and even those accounts that haven't traditionally been about products are now launching some to build an added revenue stream.
For beauty and lifestyle, there is no platform quite like the visual one. The audience for these brands would make purchase decisions based on what they see. Interestingly, what they see doesn't seem to matter as much as where they see it. Data shows as a marketplace, viewers still prefer YouTube for content.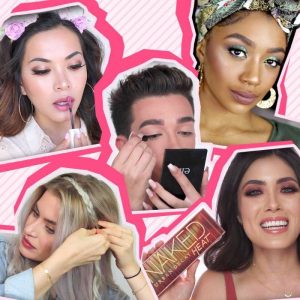 Between 2016 and 2017, the number of beauty tutorials almost doubled on YouTube. 97% of the audience's attention is controlled by beauty vloggers who cover makeup tutorials from the most basic skincare routines to the more radical Halloween makeup. Yes, Instagram's IGTV feature comes close, but there is nothing quite like the charm of YouTube for this market.
Why is that so? To answer this question, we need to take a broader view of the psychology behind good marketing. David Ogilvy once famously said that all the smart copy in the world would do no good if it didn't make a point. For all the fancy new tools a marketer has at their disposal, the classics still rule, simply because that's where the audience is used to being.
For one, YouTube is not a channel limited by preferences. It is a video-streaming platform first, much like Netflix. It is not competing with social media for people's attention. Instead, it is a platform where one can watch cat videos, makeup videos, and stand-up comedy all in the same breath. By this, it seems less like a marketing platform, which automatically makes it lucrative for the consumer who is already riddled with too many ads to watch.
Simply put, the sheer nature of the interface is what makes YouTube such a desirable platform for users. Incidentally, this is precisely what makes it a tough nut to crack for brands, because how do you advertise to someone who is trying to avoid that very advertisement?
Brands that have done it successfully have found ways to use this attribute to their advantage. They have done as the beauty influencers do, and have become a veritable mine of makeup information that doesn't exist elsewhere. 
A Broader View Of Marketing, And Why YouTube Works
According to McKinsey and Company report titled 'The Changing Face Of Marketing,' today's teenagers and young adults have greater access to brands and purchases than the generation before them. Coupled with a rise in disposable income and migration of blue-collar workers into urban markets, the overall consumer demographic has changed significantly. Plus, having been exposed to a multitude of brands, consumers today are more aware and thus more demanding- they know what they want, and they expect the brands to cater to them with as little involvement from the consumer end as possible.
Every day, brands have the opportunity to gather information on people who engage with them on social media, buy products from them, etc. including the platforms they have used to get to the purchase decision. This is valuable data for the retail industry since it pinpoints who the customers are and what they might like. Today, brands have to be able to read into the complexities of consumer behavior to figure out what products to design and just how to market them.
This brings us to the fact that marketing material can also be designed to fulfill a need. Specifically, in the case of makeup and beauty, tutorials that show people just how to use the products they buy have been on the rise. This is because the market is beyond saturated and consumers today are either confused about which products to choose, or loyal to one brand which prevents them from trying out the others.
In that context, trust is a great driver for purchase decisions, and this is where YouTube comes in as a successful marketing platform. YouTube has a local presence in over eighty-eight countries, and the average user spends about forty minutes on YouTube per session. Also, as we discussed earlier, makeup tutorial videos run into the billions! As a bonus, search engines love videos and that makes brand videos stand out in search results better.
The YouTube Spell
About 60% of all makeup buyers prefer to buy online. Over 41% of makeup buyers in the UK report that they watch tutorials on YouTube before making a purchase decision. Because online sales only make up 5% of the total beauty sales so far, the scope for growth is massive.
It is perhaps no surprise, then, that beauty videos receive over 1 billion views every month, contributed to by the ever-growing number of video influencers on the platform. In 2017, Anastasia Beverly Hills capitalized on the burgeoning highlighter trend and teamed up with Nicole Guerriero to design highlighters that just flew off of the online shelves.
Around the same time, Jaclyn Hill and Becca's highlighter collaboration sold out on Sephora in under twenty minutes. With over five million subscribers on YouTube, the beauty influencer's videos often command views that run into a few tens of millions. 
There is another influencer who is raking in the good vibes and that is Carli Bybel. For one, all of her videos promote body positivity and she only has good things to say, about everything. Brands collaborating with her are often those that believe in similar values. She has collaborated with both Missguided and Il Makiage for two very different product collections.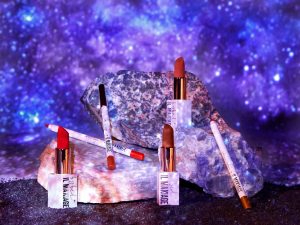 This probably also explains why beauty influencers still command over 97% of attention on YouTube with brands just getting 3%. Influencers bring in a neutral opinion that their followers find easier to believe. For beauty brands, there are two roads to choose from. On the one hand, they can choose to collaborate with beauty influencers on YouTube and launch limited line products while on the other, they can start a channel of their own and hope to make a mark with unique content to displace the small portion of existing brand content.
Brands making these choices often have to consider everything from the cost of collaborating with an influencer right down to the cost of producing a whole new product line. Bigger brands that have the resources to start a whole new product line often prefer to use the fame of existing super-influencers as Maybelline did with Shayla Mitchell. Smaller brands come up with more creative ways of marketing on YouTube such as quick makeup videos that immediately showcase relevant products, beauty giveaways, and unboxing videos.
The Future Of Beauty On YouTube
YouTube is well-aware of its influence on makeup consumers. It is supporting the efforts of brands and influencers by introducing a ton of new features to help the conversion process along.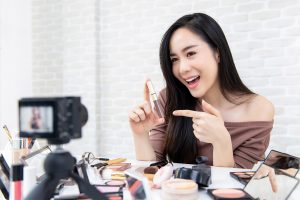 The AR Beauty Try On feature is an excellent use of artificial reality, split-screen video viewing and a YouTube tutorial all rolled into one. Using this feature, the audience can instantly try on the same products as those featured in the tutorial in a virtual interface. By the end of the tutorial, both the teacher and the student would have 'applied' makeup. What better way to encourage purchases than by showcasing the product exactly the way it works?
A beta feature called SuperStickers will now enable people to post moving stickers in the comments, and it is probably no surprise that many of these stickers feature in the 'beauty' category. 
Like Patreon, YouTube has come up with special benefits for channel members. Channels that have over 1,00,000 members can now offer special subscriptions to their audience for a fee that is shared between YouTube and the channel owner. Subscribers get access to exclusive content that isn't visible to everyone.
What Does The Future Of YouTube Marketing Look Like?
One thing is for sure- the platform itself is quite proactive in terms of designing new offerings to make brands that work on it stand out. We can expect to see more of the beauty space being taken up by brands- the only way to grow their share in the influencer pie is to offer the same qualities that make YouTube video creators so attractive. At the end of the day, the product needs to sell. Direct To Consumer brands have successfully used YouTube to generate more revenue and beauty brands and aggregators are likely to follow suit.