When Fashion Houses Are Powered By Celebrity Lines

9

min read
Reading Time:
7
minutes
Fans of the singer Robyn Rihanna Fenty, better known as Rihanna have been crying themselves hoarse for the last three years asking her to release an album. But they have a long wait ahead as the Barbadian musician is in business mode right now. 
In May this year, the singer asked her followers on social media to 'make room in your closets' with the announcement of her brand Fenty's luxury clothing label. The singer designed this line in partnership with French luxury brand LVMH Moët Hennessy Louis Vuitton. 
make room in your closets.
we coming @FENTYofficial https://t.co/GSpWS6LyWe ‼️ pic.twitter.com/T31CH1zBR6

— Rihanna (@rihanna) May 21, 2019
This piece of news shook the fashion industry because it is nothing short of a genius marketing coup for LVMH. Her previous endeavour with the French conglomerate, the Fenty Beauty line, positively disrupted the beauty industry and created a social revolution. It won't be an exaggeration to say that anything the singer touches turns into gold. Therefore, while the Fenty Maison marks Rihanna's entry into the luxury sector, it is LVMH that scored a deal that most luxury labels would have loved to seal. 
"Everybody knows Rihanna as a wonderful singer, but through our partnership at Fenty Beauty, I discovered a true entrepreneur, a real CEO, and a terrific leader. She naturally finds her full place within LVMH. To support Rihanna to start up the Fenty Maison, we have built a talented and multicultural team supported by the Group resources,"
stated Bernard Arnault, Chairman, and CEO of LVMH while announcing their partnership. 
Beyond Endorsers And Ambassadors
Collaborating with celebrities isn't a new marketing strategy for fashion brands. Nearly every famous actress or model has a signature fragrance with their picture and autograph stamped on the bottles. 
However, what is new is that famous names have transitioned from being props and faces to becoming co-creators and stakeholders. They not only share the profits but also the risks and flak. Companies, especially luxury brands, are leveraging the reach of celebrities to break the geographical, cultural, gender and racial barrier in the most efficient and profitable manner. 
This isn't true for every celebrity that joins forces with a brand. It takes a special kind of connect with consumers that enable big fashion houses and luxury labels to build personality-driven independent brands that would last longer than the fireworks on the 4th of July. 
Rihanna is one such celebrity. 
The singer is called the world's most marketable celebrity; all her brand associations are proof of it. In 2016, the colourful Creepers line of Puma Fenty by Rihanna sneakers sold out in flat 35 minutes! Her Savage X Fenty lingerie line with 40 pieces too sold out quickly when it was launched in May 2018. And the success story of Fenty Beauty has exceeded everyone's expectations and predictions.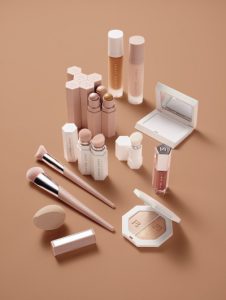 According to a report released by Slice Intelligence, Fenty makeup loyalists spend more than other celebrity makeup brand users. The report states,
"Fenty buyers spend 438 US dollars a year on makeup. The Kat Von D shopper base spends 365 US dollars per year in the cosmetic category; Kim Kardashian buyers spend 317 US dollars, and Kylie Jenner buyers spend roughly 198 US dollar per year in the category."
It is not just her magnetic personality and smooth voice that attracts loyal buyers. Rihanna's ethics and beliefs are the primary reasons why her fans are most likely to buy the products that she endorses compared to other big names. She demands inclusivity and promotes it with great aplomb.
"I didn't care how long it took, I was going to make sure that we covered most skin tones. Diversity and inclusivity are important to the brand,"
emphasized Rihanna ahead of Fenty Beauty's launch. 
She has been able to produce products that are diverse, inclusive, and personalized. This is why she is a global star and the richest female musician who enjoys unwavering support.
When her Harper's Bazaar cover sparked cultural appropriation debate, her fans in China filled the micro-blogging site Weibo with positive comments in her support. And the biggest benefiters are brands like LVMH and Puma.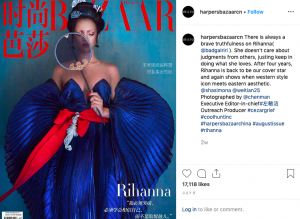 For instance, Arnault recently dethroned Bill Gates to become the world's second richest person. He is worth $107.6 billion right now, which puts him ahead of Gates by more than $200 million. In 2019 alone, the French business magnate added $39 billion to his wealth, which is a record on its own. The reason behind the sudden increase in net worth is LVMH's flourishing business. And LVMH is growing exponentially because of its partnerships with Rihanna – Fenty Beauty and Fenty Maison, Stella McCartney and others. 
Cracking The Gen Z Code
While luxury labels like LVMH are tying up with relatable famous names to enhance its presence, premium clothing labels like Tommy Hilfiger have used this marketing strategy to connect with the new age consumers of today's digital world. 
When American designer Tommy Hilfiger was concerned about connecting with the youth, he turned to model Gigi Hadid. Hilfiger believed that the model's personality matched his brand's values. 
In the past, many celebrities have graced Tommy Hilfiger's campaigns as brand ambassadors. But Hadid was the first celebrity model who co-designed a collection and was identified as a designer along with Hilfiger. 
This resulted in Tommy X Gigi collection, which was unveiled in 2016. The traffic on the company's website increased by 900% in 48 hours of the launch and Hilfiger's online & offline sales doubled. More than 70% of these visitors were new, which is an enviable customer engagement figure in this digital world that even Hilfiger hadn't expected. 
"We engaged with Gigi Hadid at the beginning of her trajectory, and I think it was just a feeling that we had that this girl was going to be beyond what any other model or any other 'It' girl could be. If you go with your gut in this business, sometimes it works, sometimes it doesn't work. This time it worked beyond our expectations. Way beyond,"
Hilfiger shared.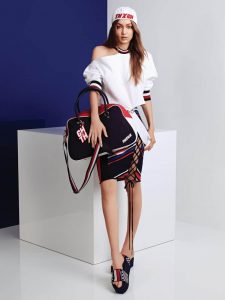 Many items from the 2017 Tommy X Gigi collection were sold out even before the runway show. As the Gen Zs devoured everything that Hadid created, more and more brands like Reebok and Puma signed her up.
Riding Unicorns
Before Hadid, it was super model Kate Moss who helped to revive a clothing label purely on her own merits and fashion aesthetics. 
Moss' 2007 capsule collection for British fashion retailer Topshop is relevant even today, in 2019. The pieces she recreated, like the yellow off-shoulder dress, flapper dress, metallic maxi, floral mini dress and the iconic red column dress, sold out in minutes.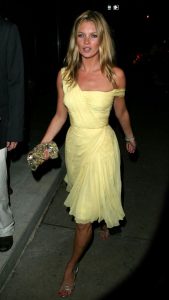 "This was 2007, after all, when we all wanted to dress like, look like and BE Mossy. The woman was single-handedly responsible for the rash of waistcoats – each one equally reminiscent of a magician at a suburban kids' party – that sullied the British high street in the same year. There's no question that Kate – the best possible advert for her own designs – was a marketing coup,"
stated Grazia.
For high-end shoe brand Manolo Blahnik, it was Sarah Jessica Parker and for sportswear brand Adidas, it is rapper Kanye West who is acting as a game-changer like Moss was for Topshop. 
After the success of Sex and the City, Parker could have easily launched a mass-produced affordable shoe brand and minted millions. But like her character in the show 'Carrie Bradshaw', Parker appreciates the finer things in life even it meant it came with a heavy price tag. 
This attitude of selected famous figures is allowing labels like Manolo Blahnik to become home to independent & successful ventures within their umbrella brand. By becoming stakeholders in the company, celebrities work with luxury labels at every step instead of merely lending their name during the launch. They are able to maintain the exclusive nature of their legacy without diluting it. 
"My business partner, George Malkemus (former president of Manolo Blahnik USA), and I… We share a lot of the same fashion references and find a common inspiration in the late seventies. I think that's why we have worked so hard to invest in the single sole with color and femininity but with strength. We source a lot of images from that particular period, and while there are things that we take into consideration like proportions, we really try to understand the feel of the piece,"
explained Parker when asked about references used while creating the shoe. 
Amongst the sneakers' brands, West's Yeezy is one of the most profitable collections designed by a celebrity. The business achieved unicorn status by crossing $1 billion in valuation. 
It is West's influence on the masses, his eccentric personality and the unique marketing style that has made Yeezy a cult brand. Sneakerheads wait with bated breath for the new collection to drop. And it is nearly impossible to get your hands on new Yeezys, even in the resale sneaker market. 
"The Yeezy team is embedded into culture – art as well as pop – and are not afraid to play with those codes in their marketing efforts… Yeezy's marketing approach is effective because it balances exclusivity (art, celebrities) alongside mass. His campaigns are creative artistic expressions while his distribution strategies are mass,"
averred founder of a digital agency, Quynh Mai. 
The common thread connecting all, be it Rihanna, Hadid, West, Moss, or Parker, is their strong personalities, distinct fashion sense, sharp business acumen, and entrepreneurial spirit. As the attention span of consumers is decreasing, luxury fashion houses and high-street premium clothing brands greatly benefit from celebrities that are authentic and are willing to walk an extra mile.
The State of Fashion 2019 report stated how the way consumers of today get inspired has changed drastically. In the past, brand communication through magazines and in-store assistants was enough to connect with buyers. But now 'consumers turn to a much wider range of inspirations, from social media, celebrities, and influencers, to spotting an attractive look on the street.'
Needless to say, celebrity-powered personality-driven partnerships are on a rise.