The Rise of Streaming-Service Inspired Fashion

5

min read
Reading Time:
4
minutes
H&M has always managed to keep the retail industry on its toes, by spearheading eye-grabbing collections, and collaborations that go on to become the next new trend. It is no surprise, then, that they chose to band together with a show that has redefined science-fiction horror based shows. We are referring, of course, to Stranger Things- Netflix's sleeper-hit and multi-season blockbuster. 
The Stranger Things inspired collection, dropped into H&M stores just in time for Season 3 of the series. It was the perfect 80's themed summer capsule. And the reaction to the show, and the clothes has been phenomenal. From pool shirts to Demogorgon prints on shirts, sandals, swimsuits, and lifeguard inspired outfits H&M has managed to bring the right Hawkins, Indiana summer flavour to its collection.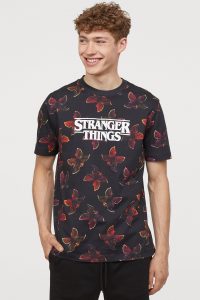 Capsule collections inspired by shows on streaming platforms are just the beginning of the latest trend in fashion retail. And going by the reactions they are here to stay. 
Inspiration Is All Around
We have always been inspired by the people around us and the events in our life to dress a certain way. Pre- streaming era shows have also had fashionistas trying to emulate trends, and using them as a means to bond with other people.
What is new, however, is the designing of clothes that are more than just a pop culture reference. Clothes, and accessories have become part of the bigger retail experience. Take for instance Harry Potter inspired accessories or Game Of Thrones-themed tees. Merchandise is more than just something to wear. Buying the clothes we see on a show is making us feel like a character in the show, or at the very least, becoming a part of the larger experience.
The latest collections, and show inspired trends is not just a any other shirt with a cleverly worded quip from a show, or a Breaking Bad type periodic table t-shirt. For instance, the green and pink colorblock swimsuit from H&M's latest collection is true designing, and very current as far as trends go. It serves as an excellent way to market both the show and the retailer. The added benefit, it caters to a new audience who are more likely to watch a show on-demand than catch a movie at the theatre. 
Shows aside from  Stranger Things have also been inspiring trends, looks, and in many cases reviving older trends. The Crown, for instance has increased the number of Launer bag look-alikes. Claire Underwood from House of Cards inspired a people to go for more tailored well cut suits, and Downton Abbey sparked a pre world war trend revival.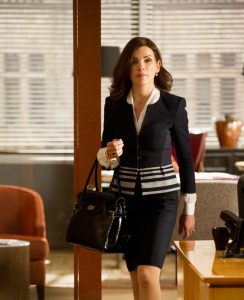 Streaming shows have also managed to push the envelope – through fashion – for inclusivity and diversity. Eleven on Stranger Things, for instance, discovers that she can dress the way she wants, and can say goodbye to her foster dad's loose flannels. On The Good Wife, another of Netflix's cult classics, the protagonist's dressing sense moves clearly from plain suits to statement ones as her political ambitions rise.
Of Stories And Subscriptions Services
What drives so many of us to invest our time, and energies into a particular TV series or a subscription service. More importantly, why do retailers think these shows can connect to us on more than one level?
The answer is stories and the need to be a part of experiences bigger than ourselves. We are all creatures born of stories. Stories present us with a common ground. Over time, how we consume stories has changed significantly. What was once limited to books and the verbal medium was  replaced by the movie theater. That has now been usurped by on-demand shows that are more diverse, inclusive and are willing to experiment.
And where the attention is, the brands go.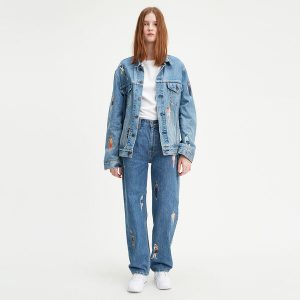 One show, Stranger Things, alone has created a slew of trends and collections. Fancy some dad jeans? Levi's has them in stores, plus you can pair them up with El's new Aztec-print shirt favorites. Forever 21 has got you covered with the camisoles and trucker hats. Nike, of course, has almost become official merchandise for the show's cast itself, with more than one character seen in signature Tailwind shoes.
Clothing like this also drives home the need to be in the inner circle. For example, a t-shirt with a popular motif may tell the world that you know about it. Comic – Cons, and show inspired street wear, trend-setting corporate wear all become conversation-starters, a way to build a community, and share experiences. 
Viral Marketing And Fashion
Do shows drive fashion, or does fashion inspire the show? We think it goes both ways. Often, when a character we like undergoes a transformation, the best way to represent it is through the use of different clothing. Clothes can be a sign of emancipation or imprisonment. They can even express common mistrust and angst against an establishment.
Moreover, there have always been websites dedicated to helping people find the exact clothing item their favorite character wore on TV. Retailers, in general, and the fashion industry in particular, is simply making it easier to buy these clothes by launching collections based around them and using them as a way to promote the show itself. It also helps that these capsules are often limited-edition, so people buy them out faster and in greater volumes than they would regular clothing.
The Future Of On-Demand Fashion
Not all shows and series may fit well with fashion retail, but those that do will be watching closely for the success of capsule collections that already exist now. Collaborations in fashion and the visual media are gaining a whole different meaning. The influence is shifting from movie stars, to influencers and streaming show actors. 
That one of Stranger Things' newest cast members has become the influencer behind the latest capsule collection thus makes sense. It is no longer about the protagonist as an aspirational figure and someone whose style it is worth emulating. Influence through these series is about feeling a bond with the show itself, getting to know others who have similar interests, and hopefully being supremely comfortable doing so.