The Art Of Storytelling Through Preloved Luxury Fashion

7

min read
Reading Time:
6
minutes
France-based Vestiaire Collective has been a treasure trove of vintage and pre-loved luxury fashion for a decade now. Beauty bloggers from across the world call the recommerce site their secret source for everything chic and fabulous. After taking over Europe, the UK, and the US, the curator of Parisian style has now reached the streets of China. 
While the world has only recently started discussing the Chinese consumers' appetite for luxury, Vestiaire entered into the Asia-Pacific luxury market when the concept of organized second-hand retail culture didn't even exist in that region. The company's well-timed entry in late 2017 ensured first-mover advantage in China's booming luxury market, giving them the ability to leverage Chinese millennials' love for pre-loved fashion. 
Besides a profitable early start in China, Vestiaire is also one of the very few companies that got a massive head start in Europe's sustainable fashion movement. In 2009, when the world was reeling from the Great Recession, a simple question about unworn fashionable items lying in people's wardrobe compelled co-founder Fanny Moizant to start the company. Today, Vestiaire Collective is the largest re-commerce platform for pre-owned luxury clothes and accessories in Europe.
As the emphasis on becoming eco-conscious and reducing waste is growing, it is an exciting time for Vestiaire as a resale pioneer. 
The French DNA
Vestiaire Collective is an enterprise that came into existence after the instincts, ideas, passions, and expertise of six different individuals were amalgamated together. The company's journey started in a small apartment with six co-founders – Fanny Moizant, Sébastien Fabre, Sophie Hersan, Henrique Fernandes, Christian Jorge, and Alexander Cognard. The core team is a blend of people who brought together their knowledge of fashion, marketing, technology, logistics, and business. 
"The story behind is.. started basically in different heads at the same time. My fellow partners Sophie and Sébastien were literally on the seller side. So they were opening up their wardrobes, seeing a lot of nice pieces they were no longer wearing," shared co-founder Moizant in the Wardrobe Crisis podcast when she was asked about how Vestiaire started. 
While Hersan and Fabre were looking for interesting platforms to resell their pieces and get a fair return on it, Moizant wanted to start her entrepreneurial journey after a maternity break. In 2009, she read an article about the 'recessionistas' –  fashion bloggers who were reselling pieces from their wardrobe.
"In 2009, I noticed that fashion girls were selling previous season products on their blogs during the recession, but I was concerned that there wasn't a trusted online site that would guarantee authenticity and give a fair price for the piece depending on its condition. That gave me the idea to launch Vestiaire Collective; I teamed up with five other co-founders and we launched the site in a matter of months from our Paris apartments," disclosed Moizant.
It was the story about recessionistas, combined with her love for fashion and sustainability that gave birth to the idea of starting a re-commerce platform. Moizant's intention was to build an aspirational, inspirational, reliable and social site to engage with the consumers that were buying from recessionistas but minus all the pain-points of selling through a blog.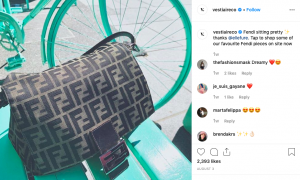 With that vision in mind, the six co-founders came together to build Vestiaire Collective, which turned into a luxury resale giant in ten years with eight million community members and three million monthly active users in 50 markets. As a customer-to-customer business, the company was committed to building a seamless social shopping experience right from the beginning. 
"For us when we designed what was Vestiaire, it was obvious that it was a social component because we were relying on peers to buy and sell. So it was again about empowering fashion lovers to talk to each other. We were just building the platform behind and services that were making the whole thing sustainable and reliable and trustworthy. So we wanted to empower them [by] building all the tools," asserted Moizant.
The Collective Calling
The company's biggest USP is its French DNA. Fashion enthusiasts from across the globe, be it collectors or resellers from the US or UK, love Vestiaire for its range of European labels. The cultural differences worked in the company's favour when it came to expanding its business in different geographical markets. 
Their product catalogue of over 600,000 items is home to brands & products that are rare and not easy to find on other re-commerce sites. 170,000 new people join the community every month and 3,200 new products are added every day. The company also revealed that the average cart value is $430 (€400), approximately. And as far as traffic is concerned, 70% of the traffic comes from mobile channels.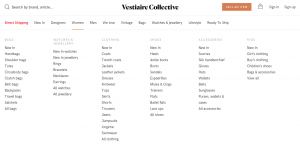 Moizant believes that their strong community and quest for authenticity, besides their French DNA and product portfolio, has helped them to stand out in a competitive recommerce market. For instance, Vestiaire was competing with 120 companies in 2012 to grab share in the resale fashion market.  By 2017, the number had come down to 10. 
Except for a brief struggle period during the initial growth phase, Vestiaire has been able to choreograph its expansion milestones in an organized and organic manner. The company has refrained from entering into a new market without studying its characteristics. For instance, Moizant moved to Hong Kong in 2016 to understand the market and then launched the company in 2017. Similarly, she spent a couple of years in London prior to moving to Hong Kong, when the company was setting up its business in the UK.
"Firstly, we built up the Paris headquarters, which continues to grow today. We then expanded into markets [where] we spotted strong organic interest starting with offices in London, Berlin, and Milan. Once we built a strong business in Europe, we expanded into the U.S., opening an office in New York and more recently the APAC region where we have an office in Hong Kong," stated Moizant.
Millennials and Gen Z love Vestiaire because they are able to recognize the company's 'against waste' core ideology and how deeply embedded it is into the business. 'Saving the earth' wasn't spelled out when the six co-founders were brainstorming in Paris. But sustainable fashion, shared economy and celebrating beautiful luxury pieces till the end of its life-cycle were always a part of their business ethos. 
The Circle of Fashion
After building a platform with an impressive product catalogue and an incredible interactive fashion community, Vestiaire is looking to invest in tech and data. 
Flush with funds, the recommerce company plans to use the $45 million (€40 million) it recently raised led by Bpifrance to fuel global expansion, promote circular fashion economy and strengthen their tech operations. 
"We want to build an international tech and data first company, leveraging Vestiaire Collective's incredible brand and fashion DNA. Vestiaire Collective is uniquely positioned to thrive from the shift of consumer behavior towards a circular economy and digital. We are delighted to support Max and his team in the transformation of the fashion industry. We strongly believe its approach to combine tech and data to the fashion DNA of the company will allow them to become the worldwide leader in its market", shared Charlotte Corbaz, Principal at Bpifrance.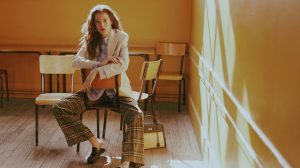 In today's time, tech and data have become irreplaceable tools to stay relevant. But Vestiaire's strength lies in its emotional connect with the fashion forward and eco-conscious buyers. Moizant explained this beautifully with the help of a personal shopping story. 
Moizant shared, "I recently bought a new pair of Chanel sandals for my new life in Hong Kong (from Vestiaire). And when I received the box, the seller had kept the receipt. So I was able to see her name and where she lives in the US and where she bought the shoes. It was very emotional for me to think about that this pair of shoes being bought in the US, shipped over to Europe for being controlled and then shipped to Hong Kong."
Vestiaire Collective has been able to effectively communicate the story of each pre-loved pieces as it travels through the circle of fashion. Though they offer consignment service to sellers, it has largely remained a peer-to-peer curated platform of consumers, sellers, brands, and influencers, where the pictures are untouched, the conversations between buyers & sellers are real and the opinions are unfiltered.
The company plans to spread this power of storytelling through pre-loved luxury fashion in other countries as well. Their long-term vision is to change how consumers think about consumption, improve authentication with technology and work with brands directly to encourage circularity.
Read More About Automated Catalog Management Solution