StockX On Trading Consumer Goods In The Luxury Market

9

min read
Reading Time:
7
minutes
In late June this year, online resale marketplace StockX became the first billion dollar street-wear and sneaker reseller after recently securing $110 million funding. 
Founded by Josh Luber in 2015, StockX entered the market by reselling high-end sneakers. In just four years, the Detroit-based secondary marketplace not only earned unicorn status but also managed to clock gross product sales that exceed $100 million a month.
Part of the reason for the company's success can be ascribed to the flourishing sneaker industry within the footwear industry and the resale market. According to the Grand View Research report, the athletic footwear industry would be worth over $95 billion by 2025 – and the resale sneaker market has a huge role to play in making these shoes cool again.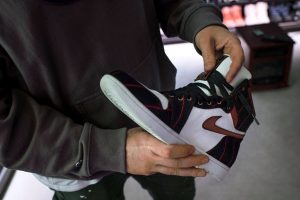 However, it is StockX's unique business model that largely fuelled its growth. Designed as 'a stock market for consumer goods', the company blends a stock market model with consumer goods that have a certain ascending value attached to them. It is a resale market with a difference because StockX recognizes that certain consumer goods like high-end sneakers, bags and watches can be traded as assets. 
 "At the highest level, the reason that this business has been successful is it's about this model. We have taken the way the stock market works and created a consumer goods marketplace for it. We are an evolution of eBay. All we do is connect buyers and sellers. But the way that we do that, the way we connect buyers and sellers is the exact same way that the world's stock markets connect buyers and sellers," Luber revealed.
"The stock market has been the most efficient form of commerce for 200 years," he adds. "And all we did was… from these commodities from stocks, bonds, oil and gas to new commodities to sneakers to street-wear, and watches and handbags. All we are trying to do is just sort of like mimic what has been a super successful model for connecting people and use it for something else. And it works!"
The resale marketplace has simplified the concept of the stock market for consumers who love to buy and sell sneakers and other luxury items and the trading process brings in a great deal of excitement. StockX then studied the demand & true market value of these goods and used this knowledge to build an efficient resale marketplace, which is now worth $1 billion. 
Campless to StockX
Luber's entrepreneurial streak and passion for sneakers were visible from a very early age. 
At 8 years old, he discovered his love for sneakers. He now has an enviable collection that includes Air Jordan 1, Air Tech Challenge 2, seven pairs of the Air Max 97 BW, Air Classics BW Stash that he grabbed via StockX and a rare limited edition Adidas Century Low G3 Emilio Pucci.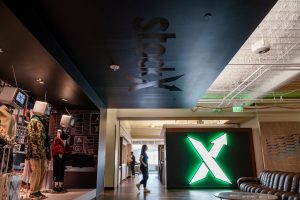 While he was nurturing his passion for Jordans, he experimented with entrepreneurship by selling baseball cards, chewing gum and blow-pops as a teenager. Luber's first company was Tech Experts – a business that was into fixing computers. In 2006, he started an online restaurant staff scheduling platform called Servinity, which he had to shut down after the market crash in 2008-2009. The company he started after that was Turntable.fm, a music start-up. Throughout this time, he also held onto the conventional corporate day jobs that allowed him to live his entrepreneurial dreams. 
It was Campless, a sneakerhead data and analytics company that Luber started in 2012 where his love for sneakers and business collided. 
While talking about what triggered him to start Campless, Luber shares, "At the end of 2011, you had the last time Jordan released the Jordan 11 Concord… Now, the industry is back in the headlines for the first time in 15 years because of riots and people killing each other for sneakers… It was really just me not seeing any real analytics around the sneaker industry… It also coincided, in retrospect, with Facebook buying Instagram. That's all sneakerheads ever wanted to do: see what shoes other people were wearing and show off their [collection]."
It was the first company that tried to make sense of the demand & supply, study the influence of social media and trace the rise of the sneaker industry by analyzing data. 
Campless is the company on whose foundation StockX was built. It was a meeting with American billionaire and governor of the National Basketball Association's Cleveland Cavaliers Dan Gilbert that enabled the sneaker data site's transformation into a consumer goods' stock market. 
Breaking The Exclusivity Barriers 
In 2015, Luber received an email from two people who worked with Dan Gilbert and they agreed to fly him to Cleveland to meet Gilbert. In that meeting, Luber shared a roadmap that he had sketched for Campless' future on a piece of paper. The roadmap had listed three business objectives – a price guide, a sneaker portfolio and then a stock market for sneakers, based on the data Luber had. And that turned out to be exactly what Gilbert wanted to build. That's how the two decided to collaborate and develop StockX.
Since then, the company has transformed the sneaker resale activity into a serious business. It changed the industry's ecosystem, for sneaker brands and consumers, both.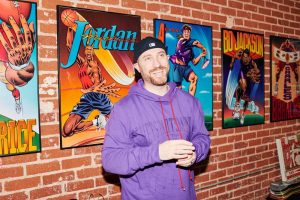 On paper, the idea of a stock market sounds complicated – something that the millennials and Gen Zs who want to buy and sell shoes might not find interesting. Additionally, there's the menace of fakes that have infiltrated the luxury sneakers industry. But StockX has managed to elevate the shopping experience through its authentication centres, pop-up stores, and easy-to-use-and-understand interface. 
"The core of it is what's called a 'live bid-ask' model… where buyers are placing bids and sellers are placing asks. And it is all on a single product page. That's the key. It's about standardization. If you go buy a share of Nike stock from the New York Stock Exchange, there's not thousands of people saying 'buy my Nike stock'… On StockX there's one product page for the shoe. And by bringing all that at one place, then you can leverage all of the data and the efficiencies of how the stock market works. It's about that single asset and that's really a super powerful part of it," Luber explained when asked about how the StockX's interface works and how it is different than other reselling platforms. 
As far as keeping fakes at bay, the company has employed a team of industry experts and has built authentication centres where the sneakers undergo intense scrutiny. Besides the US, the reseller has also set up centres in Europe and plans to keep expanding. To enhance the customer shopping experience, StockX has also invested in physical pop-up stores, where sellers can walk in, get their shoes authenticated on the spot and walk out with cash. 
This has helped to increase accessibility. For decades, big sneaker and luxury brands have leveraged the exclusivity model by releasing limited stock of the new releases in the market and maintaining a gap between the demand and supply. Even this limited stock is available to a selected group of people. But StockX is promoting accessibility by making these exclusive sneakers available to the masses. The company is also democratizing the industry by becoming a platform that is not just a reseller but a primary marketplace. 
Sneaker IPOs And Taking Over Asia
After seeing the adoption rate of StockX, it didn't surprise anyone to witness its organic progression from a reselling platform to an exclusive selling platform. 
In January 2019, the company launched Ben Baller Did The Chain IPO through a blind Dutch Auction. This method has traditionally been used only for stocks and securities. But StockX's Ben Baller IPO, a first of its kind, attracted 10439 bids on the 800 pair of footwear slides. The average price of these slides shot up by three times. 
Since a blind Dutch Auction was a new concept, especially for a 14 year old sneaker-head, the company commissioned videos, which explained the process. 
Luber believes that this is how limited luxury stock should be released as it helps to reveal the true value of a commodity – the fair price. It also provides equal opportunity to all those who have the willingness and means to buy. 
"If the IPO of a company happens, then that same market continues to trade. It's one market that blurs the line between what is retail and what is resale. The concept of retail/resale price going away in the stock market is just one number. It's whatever the true market value is. The idea was always that this could be the way to do that for consumer goods… Our hypothesis is that is how super-hyped, limited products should be released, as opposed to today, where a retail price is placed on a product that has no bearing on the value of it," he stated. 
He plans to host more IPOs on his platform in the future. The company is also expanding its product portfolio of other luxury goods by adding handbags, watches and art. They are also collaborating with designers in the form of blind auction activations to launch exclusive products that would be available on their platform for a limited amount of time. 
Sneakers were and are the company's primary product category that helped them to double their revenue. But their future plans include launching new merchandises directly, introducing the existing categories into new markets by expanding internationally and focusing on new categories like art.
In a day and age where data is gold, Luber was wise enough to first analyze the market and look at all the numbers before jumping into a business that aspired to create a stock market for consumer goods. It took the company only four years to touch $1 billion. At this rate, $2 billion isn't very far away, if the company's idea about IPOs pans out well. In Luber's words, "Ideas are worthless. Execution is the only thing that matters."