Why Global Sports Brands Are Finally Investing In Women

9

min read
Reading Time:
7
minutes
Nielsen's 'The Rise of Women's Sports' report shattered several preconceived ideas held against women's sports. The study revealed that 84% of the general sports fans are interested in watching women on the field; 51% of these fans were men from key demographics like US, UK, Australia, France, Italy, Germany, and Spain. The lack of coverage of female sports tournaments, lesser airtime given to female athletes, pay disparity and the limited women sportswear/sports good portfolio was often justified by presenting an argument that fans have less interest in women's sports. The report negated all those notions.
Another interesting statistic that the study disclosed was that 63% of respondents want brands to invest in both women's and men's sports.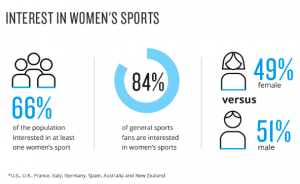 This highlights two things:
One – women's sports engagement is meteorically rising.
Two – this is an unexplored and overlooked consumer market, which is waiting to explode. 
The sports world and the consumer industry built around it have been dominated by men for a long time. From a brand's perspective, the main narrative was always driven by male athletes, be it million dollar sponsorships, marketing campaigns, product collaborations or social awareness activations. 
But in the last few years, the sports industry has changed for the better. People have realized that these prejudices were able to thrive due to lack of data and opportunities. As soon as fans found an outlet to express their opinion, the opportunities opened up. Today, Serena Williams is as powerful as Roger Federer. And the crowd cheers as loudly for Simone Biles as they do for Colin Kaepernick. 
Georgie Hodge, Head of Women's Football at Base Soccer Agency affirmed, "Interest in women's sport either as a participant or a spectator is increasing globally and this trend will only continue. It's fast becoming the battleground for sponsors to reach a growing audience of significant scale, and there is no reason that it cannot be seen in the same lens as the money spent within the makeup industry."
As the audience has let the media and brands know about their interest, sports retailers are moving fast and redefining their business goals by massively investing in women's sports and women consumers. 
Like Nike did during the 2019's FIFA Women's World Cup.
Breaking Every Glass Ceiling
Megan Rapinoe's outstretched arms pose after scoring a goal at the FIFA Women's World Cup would be remembered as one of the most iconic images of 2019 in sports history. Nike celebrated Rapinoe and her team's victory in an inspiring ad. But the company's contribution didn't end with the 1-minute spot.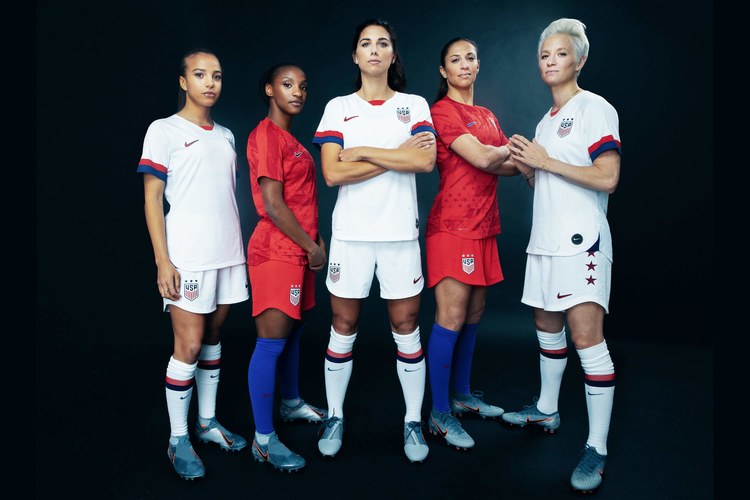 In 2019, Nike sponsored not one but 14 out of 24 teams that participated in the FIFA World Cup. This included the winning team of the United States and the other two semi-finalists. The Nike 'swoosh' dominated the entire tournament.
The end result? 
The white jersey worn by the US women's football team became the bestselling football jersey on Nike's online site in one season. It surpassed the sales figure of men's team football jersey for 2019. The company recorded a 200% increase in jersey sales across all teams, as compared to the 2015 Women's World Cup season. Nike's football apparel section for teams such as China, Brazil, Nigeria, and Chile also witnessed a surge in traffic. 
The positive effect of the World Cup win and Nike's association with the women players spilled over the company's revenue. 
"We can feel the World Cup's energy and impact throughout our growing women's business. We're ecstatic about how this summer has contributed to the acceleration of our women's offense at Nike", shared Rosemary St. Clair, Vice President of Nike Women division.
She also revealed how it has not only sparked a wave of global attention towards their campaigns but their national team kits, lifestyle products, and high-performance bras are selling out. Nike's social media mentions after the ad increased by 470%.
According to the company's Fiscal 2019 Fourth Quarter report, its revenue increased by 4% to $10.2 billion. The revenue generated by Nike Brand's women's business also increased by 7%. One of the factors that led to this growth was the sports retailer's renewed focus on the women's category. The groundwork for this transition started a few years back. But the results are now visible with all the buzz around the World Cup win and Rapinoe's personality. 
"It's hard to overstate how important this year has been to the evolution of the women's offense at NIKE. The business grew double digits in fiscal '19, accelerating in the back half of the year. Our momentum in women's a great example of how our renewed focus is really moving the needle through thoughtful designs, powerful brand messages, and digitally led distribution," asserted Nike's CEO Mark Parker during the Q4 2019 Earnings Conference Call. 
Nike is joined by other prominent retailers like Adidas, and Under Armour that is now working on dedicated strategies to grow their women's business.
Engaging With Women Without Any Filter
Investing in women's business is no longer a token initiative to win brownie points for inclusivity. Sports brands and retailers understand that it is a lucrative marketplace that is commercially viable in the long run. This shift in perspective is visible as soon as you walk into the stores of Adidas, Under Armour, Nike and other brands. 
From plus-size female mannequins to breaking gender barriers, from theatrical design labs to inspiring displays, sports retailers are making sure that every inch of their offline and online shopping experience represents their commitment to women in the most seamless manner. 
Sports retailers also recognize that in order to crack open the women's athletic retail industry, they will have to start investing at the grassroots level and address the core issues related to visibility, pay disparity, access, and prejudices. By changing the mindset or at least attempting to, brands will be able to productively engage with the new target audience. 
Adidas has taken a great step in this direction by launching its global initiative 'She Breaks Barriers'. Under this program, the Germany-based retailer plans to remove the roadblocks that stop girls and female athletes from reaching their full potential. 
"We believe that through sports, we have the power to change lives. For us, it's about providing better access, removing gender stereotypes, and creating visibility. By inspiring and empowering girls to play sports, providing equal access, and increasing visibility in the media, there are several stereotypes that we can help break down," shared Nicole Vollebregt, Senior Vice President of Global Purpose at Adidas. 
The company's long-standing partnership with designer Stella McCartney also reflects Adidas's foresightedness to invest in sportswear and active-wear for women. If we take a look at recent collaborations, then Adidas joining hands with singer Beyonce to re-launch her athleisure label Ivy Park is also one of the biggest power moves. 
American sportswear and shoe brand Under Armour has also listed out focusing on their women's line as one of the strategic moves that would help the company to stabilize its revenue. This is a huge shift for the brand, compared to its operations in 2018. 
Adidas, Nike and Under Armour are taking a leaf out of success books of online and offline apparel retailers like Lululemon and Gap that spotted the athleisure trend from miles away. 
Who Runs The World?
American retailer Gap signed celebrated track athlete Allyson Felix as their first sponsored athlete for its' brand Athleta
A business that is all set to hit billion dollar sales by next year, Athleta has managed to stand tall against big sports brands, thanks to their well-timed moves and clever approach. For instance, the athleisure brand ensured that their collaboration with Felix celebrates all facets of the athlete's life, be it as a mother or as an activist. Women from all walks of life resonated with this message, which in turn helped Athleta to become one of the fastest growing athletic brands. 
"To me, right when [Athleta] came out to LA to meet with me … it was such an authentic fit. For the first time, I felt like more than just an athlete. I had been waiting for the perfect situation. And I felt like this was the perfect match," Felix voiced out while speaking about her association with Athleta. 
Athleta also keeps a close eye on the changing trends and customers' response to their new collections. They stay away from deep-discounting, maintain an optimum inventory and most importantly, sell pieces that are an organic fit in active women's lifestyle. 
Athleta's CEO, Nancy Green averred, "When we launch and put a product out, we work on a strong responsive timeline so that we can make sure that we can respond to demand quickly versus going out with too much and being stuffed. You have to create a lot of flexibility when you are in the women's fashion business so that you can move to where the right demand is."
On the other hand, Lululemon entered the market when the big brands hadn't even designed their women-focussed strategies. The clothing lines did exist, but they were not size-inclusive and the product offerings were limited.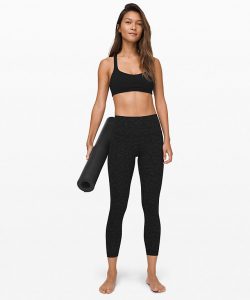 While Athleta and Lululemon are doing their bit for the women's athleisure market, the harsh truth is that brands – big and niche – need to focus on making functional sportswear accessible to young girls and women. Nike and Adidas have the resources to innovate designs for girls and women at a larger scale, instead of limited releases and special collections. 
Alexis DeSalva, senior research analyst at Mintel reasoned, "Girls' is the most underserved piece of the market. There's always been more sportswear available for boys, but there's an opportunity there given the fact that parents are shopping with their kids. Parents want their kids to have a say and be involved in the shopping process. There's a big opportunity here for the brands like Nike and Under Amour to say, 'Who is the underserved person here?' And appeal in that regard."
If done right, a huge opportunity awaits sports retailers. The surge in sales that Nike witnessed after the US women team's win mirrors the reality of an industry that is expected to be worth $216 billion by 2025. It will be interesting to see how and when the industry players will make the transition from the testing phase to the aggressive growth & expansion phase.