All There Is To Know About The Color Of The Year

8

min read
Reading Time:
7
minutes
WGSN has forecasted that Neo Mint is the color that the world needs to be on the lookout for. A pastel shade of green that is gender-neutral, WGSN describes it as a color that marries science with nature.
Pantone Color Institute's VP Laurie Pressman revealed that 2020 will be all about the ocean.
2020 is likely to see a lot of greens, and blues.
WGSN which began trend forecasting in the late 90's  has a significant impact on the design industry.
Pantone began its journey as a color card company in the early 60's. Sensing an opportunity to standardize colors across designs, the company started the Pantone Matching System with 10 chips. It holds a little more than 10,000 color cards today. Pantone started the tradition of predicting a color for the year 20 years back.
Colors in Pantone's list don't exist in isolation; Colors are also reinterpreted during certain periods. For a large part of the last decade, Pantone reached for intense, bold colors ranging all the way from 2012's Tangerine Tango to the unforgettable Ultraviolet in 2018. Only last year, in what a significant shift, a significantly mellowed down yet versatile hue in the form of Living Coral was forecasted.
What do these colors mean? How are they chosen, and what factors are taken into account? More significantly, why does the fashion industry take these colors so seriously? Let's find out!
A Brief History Of Pantone's Color Of The Year
The first COTY was presented in 2000 at the turn of the millennium and has been an annual tradition at Pantone ever since. The Cerulean Blue of 2000 was not just a color for the year but also for the thousand years that follow. Pantone firmly believes that discovery of the inner self will be the priority for generations in these years and the muted hue represents tranquility and a quest for the world within.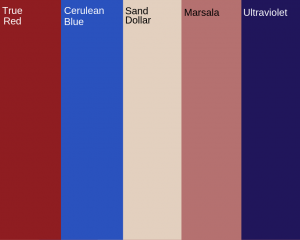 2002's True Red was a literal interpretation of the 9/11 attacks that left the world reeling. This bright hue is an expression of angst and fear as well as of the undying spirit that keeps us moving forward. Interestingly, Pantone chose Sand Dollar as the color for 2016.  Pantone declared back then that it was in response to the dwindling economy. Less than two years later, the Lehman Brothers crash caused financial ripples all around the world, and the aftershocks are still felt by many.
We cannot discuss these colors without talking about those that actually made it big in the world of fashion. While colors like Turquoise, Mimosa and Tangerine Tango had their time in the spotlight, 2015's Marsala really got everyone excited with possibilities! This was one color that could be adapted to fashion, beauty, and beyond. We saw several interpretations of Marsala, most famously in Jenny Packham's Spring 2015 show. The Beauty industry also picked up the trend and rolled right along with both Sephora and L'Oreal launching a dedicated collection.
2018's Ultraviolet had many of us severely divided. While some designers are still in thrall and continue to use it (cue Sies Marjan at NYFW Fall Winter 2019), others have consciously stayed away from using such a bright color in any form.
A Self-Fulfilling Prophecy: How The Color Of The Year Selection Works
Color has always been a significant part of our perception. We see the world in the shades of the seven colors that our eyes can perceive. Claude Monet, it is believed, could even see ultraviolet and that's why most of his paintings have a violet hue- it's just how he saw!
The influence of color is powerful in theatre for instance. It is used as a medium to represent the emotions being played out on stage. As a form of art, clothing is no different. Interestingly, the earliest clues for color trends come from the people themselves! Pantone closely observes what people buy and correlates that with the major influences of the time. 
But that's not all. Once the Color Of The Year is declared, all of the fashion retail industry follows suit and several designers use the color in their collections. The interpretations, of course, are left to them.
Pantone's Color Of The Year 2019: Living Coral
If you had a chance to turn life into a vacation, wouldn't you? That's the underlying sentiment that governed Pantone's selection for 2019- Living Coral. As a shade, its name is quite suggestive of what the color looks like- it is the color of coral reefs from around the world.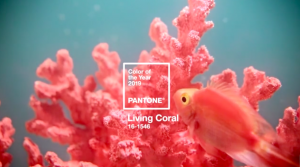 When the announcement was made, the selection received some flak for being insensitive to the actual condition of our coral reefs today. Australian studio Jack and Huei famously proposed that Bleached Coral be the color for 2020 to highlight just how much damage we are doing. If anything, both the color announcement and the backlash bring our attention back to the original purpose- thinking of our life as being linked with all of the world which, as it happens, is the theme of the millennium.
The color has been quickly lapped up by designers because like Marsala, it opens up a world of possibilities. From Fjallraven bags to Farfetch clothing, the color and its shades are everywhere and beyond.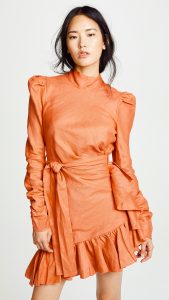 Source: Style CasterWithin the fashion industry, Living Coral has seen many interpretations from fashion houses big and small. Salvatore Ferragamo paired this with another governing trend from our times- the slip dress. Chanel went for a Vintage coat, while Zara oped for pants with floral cutouts. We also particularly love Zimmermann's short dress that is on-point for 2019 with its flounce detail. Channeling their Eighties charm, these are all picks that we could easily wear onto the sets of Stranger Things and fit right in with. In 2019 December, Vogue declared that nostalgia was the years biggest trend, and it seems to continue.
Even outside of fashion, the retail industry, in general, has been in love with this year's color. Entire catalogs have been dedicated to designing homes with Living Coral, and we've seen everything from prints to Persian rugs.
Sonia Simpfendorfer of Nexus Designs says that Living Coral works as a color because it follows major trends from years past- brick, burnt hues and deep oranges have been in trend for some time now. What's more, coral also pairs perfectly with designs that fall on the aquamarine end of the spectrum. With a color like Living Coral, there truly is something for everyone.
WGSN Color Of The Year Forecast For 2019: Neo Mint
It is interesting to observe the sheer amount of data that was analyzed to come up with 2020's Color Of The Year. While the announcement isn't official yet, the likelihood of Neo mint being one of the colors is quite significant. 
All of the major events slated to happen in 2020 look into the future– Saudi Arabia is completing the construction of the world's tallest building yet and the videos are already giving us acrophobia. NASA's Mars 2020 Rover mission is set to take off mid-year. More associative, or probably not, are Uber's flying taxis and Amazon's drone deliveries that are right on the horizon. If there ever was a year for humankind to live in harmony with its machine counterparts, that's 2020. 
Neo Mint also continues the gender-neutral trend brought in by millennial pinks that are seen everywhere today. In the design space, every designer and architect is trying to bring a bit of green indoors, quite literally. Vertical gardens, gardens within homes and garden-themed resorts are the trend of the time, and the same seems to now extend to furnishing and decor as well.
What's more, green is an excellent color for reducing anxiety which is just what today's workplaces need. We quite like to think that come 2020, we will begin to see the world in shades of pastel green.
We have already spotted quite a few interesting combinations both in fashion and decor using this color. Here are a few that have caught our eye.
In what is the perfect blend of color and futurism, thus perfectly capturing the essence of neo mint, this interior idea is sure to appeal to everyone.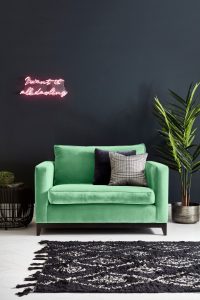 We simply cannot take our eyes off of the stunning combination of green and black courtesy of Darlings Of Chelsey.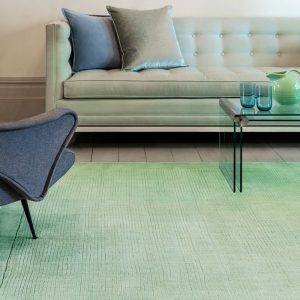 Metallic cushions do their bit to add to the charm of a lovely, cozy carpet in neo mint.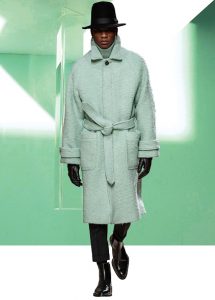 If AMI Alexandre Mattiusi were to dress Sherlock Holmes, he'd probably choose this cheery yet muted color. Full of suspense, indeed!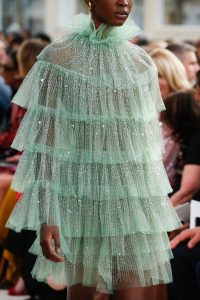 We give it up for Valentino for designing a dress that not just uses the hottest color of the season but also channels the ruffles, length, and shine that truly sets it apart. Plus, tiered clothing is in trend right now.
Pulling It All Back
There's just something about color that keeps us engaged. From bright ones to subtle ones, colors represent human emotion. If anything, the color of the year predictions just goes to show that when it comes to feelings, we're all really just the same. We want the same things, are affected by the same things and display it in similar ways through our fashion choices.