NYFW 2021 Trends That Turned Into Major Global Phenomena

7

min read
Reading Time:
6
minutes
In 1943, in the middle of World War II, a group of designers came together to set the stage for what they thought would be an event that would encourage American designers, and bring them together. Set outside of Paris the showcase was called press week. 75 years later the rechristened New York Fashion Week is one of the biggest, snazziest, and most recognizable shows outside of Europe.
Four main fashion week events hold the world's attention – New York, Paris, Milan, and London. New York Fashion Week, or NYFW, is special. It is the only one outside of Europe, and the designs showcased here are often influenced not just by their European counterparts but also by the local culture. NYFW is as all-encompassing as it gets!
Fashion shows, particularly those on the scale of NYFW, tend to influence everything from colors to cuts and styles of the seasons to follow. Not just apparel, these shows influence even beauty and hair trends. Think fresh-faced looks, marbled lips, and beachy waves of last year.
Perhaps the greatest influence fashion weeks have is in the trends they create and populate. The cold shoulder trend which refuses to die down five years after it made its first appearance, started out at a fashion week. Ruffles, statement collars, street styles, colors, and patterns- they are all born and made famous at fashion weeks. Let us look at some major trends that NYFW 2018 set off and how retailers big and small are interpreting them.
Tulle Meets Victorian
Victorian ruffles, lace, and collars are some of the most evergreen trends in fashion. They tend to make an appearance every year in ways big and small. Steampunk is directly inspired by Victorian fashion. The neo-Victorian interpretation of this trend is gaining new appeal, thanks to the extensive use of tulle as witnessed at NYFW 2018.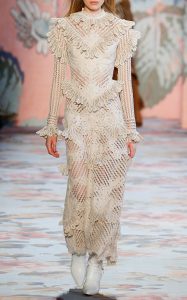 Interestingly, just about fifty years ago, Victorian dressing acted as an antidote from the grey straight lines of the industrial era. It was a way for people to hold on to nostalgia. Today, neo-Victorian dressing is a distinct expression of individuality. Think tulle long-skirts, worn with the Victorian high-collar blouse.
At the fashion week, we saw interpretations of this mixed trend in Ulla Johnson's white collection, and also with Diane Von Furstenburg, Zimmermann and Khaite. Mainstream interpretations soon followed at Zara stores across the globe. But perhaps the biggest thumbs-up for the trend comes in the form of Calvin Klein and Tory Burch showcased dresses based around this theme- if two fashion houses with distinctly different sartorial tastes could agree on this one thing, it deserves to be the global phenomenon it currently is.
Give Me Some Of That Brightness
What really surprised European fashion statement-makers last year was the extensive use of color in a market that has always preferred the muted hues. Until five years ago, a Londoner wouldn't be caught wearing a bright yellow long coat in the middle of winter. And yet, both in New York and London fashion weeks, that was the trend.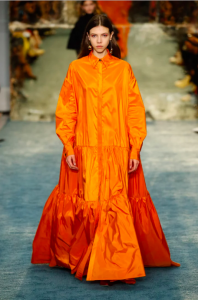 Colorful trenches in PU from designers like Sies Marjam and Adeam are the hottest picks of this season. We also caught a glimpse of an ultraviolet suit set from Sies Marjam which was intriguing, as was the green overall from Khaite in leather. This was a thorough throwback to the 2018 color of the year and if trends are to be believed, these bright colors are here to slay.
Bright colors can help beat the blues, and the Color Association Of The United States agrees. Having absolutely drooled over the clothes we saw on Crazy Rich Asians, it is safe to say that this is true all around the globe.

Speaking of bright hues, we saw Candyland come to life in several shows at the New York Fashion Week 2018. What's more, they weren't limited to outerwear alone. Tom Ford, Carolina Herrera, and Marc Jacobs all brought out the palette and painted away, as did Mansur Gavriel. Perhaps the most practical interpretation of the trend came from Mary Katrantzou, who used color in tandem with prints and monochrome to truly bring out their brightness.
Bold Prints And Beyond
Prints aren't for everyone and bold prints, it would seem, are truly meant for a select few. Until 2018, that is. Overall, it does seem as though designers at NYFW went out of their way to prove a point- that there is a print for everyone who cares to wear them.
We saw an assortment, from the classic polka dot to the more elaborate designs representing a theme. Michael Kors and Oscar De La Renta brought prints into crochet in subtler ways. Prabal Gurung and Libertine went all out with the tie-dry and the checks. Even Armani and Burberry who like to keep it low-key with the prints brought out the big guns with mixed prints.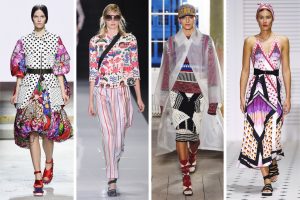 If there's one thing from this trend that many more designers, fashion retailers and brands will take away, it is the use of mixed prints. Usually, people stay away from a singular print on clothes since it accentuates all features. However, mixed prints, when used strategically seem to create an illusion of holding it all together. This works perfectly for a consumer who values comfort more than style in today's times.
Trend forecasting platform Fashion Snoops' creative director Melissa Moylan says that going into 2020, the print trend is only going to get more dominant. She sees growing acceptance of psychedelia as a trend and predicts that since these colors transport one to another dimension, fashion will also follow suit in recreating that feeling. H&M has already teamed up with Angel Chen who is known for creating Kung Fu based motifs. Their children's collection will also feature prints from artist Nathalie Lété.
A Puffed-Up Affair
Instagram deserves single-handed credit for making this trend go viral. Mara Hoffman and Marc Jacobs are fans of these outlandish sleeves, and even dresses, that truly make a statement. Their Instagram fame can be credited to the fact that they look great in pictures.
What's more significant is that puffed up sleeves come in all shapes, sizes and varieties. For example, there can be a mild puff at the shoulder with a more fitting silhouette down the arms. There can also be the extra-large sleeves that tune everything else out. Some designers like Tomo Koizumi have taken the trend to the entire piece of clothing.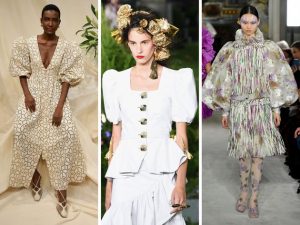 Why are puffed-up sleeves so in vogue? Because they can easily make a statement when paired even with the most basic denims and pants. Puffed sleeves are just the breakthrough innovation that formal womenswear needed- outlandish but with a hint of seriousness. For all those who are tired of the same cuffs and collars every single day, these sleeves come as a welcome respite. Valentino Couture agrees.
Dressing In The Layers
For those living in cold places, layering is mandatory. However, a different kind of layering is making waves thanks to NYFW 2018, and it is taking it from the top. Tiered dresses are not new, but the way they have been interpreted in New York is. Tiers made an appearance in all kinds of textiles from lace to fringes. Rodarte went the translucent route while Carolina Herrera called-back to last year's sleeper hit- the Urban Prairie look.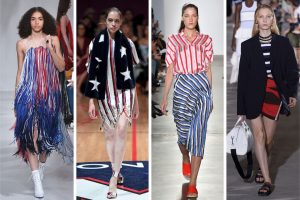 We also saw a hint of tiers in Zimmermann's American Gothic collection. Calvin Klein pulled off a 4th of July, all-American fringe and tiers. Salvatore Ferragamo used feathers. All in all, the tiers are billowing everywhere. In mainstream fashion today, we see interpretations of this in the form of tiered dresses and skirts which a Flamenco dancer would be proud of.
We're also expecting to see fringed jackets blowing up into a big trend following this wave of tiers. Smart Instagram influencers are already layering up these tiered outfits in clever ways and we can only expect to see more.
What makes one fashion trend go mainstream over another? There are quite a few factors that come into play. For one, any trend that is versatile and appeals to a wide audience has a strong likelihood of turning into a success. Also, the times influence fashion choices. Perhaps one underlying theme of NYFW 2018 is that all of these trends are aimed at a more fashion-conscious, millennial audience that is constantly influenced by social media.