How Iconic Brands Have Made Their Logos A Fashion Statement

8

min read
Reading Time:
6
minutes
One of the most recognizable logos in the luxury streetwear market is the cult rectangular red and white box logo of Supreme. There are those who hail Supreme as one of the first streetwear brands that changed the luxury fashion industry. Then there are those sceptics who question the brand's contribution to the industry. Both sides, however acknowledge the power of the brand itself.  Be it a plain white t-shirt, a dog food bowl or a brick, the product's value increases by several hundred dollars when the Supreme logo is embossed on it. 
In the hype economy of sneakerheads, the logo of the New York based company founded by designer James Jebbia is in a league of its own. Lyst's Fashion 2018 report tracked more than 100 million searches across the web to discover that Supreme's logo was the hottest one that year. 
The report stated, "Supreme's iconic red box logo is fashion's hottest status symbol. From the +1000% search frenzy when sell-out collaborations launch, to the sky-high resale value of Supreme branded pieces, Supreme's was the most wanted logo of 2018." And a year later, not much has changed. 
The 25-year-old streetwear company finds itself in the esteemed company of other iconic brands like Prada, Fendi, Gucci, Levi's, Fila, Tommy Hilfiger, Louis Vuitton and Versace. These brands are in possession of logos that set cash registers ringing. 
The 90s Is Calling Again
Business of Fashion recently talked about the power of Levi's batwing logo and how the American clothing company sells one logo t-shirt every second! 
For the most part of its 160+ years of existence in the fashion industry, Levi's has been known for its denim jeans. Jeans has been the main driver of growth and revenue. But in the last five years, the sales of tops and t-shirts have spurred renewed growth. The company recorded a 14% increase in revenue in the fiscal year that ended in 2018 compared to 2017 and touched $5.6 billion. 
Jen Sey, Levi's Chief Marketing Officer shared, "In the last three fiscal years, sales doubled for tops, from denim jackets to graphic T-shirts, surpassing $1 billion for the first time in 2018… The brand has had quite a resurgence in the last five, six years. Tops and tees in particular have been a huge driver of that. The important thing to remember is, it's not really just a T-shirt. You wouldn't wear a T-shirt with a big logo emblazoned across your chest if you didn't really believe in the brand."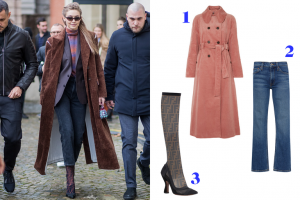 While the batwing logo has existed from 1936, millennials and Gen Z are happy to flaunt the logo in 2019 because of a number of reasons. 
The period starting from the early 2000s witnessed a dip in logo flaunters, a trend that was at its peak in the 1990s. The suave French brand Celine and its British creative director Phoebe Philo made minimalism and 'no logo' a popular trend. The fashion generation that grew up around at that time wasn't keen on wearing and carrying loud logos. 
But logomania and the 90s fashion are back in vogue, thanks to the rising popularity of streetwear, sneakers, brands like Supreme and designers like Virgil Abloh. With that came the acceptance for Levi's, Gucci and other brand images.
Making Up For the Lost Time
Although the trend is back, the narrative around it has changed. Earlier, only the symbol of wealth was attached to wearing luxury labels' logos. But in today's times, Gen Z and millennials decide to embrace a brand by studying its culture, values, and conscience, not just the price tag attached to it. Logomaniacs of today pick their tribe and their allegiance carefully. And no, becoming a walking and living advertising platform for companies is not on their list. Although, siding with a brand that promises 'exclusivity' is high on that list. 
Levi's was shrewd enough to recognise this. This is why the batwings are flying off the shelves every second.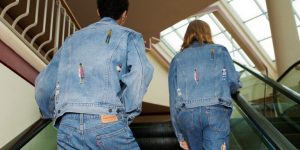 The US-based denim brand adopted 'Centre of Culture' strategy and collaborated with culturally popular things like Netflix's Stranger Things, Peanuts comic strip, Supreme and Abloh's Off-White. 
The company's Head of Design Jonathan Cheung reiterated, "[It is] a continual drumbeat of culture and pop culture association of the moment. That's what's making the brand relevant, which makes the logo relevant. Then expanding the batwing itself and playing with it and adding interest to it, you get a batwing 2.0, 3.0, that type of thing."
They are also being careful about not over-exposing the brand and losing their 'premium' character in the bargain. 
Vintage brands like Levi's are connecting with customers they missed out on during the transition phase by introducing elements that Gen Z and millennials find worth paying attention to. It is a challenge that Supreme and its likes didn't have to face because these brands were built on unique culture and identity. In fact, vintage luxury companies often bank on new-age streetwear brands to reach the young customer base. 
Take, for instance, Gucci's GG Supreme Slides, which were one of the most popular footwear of 2018, according to the Lyst report. Fila, Nike, Levi's, Lacoste, and Louis Vuitton are other premium brands that were happy to sew the Supreme box logo next to their iconic logos. 
Stamp Of Logo With A Side Of Personalization
While Levi's had to work on new strategies to make its logo relevant again, American sportswear apparel company Champion and Italian sporting goods company Fila was fortunate to catch the attention of the younger generation without changing anything. The credit for this again goes to the revival of 90s trends, logomania and the streetwear hype.
From sweatshirts to slides, from floaters to hoodies, the Champion logo is everywhere. The company's social media follower count has swelled, so has their sales. Their global sales went up from $1 billion in 2017 to $1.36 billion in 2018. And Champion expects to touch $2 billion by 2022.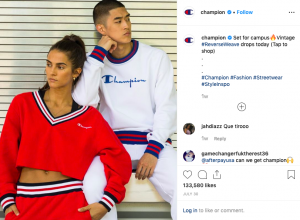 While Champion's North America division president Susan Hennike is amused by the newfound attention, the company insiders believe that their logo and brand has always had a strong recall value. 
"A lot of it has to do with our heritage and the fact that Champion has been around so long. We're able to capture millennials that remember wearing it in gym class. We are able to capture their parents and generations ahead of them because they have a long history with the brand," asserted Fred Washington, a Champion store manager from Philadelphia. 
The attention might have come easily but Fila and Champion understand that the growth momentum might drop once the retro trend slows down. Therefore, they are already experimenting with new ideas and personalizing their product offerings to stay relevant. 
Take, for example, when Champion introduced new graphic prints and colours to meet the demand of consumers who wanted modern style and fabrications. The brand also picked out its classics from the archives folder and redesigned it for the Gen Z and millennials. 
Fila is catering to the new crop of buyers by infusing metallic and pastel shades into its sneakers product catalogue. Besides revamping their product line, the companies are also collaborating with streetwear labels like Supreme and BAPE.
As for Levi's, the brand describes personalization as the new normal; a trend that will outlast every other trend. 
"We recognize that [personalization is] part of our culture, that people are always wanting to decorate Levi's. We do a lot of events like Coachella where we experiment with the next level, so we use airbrush painting and live-screen printing and tie-dying. More and more, you will start to see those interactive activations appear in stores," disclosed Cheung. 
Brands are also willing to play with the aesthetics of their logo by embracing bootlegging if that's how the customers want their logo to be customized. Not in the strictest sense, but ironically. 
This strategy allows fashion lovers to follow the 90s and logomania trend while being subtle and unique. By taking a dig at the counterfeit menace, brands have been able to connect with the meme-and-viral-culture generation by bootlegging their own precious logos. 
Case in point: Gucci. The Italian luxury brand parodied its own logo during its Spring Summer 2017 collection. It featured pieces that had words like 'Guccy, Guccification, and Guccify Yourself' imprinted on it. Even their doodle logo t-shirt gives a relatable and easy-going vibe, as opposed to being a serious luxury brand.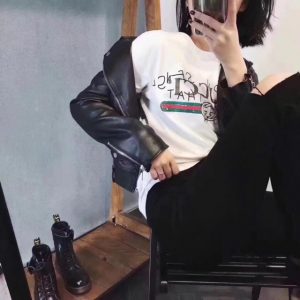 "That impressive nature of traditional logos and branding [logos as status symbols] doesn't exist for this generation. Their values are very different. This whole messing around with logos and branding is much more appealing," averred Emily Gordon-Smith, Head of Fashion at Stylus. 
From bootlegging their logos to moving on with the changing times by rephrasing brand narratives, luxury iconic brands have found unique ways to harness the power of logos and its role in defining fashion trends. Logomania and 90s fashion might return to the classic trends' closet very soon. But logos would continue to assist brands and buyers in creating a separate identity, which is stronger than a fashion statement.