The Story Of How Fabrics Weaved The History of Fashion

9

min read
Reading Time:
7
minutes
Skim through any fashion journal, podcast, editorial or trend news alerts, chances are that you would find the term 'smart fabric' mentioned somewhere in the pages and voice notes. An adjective that is commonly used to describe a person who is intelligent and savvy, found its place next to an inanimate object – fabric. But can a piece of cloth be smart?
Only an excellent fabric can originate an excellent fashion – Nino Cerruti, founder of haute couture fashion house 'Cerruti'
From haute couture designers to home sewists, from textile scientists to modern fashion brands, everyone attests that fabric can be smart, difficult, versatile, and moody and a lot more. The various personalities of different fabrics have influenced fashion trends for centuries.
It is the adaptable and stretchable nature of materials like Cotton, Lycra, Polyester, and Nylon that has fuelled the current tech-driven athleisure trend. These fabrics have allowed innovators to weave vibrating motors into them, embed e-ink screens & activity sensors, and harvest energy. Electronic textiles along with biodegradable fabrics and technological innovations are collectively giving birth to new fashion trends that are tailor-made to suit the demands of eco-conscious designers, brands, and consumers of today. The work of designers like Iris Van Herpen and Stella McCartney is proof of it.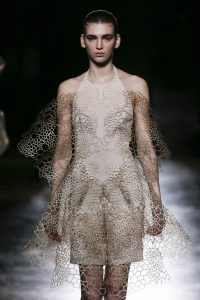 If polyester and lycra stretch fabrics are paving the way for the athleisure trend today, there is another stretch fabric that helped to create a dress that became a symbol of Women's Liberation Movement (WLM) in the 1970s. 
That's A Wrap
As we know, women's fight for economic, psychological, and social freedom started in the 1960s, but it reached its peak in the 1970s. This is the time period when Belgian fashion designer Diane von Furstenberg invented the iconic wrap dress!
The dress, which entered the industry in 1972, was made from 'jersey', a knit fabric made from wool, cotton and synthetic fibres. The material is known for being smooth, super stretchy and light-weight with a good drape. 
Jersey was originally used to make only underwear. But legendary designer Coco Chanel, much to the dismay of many purists, infused the fabric into the mainstream women's wear with her jersey dresses. She prioritized women's comfort over avant-garde fashion ideas. Chanel once said, "I make fashion women can live in, breath in, feel comfortable in and look younger in."
The 'wrap style' existed even before Furstenberg launched her design. But it was her dress with long sleeves, collared deep V-neck, in bright hues and patterns that exemplified the effortless and feminine yet powerful style of the 70s women. Fitted at the waist, and loose from the waist down, the jersey dress made women feel confident and comfortable. By 1976, the designer had sold 5 million pieces of her wrap dresses. 
"The wrap dress made women feel what they wanted to feel like…free and sexy…. It also fitted in with the sexual revolution: a woman who chose to could be out of it in less than a minute," Furstenberg asserted. 
The wrap dress trend is considered as one of the defining moments of fashion and is still relevant, more than four decades later.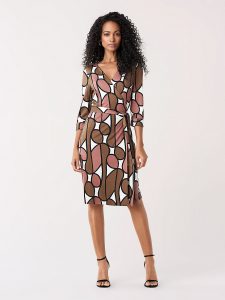 It was simple knit jersey fabric's flexibility that empowered designers like Chanel and Furstenberg to revolutionize women's wear. On the other hand, it was denim's stubborn attitude that changed the fashion industry forever. 
Faded Aesthetics
Jeans transformed the fashion industry in a very big way. It is one classic fashion trend that has never gone out of style. And the credit belongs to the inimitable personality of the denim fabric. 
The original denim fabric is made from 100 percent cotton. What gives it a different characteristic is its weave. It is warp-faced textile, wherein the weft is drawn under two or more warp cotton yarns. This weave style creates a diagonal ribbing pattern that gives it a distinct look and feel.
It was Nevada-based tailor Jacob Davis and San Francisco-based merchant, Levi Strauss who opened the doors of denim jeans to the world. 
Pants made out of denim started off as workwear for miners, farm labourers, and polo players. But Davis decided to add rivets to the pant pockets when a wood-cutter asked for a pair of sturdy trousers. The tiny metal bits increased the fabric's sturdiness.
This genius trick worked its magic and soon Davis was flooded with orders. To meet the demand, Davis got in touch with his fabric supplier Strauss and asked for his help, who later patented the pants. 
Initially, these trousers were made from canvas-like cotton duck fabric and denim fabric. But it was the denim version that eventually sustained because the fabric aged beautifully. Buyers realized that it softened as the years went by and didn't require constant washing and ironing.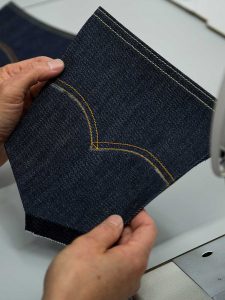 People were drawn to this piece of clothing because of its sturdiness and durability. But the appeal of jeans rested in the way it faded and frayed with time. Fashion lovers were enthralled by the fading quality of denim as it mirrored their life in a very artistic way. Every pair of jeans was and is unique to its wearer, which makes denim's personality the most enticing one.
This personality trait got added to the classic blue denim jeans thanks to Indigo dye. While making blue jeans, the warp thread is dyed with Indigo, but the weft thread is left white. Therefore, the colour fades with time because the indigo dye doesn't penetrate beyond the outer layer of the fabric. It comes as no surprise that stone-washed faded and torn jeans soon became a rage. 
Just like how Davis' impressive craftsmanship and knowledge about tailoring gave the industry the classic blue denim jeans, other designers who experimented with fabrics too contributed to fashion by unveiling the different personalities of materials. 
Pleasant Inventions And Accidents
Take, for instance, the 1950s Poodle Skirt. 
Juli Lynne Charlot accidentally designed the poodle skirt when her financial condition and the social political climate restricted her choices. With no sewing skills and limited money, Charlot decided to make a skirt for a Christmas party from 'Felt' material that she had access to thanks to her mother.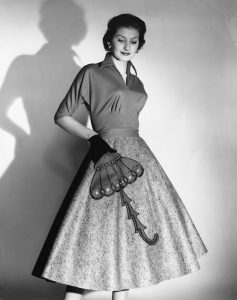 Made from natural and synthetic materials, felt is a non-woven fabric that is made by pressing fibres. It is light, airy and holds different shapes very well. While the fabric had been used to make hats and shoes earlier, not many had tried to make a dress out of it. But for Charlot, felt was the only fabric, which was large enough to cut a full circle to design a skirt without seams.  
This unique design started Charlot's career as a designer. It is safe to assume, that if she had access to an expensive fabric or knew how to sew, poodle skirt wouldn't have been invented. The unique personality traits of felt started this quirky trend. 
On the opposite end of the spectrum sits Spanish designer Cristobal Balenciaga. A master craftsman with deep knowledge about fashion, structures, silhouettes, and fabrics, he invested in textile technologies to develop new fabrics with exceptional characteristics. 
In the 1960s, Balenciaga developed 'silk gazar' fabric in collaboration with Swiss textile firm Abraham. This simple woven silk tissue was thicker and more flexible than regular silk. With high double-twisted yarn woven into one thread, it delivered what Balenciaga wanted. The designer created gazar because he was looking for a fabric that gleams, is light-weight and has clay-like ability to hold the shapes he sketched. 
"A large part of what he created in the 60s was possible thanks to a fabric that was specially conceived for him in 1958 by his titled textile producer, the brand Abraham from Zurich. This fabric, gazar, and later super gazar, was a silk as stiff as aluminum that lent itself to the creation of architectural shapes," a vintage Vogue issue revealed. 
His iconic creations in the late 60s explored the full potential of gazar. Right from Maria del Carmen Martinez-Bordiu's wedding dress that featured diagonally cut ivory gazar veil to a cocktail dress that created a visual of a butterfly emerging from the cocoon with its sheer volume, he celebrated his newest invention to the fullest. 
Balenciaga knew that the designs he wanted to bring to life required materials that had strong personalities. If he didn't find a piece of cloth in the existing samples' book, he went ahead and invented it.
Threads Of Yarn Hold The Power
As Cerruti said and Balenciaga practiced, exceptional fashion creations are an outcome of an exceptional fabric. The best of the sketches won't produce an excellent dress if a wrong fabric is chosen to materialize the drawings. How a piece of cloth reacts to the weather, how it behaves after a wash, does it ride up after being stitched or will it fall limp once worn, does it curl up when cut or will it stand stiff even after multiple presses, can it absorb dye and can it withstand hours of sewing – are just a few of the many questions that designers need to answer while working with fabrics. 
This is why textile scientists of the past and present relentlessly worked to find new fabrics and reinvent the existing ones. The outcome of these experiments not only has the power to change the fashion industry, but also the economy of the country. 
Case in point: In the 1990s, the Italian fashion industry's dominance was threatened by the American fashion industry. The threat didn't stem from designs and designers. It originated from high-tech fabrics like DuPont, Lycra, and Gore-Tex that were being produced in American textile labs. 
These new fabrics with new personalities like Gore-tex's waterproof nature or Lycra's comfortable stretch had the power to challenge Italy's dominance as the fabric sourcing hub.
Before the 1990s, the fashion industry witnessed a shift in power in the 1940s, courtesy Rayon. It was the first manufactured fibre that could mimic silk, linen, cotton and wool qualities at a fraction of the cost.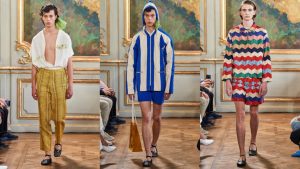 With an emphasis on amalgamating the power of technology with the malleable nature of fabrics, the fashion industry is now going through a phase where optimization trumps production. Labs are busy developing new fabrics from existing raw materials, be it a fibre made from pineapple leaves or micro-organisms. Besides tech textiles, old fabric, unsold clothes, and vintage textiles are making a comeback. The main mantra is to let the real personalities of fabrics shine.