Collaborations Outside The Retail Industry: How They Work

8

min read
Reading Time:
6
minutes
A little over a decade ago, there were just two ways to position and sell a product- B2C (Business-To-Consumer), and B2B (Business-To-Business). Ten years on, customers have changed more dramatically than several retailers could predict, giving rise to a new retail trend, a new business model B2Me, more commonly known as Direct-To-Consumer retail.
The meteoric rise of Direct-To-Consumer brands is not hard to track. On the day its website was launched, Dollar Shave Club experienced visitor volumes that caused it to crash. Brands like Bonobos are considered incubators from where other DTC brands get launched. The recipe for success? Customer experience.
Today, the retail industry is abuzz with this one requirement- providing a good customer experience. While some brands have already managed to figure it out even while others struggle, there's one aspect of customer experience that cannot be taken for granted, and that is the speed of adapting to their changing needs. Varied audience demands heterogeneous marketing and sales strategies, and that's precisely what retail brands are trying to do.
One immensely successful way to deliver a unique customer experience that sells is going down the collaboration route. In an earlier article, we discussed collaborations within the retail industry as the new retail trend to look out for going into 2020. But retailers have immense value to gain from collaborations that do not strictly fall within the retail umbrella. Several retailers are looking outside of their own niches and partnering with hotel chains and tattoo artists alike. The benefit of this strategy is deceptively simple- brands want to give consumers a positive experience that they weren't even expecting!
An element of surprise is what drives good gifting, and for anyone who is a consumer today, Christmas keeps on coming.
Let's look at some ways in which retailers are collaborating with those outside the retail industry to deliver a stellar experience.
Making The Most Of Space
When you think of a store, what are some things that typically come to mind? At a fashion retail outlet, we're looking at rows and rows of clothing and accessories, some mood elements like wooden floors, perhaps music that suits the brand's style. We're also thinking of the checkout area made up of several queue-guards and machines at the far end.
But, could a retail experience be more inspiring? Pop-ups have shown us that that is indeed possible. Wherever we look today, brands big and small are exhibiting at events or opening stores at hotels and resorts that best represent the retail brand. Some really go the extra mile- IMGs Dream Downtown Hotel is a venue for the New York Fashion Week. Designer labels are also attaching their names to these hotel spaces as a way to get more visibility for both brands.
One reason why hotels make for a perfect retail avenue is that people have more time to shop when they're traveling or on vacation. Most likely that a traveler wouldn't hesitate to spend a little bit extra in an indulgence. A brand that pampers the customer during this time is a brand that is making sales.
How do the hotels stand to benefit? Hotels that have hosted guests for fashion weeks notice an immediate increase in the number of influencers that visit their many sub-brand properties such as the lounge and the bar. Some hotels also become preferred venues for after-parties that bring in a lot of revenue, and all because they manage to partner with the right designers in fashion. Case in point- 11 Howard in Soho that seems to host an almost endless supply of fashion and retail events throughout the year.
Where Art Meets Retail
Fine fashion is, in itself, an art form. John Galliano himself said, "The joy of dressing is an art." Art collaborations in fashion retail were a long time coming, but now that they're here, we think they're here to stay.
When it comes to retail influencers, many brands are skeptical. But the immense value they can bring in when partnered correctly is demonstrated by eyewear brand Privé Revaux. It collaborated with actress Hailee Steinfeld of True Grit fame among other stylists, singers, and artists to release capsule collections that capture the essence of the celebrity's personality. When working with collaborators, it is important to understand if both brands agree on the fundamentals.
No mention of retailers collaborating with art can be complete without mentioning Club Tattoo, the premium tattoo brand started by Chester Bennington himself. While not a retailer in the strictest sense, Club Tattoo has been proactive in partnering with other retail brands that, in turn, give the tattoo label better visibility. Their collaboration with Bicycle Playing Cards was such a runaway success that stores like Walmart began to stock the tattoo-inspired playing cards.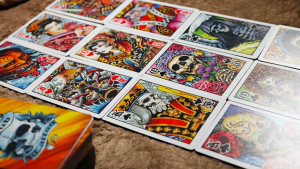 In 2015, when Starbucks wanted more consumers to download its app and enjoy loyalty benefits, it partnered with an app that was already being downloaded- Spotify. People at Starbucks could use the app to tell them what music was playing in the store and add it to their Spotify playlist. This also worked for Spotify because those who had a premium membership on Spotify would get extra rewards with Starbucks. This brings to forefront the need for clear objectives when collaborating. Both the retail brands need to know exactly what they stand to gain from getting together. 
Let's shift the conversation a bit to the East. Countries like Indonesia, Thailand, India, and China have a rich history of handmade products and local art. These art forms and their derivatives are making their foray into mainstream retail as well. Indian designer Anita Dongre's Grassroot initiative aims to use local, handspun clothing with art from each specific region as the base for globally relevant collections. In some ways, this collaboration is simply an extension of the need of the hour, but in others, it is providing a platform for local artisans while also presenting the world with a wider range of options.
Similarly, Indonesian art forms like Batik and Ikat are also being sold extensively on global marketplaces like Etsy, where enterprising retailers can pick them up, give them new form and sell to the world. While this collaboration is indirect and is being facilitated by a platform, that it serves both parties is something that cannot be questioned. 
Riding The Viral Wave
If there's one retail brand that is recognized everywhere, that's probably Walmart (although Alibaba far supersedes in reach in Asia). However, when a behemoth like Walmart wants to go online, what's the best way to get multitudes of customers to adapt? Simplicity, of course! In a bid to grow its online presence, Walmart partnered with BuzzFeed's viral recipe video wing, Tasty. Every month, it is estimated that over 500 million people watch the videos put out through Tasty. 
Now, these videos are shoppable, and consumers can instantly place an order for recipe ingredients through Walmart even as they drool over those homemade truffles. The greatest benefit for Walmart comes from the fact that they don't have to reinvent the wheel. They don't have to start all over again and shoot food videos from scratch when the product they're actually trying to sell is the ingredient. Instead, they pay an affiliate commission to Buzzfeed and leverage on an already viral platform. Plus, Buzzfeed also got the chance to make an extra buck by launching Tasty cookware at all Walmart stores.
Marketing is an inside job first as these two brands' CMOs have been demonstrating to us over and over again. As consumers look for that little extra topping, brands are more than keen to give it to them, and partnerships help speed up the process significantly.
Why Collaborations Outside The Retail Industry Work
Today, if we were to hear that a jewelry brand and a famous designer are collaborating to create something new, we may not be too surprised. This is because to an extent, collaborations within the retail industry were a trend even a while ago. To really stand out, retailers are going all out to draw inspiration from some very unlikely, yet immensely successful, places. 
Successful collaborations are all alike- they work based on mutually exclusive benefits that add up and provide something extra for the consumer. Indeed, even those retail brands that have bought out other brands have only been successful when these buyouts worked alongside the rest of their portfolio. For example, Sainsbury's didn't want to detract too much from the food business but managed to get a larger footprint in the retail market by acquiring Argos.
Brands that are struggling with collaborations are all facing issues of their own. Current trends clearly dictate the market, as do generational shifts. Consumers today, and tomorrow, are people who have grown up alongside a smartphone. Brands without a strong digital presence are an aberration in their world, as are those that cannot cater to their specific needs, simply because they are aware of and exposed to brands that can do just that. What collaborations offer, particularly outside of the retail industry, is a chance to make a strong mark on the market in the shortest time possible. Jeffery Campbell and Black Milk both saw a viral increase in sales when they collaborated to design the galaxy-print shoes, and they were simply listening to their audience that was already calling for it!