7 Takeaways from our flagship AI Transformation Conference: REBUILD '23 Jamaica

6

min read
Reading Time:
5
minutes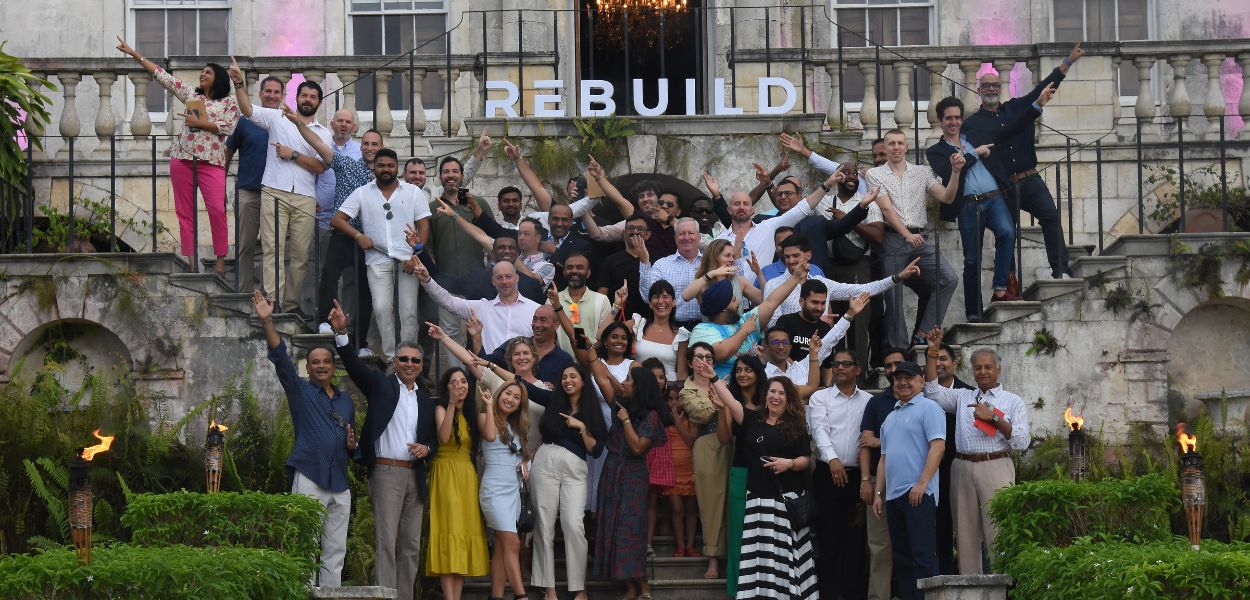 Protagonists, propagandists, and practitioners of the AI-verse jammed in Jamaica on the 27th & 28th of April, 2023 for the third edition of REBUILD – the knowledge-sharing retreat from Vue.ai. Workflow automation to AI transformation, change management to customer experience, C-suite attendees exchanged notes on their AI initiatives to outpace innovation, to unlock new levels of consumer insight. Participants walked away with these takeaways.
Tech's Pas de Deux: AI Transformation and Change Management, in perfect harmony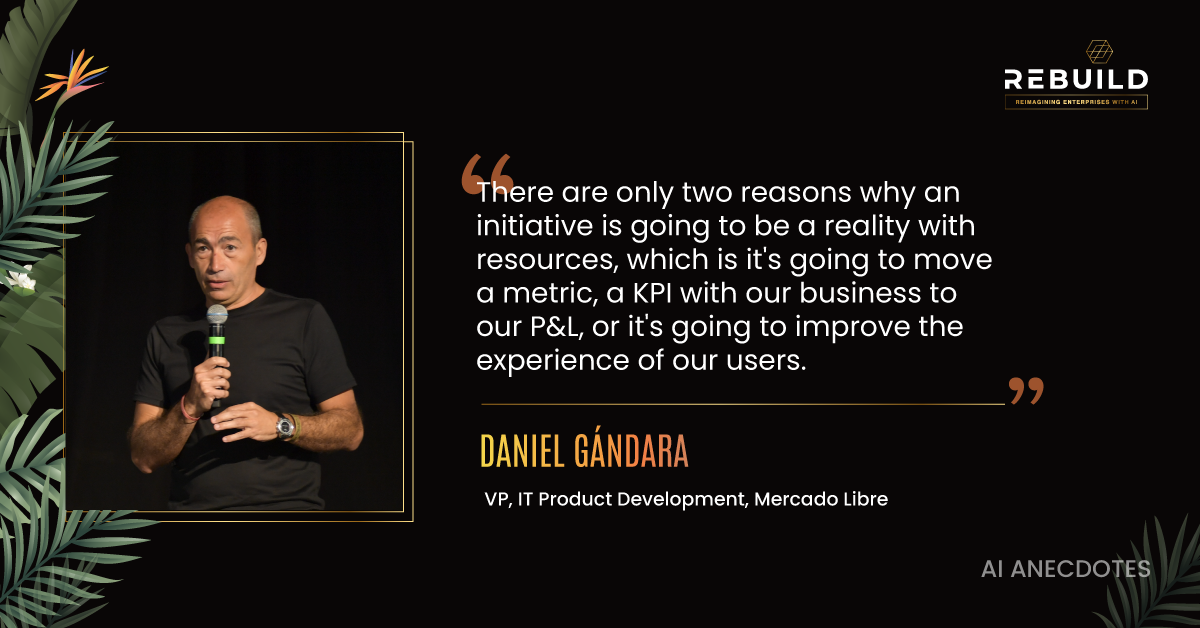 Two guardrails guide Daniel Gándara, VP – IT Product Development, MercadoLibre.com in aligning some 15,000 engineers across more than half a dozen countries, to adopt new technologies. (1) Does it move a metric / KPI tied to the company's P&L? (2) Does it improve user experience? Other secret ingredients in his recipe to brew a successful IT operation include a critical focus on the underlying data (a viewpoint seconded by Timo Weis, AVP & Data Strategist, Infosys), bringing in the right people to nurture them with the right work culture and, building a community of external partners for learning and sharing of experiences.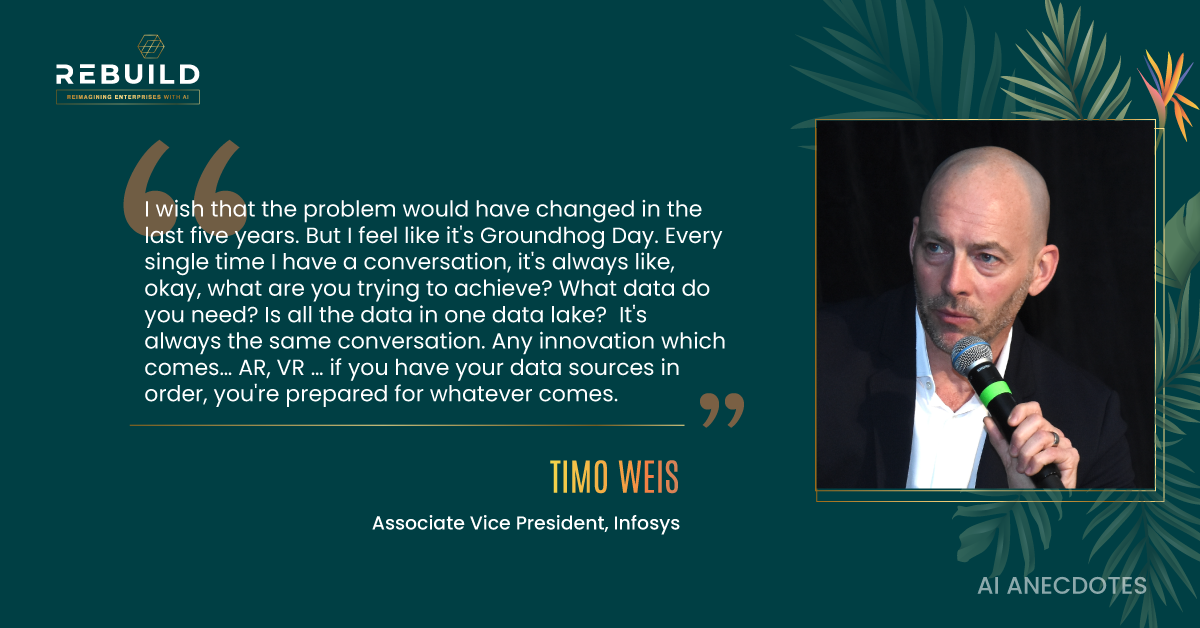 Bypass the bias
The potential for bias is a heavy anchor in the sea of AI's possibilities. This is why governments such as the one in the state of NY mandate audits of all AI-generated work. The prolific preponderance of tribal knowledge in business landscapes necessitates a human in the AI loop to ensure good governance, said Amit Arora, Adjunct Associate Professor, Columbia University.
Keep the data close, in-house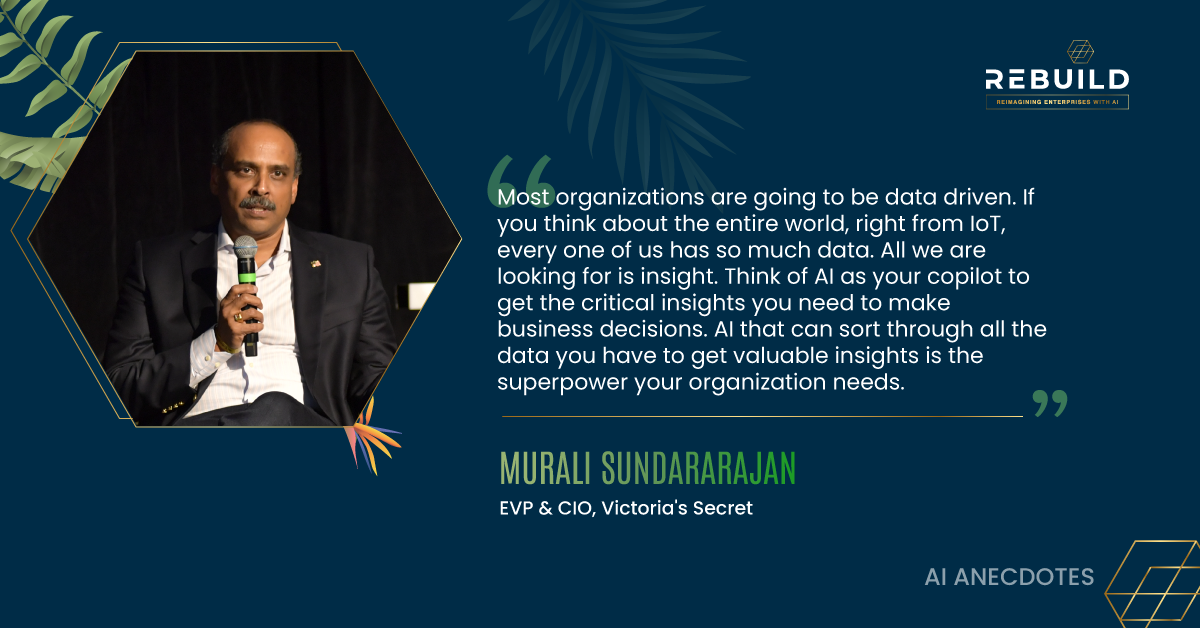 By retaining data processing and AI model building in-house, organizations secure data sovereignty and maintain strategic control over their intellectual assets, enabling them to safeguard proprietary insights and drive innovation from within, shared Murali Sundararajan as he explained his stints at Lowes and Victoria's Secret.
Fundamental and foundational to the deployment of AI is the structuring and activation of "clean" data, elaborated Anand Chandrasekaran, Founder and CTO, Vue.ai. Modeling the interactions between the "clean" data and humans (end users, employees, etc) is at the core of all AI/ML initiatives, at Vue.ai. Cascading down from auto-suggestions to auto-corrections to automation of the entire sequence, this enables efficient, at-scale implementation of AI. Touching upon the transition from a model-centric to a data-centric world that's underway, he elaborated the company's philosophy further, adding that in most cases the AI models developed by Vue.ai reside in the customer's environment.
Cast away the anchors
On the voyage of growth and innovation, enterprises face significant policy challenges in embracing new technologies. Environmental sustainability, ownership of IP, and budget resonate deeply in their evaluation of responsible stewardship of emerging platforms such as AI. By deftly navigating policy hurdles, businesses can strike a balance between sustainability, protecting IP assets, and leveraging innovation for long-term success, opined panelists Amit Arora (Columbia U), Dr. Karthik (Apollo Hospitals), Carol (Citi Group) and Washington (Concentrix).
Automate to liberate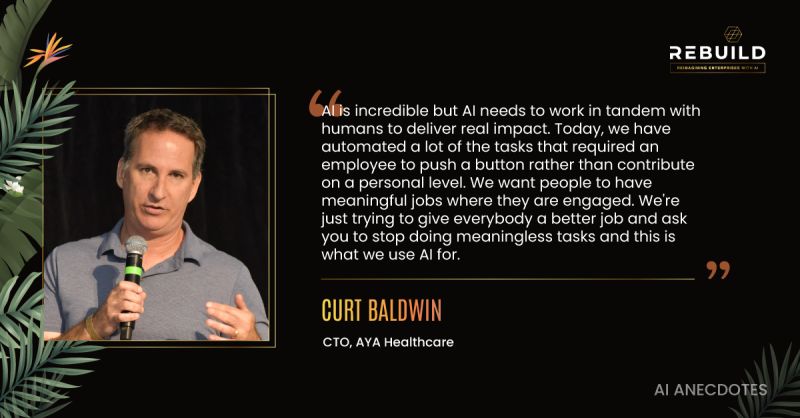 Like many others, the staffing industry has its share of repetitive work processes that could benefit from automation. Personalization of job recommendations via a self-serve portal, instant processing of employee onboarding documents, and efficient fraud detection are but a few ways in which AYA Healthcare deploys AI solutions to power up a gig pool of about 50,000 healthcare workers in the USA, explained Curt Baldwin, CTO. Thanks to the freed-up time, recruiters now deliver personalized counseling and discuss individual career paths with candidates, leading to greater retention and satisfaction levels amongst healthcare workers.
Supercharge the supply chains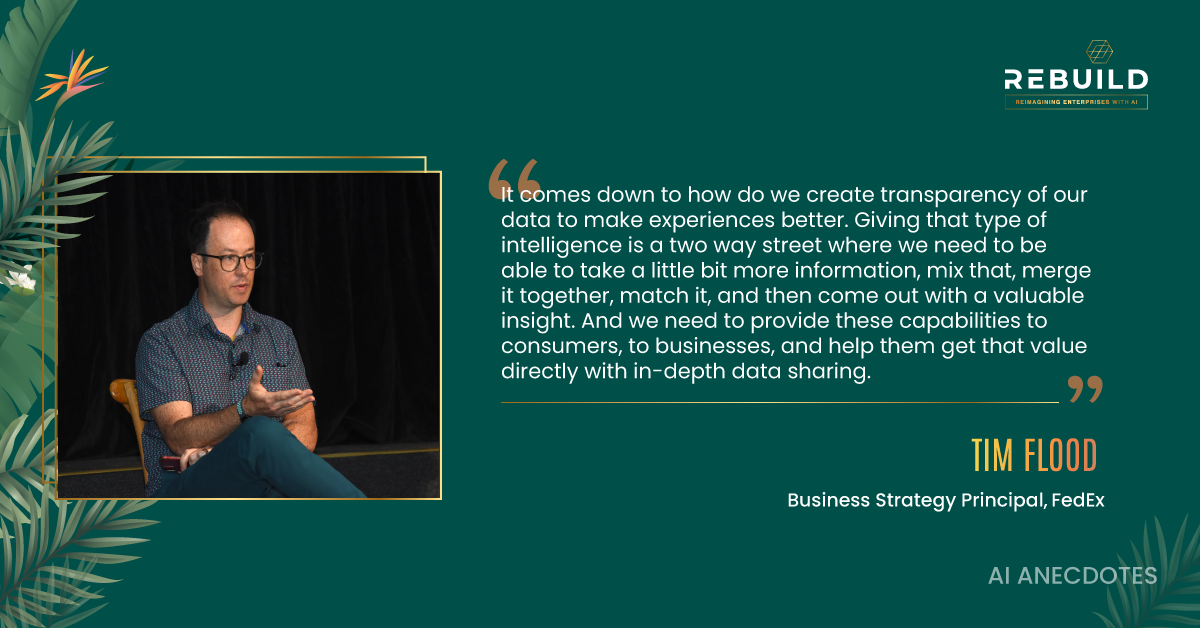 "A package is a package, but the data is much more important than the package," said Fred Smith, fifty years ago – an idea well internalized by FedEx in the effective use of data and technology to improve efficiencies in the logistics industry. In the automation of export documentation, comparison of tracking numbers, filing of customs entry based on auto classification through manifest data, in predictive fulfillment optimization, AI automates document processing leading to higher productivity and efficiency, explained Tim Flood and his team from FedEx. FedEx Dataworks was created to support the pillars of "… build efficiency within FedEx, make supply chains smarter for everyone, and deliver value to our e-commerce vertical." elaborated Tim.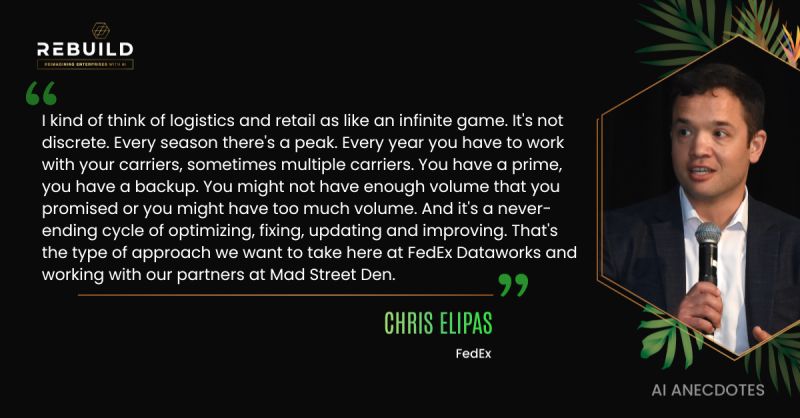 AI – The GPS that maps customer journeys
Industry expert Julia Kaplan echoed that the long gestation periods that current data science modeling teams engage in – about 3 to 4 months in developing models and an equivalent duration in the production phase – negates the purpose of the whole exercise. The bulk of that time is consumed in finding and prepping the data. On the personalization front, there is a clear dearth of tools that map connected journeys of the customer across the touchpoints – also highlighted by Javier Fernández Poyo, Industry Consultant and ex-Head of Innovation, Desigual. All of these could be achieved efficiently using AI & ML.
Reinvent retail automation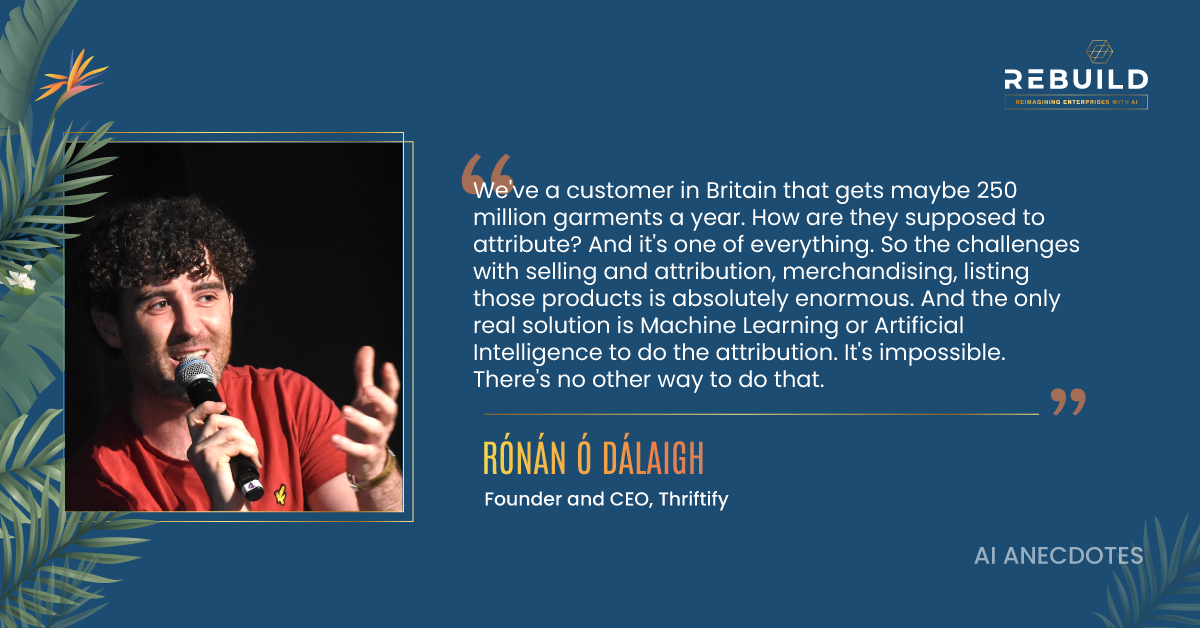 Retailers deploy AI in different scenarios. A cross-sectional view of use cases from clients across industries.
– AI lets Thriftify, a sustainable shopping enabler, build channel-specific attributions, meta tags, titles, and PDPs at scale.
– Image moderation is another area of large-scale application of AI: P2P marketplace Buyma automatically detects and deletes Japanese character overlays over its existing library of millions of product images.
– Frankfurt-based fashion house Picard described the ease with which on-model images of products could be seamlessly generated and changed four times a year, as new season collections came in.
– GCC retailer 6thStreet detailed the deployment of AI at scale to deliver a 1.5x-2.0x improvement in conversions and CTR.
Piecing together the AI puzzle
Earlier, Ashwini Asokan, co-founder and CEO, Vue.ai welcomed the gathering with a state-of-the-AI address. The AI landscape is very noisy and cluttered, necessitating a strong intent from the C-suite to deploy AI only where appropriate. Talent crunch in the domain is real, with the proliferation of data science teams in organizations. But in many cases, it has just been a shift of the manual work – from cataloging to the ML/AI modeling department. Fragmented, piecemeal implementations of AI solutions do not inform a unified view of the customer. Vue.ai's solutions acknowledge and address each of these issues adequately, she declared.
The two-day event concluded with some great learning. In the realm of business, common challenges transcend industry boundaries, fostering a shared ground among organizations. Cultivating a community of industry leaders fosters a collaborative ecosystem, enabling the exchange of invaluable insights and expediting the resolution of complex problems through collective wisdom.