7 Design Stars From New York Fashion Week 2018

7

min read
Reading Time:
6
minutes
For decades now, fashion weeks have achieved cult status for being the stage for both emerging and established designers to showcase their collections. These are places where both trend analysts and buyers watch closely for designs that will eventually become global phenomena, or fade into oblivion.
When fashion week season arrives, design houses often pull out all the stops in designing shows that grab attention as much as the clothes featured in them. For new designers who have shown some potential, a fashion week is also a chance to enter the big league.
Behind The Scenes
An interesting development this year is the shortening of New York Fashion Week (NYFW) to keep shows close together and to sustain buyer interest until the very end of the show. So Fashion Week is now going to be just five days long. For up-and-coming designers, this could mean even tougher competition in terms of getting the best slots. Plus, there are the expenses to account for. A typical show at New York Fashion Week can cost upwards of $100,000.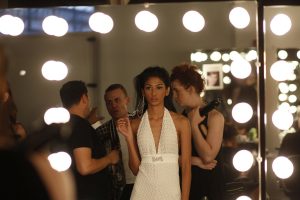 Today's designers also understand the need for offline-online integration and strive to create Instagrammable moments throughout their actual show. In that sense, the reach of a fashion week goes well beyond just the people in the audience. As opposed to looking at editorials, today's buyer can directly derive conclusions by following live updates from these shows. This way, all that fee and show expense might actually be worthwhile and often gives new designers just the push they need to enter mainstream fashion.
Most designers who showcase for the first time at fashion weeks often come with sponsorship or an investor backing them, which also takes the sting out of such a grand showcase.
NYFW, in particular, is famous for new entrants, not only because it is the only major fashion event in America but also because it has created several offshoots. NYFW street trends are closely followed and influencers here go well beyond the ones who actually attend the event itself. Plus, NYFW has given rise to offshoots like the Harlem Fashion Week, which helps niche designers showcase their creations to a more selective audience, and at a far more forgiving fee.
Last year's fashion week was no exception. The launch of both SS19 and FW19 collections at New York Fashion Week saw a huge influx of new and established designers. Interestingly, designers who gained fame outside of NYFW also showcased here for the first time, adding to the event's appeal.
Designers Who Gained Fame At NYFW 2018
John Elliott's Womenswear Collection Is Launched
Los Angeles based designer John Elliott has always been in the spotlight for his menswear range. In fact, several fashion editors have secretly admitted to simply buying smaller sizes from the menswear collection for their personal wardrobes. Simple, clean lines and statement minimalism continue to define his collection as he finally answers the call and launches his womenswear line.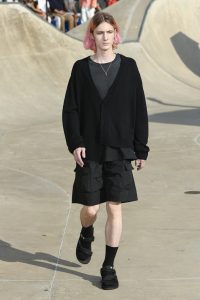 The SS19 womenswear debut saw a lot of whites, jackets, and overlays which walk the unisex line beautifully. Even in launching a womenswear line he didn't quite go down the feminine route as much as he did the androgynous one- and we love it!
Since the show, editors at Vogue, WWD, and Hypebeast have been raving about the collection, with Hypebeast going so far as to say that with this breakout collection, he finally introduced LA's casual appeal to New York.

Marei 1998 Makes Cruelty-Free Mainstream
Maya Reik's faux fur was the talk of the town, with stars like Bella Hadid vouching for its authenticity. The nineteen-year-old Israeli designer debuted at NYFW Spring/Summer '19.
Perhaps one reason why Marei 1998 is such a hit is that it doesn't stop at being just a cruelty-free alternative to fur. The designs in the collection have been called Amish Chic and have the likes of Beyonce endorsing it.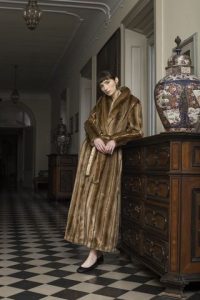 Vogue, InStyle, and Elle have already written exhaustive editorials about this collection, but its true appeal is also on Instagram where it attracts a select group of followers with its vintage appeal.
Bande Noir Is Brilliant 
When an ex-staff reporter for Women's Wear Daily debuts a collection, one can be sure that it will be on point with all of the current trends, plus have a personality of its own. Bande Noir made its debut at New York Fashion Week 2018 and as one writer at The Zoe Report put it, is a "contemporary clothing brand that looks expensive."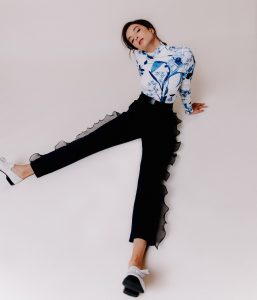 Mayte Allende, the genius designer behind Bande Noir, understands that someone spending $500 on contemporary clothing is unlikely to be a young twenty-something. Hence, what better way to bridge the gap than by redefining contemporary itself? Hence, corseted tees and tailored separates both made it to the collection with a generous splash of defining fashion through individual choice.
The Spring/Summer '19 collection saw a mix of structured floral outfits as well as statement pants while the Fall/Winter '19 collection channeled a degree of inner goth into all outfits in the most modern interpretation of goth there ever was.
Rihanna Brings Immersive Lingerie On-Stage 
Nowhere in the history of fashion weeks has lingerie probably featured as a closing show, but leave it to Rihanna to make that happen. The Savage X Fenty FW '19 collection was all kinds of awesome.
Rihanna's brand stood out because of how inclusive and diverse it was on the runway. That added magic was courtesy Fenty beauty products. Overall, the statement was clear- the collection was made for the real world and a showcase at a fashion week was the beginning.
A variety of media outlets reported on the show from Vogue to Buzzfeed As/Is. Apart from being diverse in its presentation, the looks in themselves were also just as varied, from animal prints to fishnet, to cater to a variety of different interests.
F/FFFFFF Makes An NYFW Debut 
As far as viral Asian trends go, F/FFFFFF fashion is not far behind.  It is already a popular brand in Asia and a regular feature at Shanghai Fashion Week.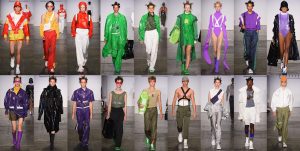 They made their big circuit fashion week debut at NYFW'S Spring/Summer '19 show. There is probably no country in the world that is as stark an example of culture meeting modernism as China. Here, generations of heritage and a penchant for the future coexist in every aspect of life. Fashion is not far behind. In a stark departure from the colors and prints being used by other designers, F/FFFFFF displayed a riot of colors and patterns merging, as PR Newswire put it, 'heaven and earth'. Also, for the curious ones, the multitude of Fs stand for Fashion, Family, Future, Friendship, Freedom, Fun and Freshness.
Marvel Comes To NYFW 
Marvel movie costumes are not something that one would expect to see at NYFW. But walk it did, and what a debut it was! Marvel's Black Panther costumes received widespread praise for staying true to its characters' African heritage, right down to accurate representations of every tribe.
The Cut called the collection 'visually spectacular', a collaborative design effort, the proceeds of which were donated to Save The Children foundation. Making the most of the movie's release coinciding with NYFW, the stars of the film dropped by too. Afro-Futurism has been widely used as a word to describe this presentation, hopefully opening up more doors for feature films to play a more direct role in contributing to the fashion industry.
Christopher John Rogers Makes His Debut
Christopher John Rogers had a legacy to follow. His first presentation at NYFW was regarded as a pivotal moment in nurturing designers who do not typically follow the norm. We saw it in John Galliano- that spark to do something more than the times, and we saw it again in Mr. John Rogers. That he is just 24 has had no impact on the sheer diversity of places he drew inspiration from.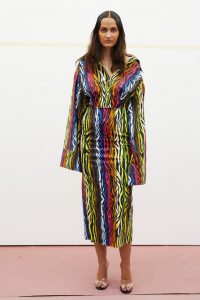 For the Fall/Winter '19 collection, he chose to represent his Southern Baptist upbringing and memories of a Californian Beach. In his own words, fashion shouldn't be so serious, a recurring theme in all of his clothing. As he goes into his second presentation this year, he has some very Dr. Seuss-like ideas up his sleeve.
In 2018, New York Fashion Week was home to innovations and launches of all kinds. As the show moves into a shorter format thanks to a new, influential director, we expect to see more packed schedules, but also a better avenue for new designers to truly shine and stand out from their competition.