5 Stores That Blur The Line Between Retail and Experience

2

min read
Reading Time:
3
minutes
It's now old news that customers look forward to experiences when they shop. If retailers are to bring customers to stores, they need to combine their product and story with an ambience that's worthy of Instagram virality. Here are five retailers who have managed to blur the line between retail and experience with their stores.
KoiBird
KoiBird is a travel concept store based out of London. The store reinvents not only its inventory but also its interiors based on the travel concept that they have chosen to explore.
The result?
A vibrant burst of all things seasonal, exotic and beautiful. KoiBird was founded by Belma Gaudio, who loved to travel, but was unable to find season & destination appropriate holiday clothing. Today, it's one of London's most loved travel stores!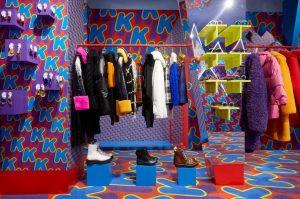 Moreru Mignon
'Purikura' in Japanese, refers to the shorter form of 'Purintokurabu' or Print Club photobooths. These booths, which allow you to take photos and decorate them with stickers are a very popular activity among school girls in Japan. Moreru Mignon in Tokyo takes this idea and projects it into a pink photo wonderland. The space comprises a number of ultra-cute or kawaii spaces for visitors to snap photos, apart from little booths where visitors can shop for signature snacks, knick-knacks and even makeup!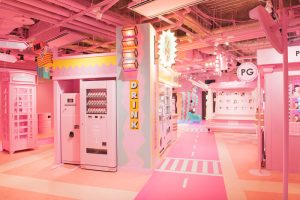 Gentle Monster  
Gentle Monster is a Korean eyewear brand whose USP includes their unconventional frames and creative, celebrity-led collaborations. Their flagship store in London places experience at the heart of the store, fusing robotics, aliens and Kung-Fu! The concept behind the store is that extra-terrestrials were "captivated by the beauty of Kung Fu, presented in the most unexpected client point-of-view throughout the two floors." That's an experience you don't want to miss!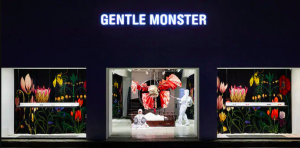 Bellocq Tea Atelier
Bellocq Tea Atelier in Brooklyn, New York, is designed to make your visit one that you won't forget. Situated in a red brick building, its simple entrance leads you into a stunning boutique that houses an expertly curated tea collection amidst rich, purple walls and beautiful botanicals. There's even a seating area where shoppers can chill and sip their tea!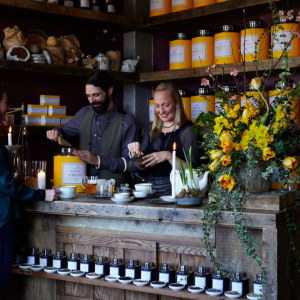 Bikini Berlin 
If you've ever seen #bikiniberlin on your instagram, you'd know that this is probably among the most grid-worthy retail spaces in the world. The Berlin based shopping mall's spaces are constantly evolving to display interiors that are in sync with seasonal trends. Today they have a living plant wall, flower ceilings, swings on the terrace and views of the famous Berlin Zoo. Tomorrow…who knows?!