What I Learned When I Tried To Buy An Animal Print Blouse Online

7

min read
Reading Time:
5
minutes
One of my favorite lockdown pastimes has been to scroll endlessly through e-commerce sites. I don't actually shop most of the time — what I really enjoy is going through the catalogs across sites to see how their imagery has changed, the way they've scrambled to assemble post-pandemic fashion trends (an actual thing), and just as a way to escape from the uncertainty that has comfortably pervaded into our lives.
Scrolling vs Searching
After a few weeks of scrolling, I began searching. It was sparked off by the fact that I'd seen something on a site the previous day while scrolling and wasn't able to locate it. I remembered a few attributes, like the color and silhouette, but irrespective of how creative I was with my searching I wasn't able to find it.
And it was as if the retailer didn't want me to find it!
Naturally, I became more curious about the way search worked on e-commerce platforms.
It makes no sense to me, as a consumer, to have to work to find what I was looking for.
The Great Search Experiment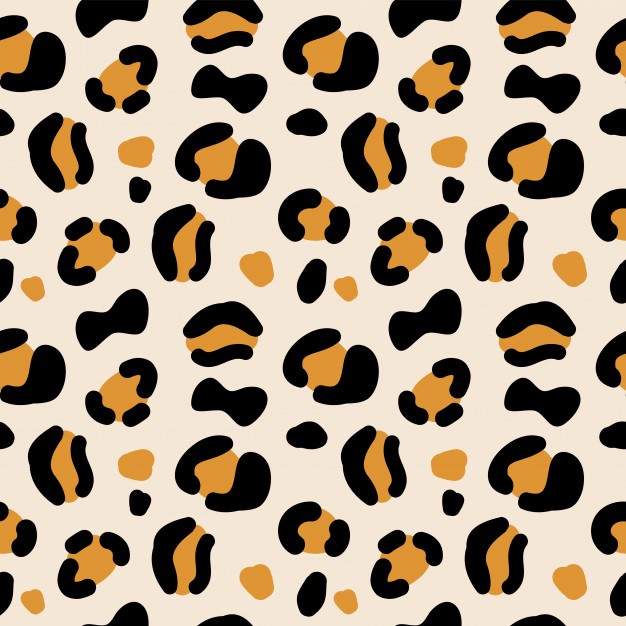 What happens when you search for the same thing on different sites?
You should get similar results, right? Apparently not. I decided to search for something fairly straightforward across multiple e-commerce sites — an animal print blouse, with the expectation that I would see…animal print blouses.
It didn't quite play out that way.
Additionally, it's worth mentioning that the sites I checked weren't small businesses or e-commerce sites that have just started. We're talking established retailers that deal with the tens and thousands of items, who've had an online presence for years.
Here's what the results looked like:
Retailer 1: Nordstrom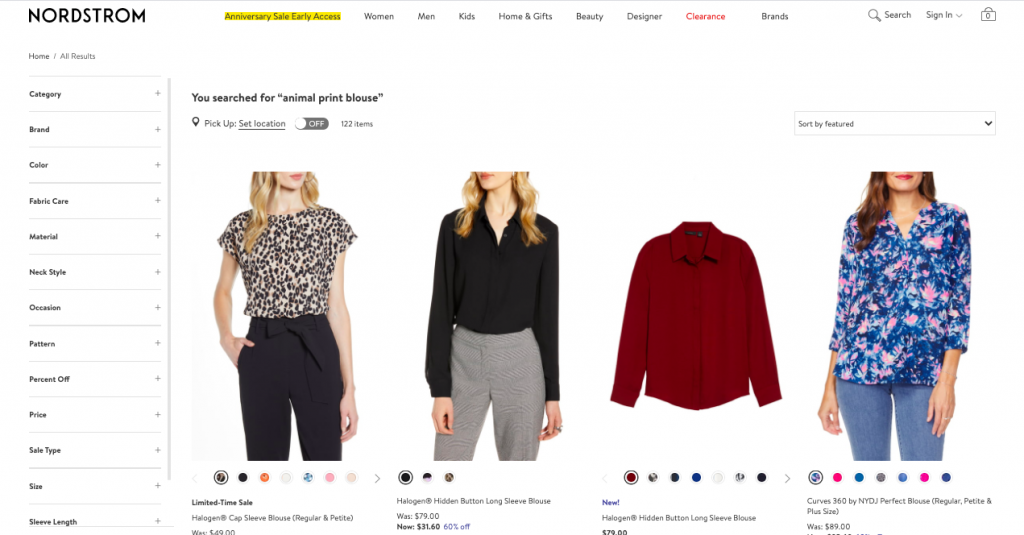 My first search was at Nordstrom, and as you can see, it was a bit of a fail. There were two solid print shirts and one floral print shirt. The solid ones had variants, but it takes a minute or two to spot these 'options' but we ain't got no time for that!
Although the photo shows only the first row, the next rows also had incorrect results [floral, more solid shirts, and weirdly enough, a polka dot blouse] and the poor results put me off browsing through the site for longer.
Retailer 2: Harrods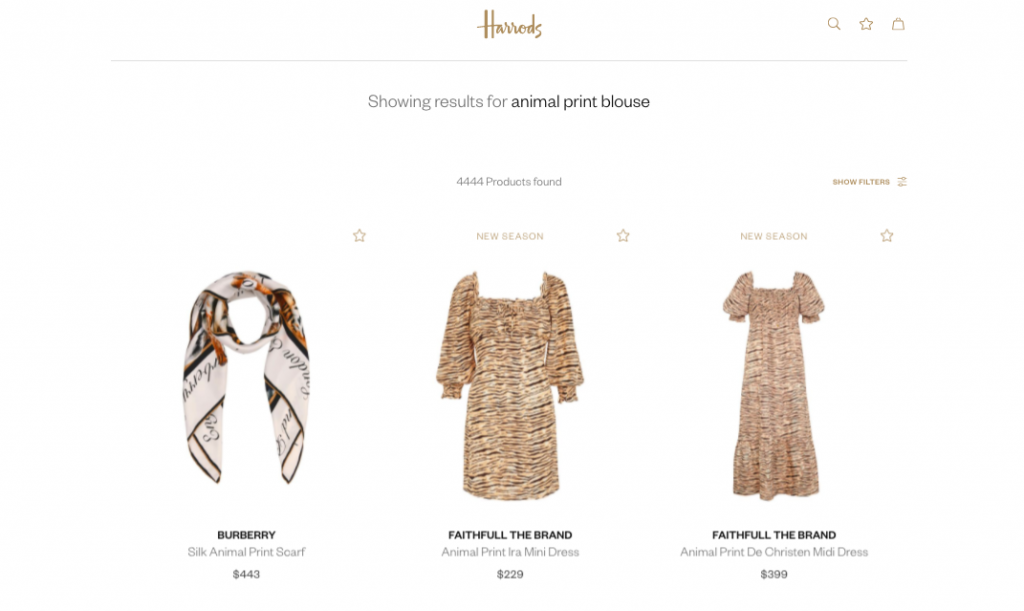 Harrods gave me animal print, but I got dresses and scarves instead of a blouse. So near but so far! It was also a pretty eclectic selection of results — like there were bibs with animals on them, scarves and dresses, but the blouses that actually showed up a few rows later showed had florals and other abstract prints, but no animal prints.
If I were to draw an analogy with offline shopping, it felt like I was dealing with a really enthusiastic sales rep who wanted to show me what I wanted but didn't really want to listen to me.
Retailer 3: Farfetch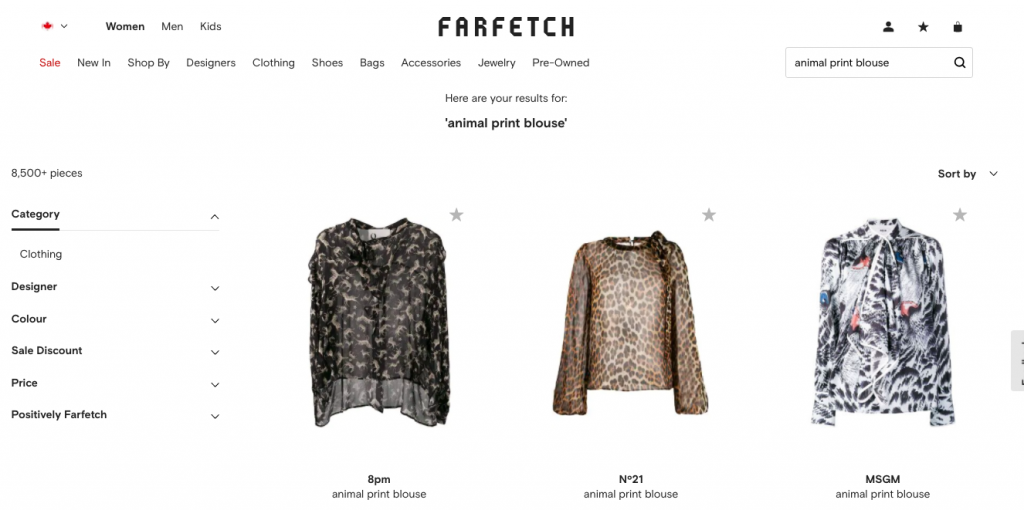 Not gonna lie, but this actually cracked me up because the first result was a shirt with animals on it. Amusing? Yes. Accurate? Not really.
Retailer 4: ASOS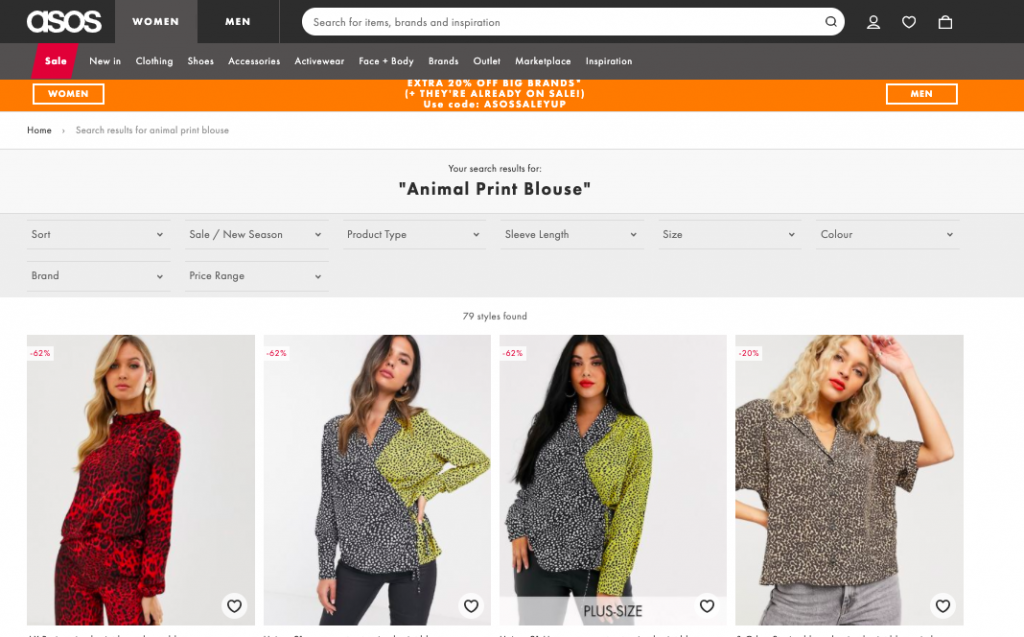 Asos, with its humungous catalog of products and brands, ended up giving me the most accurate results! This was the site I ended up spending the most time in — and almost purchased items too [my bank account would like to take a minute to thank the shipping restrictions that are currently in place because of COVID-19]. This simply comes from a place of trusting that the retailer knows what I'm looking for.
The Importance of Tags
This exercise made me aware of how impatient I had become as a customer. In a brick-and-mortar store, I am okay with browsing around a bit because there is that thrill of 'finding' something that you love. But searching online for a very specific product makes me ruthless with my buying choices.
I do not want to waste time on sites that don't get me.
A lot of this has to do with the boring and un-sexy backend job of retailers tagging their catalogs. They have got to be both accurate and comprehensive. This can be time-consuming but if you want your impatient customers (aka everyone) to stay on your site, they have got to be on point.
Why Not Take The AI Route?
All of the sites I searched for the purpose of this experiment were large, multibrand retailers who dealt with big catalogs. And three out of the four sites I shopped in displayed had irrelevant search results ranging from glaringly obvious to somewhat confused. This is possible because of the human errors that occur during the process of catalog management, which is expected when it comes to dealing with catalogs of this size.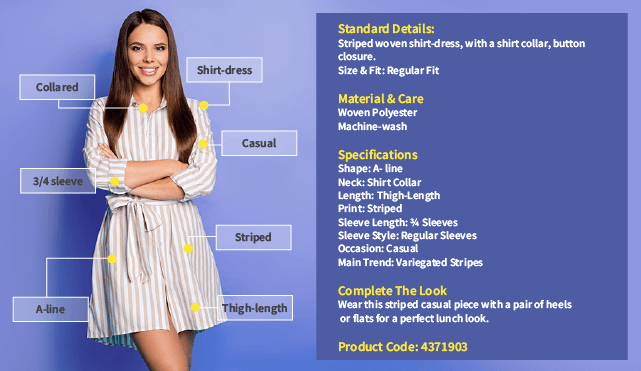 Vogue Business had recently published an article that talked about how retailers are investing in technology to fix their taxonomy — the science of naming things- to ensure that their customers have not only the best personalized search experience but to also help retailers make meaningful connections between the products that their customers are browsing.
This, in turn, helps retailers provide recommendations that understand their customer's intent. After all, every consumer is a complex combination of tastes and preferences, with multiple events going on in their lives.
How Do You Show Them That You Get them?
Investing in powerful AI Catalog Management tools that can take care of the tagging with high precision & little to no fuss also allows retailers to think more creatively about how they can connect with their customers — and even look for ways to enrich their own taxonomies and add depth to their catalogs.
Become Your Own Customer
Ultimately, it comes down to retailers taking steps to use their site like their customers would and ensuring that their swank user interface is matched with a robust catalog management system.
After all, there is someone out there who wants what you have. Make sure they're able to find it.
The views expressed in Op-Ed pieces are those of the author and do not necessarily reflect the views of Vue.ai.
---
Related Articles: