Here's Why I Thoroughly Enjoyed Gucci's Digital Shopping Experience

8

min read
Reading Time:
6
minutes
Retail experiences during the pandemic have been somewhat ambiguous. With most countries gearing up for potential third waves, people are continuing to play it safe by ordering online and sticking to virtual methods of shopping.
But there's an important question to ask ourselves. What about milestones, things we want to reward ourselves for, or special occasions? Do we continue to postpone our grand plans of buying that one bag we pinned on our pinterest lust list by another year or two? Absolutely not.
This opinion comes only after my newest buying experience with Gucci, and I must say, I have no regrets. I recently wrote a piece about another luxury brand that I wasn't always drawn to and how they won me over with experiential retail. Today, I talk about how Gucci won me over with their personalized digital shopping experience.
How I decided on Gucci
When you're setting out to buy a luxury piece, you're spending a substantial amount of money. You have more questions than usual. Is my bag old-rose pink, salmon or blush? Is it mini-sized or a messenger? How would it look against my body and shape? Would it look good as a crossbody? There's a volley of questions, and understandably so, given how much you're spending. I had all of these questions and more.
My 30th birthday was coming up, and I knew I'd gift myself something luxurious. I'd been pretty tight with my expenses for all of 2020, knowing that I'd budgeted and saved for this piece for a while. I had several options on my list. My requirements were simple:
it had to be easily accessible to me
delivered in time for my birthday and
the bag should be special enough for this personal milestone
After a long year of research and anticipation, I decided that the Gucci Marmont would be perfect. Alessandro Michele's tribute to the original GG Marmont buckle from the '70s felt classic enough to me. I chose the blush, because one of my other options was a black bag from a different label. And there began my search!
Personalized just for you
If you're buying from the Gucci website directly, especially in India and the Asia Pacific region, it's not designed for you to just 'add to cart' and have it delivered. There's no eCommerce option, which I wasn't initially thrilled about, until I realised it was intentional.
The journey starts with an inquiry on the site where you send a message to client services. I wondered if it would've been easier to just shop online, like I do with everything else. But this was a luxury experience, so I thought why not and allowed myself to see what the process entailed.
I selected the client services option on the site and sent them a message asking for information on the bag. Within thirty minutes, a client advisor wrote back to me. I was quite impressed with how prompt the exchange was.
Here's what stood out to me from the offering and the overall experience at Gucci:
1. Recommendations of similar styles at Gucci
Not only did the advisor share details of what I wanted, she gave me the choice to explore all possible options. Both in other marmont styles and colours, before I made my decision.
To me personally, it's so important for brands to personalize this experience in real-time and make it feel like it's 1:1. For anyone that's buying online, having a finite number of relevant options can be extremely helpful in making more informed choices.
This is a great way for brands to create retention. I can vouch for it because I already felt like effort was being taken to provide the best service to me.
2. The virtual tour and consultation
I was evidently stuck at home and couldn't be present at the physical store to touch and feel the pieces myself. So this was the next best thing. This is optional and you can make a request for this service. Seeing the bag, its proportions and having them place it against themselves gives you a sense of how it looks in person.
We know that the 'ultimate' experience is always at the brick and mortar store, so there's no easy way to translate it online unless there's an active effort from the brand's end to make it happen. I've not seen very many retailers make an effort to give you a visual sense of how a bag or a pair of shoes can look against the body. This is so important in ensuring fit, correct sizes, reducing the possibility of returns and customers being happy with the final product.
I vividly remember being confused between the marmont mini and small sizes. I'd read several blogs and articles about the sizing, and why the small was a better fit for a few extra things, especially during travel. Imagine if I spent all that money and bought a size that couldn't fit my phone? I'd be so frustrated with myself for not being thorough with my research. This part of the experience definitely ensured that I bought the right size.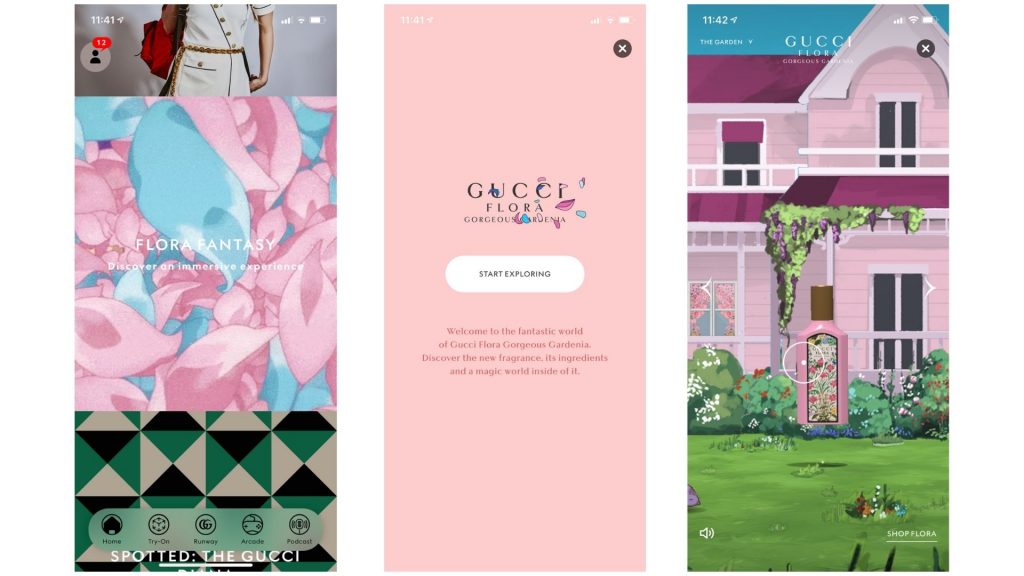 3. The interactive Gucci app experience
Luxury apps are definitely going through a major movement, so I thought I'd see what the fuss was all about. Gucci is one of the most engaging ones. It's not your run-of-the-mill shopping app. Heck, there's no semblance of a catalogue unless you explore different aspects of their little Gucciverse and then end up browsing the store.
I downloaded the app to see if the experience was any different than the site, and honestly, they aren't even comparable. The app is purely experience-led. You enter to see their newest Gucci Aria campaign, followed by several others, with a sticky menu at the bottom that includes a try-on feature, the GG runway with their live events, an arcade that allows you to explore all of Gucci's games and lastly, their podcast, that covers everything from activism in fashion, to inclusivity, the impact of plastic pollution and so on.
One of my personal favourites of the app was the immersive Gucci Gardenia experience. Since it's the fragrance I currently use and need to restock anyway. Thirty minutes had passed and I was still on the app, rather consumed by it. I then realised that I'd never complete my purchase and vowed to return to the app at a later time.
4. Personalized to the finest detail
I've always found that the best thing about luxury pieces is knowing that it's yours to own. When I was doing my research, I browsed the European site to ensure I wasn't missing any aspect of the digital experience. The website offered the ability to customise my initials into the strap in metallic tones or a self-embossed style.
I immediately knew I'd want that service, but I was worried that they wouldn't be able to offer it at the India store. Once my request was passed on by the client advisor to the store assistant, she called me and we chatted on WhatsApp. This was extremely convenient because checking every detail via email would eventually become exhausting for both parties.
The store assistant clarified all my questions and confirmed that her artisans in India could customise my initials. There was also an option on the website to view how the strap would look digitally. Personalization, like the concept suggests, adds a 'personal' touch and that's really what the Gen-Z or millennial consumer is looking for. Offering a preview of this service is an excellent draw for the shopper.


The decision was made.
I chose to go with the small marmont in blush, with my initials personalized in gold on the strap. My order was confirmed, and I was sent a link by the store assistant to make the payment. In two weeks, just in time for my birthday, I received my glorious Gucci box!
It was carefully delivered, well-packaged and in perfect condition. It came with an additional case to store away from dust when not in use.
Most importantly, this experience was worth it because it made me realise that digital experiences can be memorable and exciting too, even if it's in the middle of a pandemic. Thanks to this experience, Gucci tops my list for their focus on customer happiness, personalization and the last mile. 
The views expressed in Op-Ed pieces are those of the author and do not necessarily reflect the views of Vue.ai.
Read More about Virtual dressing room