Making New Waves: The Rising Use Of Tech In Fashion Retail

7

min read
Reading Time:
5
minutes
Do you remember how you shopped in 2009?
The first iPhone was two years old, the first Android device a year old. Shopping apps were non-existent; many of us still shopped from physical outlets. And online shopping happened through eBay and Amazon.
A decade later and shopping has undergone a paradigm shift. It is less about the product, and more about the experience; shopping has moved online, and to mobile phones. App hopping is more normal than mall hopping.
Stores big and small are gearing up to provide experiences over products. Nike opened its flagship, Macy's doing Stories, and Apple opened its first 24 X 7 store ever for a smartphone brand. At the center of all of these changes is, indisputably, technology.
From the virtual lens to voice-assisted shopping, materials developed using tech has completely taken over the world of fashion retail. Let's explore how.
Artificial Intelligence In Fashion Retail
Perhaps no conversation on technology today can begin, without mentioning Artificial Intelligence. While very few people truly understand its scope and reach, there's no doubt in anyone's mind about the fact that AI in retail is here to stay.
We have already had some experience with AI in retail- automatic product suggestions based on past browsing history is just one example. On retail's backend, AI has been employed in a variety of use cases successfully ranging from automatically tagging products to go up on eCommerce websites to updating catalogs and showing personalised recommendations for each user based on their shopping history and click patterns.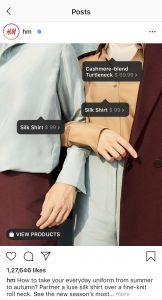 The closest example is probably Instagram's Shop feature- the more one browses a certain category of products, the more they see of the same.
If we take one step back, AI also helps with more accurate inventory planning and forecasting, resulting in far fewer losses in the fashion retail industry.
It is no surprise, then, that retailers from Alibaba to JCPenney have been using AI for everything from product auto-tagging to sales planning.
Voice-Based Shopping
"Alexa, find me a pair of jeans on Amazon."
Very soon, shopping through voice interactions with our choice of assistants will become the norm. Come to think of it, voice searches are even simpler than text-based ones, and they are perfect for the discovery phase of any product.
Today, voice searches are limited by their scope. For example, the Alexa device can only look for products on Amazon or Google. Indeed, the makers of Alexa may decide not to go beyond these platforms and thus turn it into a single channel funnel that leads to Amazon.
However, it is safe to say that more powerful voice searches are in the works and we can soon expect to shop from any website or app we choose. 
Voice searches also have another powerful use that we are looking forward to seeing. Store employees with handheld iPads may be able to use Siri to pinpoint items in a catalog. Today, this involves creating sheets on a native Apple app, but the time is not far off when such interactions become more intuitive through multi-app integrations.
What's important, then, is for fashion retailers to keep an eye out for all of these new developments and implement the ones most suited to them. Indeed, voice searches (personalized search) may be nothing more than a novelty today, but the same was said of tablets and laptops when they were first launched.
Augmented Reality
This was probably the other idea that you were definitely expecting to see here, and you're not wrong.
Augmented Reality or AR is all about bringing together the virtual world and the real one, much like Pokemon Go.
In retail, AR and its applications can get as creative as the retailers themselves. Neiman Marcus has successfully used AR in its stores to help design mirrors that can show you different looks without ever stepping into a changing room. Talk about saving time!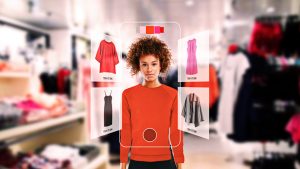 AR-powered applications also aplenty in beauty. Mary Kay's Mirror Me app on the iOS app store is a runaway hit because instead of asking people to upload a picture, it uses the camera feature to instantly show how different products would look. L'Oreal is quickly following suit with their own app to help choose a hairstyle, cut, and color.
Shoe brand Airwalk launched invisible pop-ups which can only be spotted using its AR app. Superfans would use it much like playing Pokemon Go- trying to spot pop-ups where they might be able to buy their favorite pair of shoes.
Speaking of AR, how can we not discuss Snapchat's AR Sunglasses? 
While they currently serve as a camera, rumors abound that the glasses are, in fact, meant to make shopping easier by allowing customers to look at products and instantly point them to a place online where they can buy. This is, of course, an extension of some fashion retail apps that allow customers to use their phone camera to scan products as they pass by and then show them lookalike products online.
Online-Offline Integrations
Omnichannel retail is everywhere and is thus giving rise to omnichannel technology and marketing practices as well. Today, virtually no retail campaign is complete without some digital and some physical components. The same goes for sales- customers expect to see different avenues for shopping and one can never quite predict, across demographics, who will prefer what model of shopping.
Switching to omnichannel retail software may have been optional a while ago, but is absolutely essential today. With that in mind, a whole host of new technologies has entered the market to facilitate omnichannel sales, order fulfillment and returns. The result is a seamless experience for the customer and hassle-free operation for the fashion retailer.
Simply put, when it comes to selling across multiple channels, technology is your friend.
Use Of Alternative Materials
Move over hemp fiber, clothing inspired from spider's webs is here. 
Linda Loudermilk's cashmere is special in more ways than one- the first of them being that it uses soybean to spin the silk as opposed to the traditional form of silk extraction. Stella McCartney, too, has been using spider silk and material that emulates spider DNA to produce silk that is far less cruel.
Some brands are experimenting with technology to reuse ocean waste to create the soles of their shoes, while Nike is famously using the same material to build sports courts for the underprivileged.
There have also been several efforts made to use technology to design clothing that responds to threats, as it comes with embedded GPS navigation (Levi's X Google) and so much more.
Adapting To New Technology
There's no doubt about the fact that we live in the golden era of technological advancement. However, problems still persist. For one, not everyone can quickly adapt to technology and there is a learning curve involved for the entire fashion retail operation.
Larger retailers often struggle to implement new technology far more often than their smaller, more flexible counterparts. In such cases, it is best to use the IKEA approach of launching technological changes across all stores and channels at the same time across the globe. Months of planning, in this case, ensured that everyone was brought on board at the same time to reduce adaptability time, and also to streamline training.
Why Fashion Retailers Need New Tech
We live in a time where novelty is valued. With the sheer number of shopping options available, buyers are  extremely volatile. For retailers to succeed in such a scenario, convenience comes first, followed by a great experience overall.
Technology today, from AR mirrors to sustainable materials and software, makes it possible to reduce the number of variables in the buying process. This leads to a more seamless buying experience across a wider section of buyers, ultimately helping to build brand loyalty and driving repeat purchases.