Top 10 Retail Myths in 2023

7

min read
Reading Time:
6
minutes
The retail industry continues to shift with evolving business models, emerging technologies, and how customers prefer to engage with brands. For retailers, this calls for agility that helps you to continually adapt to shifting retail trends when it comes to determining their strategy. When change is ephemeral, it calls for constant scrutiny of data to challenge existing assumptions to figure out what the realities are to make business decisions based on new information.
I've have rounded up some popular retail myths and assumptions to see how they hold up against current data to help you plan strategies that work best for you:
#1 Offline Stores Are Dying
Prolonged reverberations of e-commerce continue to hit sales to an extent in offline stores, they still count as a significant percentage of sales in the retail world. Although more than 5994 stores have shuttered down in Q1 of 2019, data shows that e-commerce sales in the US form only 10.2% of retail sales.
Where online retail wins over brick-and-mortar are in the areas of easier search, a larger variety of products, quality products, unique products or those not readily available, and convenient delivery options. While customers actively research and look for products online, they still want retailers to offer them physical stores. Retail stores businesses have also been amping up their efforts to stay relevant and competitive by simplifying store formats, have better product mixes, investing in training staff and increasing wages to provide better customer service, investing in AI and AR technologies to deliver unique in-store marketing and branding to provide an elevated customer experience. Brick-and-mortar retailers have also established an active online presence and offer expanded online products to add to their core offerings.
#2 Customers Are Shopping Less And Spending Less
Overall, the number of units sold has steadily increased with growth in population. May 2019 saw a 2.90% growth as compared to the same month of the previous year. Interestingly, we also see another story emerge. Increasing competition has driven down the per unit price of products, which reflects not a decrease in customer spending as much as the consequence of price deflation.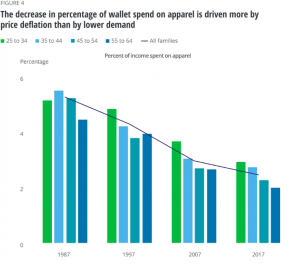 #3 Customers Are Losing Interests In Brands
Customers don't just lose interest in brands. Out of 100,000 customers, those who have an emotional affinity to the brand, not only stay loyal to the brand for 5+ years but are strong brand advocates, spend 2.5x more than satisfied one time buyers. It is better for retailers to understand what keeps customers attached to brands and these are high product quality, excellent client service, discounts, deployment of well-thought campaigns, create engaging customer experiences and sell merchandise that appeals and satisfies customers' needs. However, customers are willing to try out new brands that resonate with what they believe in– for example, it could be a small community store which sources products locally.
#4 Customers Do All Their Preliminary Research Online
It is very easy to believe that all customers do their initial search online given the ever-increasing digital footprint in all areas of our lives. However, according to a 2017 research report, more than half of all consumers prefer to do their product research offline. Particularly those under 25 and over 50 years old prefer in-store research. The 25-50 age category, on the other hand, prefer to get in and out of a store quickly, which could serve as a driver for online research before making the trip to a store.
#5 Traditional Marketing For Retail Is Dead
With the rising consumer preference led by millennials to shop locally and shop small, we see that 40% of them are open to paying more to support local businesses. And with the 50+ older customers walking into stores for research, the exposure to marketing campaigns in stores is still very relevant. So is marketing collateral, radio ads, mailers and promo packs which have a longer shelf life than emails. While there is no argument that social media is a powerful platform for viral marketing, there is no parallel for the physical experience customers can be exposed to in stores.
#6 Tech-Driven Customer Experience (CX) Strategies Is Usually For Mega-Brands
While it is true that mega-brands have the financial clout to invest in CX strategies, we see moves by smaller brands to leverage technology to create a memorable customer experiences. With 50% investment going into CX, more and more brands realize that what customers care most about is the experience. Niantic Inc who launched the viral Pokemon Go game, Dollar Shave Club, and Chubbies are a few examples of small brands that used various marketing strategies to create compelling narratives to achieve positive customer experiences.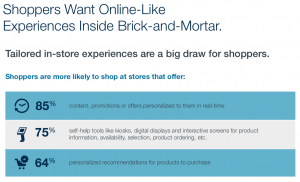 #7 Mobile Apps Are The Answer For Driving mCommerce
With 44.7% constituting purely mobile commerce out of all e-commerce in 2019 so far, m-Commerce is undoubtedly on a positive growth trajectory. Retailers with an online presence have all built responsive websites to optimize it for mobile viewers. Several others have invested in or, are rushing to develop mobile apps. However, there is only a finite number of apps consumers will download and use. The truth is that consumers are twice more likely to go to mobile websites than use mobile apps and with 58% of the study responds saying they eventually buy at a store, retailers need to be ultra-sure that their customers will benefit from a mobile app that has a very specific and limited usage.
#8 Digital Commerce Brings Down Labor Costs
While there may be some partial truth to this belief, especially with digital technology making visual merchandising and check-outs a breeze, retailers who get what customers want, realize that human interactions are one of the most sought-after customer experiences. While self-service is acceptable to a point, 60% of mobile customers surveyed preferred store assistants to leverage technology to explain product features, alternatives, re-order items, and so on. Do remember that products pass through a lot of human hands through the supply chain, and some of these operations cannot entirely be eliminated, even with drones and other types of automation. Pure-play digital players are making a foray into establishing physical stores, signifying that these players will be creating more jobs for store staff and other support functions, rather than reduce labor costs.
#9 Drop-Shipping Is On The Decline
Hundreds of small retailers have considered drop-shipping a boon as it eliminates inventory costs, real estate costs, labor costs, and pains related to shipping. Drop-shipping services run professionally, with trained staff making it invaluable to retailers.
In fact, drop-shipping as a service model has spawned many entities which provide logistical support across the country and even globally to businesses. The speed with which companies can deliver products to customers is in large part due to the ability of drop-shippers to have a country-wide presence. Speed of delivery is a crucial point of attraction when customers choose to buy from a retailer and therefore, drop-shipping plays a very significant role in conversions and increased sales from loyal customers.
Zappos is an excellent example of a retailer who embraced drop-shipping. With 25-30% of e-commerce being drop-shipped, it is a model that allows the smallest retailer to get into the e-commerce game with low entry barriers. Here is a 10-year trend that shows that drop-shipping is alive and well. By 2021, it is projected that drop-shipping sales volumes will reach $1,500 billion.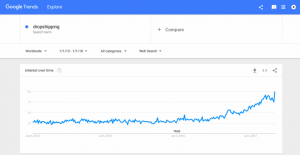 #10 Pure-Play eCommerce Brands Have Been Disruptors In Retail
Several pure-play online retailers are successfully riding the ongoing e-commerce wave through innovative and unique business models and practices. However, it is a myth that only pure-play brands have been the agents of disruption in retail commerce. Retailers recognize that stores are integral to their success as customers want to touch, feel, smell, try on, and so on. Nike, for example, was an early disruptor that used innovative fabric technology to establish pole position.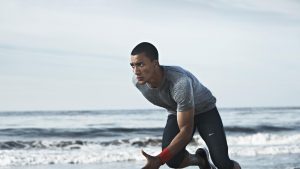 With aspects of commerce that are gaining momentum, such as personalized shopping experience to image-shopping, we will continue to see the emergence of new myths and realities as time goes by. Being on top of current trends that are rooted in data will enable you to make insight-driven decisions on what is vital for your growth strategy.