7 Things We Learned From The ThredUP 2020 Resale Report

4

min read
Reading Time:
3
minutes
Thrifting has hit the right disruptive notes and gone mainstream in the months of lockdown. The secondhand market is delivering value and entertainment in these months. According to the thredUP 2020 Resale Report, 52% of consumers plan to navigate economic uncertainty by spending more on secondhand in the next 5 years. May 2020 in fact, was record breaking month for thredUP, as shoppers spent a whopping 2.2M hours browsing the site. With a lot of free time in their hands, they were engaging with the thrifting hobby by taking part in quarantine closet clean-outs and donation drives.
This uptick in activity and engagement in the post-COVID period has contributed to the resale industry's meteoric rise. The secondhand market is expected to touch $64B in the next 5 years and online thrifting in particular is projected to grow by 69% between 2019 & 2021!
Intrigued by these predictions and figures? Here are seven other interesting revelations in thredUP's latest report.
1. Bags, outerwear and dresses are flying off the shelves
Luxury bags, premium outerwear pieces and dresses emerged as the most popular product categories amid the resale community. Sellers and buyers are actively engaging with these listings as they have the highest resale retention value (the Gucci satchel, Patagonia jacket, and Diane von Furstenberg dresses are a few of the hot favourites). Fashion investors are also placing their bets on boots and sweaters, especially cashmere ones.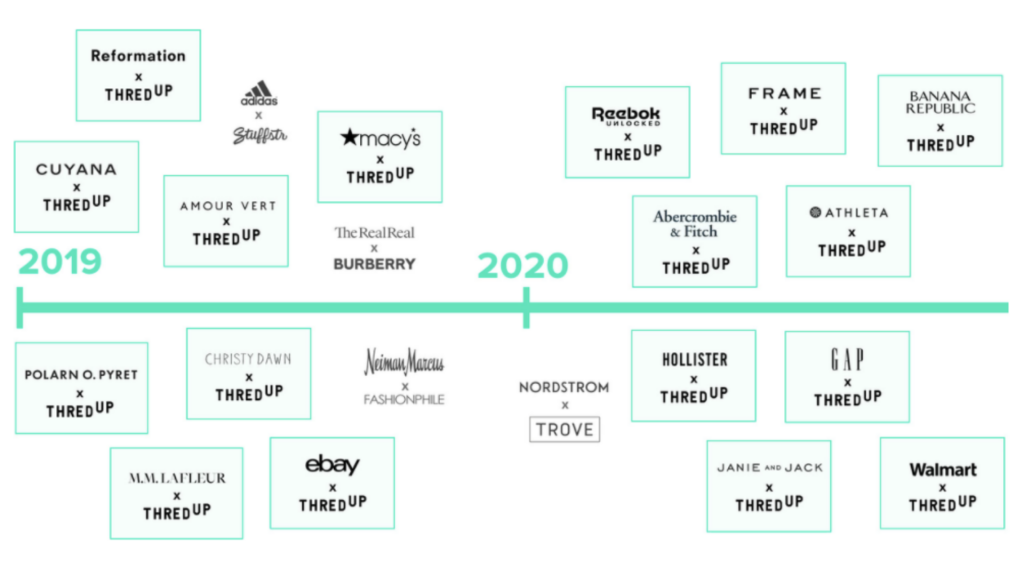 2. Frye, Tory Burch, and Kate Spade are the brands with the best resale value
In the list of brands with the highest resale demand, virality, and value, Frye has maintained the top spot for two years in a row. It is closely followed by Tory Burch and Kate Spade. Patagonia is one of the fastest growing brands, up by 89%. And, Louis Vuitton and Burberry are the top labels in the luxury segment.
3. Pride and euphoria are the biggest emotional triggers
On the emotions meter, the needle swings heavily towards a renewed sense of pride and joy when shoppers buy secondhand or "pre-loved" clothes. With the increased focus on sustainability, and climate change backed by celebrity endorsements, the stigma around secondhand has been replaced with a badge of honour.
4. Gen Z is leading the resale wave
In 2019, 40% Gen Z bought pre-loved apparel, footwear, or accessories, compared to 30% Gen Y, and 20% Gen X and boomers. In addition, 90% of Gen Z are open to buying pre-loved when facing a cash crunch and 80% believe that there's no stigma around it.
5. Secondhand is closely connected to fast fashion, more so than you think
Did you know? thredUP has recirculated 4 million fast fashion items! Sustainable fast fashion brand Reformation, a Gen Z favourite, earned a spot in the top 10 brands with the best overall resale value. It is also the fastest growing brand on thredUP with a 94% jump in grabbing spots. This goes to show that resale can be the bridge between fast fashion and sustainability.
6. Big traditional retailers like Walmart, and Macy's are taking the step to resale
Assessing the popularity of secondhand among young shoppers and investors, traditional retail brands like Walmart and Macy's are actively exploring resale opportunities. The biggest reason cited by retail executives for developing circular partnerships is to increase footfall (82%), followed by environment (66%) and catering to young shoppers (58%).
7. Resale will overtake retail
The report states that in the next five years, resale will witness a 5X increase while the broader retail sector may shrink. This seems plausible when 79% of shoppers plan to cut their apparel budget in the next twelve months. And more than 50% are ready to increase their thrifting budget.
thredUP's 20% growth during the lockdown brushed away any trace of ambiguity about the rise of re-commerce. As we adjust to the new normal, traditional retail can turn to resale to understand the shift in consumer behaviour.
To gain more insights into the latest resale trends, download the thredUP 2020 Resale Report here.
Related articles:
The Vue Podcast: Leaders in Retail | Andy Ruben
R-VUE London: A Short Recap! – Why AI Is Crucial For Resale