Styling With Urban Prairie And Everything Contemporary

6

min read
Reading Time:
5
minutes
Fashion changes with the time. An otherwise traditional style of dressing made a comeback and then again, but with a contemporary twist!
In late 2016, it seemed as though we'd never catch a break from the Adidas Stan Smiths and ripped denim. Muji, the concept store, had one big USP- that of being completely unbranded, and it worked. It was only a matter of time before the unisex outfits would become boring, and we'd want to go back to more feminine forms and silhouettes. However, once we're used to the comfort of street clothing, we don't want to let that go either.
Urban Prairie is the answer to all of these concerns, and then some. It combines orthodox dressing style and agrarian influences from the seventies and blends them with utility jackets, walking shoes and straight out gumboots. This is form meets function at its very best.
The History Of The Prairie Look
When Batsheva Hay, a practicing lawyer married to a devout Jew decided to take a break from arguing cases, she couldn't possibly have imagined that her clothing collection inspired by an heirloom dress would set off a storm, first on Instagram and then through fashion circles high and low.
In his award-winning book Tipping Point, author Malcolm Gladwell argues that for any trend to truly take off, it just needs to be accepted and adopted by a diverse group of people. Crocs are an excellent example of this phenomenon. Kids love the bright colors, while mothers love that they are dishwasher-safe! Kids want it, mums want it, beach-lovers and doctors and scrub nurses want it, and so Crocs are successfully a phenomenon.
With the Urban Prairie look, breezy dresses that also look and feel feminine are a win-win across multiple groups. Add in some utility boots, and a bomber jacket and the weather issue stands solved, as does the 'this-is-too-feminine-for-the-street' conundrum.
Come Spring 2019, we're expecting to see a lot of different adaptations of the Urban Prairie come into the picture. Luckily, there's a style for everyone out there. Take a look at this video to see what we mean.
Nostalgia At The Little House On The Prairie
Fashion trends can never be evaluated out of context. Mainly because several different factors influence people's buying decisions and thus dictate what brands will be putting out. The Urban Prairie look is no exception. Here are a few factors that made it a global sensation.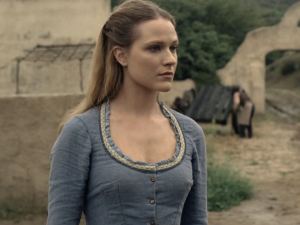 Westworld
We have media in general, and HBO in particular, to thank for the booming popularity of this trend. Evan Rachel Wood's Dolores Abernathy is known as much for becoming a sentient robot as she is for that flowy, rough-hewn blue dress so reminiscent of a hapless dame in a huge field. In fact, her character is scripted around the idea of a farmhand who grows up close to the soil, and rarely understands the ways of the world.

Why are we channeling this energy today? Because there's a collective restlessness with our city lives, and a growing need to camp back to the villages and towns we once lived in.
Function, Meet Form
In the last fashion wave, so much importance was given to utility that it has now gotten tiring. We don't want to put something on for the sake of it anymore. The loose silhouettes and baggy jeans served well, but the time has now come for them to go.

Instead, today's fashionista looks out for some elements of form that highlight her inner feminine. Interestingly, the idea of femininity as espoused by Versace is now being replaced by conservative ideas like high-collars, ruffles, and puffed sleeves. It is almost like saying, "Yes, the Prairie women were real, and it looks like they had a jolly good time in their loose, flowy clothes that didn't take away their gender entirely."
Utility Rules
Not all Prairie clothing is made equal. Calvin Klein's collection by Raf Simons sports utility by the kilos, so very reminiscent of firefighter outfits. That they cost upwards of $3000 is only a side-effect.

Urban Prairie outfits still prfioritize function. While the dress itself may be almost Bohemian in nature, the accessories and layers are not. A bright jacket to protect oneself from the rain is a must have. The choice of shoes also leaves one with several options. Brogues for Sunday brunch, big boyfriend boots for a day of walking, rubber boots for rainy days- the choice is up to the individual and their wardrobe.

This also makes the look far less expensive, since the entire outfit does not have to be purchased from scratch. Perfect for the millennials.
Designing The Perfect Prairie Tale
Luckily for fashion businesses the look offers a lot of leeway for many different interpretations. The H&M X Anna Glover collection borrowed elements from the theme nearly two years ago, with puffed sleeves and floral prints. Sheer dresses can be made prairie-ish with ruffles and high collars.
There is also an immense scope for merging street styles with Prairie elements. For example, a ruffled shirt with a zipper detail could be the answer to boring t-shirts!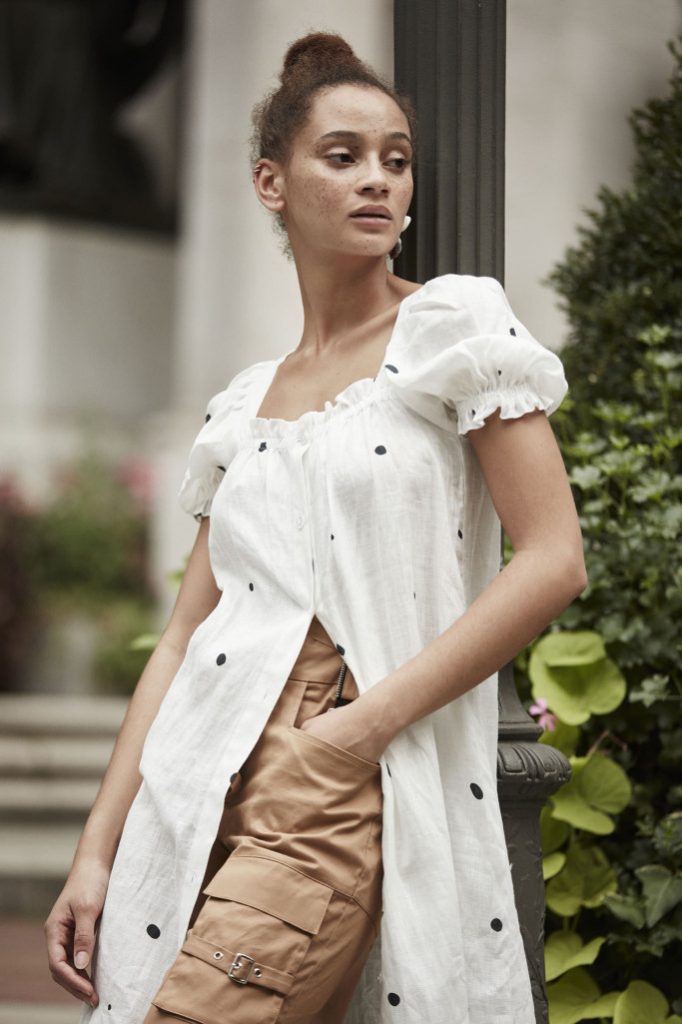 When in doubt, always look to the pioneers. That Batsheva Hay's Instagram account has over thirty-three thousand followers is no accident. People are looking at the world with sepia-tinted glasses, and here's a brand that's giving them what they want. In a modern spin on classic vintage, this collection has dresses in futuristic, metallic prints. The message is clear- people want to stand out in the crowd, but only to meet the others who understand their specific choices.
Also, a trend is never complete without understanding the customer perspectives that go along with it. Prairie clothing is essentially family clothing. Keep an eye out for customers wanting mom-and-me clothing, with the jackets and the boots. We also believe that it is only a matter of time before trademark suspenders make it back into men's fashion, complemented well by a slight ruffle detail.
Vogue has famously declared that the hottest fashion trend for 2019 is, wait for it, nostalgia! The Urban Prairie look has proved this point, and it is safe to say that most other trends also follow suit. Everyone in fashion remembers the eighties and nineties as the golden era of style, and quite a few trends are making a comeback.The shimmer and shine from the seventies are back, as is bright clothing so trendy in California summers. Yes, the world as a collective is looking back to the good old days. One look at all the movies being remade, and we know this is true.