One World, One Makeup: Unisex And Men's Makeup Trends For Today And Beyond

8

min read
Reading Time:
6
minutes
When Harry and Peter Brant collaborated with MAC cosmetics over four years ago to design a unisex makeup collection, they probably couldn't have foreseen that it would become a global phenomenon. For the sons of a supermodel who grew up picking out looks for their mom, it has been quite the natural transition to be able to use makeup for, and on, themselves.
And why not?
Men have acne issues and under-eye circles just the way women do, and if they want to use a concealer to hide some of these issues, who's to say no to that? After all, makeup as a concept is more about helping the individual feel even better about themselves, so why should that generous dose of confidence be denied to one end of the gender spectrum entirely?
Yet, that is exactly how things have been since at least the early 1900s. Makeup products are developed, packaged, named and marketed exclusively for women. Until now.
Several brands like Jecca Beauty, Milk Makeup, and ASOS are starkly aware of this reality. In today's changing definitions of gender and a rise in awareness that gender lies more on a spectrum than in two little boxes, their unisex makeup options and relevant advertisement campaigns are fifty shades of 'hell yeah!'
How did the unisex makeup trend get started? What does the future look like? Why are the big brands hedging their bets on the men's makeup market now more than ever? Let's dive right in and find out!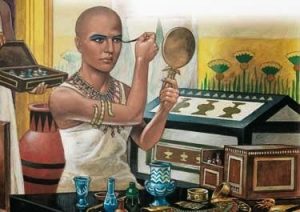 Men wearing makeup is by no means a new concept. Indeed, the idea may be as old as mankind itself.
Since the very advent of civilization and well until the end of the 18th century, makeup was by no means limited to feminine ideas of beauty. Every representation of Egyptian culture shows both men and women lining their eyes with kohl in a variety of different patterns and designs. That kings were buried with elaborate face masks also points to their use, and acceptance, of makeup as a part of everyday life.
Research now shows that more than being an embellishment, makeup may have actually helped ward off infection in ancient civilizations.
During Elizabethan times, men often powdered their faces in ghost-white tones. To say that makeup was all the rage back then would be an understatement. In the mid-1800s, Queen Victoria I declared that makeup was bad, and that it went against all Catholic laws. Slowly, makeup for men died a slow death.
Making A Bold Comeback
When we look at trends, we also need to understand the social, cultural and economic undercurrent of the times the trends take shape in.
Today, thanks to a more mainstream representation of gender fluidity, most people know and accept that gender lies on a broad spectrum and that most people only categorize themselves as one or the other because of social norms.
Jecca's Jessica Blacker knows all about what that feels like. A student of makeup for film sets, she soon discovered that many of her transgender clients struggled to find products that were made, or marketed, for them. She went on to develop a range of cosmetics with more neutral packaging, as well as product design that would allow people with bigger hands to handle it correctly.
That little bit of extra thoughtfulness has earned her a spot on L'Oreal's Open Innovation program, a prestigious accelerator venture for brands that are disrupting the beauty space.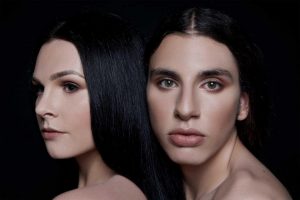 Inclusivity and empathy are the norms of the day in a world that is changing faster than we can get used to. Even as the #MeToo movement took off globally, it was widely recognized that both men and women can be victims of sexual predation and hunger for dominance.
The LGBTQ movement, though not new, gains new significance today. True shifts in perception began to be noticed in the early 2000s, although the movement itself has been well underway since the 1970s. Today, we have several celebrities, role models and influencers to look up to who reinforce our belief in the fact gender norms are just norms, and that we are free to choose who we want to be. Case in point- Ellen Degeneres who is today a household name, or Caitlyn Jenner whose gender transformation has been at the center of a media storm.
In this context, it is easy to see why unisex makeup, or even makeup aimed towards the men, just works. Much like women have makeup preferences and choose mascara over kohl, men do too. It is all, in the end, a matter of personal preferences.
They're Doing It Right
Today, genderless or agender makeup is being offered by several brands. However, it all started with the MAC X Brant Brothers more well-known second collaboration in 2016. The range of products in the collection includes concealers, highlighters, lip tints and the like. Sharing their vision of what makeup for men looks like, the brothers' duo famously said that it is all about catching the light at the right angles, and that good makeup needs to look natural on the person. Anyone who has ever used a MAC product would agree with that sentiment, which is probably one reason why the collaboration worked.
ASOS, the online fashion retailer, managed to make unisex makeup a thing with a subtle yet significant change in navigation on its web store. The brand's Face + Body section is available under the navigation bars for both men and women. Packed in a neutral pink, the products are clearly designed to not fall on either end of the spectrum.
Shifts are easier to come by when the tone and presentation move from hyped messaging to small shifts like the one ASOS has managed to create.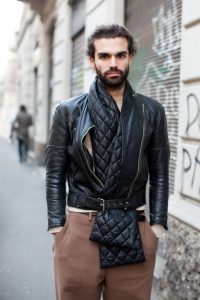 Another mention must be made here of Jecca Makeup, because as a brand, it only has one product to its credit- the Correct and Conceal Palette. However, the product itself is versatile and clear in its use case- Correct and Conceal can cover everything from the shadow beard to tattoos, blemishes and even under eye imperfections. This product has several takers- many of them making the transition to a more feminine side of the spectrum but struggling to hide the inherently masculine features they can't help but have.
Makeup isn't limited to the products alone either. Salons like, well, Not Another Salon, are creating a safe space for people to try out different styles of hair and makeup without feeling judged. In here, a hairstyle is recommended to you based on your features and your preferences, and nothing else.
Luxury, too, is not one to be left behind. Boy de Chanel, the fashion house's collection of makeup products comes in their trademark black packaging. It is as much a homage to changing times as it is a tribute to Boy Capel, Coco Chanel's famous muse. Boy de Chanel features products such as a foundation, eyeliner and a lip balm apart from skincare staples such as a cleanser and moisturizer.
It's All In The Messaging
If there's one thing that has been even more refreshing than the advent of unisex makeup, it is the presentation of the makeup itself. CoverGirl made 17-year-old James Charles, a makeup artist, their very first CoverBoy. And boy, does he look good in all that makeup!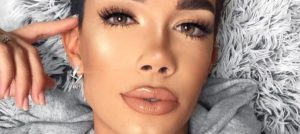 Maybelline has made Manny MUA the first-ever male model to feature in their makeup ad campaigns and this time for mascara. Most significantly, nowhere does the product mention who it is meant for- that choice is for the customers to make.
Gary Thompson, makeup artist and influencer, worked with L'Oreal Paris on an inclusivity campaign aptly titled True Match.
Even beyond the models, the packaging of the product itself is beginning to be toned down. Traditionally, men looking to buy makeup have always had one major problem- the way the product looks. There have always been concerns about what peers might deduce, and a need for hiding their makeup. However, with more neutral packaging, it is easy for everyone to carry the product around and use it even outside of the comfort of their homes.
In a way, men's makeup and unisex makeup are trends that are making a splash today but have been around for quite some time now. We've known this too- from pop icons to TV personalities, it is well-known that makeup for men is not new in show business. Today, the reach of makeup has expanded into the consumer zone, and brands are making the most of this trend.
Just about two or three decades ago, facial care and skincare products for men were the new trends, and we had takers as well as those who had their doubts. Men's makeup is the next wave in beauty, and we will eventually see it becoming the norm rather than the exception. With this in mind, beauty brands should prepare for their new wave of customers by rethinking their products, their positioning, and the advertising itself.