Greta Thunberg to Gucci – Everyone's talking about carbon neutrality

8

min read
Reading Time:
6
minutes
2019 would be remembered as the year we changed the way we talked about the climate crisis and what we did to lessen the impact. From Greta Thunberg's powerful speech to 'Science Guy' Bill Nye's video, whispers about carbon emissions were replaced by strong assertive voices. And debates were replaced by bold corrective actions across industries, including the fashion industry.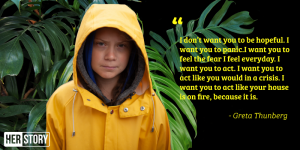 Italian luxury brand Gucci's announcement, 'We are now entirely carbon neutral', was one such impactful action. The fashion industry has acknowledged the carbon impact of harmful emissions fuelled by the consumption patterns and is responding to climate change in a productive manner. Be it industry bigwigs, niche designers, luxury fashion houses or fabric companies, all are collectively working towards making carbon neutrality the next big fashion statement.
Heavy-weights And Carbon Offsets
Gucci's decision to become carbon neutral is groundbreaking on many levels. With a brand value of $12.9 billion, it is one of the biggest luxury labels. Any shift in their business practices would have a ripple effect (remember the anti-fur movement that Gucci started) on the global fashion industry.
The Italian luxury house has set a standard by becoming accountable for the total Greenhouse Gas emissions generated by their activities and committing to preserving important forests around the world.
Marco Bizzarri, President and CEO of Gucci asserted, "To address the need for urgent solutions, Gucci is setting an ambitious new precedent through our carbon neutral commitment. This is based on a clear strategy to ensure we account for all of our GHG emissions across our supply chain, act to first avoid, reduce and restore, and then offset the unavoidable emissions through important REDD+ projects."
The brand plans to increase its use of renewable energy from 70% to 100% by 2020, swap traditional processing techniques with sustainable ones, improve recycling technologies, promote circularity and execute their global offsetting portfolio.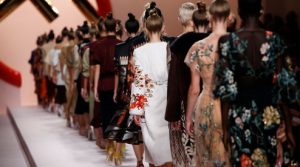 In 2018, the luxury retailer offset 1.4 million tonnes of carbon dioxide. And they intend to spend a substantial portion of their $3.9 billion earnings to implement emission reduction projects and lay down carbon traps.
Gucci is in the esteemed company of game-changers like its parent company Kering, jeans giant Levi's, a lifestyle clothing brand called American Eagle, designer Stella McCartney and many others that are doing their bit to fight climate change.
While Gucci is focussing on carbon offsetting owing to the sheer size of its fashion house, English fashion designer Stella McCartney is focusing on reducing carbon emission right from the production stage.
Her brand uses the Environmental Profit and Loss (EP&L) methodology to measure the impact of their business on the environment. After realizing that raw material contributes the most to their carbon footprint, the fashion brand decided to reduce it by switching to sustainable options.
"Our 2014 EP&L revealed that, even though cashmere represented just 0.1% of all the materials we used, it accounted for 42% of our total environmental impact at the raw material stage. This insight led to our decision to stop using virgin cashmere and instead use reengineered cashmere yarn. This change in our cashmere sourcing has reduced our environmental impact…. Recycled polyester has a 75% lower carbon footprint than virgin polyester and uses up to 90% less water. In 2016, we increased the amount of recycled polyester we use by 38% and introduced recycled nylon into our collections," the company stated.
The common thread between Gucci and Stella McCartney is Kering, the French luxury group. McCartney was able to implement 'Clean by Design' – a program designed to reduce textile production's contribution to environmental problems – with the help of Kering and the Natural Resources Defense Council (NRDC).
Kering also released EP&L methodology, which was developed by athletic brand Puma's Chairman Jochen Zeitz, in an open-source model. The conglomerate is also committed to carbon neutrality across the group.
Other big brands such as Burberry, American Eagle and Levi's also reached a similar conclusion as McCartney after internal assessments, which is – raw material and carbon footprint are deeply connected. As a result, they too have partnered with companies to develop sustainable raw materials and reduce emissions.
Leading The Charge
The direct impact of big fashion brands becoming conscious of their carbon footprint is visible on the runways. On one hand, we have global fashion shows like the New York Fashion Week that are evolving to accommodate this change. On the other hand, we have a new breed of designers who have infused carbon neutrality in their brand DNA.
Take, for instance, Atlein.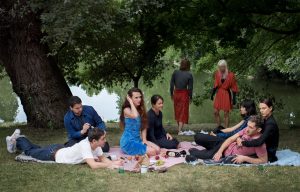 The Paris-based label founded by Antonin Tron represents green brands of today. Tron juggles between his passionate activism for the environment and his fashion aspirations. He uses his opinions while working with Extinction Rebellion and uses his designer skills to develop a collection made from dead-stock materials minus fur and leather.
"A lot of people have a very negative idea about fashion when it comes to the environment. I want to say with Atlein that you can respectfully create things," averred Tron.
Ethical fashion brand Reformation is not only conscious about the nature of fibers and fabrics they use to make their clothes, but it is also a rare brand that encourages people to not buy clothes that they don't need. The fashion label that has been carbon neutral since 2015 has discovered innovative ways to promote carbon offsetting.
The company has partnered with companies like Arcadia Power and Native Energy that work towards reducing CO2 emissions and encourage the use of energy from renewable sources.
Besides Reformation and Atlein, young fashion labels such as Ganni, People Tree, Allbirds and Everlane symbolize Gen Y and Z. These brands believed in being mindful of their CO2 emissions and footprint since inception or very early on in their brand lifecycle.
"We're not trying to be polarizing, but there are certain issues like the climate where we feel comfortable speaking out. Because we as a company have been thinking about supply chain and manufacturing for years. But how do you magnify that? We don't have direct control anymore, we just have influence. How do you get others to bear the same mentality," shared Reformation's VP of Operations & Sustainability, Kathleen Talbot.
Her words illustrate the thought-process of the new generation of designers succinctly.
Making Pre-loved Fashionable
Companies like Reformation that fall under the 'sustainable fast fashion' category and Stella McCartney & Gucci with a legacy to live up to need the support of the resale and rental industry to fulfill their commitment to the environment. Carbon offsetting and emission-proofing the production process doesn't address the issue of waste. The resale and rental industry does.
"If every single second there's a truckload of fast fashion being incinerated or landfilled, then I'm a big, big believer in reusing that and [participating in] the circular economy. It's the biggest compliment for your product to have an afterlife — to me, that's luxury," shared McCartney who has collaborated with online luxury consignment platform The RealReal.
Reselling and renting pre-loved clothes and accessories are an effective solution to reduce carbon footprint. Carbon emission originating from the fashion industry can be reduced by 44% if people wore their clothes more often, The Guardian reported. Therefore, it comes as no surprise that this vertical is growing from strength to strength.
"We produce a hundred billion items every year for seven billion humans…. That's an insane amount of production… If we're going to create a better future or even a feasible future, we need better models where we can wear things less. But they don't end up living in our closets. We get to use them, we get to wear them, and then we're able to put them back out in the world. That model is a central part of any future for a retailer or a brand, really a society in terms of just a feasible future," revealed Andy Ruben, founder of Yerdle Recommerce on The Vue Podcast.
He added,
"The closet of the future will probably have a few items in it that are being rented. It will have far more pieces that are stable and if you are a brand or retailer and not in the resell space, you're simply spending all of your user acquisition or customer dollars for 80 percent of the market because that 20 percent of the market has different expectations."
The 'market with different expectations' that Ruben talked about helped Rent The Runway to become a $1 billion worth company. It enabled the France-born Vestiaire Collective to reach the streets of China. Rebag made a $10,000 sale before putting the 'open' sign outside its store. And Fashionphile managed to rope in the high-end store Neiman Marcus to embrace the pre-loved luxury market.
This very 20% of the consumers are driving the carbon-neutral fashion industry, which encompasses the luxury market, fast fashion and the resale market.
From trade bodies to heritage brands, from emerging labels to innovative start-ups, all the stakeholders that are a part of the fashion industry are coming together for the sake of the environment. Buying offset credits and switching to Earth-friendly raw materials might feel like a drop in the ocean at the moment.
But every little step will move the needle in the right direction.