How Niche Fashion Brands Are Reaching For The Stars

8

min read
Reading Time:
7
minutes
Two years after the iconic Australian luxury fashion label Oroton entered into voluntary administration it released its first ready-to-wear clothing collection. This transition from an 80-year old handbag company that was ready to file bankruptcy to a thriving luxury business was spearheaded by the new owner Will Vicars and creative director Sophie Holt. But industry watchers believe that the brand revival can be credited to the 'Meghan Markle Effect'.
A few months prior to Vicars acquiring the company, Markle, a member of the royal family, was photographed carrying the black-and-white Oroton Avalon Zip Top cross-body bag at the 2018 Commonwealth Youth Forum in London. Her look went viral and the bag sold out in less than 48 hours with a long pre-order list!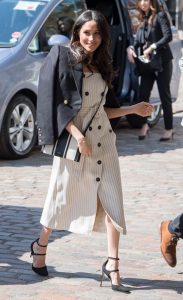 After gaining the Duchess of Sussex's approval, the brand witnessed a surge in online orders and website traffic. What stands out about this celebrity endorsement is that it was organic and not a planned paid collaboration. 
Holt shared that while the company was already working on its revival strategies, the niche brand benefited immensely from the attention that Oroton received due to Markle. "It was such a surprise. Meghan's stylist placed the order online earlier in the year, so we had no idea until it came through, but happy to be on the radar…. Online orders have seen another boom. Her endorsement came just as a new chapter for the brand was beginning to take hold," Holt said while speaking of the 'Markle Effect'.
In The Spotlight
Oroton is just one of the many niche labels and designers that reaped the benefits of being in Markle's wardrobe. Canadian retailer Aritzia witnessed 68% increase in their consumer searches and Welsh brand Hiut Denim had to move to a bigger factory with a backorder waiting list for three months. Business valuation consultancy Brand Value assigned a monetary value of $212 million as an estimate that Markle earns for brands that she wears. 
David Haigh, CEO of Brand Finance stated, "It will be like winning the national lottery for whoever does it. Every time she wears a coat, it goes online and sells out… It's almost like a catalogue. She appears somewhere, there are little arrows [near the photos] saying she got this coat here, it cost 'X,' these boots come from there."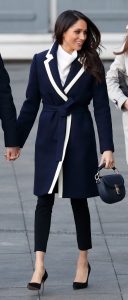 Besides the Duchess, Kardashians & Jenners, Rihanna, Beyonce, Cardi B, and Katy Perry have joined the long list of celebrities who have helped niche fashion labels to become the hottest brands by aligning with them. 
All it takes is one celebrity picture or a quote to pull a label from the world of Instagram and insert it between the pages of top fashion magazines. From a fairly anonymous and limited existence on social media, niche labels like Saks Potts, Veja, Naked Wardrobe, Doen, and Bevza have found a space in Vogue, courtesy organic celebrity endorsements. 
Nepalese-American fashion designer Prabal Gurung shared his story about how his self-funded designer label went from an 18-follower-Twitter account to the seventh most searched brand of 2013. 
"The starting point for me was when Zoe Saldana wore a dress to the Star Trek premiere in Germany. Then it was Demi Moore, she announced on Twitter, 'Oh I am wearing this new designer to look out for.' All of a sudden, I went from 18 followers to 300 or 500 followers on Twitter and then it took off. Last year, four years into our business Google did this top-searched brands of 2013 list and ours was seventh! It has had a tremendous, tremendous impact in every way," Gurung shared. 
The Power of Stylists
As Gurung pointed out, niche and self-made brands get exposure, which is very hard to replicate and generate. Besides the obvious benefit of free publicity, it also opens doors for brands and designers to approach big retailers and seal a lucrative deal. 
Celebrity reporter Jo Piazza asserted, "You have to think about a celebrity wearing a brand's dress like "free" advertising for them. Every time that dress takes up a quarter page in a celebrity weekly magazine that is worth $25,000 in advertising. Every time they show up on a website that is worth between $5,000 and $20,000. Every time they are on an entertainment news show that is another $20,000."
According to Piazza, even if a designer/brand had to giveaway a dress or accessory for free, the exposure brands get is still exponentially higher than the money spent. Therefore, nothing can beat the satisfaction of getting the same exposure without spending a single dollar, like in the case of Oroton. 
The question then arises, why famous names that can mint millions with just one Instagram post would choose to promote lesser known brands for free.
Be it Gurung or Oroton, what's clear is that public figures are always on a lookout for new and interesting brands. More so now, when the number of public appearances has moved away from being just the red carpet events to airport looks and morning jogs. This presents an opportunity to experiment with fashion and create a distinct identity, which isn't restricted to the big brands that celebrities get paid to promote. 
In the Instagram-obsessed world, every move of a celebrity is documented. Case in point: When Kim Kardashian stepped out in 9 Yeezy outfits in one day. 
While the premium clientele list of Gucci, Dior, and Versace is not slimming down, we can't deny the fact that there has been a no better time for small labels than now, provided they catch the attention of celebrity stylists.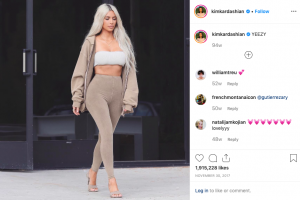 Take, for instance, New York-based cult brand Area.
This niche designer label founded by Parsons School of Design graduates, Piotrek Panszczyk and Beckett Fogg created waves at Coachella 2019. American singer Katy Perry chose to wear an Area ensemble for her performance at the music festival. This resulted in $421,778 earned media value (EMV), as per InfluencerDB. The singer's team not only reached out to the brand directly, but Perry also tagged Area on her Instagram post which was seen by her 85+ million followers. 
Area that has seen incredible organic growth believes that they never felt the need to succumb to the pressure of sponsored posts and influencer marketing. 
Fogg revealed, "We're not pressured to pay someone to wear something. They want to wear it because they genuinely love the brand and the product. It's an honest relationship. And I also think that people respond to it because you can tell it's honest, it's not being forced."
Fogg made a valid point. Perry's stylist loved Area's design aesthetics so they narrowed it down for Coachella. Most of the niche brands that Markle steps out wearing are personal favourites of her friend, stylist, and fashion advisor Jessica Mulroney.
It was Mulroney who is responsible for putting a spotlight on Canadian designers and brands by including those pieces in Markle's public appearances. LA-based jewellery brand Mini Mini Jewels is one such brand that experienced first-hand what it means to impress a public figure's stylist and the power they hold. 
After Markle was clicked wearing a Mini Mini pendant at the US Open Final in September 2019, the company's founder Tracey Kahn said, "Jessica is a huge fan of ours and it was through her that Meghan heard about us. We sent her a few of our initial pieces because we thought she might like them and then of all of sudden we saw them on her and we couldn't believe it!"
To Hold Fleeting Attention
Stylists who also act as fashion advisors are entrusted with the responsibility to constantly reinvent a star's fashion game. 
While Mulroney has managed to dress Markle in affordable fashion and revive niche labels to increase her connect with the masses, Perry's team of stylists managed to capture the attention of millennials who care for rare cult brands like Area that are resourceful. Associating with independent and emerging designers allows public figures to stay relevant and change (and personalize) the narrative of their 'personal brand' with the changing times.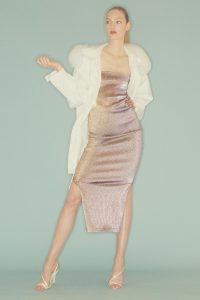 "To me, it is always looking forward to find something new and cool that other people haven't worn yet. For every video, every photo shoot, album cover or red carpet [event], I take the same attitude. That is how we keep it moving. I love working with someone like a Givenchy, or Balmain, or an Alaïa for those big moments, but it's great and really fun to work with [emerging designers] Adam Selman or KTZ for those moments too and do something no one else has done", disclosed singer Rihanna's stylist Mel Ottenberg.
As for niche labels and emerging designers, the fleeting attention span of influencers, closed doors of magazines and thirst for instant gratification on Instagram compelled them to seek celebrities and move beyond red carpet endorsements. 
Streetwear brand Less Clothing got Beyonce and Cara Delevingne to wear their crop tops after a disappointing experience with bloggers. Christopher Bookless, the designer behind the label shared that his company decided to send the samples to Beyonce, Delevingne, and others directly when the bloggers they partnered with failed to write about the brand on their social media platforms. And it worked!
Celebrity-niche brand partnerships (Rihanna-KTZ) are different from celebrity-luxury brand partnerships (Billie Eilish-Gucci) and influencer-niche brand partnerships (Fashion Nova with influencers). The growth and reach are more organic and sustainable compared to a buzz generated by brand activations. 
In this sustainable fashion era, independent brands that are producing ethical clothes and accessories, as well as celebrities, benefit from entering into organic partnerships in the long run. It is a win-win situation as the public figure's global appeal rises manifold, and the niche brand's sales figure rises.