Most Memorable Hollywood Fashion Moments Of 2018

9

min read
Reading Time:
7
minutes
One can't underestimate the domineering presence of fashion in storytelling and the potent combination of fashion and movies. Be it Marilyn Monroe's white halter dress in The Seven Year Itch, Whiney Houston's silver bustier in The Bodyguard, Reese Witherspoon's pink bunny suit in Legally Blonde, Kate Winslet's Edwardian red chiffon dress in Titanic or Margot Robbie's fishnet tights in Suicide Squad, each of these costumes are iconic. These looks are as famous as the movies and are remembered across the world.
It is through costumes that a director can let the audiences know what era a film is set in, without any words and endless exposition. Garments can effortlessly communicate what the dominant personality of a character, the temperament of the movie,and the actor's arc to the movie goers. This is why costume design is one of the main pillars of filmmaking.
While, 2017's major fashion moments included movies like Lady Bird and Phantom Thread, 2018 has been an interesting mix of period drama, superhero film and nostalgia films.
Here's a list of the Most Memorable Hollywood Fashion Moments of 2018.
Tech Forward Power Dressing Of 'Black Panther'
2018 was off to a great start with Black Panther's release. The movie, directed by Ryan Coogler, broke and set many box office records that include becoming the highest grossing solo superhero film. The fictional land of Wakanda brought to life by the amazing performances of Chadwick Boseman, Michael B. Jordan, Lupita Nyong'o, Danai Gurira, Letitia Wright and the rest of the crew won hearts of many.
Besides the cast's acting chops, Wakandans' unique fashion and style rich with African heritage and technology caught everyone's attention. The buzz around Black Panther's costumes started right from its trailer release. People coined hashtags like #BlackPantherSoLit and shopped for Wakanda inspired pieces to wear to the movie premiere.
The credit for making the costumes an integral part of the narrative goes to the film's costume designer Ruth Carter. She recently picked up the award for the 'Best Costume Design' at the Critics' Choice Awards 2019 that acknowledged all the hard work and tons of research that went into creating Black Panther's fictional powerful world. Carter is also one of the front-runners of this year's Academy Award for Best Costume Design.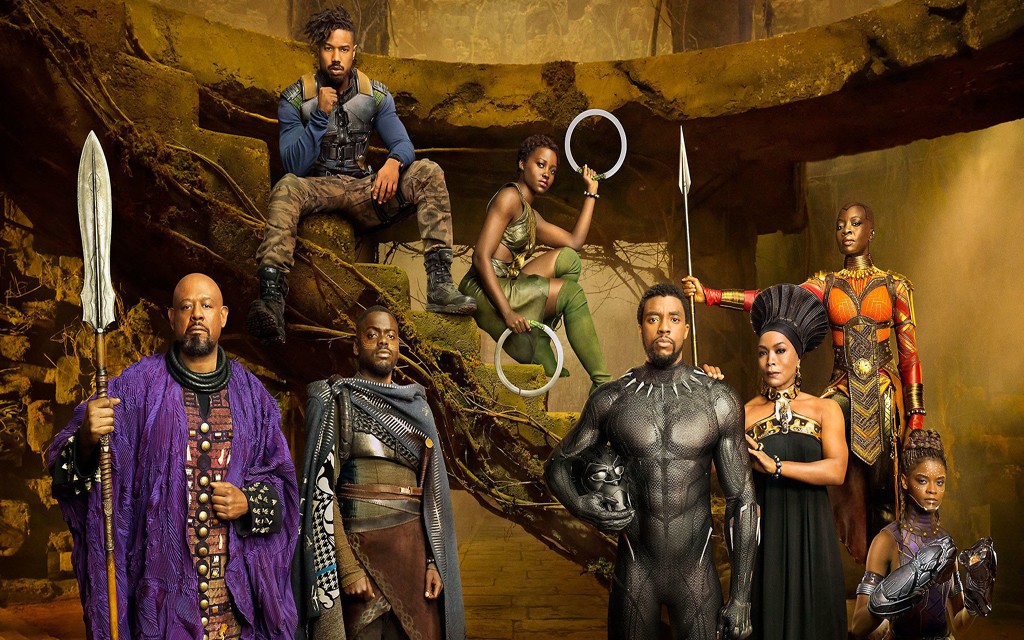 As Wakanda was a fictional place, there wasn't a real reference point, like there is while working on a period film. But Coogler had sketched every tiny detail, which helped Carter to design traditional and contemporary African clothes. The designer shared that Black Panther's costumes had to denote 'tech-forward, eco-conscious, never-before-colonized country' and her vision board included four words: Beautiful, Positive, Forward, and Colourful.
The result was colourful costumes in the shades of crimson, chartreuse, tangerine, jade, aubergine and silver that showcased the beautiful textile of African tribes like Dinka, Himba, Maasai, Tuareg, and Zulu. The hand-dyeing and beading techniques of these tribes were also featured prominently.
The craze of this superhero movie's fashion was such that even tennis star Serena Williams got herself a Black Panther style catsuit designed for the French Open. It is one of the rare movies that inspired community pride, encouraged cultural appreciation and celebrated traditional roots with a modern twist through its clothes.
Bare-Face Vintage Gaga In 'A Star Is Born'
Lady Gaga is famous for her eclectic sartorial choices as much as she is famous for her powerful vocals. Who can forget her meat dress that she wore at the 2010 MTV Video Music Awards?
But Gaga dressed down for her acting debut in Bradley Cooper-directed movie A Star is Born. In the movie, we see the highs and lows of bare faced, toned-down Gaga who is a struggling singer. Yet, her ordinary style with vintage undertones managed to attract the attention of fashion critics.
Costume designer Erin Benach admitted that there was a deliberate attempt to strip away Gaga's public persona while designing clothes for 'Ally', Gaga's character in the movie.
"We worked really hard to create a character that didn't have any Gaga in it. That was one of the biggest challenges of the movie. Everybody has their own ideas of what rock stars look and dress like, off-duty and on-duty. And on top of that, having Gaga be Gaga, we were so conscious," Benach shared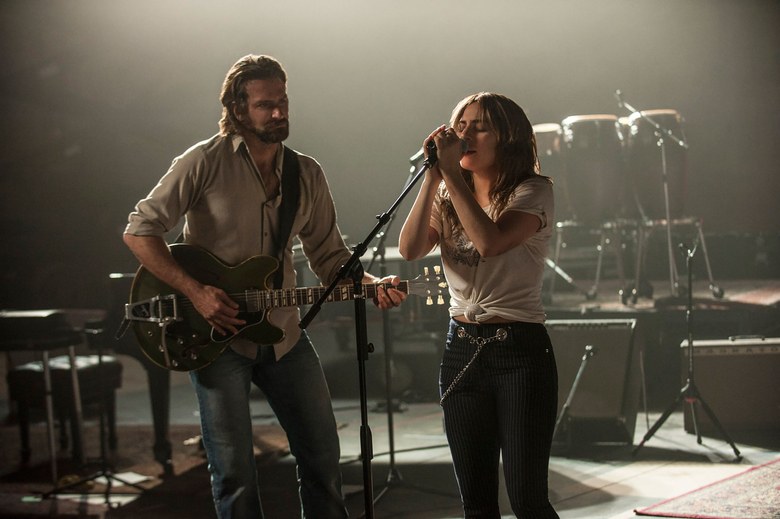 The designer's team visited several vintage shops across LA and Long Beach to pick up pieces that would fit Ally. They also sourced new designs that matched the vintage theme of the movie. Even Gaga's personal wardrobe came into play.
Her mid-rise, straight-leg Miaou Jeans with link chains that was paired with knotted white tee is a particular favourite of the fashion lovers. So are her leopard print pants, which are in vogue right now.
Celebrating Androgynous Fashion in 'Colette'
Colette tells the story of 20th century's famous French author Sidonie-Gabrielle Colette. Essayed by Keira Knightley, the movie expressed the balance between femininity and masculinity via clothes.
Costume designer Andrea Flesch relied on interpreting Colette's writing, deciphering her thought process and going through all her portraits before narrowing down on an androgynous wardrobe for Knighgtley. Right from scanning the archives to understand the micro stitching techniques of those times to looking for brooches that represents Colette's life in the most subtle way, Flesch left no stone unturned. For instance, the designer spent hours looking for a bulldog pin, which was an ode to Colette's pet dog Toby Chien.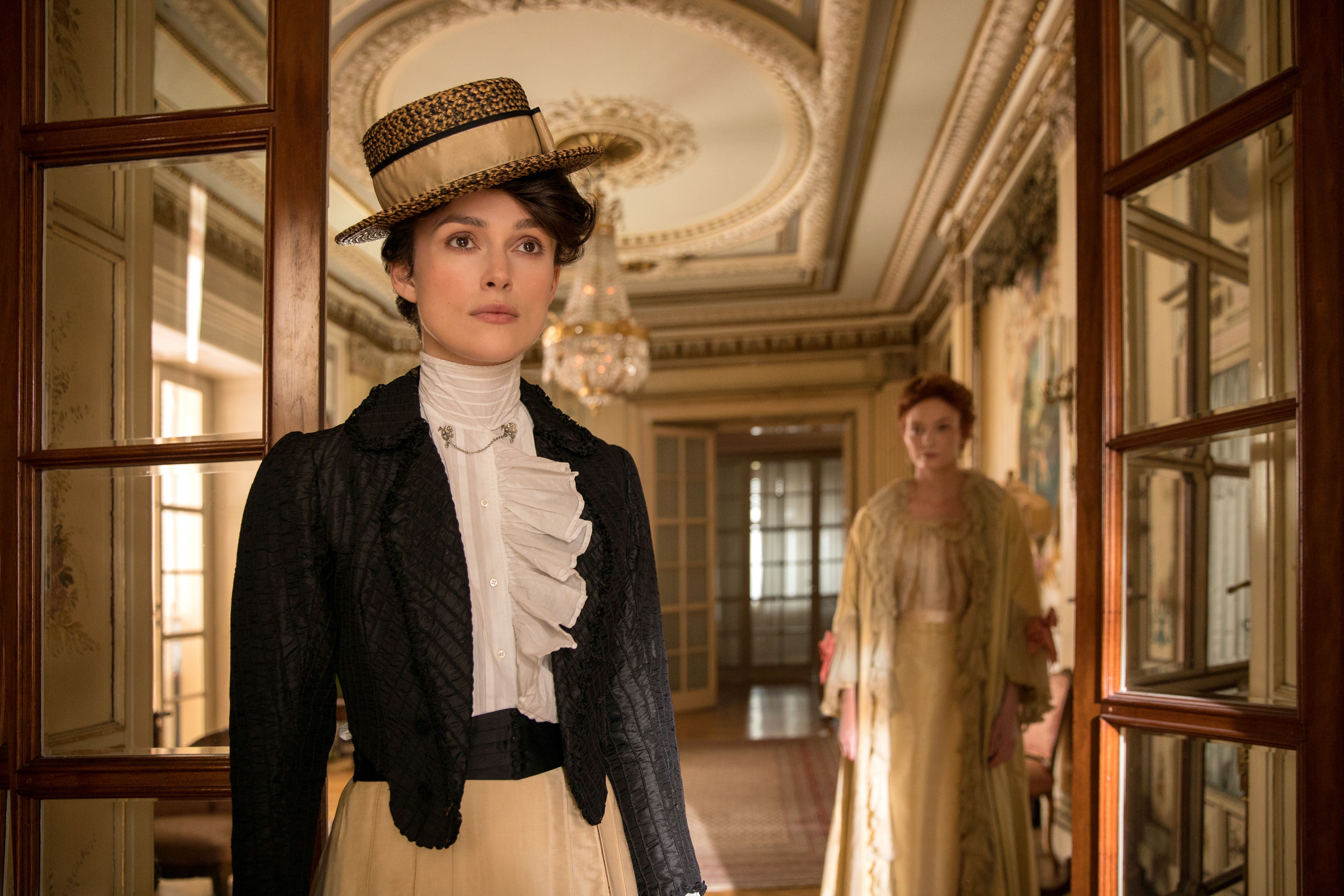 While talking about the designing process, Flesch revealed, "I tried to design her style by her writings, by her inner thoughts, by her strong behaviour and not caring what others think. So I put the image of masculinity in her wardrobe, even when it was sexy or feminine…. I love details. Even when you cannot see them on screen, you feel that they are there – and important."
Capturing the Spirit of Queen in 'Bohemian Rhapsody'
A movie on the legendary singer Freddie Mercury cannot be made without reserving a considerable amount of time and budget on showcasing and celebrating his eccentric style. After all, Mercury loved clothes, fashion and being his original self without censoring his choices. Bryan Singer's Bohemian Rhapsody has triumphantly captured the true spirit of Mercury and the rest of the Queen band members.
The film's costume designer Julian Day and his team of 38 people toiled hard to represent Mercury as authentically as possible. It was clear that if Rami Malek (who plays Mercury in the movie) managed to look like Mercury, then half the battle is already won. And Day with the help Malek delivered because the actor's portrayal of Freddie Mercury has been widely appreciated.
Right from the skin tight leather pants to floral jackets, from satin tops to colourful shades, Day painstakingly worked towards reminding people of Mercury's distinct style and personality.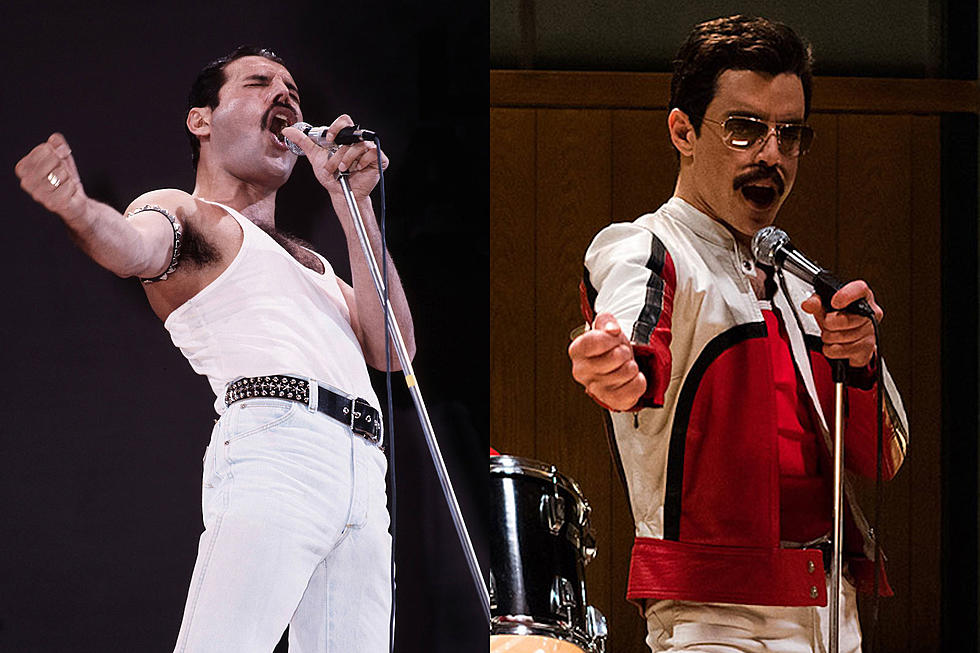 For some portion of the movie, they took liberty of styling Malek in original costume pieces. But for the '1985 Live Aid performance' portion of the movie, everything was recreated. Adidas and Wrangler were roped in to remake Mercury's shoes and jeans that he wore in the benefit concert. Even the simple white vest that he wore in the concert took about 20 attempts to get exactly right.
Understated elegance of 18th century in 'The Favourite'
Set in the 18th century, The Favourite is a period drama starring Olivia Colman, Rachel Weisz and Emma Stone. Three-time Oscar winner Sandy Powell was entrusted with the responsibility to create costumes for this movie.
Powell's biggest challenge was lack of references that she could take inspiration from and build the wardrobe for the film. In the end, she zeroed down on black-and-white theme with minimal makeup looks for the three actresses, so that their characters shine minus any distraction. She used contemporary and inexpensive fabrics like cotton, denims, laser cut vinyl and canvas to achieve the desired look in a limited budget.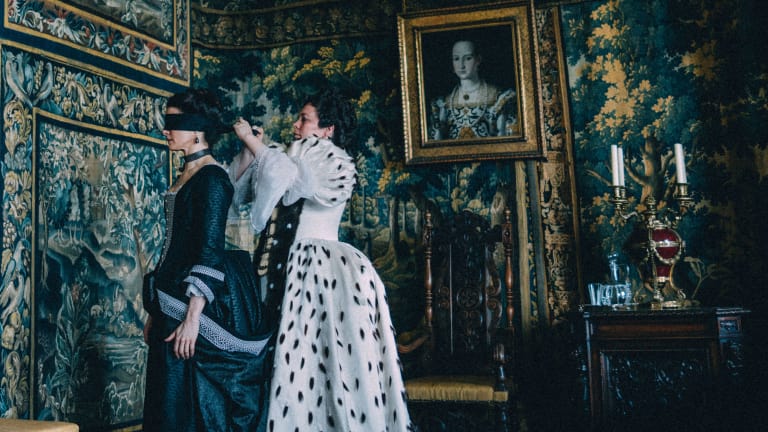 The focus was on designing clothes that matched the characters portrayed by the three actresses. For instance, Queen Anne played by Olivia Colman wore the same nightgown with different robes to represent her depressed mental state. Lady Sarah Churchill's (played by Weisz) corset and blouse were designed to reflect her power without making her look masculine. On the other hand, the transformation of Abigail Hill's character (essayed by Stone) is shown through denim servant dresses and then opulent gowns.
While the women were dressed in simple clothes with no makeup that personified understated elegance, 'the men are the peacocks' in Powell's words. Therefore, they were dressed in expensive suits, lace sleeves, high heels, enormous wigs and layers of makeup.
Powell's imagination and realism earned her two Oscar nominations this year – one for The Favourite and the other one for Mary Poppins Returns.
Power of colour palettes in 'If Beale Street Could Talk'
Adapted from James Baldwin's book, If Beale Street Could Talk is set in the early 1970s Harlem. The film's costume designer Caroline Eseline has honoured Baldwin's words by infusing the colour palette into the movie that the author has poetically described in the book.
"Literary adaptations are one of my favourite things to do ever because you can extract so much from the written word and we want to honour it. I want to honour it. He's (Baldwin) so descriptive of clothing in the book," stated Eseline.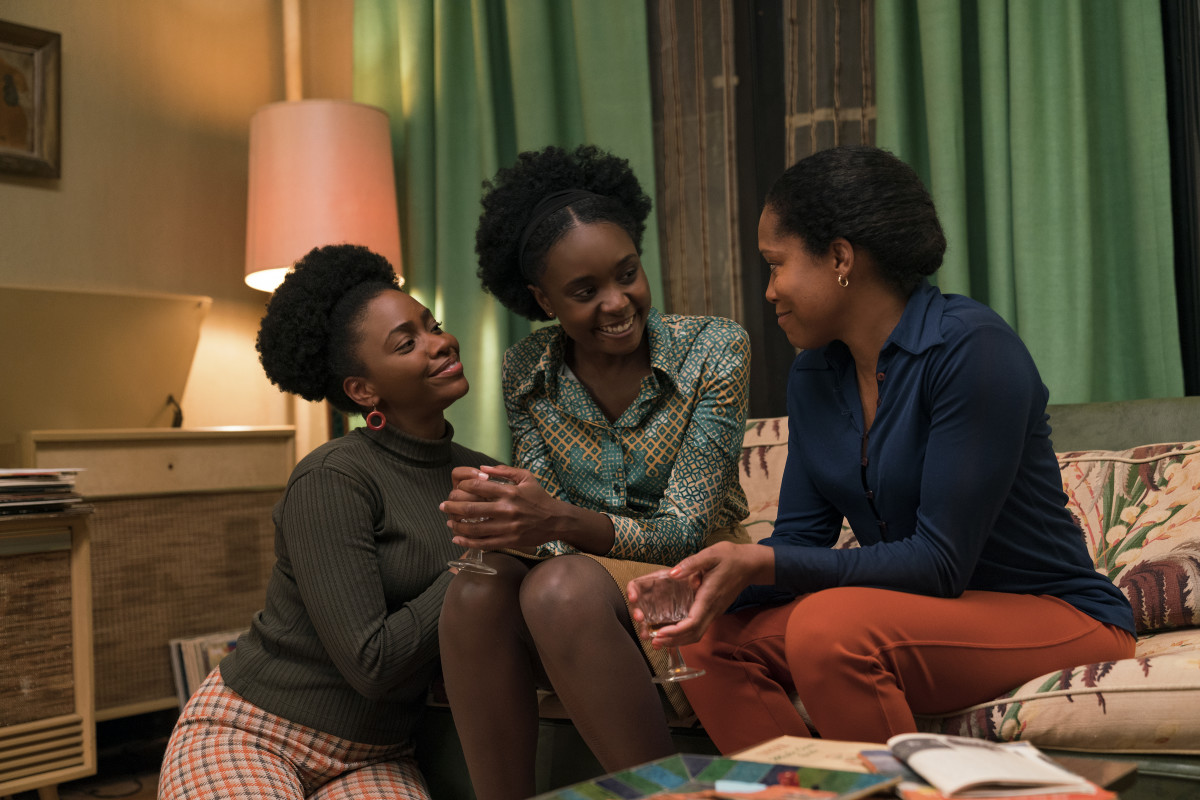 With Baldwin's words as inspiration, Eseline skimmed through the works of photographers like Gordon Parks, Camilo José Vergara and Kamoinge who captured African-American visual stories of the 60s and 70s New York. Colour has been predominantly used to set the tone of the film and adapt Baldwin's words into screenplay.
The shades of blue and yellow in the form of denim jacket, mustard shirt, lemon yellow skirt, marigold trench coat and navy & white checked dress collectively worked towards building an optimistic world full of love and innocence in the movie.  Hues of green through a corduroy coat and printed button-down shirt were used to represent new life and new beginning. Earthy tones were used to symbolize strength and family support.