Money On The Media: The Impact Of Media, Social Conditioning And Exposure On Fashion Choices

7

min read
Reading Time:
5
minutes
If you had to pick the single most powerful influence on determining fashion trends, which one would you pick?
We'd certainly hedge our bets on media, in all of its myriad shapes and varieties. Today, we know that social media has a huge role to play on fashion choices and the way people see themselves. However, using media and marketing as ways to drive trends and preferences is not new.
A pop-culture example is the widespread acceptance of body hair on women until 1915. It is only with the advent of sleeveless dresses in the early 1900s that women were expected to shave their underarms. That Gillette completely cashed in on the trend and sold one million women's razors in a year is not just a coincidence.
In media and marketing, it is often hard to tell which came first- the chicken or the egg. However, in Gillette's case, the sleeveless dresses and women's razor prototypes certainly came before the actual hair removal revolution.
Let us look at a few different examples of how media in all its myriad forms made, and continues to make, an impact on the clothes we adore, idolize, buy and wear.
Marketing Thrived On Gender Differences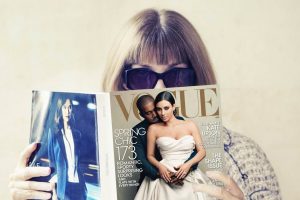 Traditionally, marketing in fashion has always been targeted at one gender. Research now shows us something that marketers around the globe have known all along- that women think of shopping as a social experience, and that their buying choices are often determined by a desire to own than necessity alone.
Men, on the other hand, prefer to make fashion choices to 'stand apart', and their purchases are more out of necessity than desire alone. Well, we daresay that men have far fewer choices in clothing than women do, and it is, therefore, no surprise that shopping isn't an experience they usually value.
However, in the past decade or so, things have changed and how! The burgeoning sneaker culture is at its peak today, and it was promoted by the men. Sneakers and footwear, in general, offered something that clothes couldn't until recent times- a chance to flaunt without looking out of place. As a result, men found new interest in grooming choices, and have gently placed one foot in front of another (pun intended) to finally get to metallic bomber jackets, statement printed shorts, cropped pants and the like.
In the days of gender-specific marketing, it was important for brands to be seen, and seen again, in a variety of different contexts so their patrons, who were careful in consideration, social in opinion-formation and deliberate in their purchases, could give them some attention. Indeed, we'd go so far as to say that media's only role in fashion at one point was to help people form opinions. Brands that succeeded have gone on to build a heritage.
If It's On TV, It's Probably Right!
To consider the sort of influence media had on fashion choices, we need to take a critical factor into account.
In 1970, the average Jane exposed to the media of her times saw, on average, 500 pieces of promotional material. That is actually quite a lot! Take into account engaged advertising such as TV programs, newspaper ads, and magazines as well as passive encounters through billboards and the radio. But that is quite nothing compared to how many ads Jane would see today.
Can you take a guess? The average individual is exposed to 5000 pieces of advertising today. To be sure, this includes all marketing efforts and not just blatant advertising, but that is 5000 pings on a brain that also does other things. In a day.
About two or three decades ago, well before the advent of the internet, fashion marketing took on several avatars.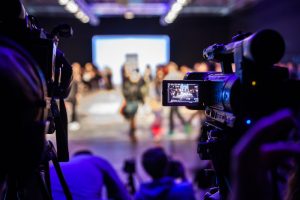 Popular fashion channels such as Fashion TV were gold mines of information on the latest trends. Moreover, designer interviews and backstage shots on these channels often gave the unsuspecting customer wide exposure to a brand, and in ways that aren't actively pushing them to buy.
Printing My Way To Success
Print media, though fairly obsolete today, was once a powerful tool for forming opinions. Vogue's print magazine was the reference for all things fashion. Vogue's editors could make or break a fashion trend even before it went out the doors. Soon, Harper's Bazaar began taking over with features on celebrities and who wore what to the most happening events around the world. For a tuned-in customer looking for information to make a choice, these were the first 'opinion pieces' of the time that helped them do just that.
Print media often reaches only its active subscribers. In other words, only those people who would pick up a Vogue magazine would see the ads in it. Today, we'd call it inbound marketing, and we'd know that it works better than passive encounters.
However, Out-Of-Home advertising, or OOH, in short, was also impactful, but in different ways. A hoarding or a billboard would give the fashion brand some serious visibility. Hence, these billboards had to be supremely impactful and also give rise to the first supermodels of our generation. Who can forget Tom Hintnaus in nothing but mare essentials on a Times Square billboard for Calvin Klein? Or Kate Moss in the Obsession campaign, again for CK?
It was going to be just a matter of time before the individual became the influencer, paving the way for celebrity endorsements.
Fashion brands from around the globe can thank their tennis stars for giving them exposure beyond what would otherwise be possible. Often considered a global sport and one with personality, brands cannot keep their hands off of tennis players' gear and attire. This particularly applies to sports labels and watchmakers.
Moreover, endorsements back in the day often happened subtly. It was just a given that James Bond would only drink his signature martini, and wear his signature Omega watch. There was no need for disclaimers, and none were provided.
When Media Comes Knocking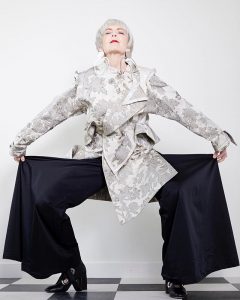 The relationship between fashion and media reached its true tipping point with the advent of social media. For one, marketing can now be targeted, personalized and completely tailored to the times.
Plus, our definition of influencers has changed. We're not looking only at the celebrity anymore, and instead focusing on fashion influencers who share the same preferences on us. This has given birth to a whole crop of successful voices on platforms like Instagram.
Blogging and digital editorials have also replaced traditional opinion pieces. In a way, today, everyone can have an opinion. If it is worth the while, that someone will soon have a flock of followers. In fashion, Tami Reed of Talking With Tami is just one of the thousands of bloggers who have found fame and a voice through social media.
https://www.instagram.com/p/BtTdU-sF_XU/
This democratization of fashion wouldn't have been possible otherwise. Case in point- Accidental Icon and OG Fat Girl. It is only because of the work of breakthrough influencers that brands today are considering different body types and age demographics.
What, then, does the future look like? We're still going to turn to Vogue for opinions on the plethora of fashion weeks that happen all year round. We will still drool over billboards. But now, we'll also pepper our views with what our favorite influencers think, and what we experience on several different media, offline and online. Applications like Pinterest are an unending source of inspiration for those making fashion choices, and many new brands are aware of this. The selling point, yet again, is the picture. Except this picture can be found everywhere you look.