Influencer Marketing From Endorsers To Stakeholders

8

min read
Reading Time:
6
minutes
Fashion Nova, the Los Angeles based fashion retailer was one of the most searched brands on Google in 2017. It surpassed the likes of Zara, H&M and KKW Beauty to become the number one best performing brand on Instagram in the first six months of 2018, according to InfluencerDB report.
These numbers translated into huge profits for the fashion retailer. Robert Levenhagen, CEO and Co-Founder of InfluencerDB asserted, "For every dollar they (Fashion Nova) spend, they make more than one dollar of margin, and that's why they keep scaling and investing in (influencer marketing)."
The fairly new brand managed the feat minus any traditional advertising strategies or big celebrity endorsements. It is a brand that was built on Instagram and still largely operates from there with the help of a network of 3000 influencers. They do have physical stores but nothing can beat the visibility of Fashion Nova on Instagram, thanks to its army of influencers that now includes big names like rapper Cardi B and reality star Kylie Jenner.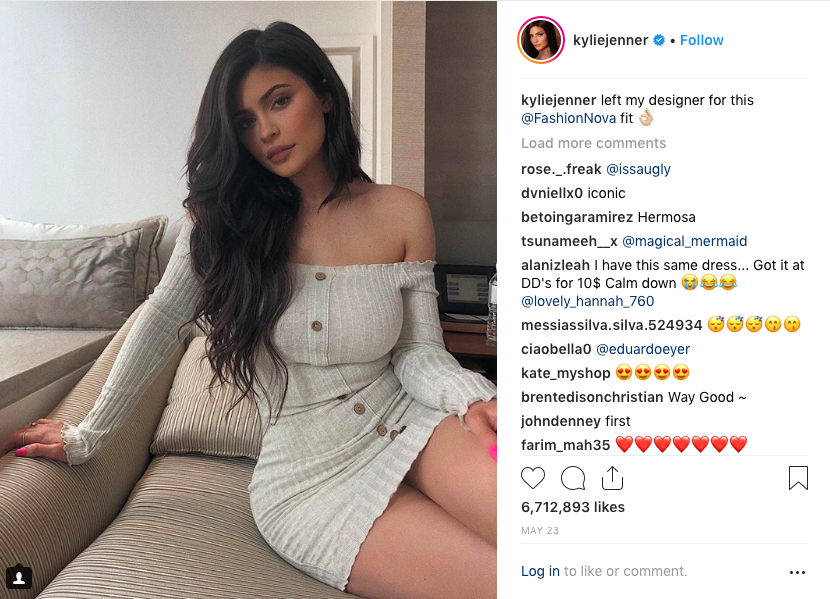 The success of Fashion Nova speaks volumes about the power of influencer marketing in today's day and age. It has become one of the most effective mediums to increase organic reach and earn profit.
From An Add-On PR Activity To A $20 Billion Industry By 2020
Influencer marketing is the result of the penetration of internet, emergence of online retail and growth of social media. Between 2011 and 2014, the traditional format of influencers existed, which was brand Public Relations. The brand's PR agency approached bloggers and 'gifted' products. In return, they requested these bloggers to write about their products without being paid for the content.
From 2014 onwards, YouTube, Facebook and Instagram picked up as content platforms, which gave birth to creators. These creators willingly invested their time, energy and money into making videos, stories and posts for viewers. And brands soon sensed the potential of YouTube and Instagram creators as 'social media influencers'. But traditional PR didn't work on these platforms because creating videos is far more demanding in terms of effort required than a shout-out in a blog-post. Hence, the demand for money flowed in.
The unpaid from paid transition of promotions via social media was also made possible due to the intervention of trade governing bodies like the Federal Trade Commission (FTC) and ASA. These associations brought accountability and streamlined the influencer marketing industry. The UK's advertising regulatory board ASA laid out clear rules and guidelines for influencers to make social media posts more transparent. It demanded influencers to embrace accountability and disclose if the content put out by them is a 'paid collaboration' or an 'ad'.
Industry insiders believe that the influencer marketers industry is expected to reach $10 billion in the next two years. Brittany Hennessy, author of Influencer: Building Your Brand in the Age of Social Media affirmed that the industry size is only going to get bigger with time and the reason for this is, "It's people that are the target demographic talking to the target demographic. And that's what makes influencer content so much different than something a brand would make. Nobody's blocking influencers — they're opting-in to that. We're now in the land and era of opt-in. And people opt-in to follow these influencers because they like the content."
PwC's holiday shopping report stated that nearly 55% to 64% of millennials pay attention to influencers with like-minded interests whose lifestyles they aspire to imitate. 55% of Gen Z consumers follow influencers on social media.
Influencers Are Now Ambassadors, Investors, Brands
Needless to say, the popularity of influencers has opened up new business avenues for them. From mere promotional tools, they have transformed into brand ambassadors, investors and independent brands themselves.
Take for instance, Huda Kattan. The American and now Dubai-based make-up artist, started out as a blogger in 2010. By 2013, she had launched her own make-up line Huda Beauty. She now has over 28 million followers on Instagram and in considered as one of the most influential people in the beauty industry. Kattan's beauty empire is worth $1 billion and the company's product shelves & revenue is doubling each year.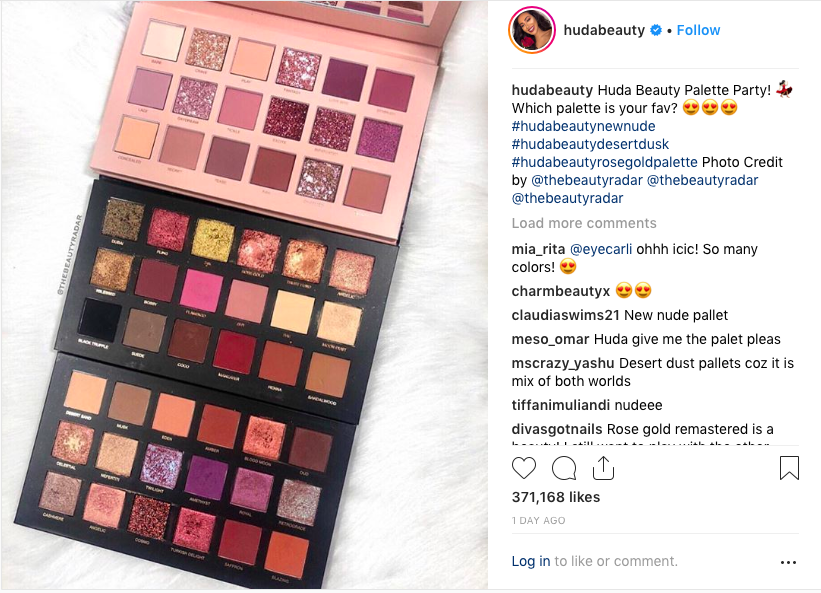 The appeal and recall value of influencers is such that luxury brands are now appointing them as ambassadors. London-based beauty blogger Victoria Claire Magrath's first project was to create a video for L'Oréal hair spray. And now she is the brand ambassador of L'Oréal to promote their products. Magrath is also the brand ambassador of Feelunique, Thomas Sabo and Ted Baker.
Brand ambassadors are usually big celebrity names from across industries such as entertainment, sports, and fashion with meaningful body of work, which guarantees immediate recognition. For comparatively common faces like influencers to become brand ambassadors is a huge leap for all the parties involved and an indicator of changing times.
The tribe of influencers turned investors too is steadily increasing. Indie brands with a great line of products but a tight budget have found an effective marketing strategy in the form of influencers. They are now investing in indie brands and are becoming stakeholders like bloggers Leandra Medine and Arielle Charnas, who recently invested in natural makeup brand Kosas.
Looking at the impact of an influencer's post on sales of a brand, it was the next logical step to demand/grab their share of revenue and equity. For example, one Instagram stories post of Arielle Charnas about luxury active-wear brand Bandier generated $207,000 in sales, that too in just four hours!
"It's not just a paid, sponsored post. It's partly mine… I said I invested in these companies because I use these products every day and I believe in the product…and I want to be involved in the growth of the brand. I give [followers] the heads up that it's going to be something promoted on my account all the time," Charnas said while speaking about the brands she has invested in (source: BoF article on Influencers are Investors now).
Is Influencer Marketing A Gamble Worth Making?
As it is relatively a new industry, brands could find it hard to measure the effectiveness of such promotional activities. It is also difficult to gauge how much is too much/little and what guidelines to present to a creator that doesn't sound like interfering. On the other hand, influencers are trying to figure out as to how they can differentiate their services, ask for what they are worth for and then justify it.
It takes certain amount of gumption and conviction to surrender to social media influencers when you can't see the final outcome. When Nike approached YouTuber Casey Neistat to make a movie/ad for them back in 2012, Neistat suggested that he'll use the money to travel across the world with his friend, instead. Talented filmmaker that he is, Neistat did make an inspirational travelogue video of a little over four and a half minutes that strategically featured Nike shoes and has amassed 28 million views. But as a brand, it must have been a gamble to give an influencer bag full of money just to travel.
The decision to use a micro or macro influencer or both also poses a dilemma for brands. Micro influencers offer great return-on-investments (ROI) as they have a niche audience and act as brand advocates. On the other hand, macro influencers offer instant exposure and great reach.
There are, of course, tools to measure the effectiveness of an activity. On Instagram, people can see how many people 'swiped up' and opened the link, user engagement status in terms of likes, visits and comments. There are agencies that analyze data to match right brands with right influencers. But when compared to traditional marketing mediums, the influencer industry is still on a lookout for measuring tools that would provide actionable stats.
Reluctant Participants
Influencer marketing is real, valid and relevant. But are brands and consumers reluctant participants because of the general lack of belief and respect, in spite of huge visible user engagement?
Earlier this year, the owner of Dublin-based hotel The White Moose Café shamed YouTuber Elle Darby for asking for a free stay in exchange of publicity. The owner Paul Stenson went on to declare that all bloggers are banned from his property. Vogue editors too criticized bloggers for 'heralding the death of style' that drew sharp reaction from the influencer community.
Consumers too often complain about paid promotions and how influencers are making easy money without working hard for it.
Victoria Magrath explained this in Blogosphere podcast, "It is almost as if 'likes' have become currency. I almost see as people feel as if they are losing every time they 'like' a picture. So if someone has put up an ad, regardless of how gorgeous it might be and well-edited or like beautiful…, they are so reluctant to hit 'like' because they don't want to support the fact that this person might be paid for it."
Agreed, that the industry needs to be filtered diligently as the number of fake followers or bots has considerably increased in the past few years. The percentage of unethical influencers too has increased as more and more people discover this industry as a source of revenue. But isn't it too soon to declare it as a bubble that might burst soon?
Celebrity endorsements have been part of the marketing industry for decades. The difference is that now more relatable faces are being added to the industry. Influencer marketing has given rise to brand ambassadors that are not only influential, and aspirational, but also approachable and achievable.