How Has The Fashion Week Changed Over The Last Decade

8

min read
Reading Time:
6
minutes
The evolution of fashion week in the last ten years, with the changing politics of the front row and the diverse imagery behind-the-scenes, has been nothing short of remarkable. A decade back, Blackberry phones were still popular and only the crème de la crème of the fashion world had early access to collections showcased at the global fashion week events. Today, smartphones and streaming of fashion shows on digital platforms have become the new normal. 
For instance, Rihanna's upcoming The Savage X Fenty show at the New York Fashion Week Fall Winter 2019 will be streamed on Amazon Prime Video in September. People from more than 200 countries will be able to grab a virtual front row seat and experience Rihanna's show as a viewer.
While speaking about the September NYFW Fenty show, the singer exclaimed, "I couldn't be more excited that everyone will have full access to The Savage x Fenty Show this year. We are working on creating a bold, sexy, super energetic experience for our viewers."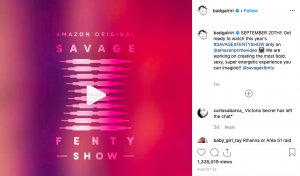 While this year's show will be streamed a week after the event wraps up, last year Rihanna's immersive, inclusive and diverse Savage X Fenty Lingerie Show was live-streamed on YouTube.
This concept of opening up the ramp to the fans and streaming it digitally didn't exist, back in 2009. A few minutes of the ramp walk, a few glimpses of the green room and pictures in the glossy magazines are all people outside the fashion week circle were able to get their hands on. But the glamorous event has changed in many interesting ways in the last decade. 
Access Over Exclusivity
As illustrated by Rihanna's statement, one of the major shifts has been increased access to the fashion week.  
For a long time, the fashion weeks have been all about exclusivity and early access. It was a platform for the press, editors, and buyers to preview the collection, write about it, and place the orders. These collections were made available to the end consumers after nearly six months of the runway presentations at swanky hotels. Gradually, celebrities, influencers, and brand sponsors joined the members of the media, fashion editors and retail buyers. But it still largely remained an invite-only fashion event with limited access. 
But today, Rihanna's fans are be able to see all her designs within a week of the preview that only the elites had access to. Not just digitally, but a selected number of physical front row seats are also available to the general public, as long as they have money in their wallets and a unique sense of style. Highsnobiety predicts that selling tickets to the public could be the future of fashion week. Case in point: Kanye West's eccentric NYFW 2016 show where 20,000 people had turned up at the Madison Square Garden.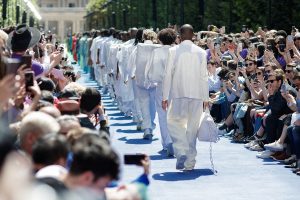 In a recent example, the London Fashion Week announced that it is all set to open its doors to the public from September 2019 after the new format is rolled out. 
In August 2019, the British Fashion Council (BFC) declared that at the LFW shows this September, "House Of Holland and self-portrait will host public-facing shows on Sunday 15th September to present their current AW19 collection to London Fashion Week ticket holders."
These public facing shows are helping designers and brands to reach the consumers directly without any delay, instead of connecting through trade buyers and store owners. This format has, in particular, benefited new and emerging designers that might get a space at big fashion weeks but don't get enough media coverage compared to big designers. 
Tasha Liu, the founder of Shanghai-based fashion incubation community Labelhood explained how public facing shows are creating a community of fashion lovers who can afford to splurge, are open to experimenting, and have the willingness to buy designer clothes but are not necessarily industry insiders, bulk buyers or influencers. These communities are built by regular millennials and Gen Zs who reward real-time access with their attention, loyalty, and money. 
Liu asserted, "Right now, there is a gap between the brand and the consumer. The original function of fashion shows was for placing orders, but now they are big marketing events. So you need to face the consumer. People want to be the first to see those products and the design, not just waiting for it for six months."
Therefore, it comes as no surprise that even big brands like Tommy Hilfiger are reaching out to new age consumers by ditching the traditional format of fashion shows with the help of technology.
Digitizing The Ramp
In 2016, Tommy Hilfiger introduced the 'See Now, Buy Now', his new-age experimental catwalk event powered by technology. Through this format, buyers from over 70 countries have been able to buy the designer's latest clothes and accessories right after the fashion show via shoppable channels, including online site, social media platforms, brand's stores, and select wholesale partners.
Be it Hilfiger's shoppable catwalk or Rihanna's digital streams, all this became a reality only because the fashion industry embraced technology, on and off the ramp. One of the biggest changes in the last decade has been the role of AI and technology in fashion weeks, primarily because the tech tools that exist now didn't exist in the 2000s. And also, the number of brands and designers who are willing to take the risk has steadily increased in the last ten years. It is visible in Iris Van Herpen's 3D printed clothes that made their debut in 2010, and also at Rag and Bone cofounder Marcus Wainwright's fashion week dinner party where AI was the guest of honour. 
In the absence of fashion technology, designers and brands stuck to the traditional formats and fashion week cycles. In 2019, technological innovations, artificial-intelligence-based tools, and social media have completely changed how designers develop their collections, how they predict trends, how they showcase it in front of the audience and how they map customer touch-points before & after the collection is unveiled.
Relevance And The Voice Of Modern Shoppers
Although an inseparable part of fashion now, tech entered into the mainstream fashion industry in a big way only in the last decade. The music, film and tech-first industries started experimenting with 3D technology, visual tricks, virtual reality, robots, chatbots, and similar tools many decades ago. 
As the need of modern fashion consumers evolved along with the changes they witnessed in other industries, fashion brands had to quickly reinvent to avoid getting disrupted and losing relevance.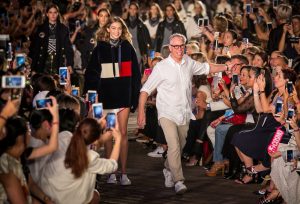 While speaking about 'see now, buy now' initiative, Tommy Hilfiger's Chief Brand Officer Avery Baker explained this shift by stating, "The fashion industry (is) competing, not with itself but expectations set and met by other industries, real-time expectations…. We cannot stand by and let consumers' attention and spending shift from apparel to entertainment or experiences, we have to disrupt or else we will actually be disrupted."
Before tech-powered fashion week, it was the inclusion of menswear trend that was directly proportional to the changing needs & demands of consumers. 
Menswear was not a part of LFW and NYFW up until 2012 and 2015, respectively. The rise of assertive male shoppers and gender fluid fashion compelled the industry to give menswear its much deserved independent space in all major fashion events. 
The evolving mindset of fashion consumers also made way for other interesting and positive changes such as social media influencers like bloggers Rumi Neely and Bryanboy securing front row seats. The position of fashion bloggers and influencers only strengthened in the last ten years and they have now become an important part of brand communication and marketing strategies.
Besides sustainability, inclusivity in all shapes and sizes – be it racial diversity, or body inclusivity  – also coloured the last decade of the fashion weeks in bold hues.
The next decade of change will continue to be centred on sustainability on the runway because Gen Z wants to shop responsibly and would only support the brands that do business responsibly. 
The Shrinking Ramp
A movement that picked up pace in the last two years, Sustainable Fashion would dictate the upcoming fashion weeks and industry trends. The biggest indicator of this is the changes that the Council of Fashion Designers of America (CFDA) recently introduced regarding New York Fashion Week.
Ahead of NYFW, CFDA released a statement that said, "Prompted by several seasons' worth of feedback from domestic and international stakeholders, newly-appointed CFDA Board Chairman Tom Ford and the CFDA decided to shorten the official New York Fashion Week dates to five days and five nights beginning this September. As a result, the Spring-Summer 2020 New York Collections will be shown from September 6 to September 11."
Besides trimming down NYFW from a seven-day, eight-night event to five-day and five-night event, the council also addressed the lack of inclusive and diverse panel of judges' criticism by appointing Chioma Nnadi and Paloma Elsesser. CFDA's sustainability report also talked about environment-friendly designs, sharing resources, changing the supply chain and reducing fashion waste. 
As the fashion weeks get shorter and designers move towards a season-less model, the meaning of customer engagement and brand experience would drastically change in the next ten years. Needless to say, the efforts of brand owners and designers along with fashion technology companies and textile inventors would determine how sustainable and relevant the fashion runway would look by the end of the next decade.