How Platforms Are Enabling eCommerce For Retailers Today

7

min read
Reading Time:
6
minutes
Conventional growth for retailers through storefronts means providing convenient ways for your customers to shop faster and review a much wider selection of product choices. E-commerce platforms have made this possible for even the smallest of retailers to be able to expand and reach a wider audience, without geographic barriers . 
Consumer Behavior and eCommerce
In August 2014, a story reported that Phil Brandenberger from Philadelphia had bought a music CD online from the Net Market Company in New Hampshire by sending his Visa credit card details using encryption. This momentous transaction was recognized by many as a precursor of things to come in the e-commerce world. Internet-based business transactions have slowly gained ground over the years to what now looks like an indispensable way of doing business.
Today's estimates show that retail e-commerce globally will hit the US$3.45 trillion mark in 2019, and the number of online buyers will cross the 1.9 billion mark.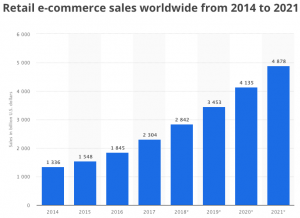 Here are some key factors that are behind customer behavior in driving growth in digital sales:
Calvin.H from Great Falls, Montana, shops online for the best quality leather riding gloves. He browses online and finds a seller in Europe offering similar riding gloves at a better price point.  Do you think he will buy locally at a higher cost or buy from the European store?
The ability of consumers to have access to purchasing options across geographical borders has flattened the digital ecosystem allowing retailers of all sizes to sell products internationally. 
Consumers today have seemingly limitless choices on various platforms and sites with omnichannel retail making this a possibility. With the younger crowd always being online, even passive consumers actively buy when friends share, mention trends, bargains, and other similar information driving online sales. 
Online retailers like ASOS, Missguided, LPA, Glossier, Zappos, Bonobos, Warby Parker are a few examples of pure-play retail brands that sell directly to customers. Having lower overheads positions them well to offer lower-priced products.  To compete, other players offer discounts. Lower prices attract buying behavior from consumers who can't resist a bargain.
The all-around hassle-free nature of digital shopping, without leaving home, makes for a leisurely and comfortable shopping experience. 
Players in the eCommerce Arena
With billions of dollars in digital sales, the engines that power all these transactions are e-commerce platforms. Companies with technical chops build their own platform as ASOS did by using Microsoft's Azure microservices.  For smaller retailers, there are ready-to-use platforms that allow you to be up and running with your site in a very short time.
Some of the well-known platforms are Shopify, Magento, WooCommerce, BigCommerce, and Wix, among others.  
Ford Motors and Coca Cola use Magento as their platform while brands like Red Bull, Tesla, and Budweiser use Shopify.  Vintique Watch, Eat Live Sleep, and Olive Secret use Wix while WooCommerce powers Singer, Weber, Flwr, and T-Shirt Zone.
So, which platform should you consider?  While it is possible for businesses to set up online commerce in the quickest possible time, it needs careful consideration.  Not understanding the intricate dynamics and features leads to costly mistakes. As Colton Chorpenning of Vopen describes, it cost them $30,000 to move from Shopify to BigCommerce, and then find out their needs were better met by going back to Shopify. At the end of the day, base your decision on what your needs are.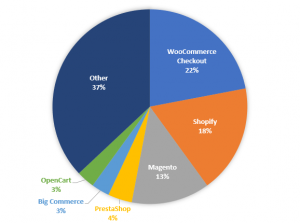 Factors to consider are costs, ease of usability, technical integrations and capabilities required, scalability, mobile optimization, whether it allows store-front customization, social media integration, abandoned cart management, chat, discount codes, security, commission costs, automating campaigns, updating product without code, etc. Check how well the platform integrates with the servers of your web hosting provider and levels of customer service before choosing one!
Shopify
Shopify is favored by many small retailers as it provides everything you can possibly want under one roof. Right from designing your logo and registering a domain name for free, it gives new businesses a free 14-day trial, no credit card needed, so you can test drive it. 
The co-founder of The Hundreds,  says Shopify has helped take a load off their mind because they get back-end technical and sales monitoring support. They wanted to focus on telling life-style stories to build brand awareness and not have to channel resources to managing their platform. They used the platform to automate sales and campaigns by using Shopify's Launchpad feature. As a result, they got a 14% conversion rate, 16% higher order value and a 53% growth in returning customers, which helped them cross the $11 million mark in revenue.
Shopify offers for free a limited number of responsive themes, order tracking, shopping cart abandonment, chat,  and then find products to sell from other vendors on the platform option, a free product image library, discount codes, blog, CMS, SEO, PayPal integration and more. If you are looking to buy out an existing business, that is possible too! 
With different payment plans, you get more features.  They handle your hosting, provide unlimited storage, scalability, security, and round-the-clock customer support. Your SSL certificate comes free with your plan as this is crucial for online payments. 
Magento
Magento is an open-source platform, which means, you get it for free. It offers many plug-ins, add-ons, and integrations. You will find that Magento probably offers the greatest flexibility for a growing business.  You can opt for a wide range of plug-ins for content, payments, security, accounting, shipping and so on. You can easily integrate it into your existing WordPress site through a plug-in. You get one free theme with Magento.
The Pink Coconut Boutique in Olive Branch, Mississippi, wanted to take their small-town business nation-wide in order to reach a wider customer-base that wanted trendy fashion at bargain prices. They went with Magento Commerce, and this enabled the boutique to have over 12% increase in conversion and an increase of 16% in sales transactions. 
On the flip side, Magento is for those companies that have a skilled and dedicated IT team which helps you with updates and bug fixes. You will be required to pay a hosting fee. Without a developer, you will be hard pressed to maintain your site.  
WooCommerce
WooCommerce is a WordPress plug-in that comes free to use.  It has garnered an astonishing 22% of market share, with Shopify and Magento being close competitors. You might ask how WooCommerce makes its money. While it comes free to download, its earnings come from its extensions which come at a reasonable cost, with some being free such as Live Chat, PayPal, UPS shipping, Google Analytics and MailChimp for managing automated campaigns. 
Some brands that use WooCommerce are Duracell Lighting, Ripley's, Vic Firth and Men's Health.  As an open-source platform, it has an active community of developers who contribute to refining it continuously. If you already have a WordPress site, then WooCommerce integration is a cinch for small retailers.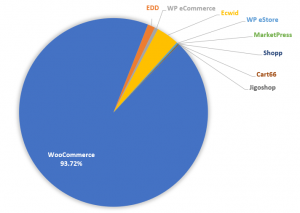 Wix
Wix is one of the most user-friendly platforms making it easier for an eCommerce newbie to use. With rich themes, you can avoid expensive website development costs.  You get website hosting free in the first year. With an easy-to-use drag and drop features, you get most of the regular features offered by other platforms. You can manage your Wix page easily on your mobile. However, do your research on their social media integration options, as this is limited.  Where plans are concerned, like other platforms, the higher your plan, the better your features, storage, etc. 
Tips for A Successful eCommerce Retail business
A key tip for you is to do your research thoroughly and identify what you need in order to launch a successful e-commerce business.
Choose a platform that works for you and not because some well-known brands use the platform.

Know upfront about all costs associated with it.

Get complete information on what support they provide versus what is expected out of you to gauge which one works for you.

Ensure the platform has the highest standards of security.

Keep customer protection in mind.

Look for social media integration capabilities. 

Choose a responsive platform that gives you mobile capabilities so you can manage your site on-the-go. 

Look for a clean check-out process with many payment options.

Make sure you have the right tracking and reporting capabilities so you can stay on top of things.

Some platforms provide you a customer review feature.

Use that to maximum advantage to realize higher conversion rates.
As more and more brands embrace e-commerce, these platforms serve as a great tool for any small retailer to expand and grow their businesses. With global online retail sales being projected to grow to US$4.8 trillion, making e-commerce an integral part of your sales strategy becomes a significant consideration.