Homegrown Brands Gaining Prominence Through The Internet

7

min read
Reading Time:
6
minutes
The online fashion market is flourishing.
The onset of fashion ecommerce as an industry has turned the retail environment competitive, fueled by robust investment into this sector and the rapid rise of internet users. The millennials are the largest and most interactive consumers on this medium, constituting over 85% of online traffic.
Online fashion brands are thriving by making latest trends available at a click, leading to a shift in consumer buying behavior.
Homegrown fashion brands have been able to buy into this shift and have seen growth through the online platform. Online labels have the pronounced advantage of achieving a massively global reach for their apparel which has only seen an upward shift ever since the boom of digital retail. A host of brands from developing countries have successfully achieved a breakthrough on the online platform by launching exquisite and versatile clothing lines, each one having its own unique persona, and in many cases reflecting the culture and heritage of their nations of origin.
The Rise Of The Homegrown Label
Having a centrally unique selling proposition helps separate home-grown brands from competition and carve an identity of its own.
For example, The Pot Plant is a brand that proudly celebrates the evergreen charm of natural handloom fabrics and can rightfully claim being one of the few Indian androgynous and gender neutral brands, often considered as its USP. This eco-friendly unisex brand offers handcrafted silk bandhani sarees, pants and pullovers, graceful flowy dresses imbibed with a vibrant yet subtle aesthetic that transcend seasons, trends and wardrobe. The Pot Plant envisions a fashion landscape that recognises no specific gender and plans on maintaining an all- inclusive fashion style by creating comfortable and long lasting handloom fabrics for everyday use with a fashion aesthetic that isn't constrained to classical notions of fashion.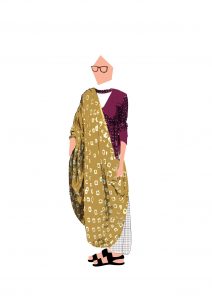 This is especially important when we put into perspective the trends that are sweeping the global buyer market- there is huge demand today for slow, sustainable fashion that stands for something more than just price or quality. Homegrown brands often have the upper hand here because they have been created to serve a specific purpose, one which instantly resonates with a wide digital audience.
Along with sharing their USP, brands should be able to find their 'sweet spot', that is, often finding their ideal fit in the market- going narrow before they choose to go wide. For example, instead of focusing on women's clothing in general, some brands choose to spend all their expertise on a single, untouched fashion style.
Anomaly is a contemporary women's clothing brand that specialises in creating linen, cotton and handloom ensembles for the workwear segment as there are hardly any labels focussed on producing elegant and versatile wear for the regular office goers. The brand manages to strike the right balance between leisure and work, offering a new perspective on office wear consisting of light and loose fabrics made in pleasing shades like cream, beige, light blue and mostly monochrome palettes. 
Finding Success On Online Platforms
Successful online brands don't just sell individual products, they sell complete, stylish looks that can inspire their consumers. Distinguishing oneself from the crowd by adapting a favourable yet flattering design aesthetic, and a driving ideology behind the craft, help build a distinct brand image that can easily be identified by consumers.
A great example for this could be the Indian homegrown label Nicobar which is steadily gaining global appeal. Nicobar is a travel and leisure brand that rides on the lines of minimalism, simplicity and versatility. The clothes comprise of predominantly monochrome palettes with slight touches of detailing under cuffs and collars, or the threads of buttons- an attempt at making the ordinary extraordinary.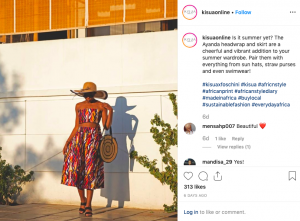 Nicobar follows the path of slow fashion. The brand ideology seeks to encourage mindful consumption and appeals to consumers who wish to gain a connection with the things they own.
Knowledge regarding one's target audience can make or break a brand. Brand loyalty is a hard task to attain for independent fashion brands, as it is difficult to retain customers when there are a hundred others vying for the same spot. 
Sparking a human connection with customers through their brand ideologies, communicating with them in a language which only they can understand could make them want to patronise. A great example here is South American retailer Falabella. In contrast to most multinational players in the region, Falabella is all about de-premiumization, a concept that is rapidly becoming popular in a flourishing yet volatile market. As long as the brands know what they clearly stand for, online success is only a matter of time.
Brands are also more likely to thrive by investing in sustainability and ethical responsibilities. Younger customers are increasingly turning toward purchases that highlight their concerns signaling their awareness and the impact their choice of purchase can make.
Going Green And Going Online
Green consciousness and a moral adherence to decent labor standards are just some of the ways these online brands integrate social and environmental themes into their products. A great example of a brand following this ethos is African online fashion brand Kisua, 'a fashion, that cares', created by Samuel Mensah. 
Having sourced all its materials and production locally while also creating rural employment, women empowerment and sustainable development, Kisua makes sure it performs its ethical responsibilities and creates the needed social impact. Despite serving as limitless inspirations to top designers over the years with its vibrant aesthetics, only recently has African fashion been able to carve through the cut-throat business. 
Online retail has had a role to play. Aggregators and standalone web stores are both providing avenues for these brands to directly reach their customers, promote their ideology and sell some fashion in the process.
Kisua creates designs involving traditional elements that breathe the culture of Africa, infused with a contemporary and international design aesthetic- one that can appeal to the fashion savvy customers looking for trendy and high quality collections from this continent. This brand has helped put African fashion in the forefront with even one of the most influential celebrities of all time, Beyonce Knowles, appearing in their clothes on several occasions.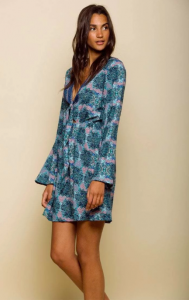 The One Tribe Apparel was started by an American and Thai couple Mitchell and Fai in the northern hills of Thailand, a vision that was kickstarted by the idea to bring Thai boho fashion and chic wear to the forefront of the market. Best known for their 'elephant harem pants' (made out of 100% bamboo rayon), the brand creates attire infused with vibrant patterns and a satisfying mix of the brightest hues to help achieve the eclectic bohemian look. 
Born as an attempt to capture the spirit of the artistic community and collaboration, this Thai brand also swears by a spirited commitment to sustainability with each piece of attire and jewellery being skilfully crafted by local artisans using eco-friendly materials that are locally sourced, and a dollar from the sales of elephant themed products goes to the Elephant National Park, Chiang Mai. 
The Rules For Online Success
There is no doubt in anyone's mind that online retail has changed the rules for players big and small. In fact, omnichannel retail is the key focus area for all retailers today. Big brands usually have more leverage when they try new things. Smaller labels, on the other hand, have had to work harder to be heard.
However, online sales and marketing change that completely. It is just as easy today for a homegrown label in Thailand to be discovered as it is for the more established ones. When we look at the success-stories of these smaller labels, a few distinct elements stand out:
Commitment to their cause. This cause can be anything as long as the brand is wholly committed to it.

Distinct brand messaging that is easy to understand and associate with.

Online presence on platforms where potential customers are most likely to be. Some very small brands run thriving businesses using Instagram Shop alone- and it works for them.

Clear processes so the logistics are sound. All of these brands are as committed to their logistics as they are to their message.
In other words, any brand today can find success on the fashion landscape- for one, the market definitely permits it. It is upto the individual brands to figure out their path for success,  and to follow it with diligence and commitment.