Fashion Trends Of The East: The World Is Up For An Asian Update

7

min read
Reading Time:
6
minutes
Asian fashion is a world unto itself. The styles, trends, and preferences seen in the East cannot quite be compared to trends from anywhere else in the world. Perhaps, Paris comes the closest. Fashion in this region is all about clean-cut silhouettes, minimalism, and the use of fashion as a primary form of expression.
We simply cannot discuss today's Asian fashion trends without talking about the 2018 adaptation of the famous nineties show Meteor Garden. Apart from a whole new cast, what really stood out in the new version is the extensive use of fashion as a way to express everything from a cultural divide to the male protagonist's arrogance.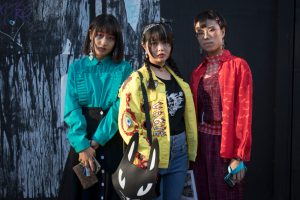 Indeed, when if ever have we seen sheer pride represented in crocodile-skin green or a broken heart expressed in muted shades on an otherwise flamboyant character?
Meteor garden is just one example of pop culture mirroring real life, at least as far as fashion choices go. A little further south, we have K-Pop sensations who influence a whole demographic, and one that is just learning the benefits of a quickly burgeoning economy. If indeed there is going to be a fashion revolution, we expect it will rise to critical mass in the East.
In this piece, we discuss what sets Asian fashion trends apart, how the West is slowly but surely catching up, and if there will be such a thing as a blurring of lines between Asian fashion and its western counterpart.
Asian Trends Are Travelling To The West
Discovering anything today is far easier today than it was even in the early days of social media. Platforms like Instagram are driven by visuals while those like Snapchat are a thriving ground for influencers. Put two and two together, and you get ten in this case.
For a very long time, we've collectively obsessed with Korean beauty products for just how well they work. Now, it is time for fashion to take centre stage.
Here are just a few trends from the East that have trickled over to the West. In each case, the role of a discovery platform is very easy to see.
 The Use Of Color: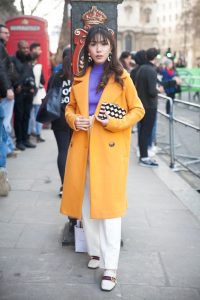 When we think of color in its traditional sense, we see it as a spectrum. Juxtaposing colors to create patterns is one important way to make a statement. Prints, designs, even embroidery are all just adaptations of this concept.

But, what happens when you go with a single palette? Asian fashion houses know the answer. From lavender and blood red to the use of pastel colors like mint green and lime, a cosmopolitan Asian's wardrobe is never complete without at least one jacket, scarf or accessory in these colors.

The West is now falling in love with mint green. Plus, as we've seen in Spring summer '19 collections from the likes of Dior and Alexander McQueen, a bold red jacket isn't something to be afraid of anymore.
 Bold Prints, But Why?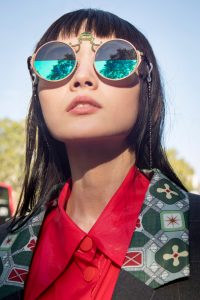 Kawaii clothing reminds us of the good old days of anime. Cardcaptor Sakura's clothing item of choice was her school uniform skirt, and we wouldn't have it any other way because it stood for all the angst and confusion placed on the very small shoulders of a young girl.

Kawaii clothing is a mix of dresses just like that, with a good mix of prints, iconography, and statements. The sheer popularity of characters like Hello Kitty should give us a good idea of the kind of influence that characters with a history have on trends in this region. Japanese Brand Mumuso developed a whole series of animal-human crossovers that they print on everything from notebooks to pens, bags and even sunglass cases.

Kawaii clothing traditionally represents a sense of femininity and cuteness. This isn't to say, however, that this clothing trend is restricted to the women alone. People in Asia are striving towards a more balanced expression of gender, and cute clothing isn't necessarily the territory of one gender or another.

This brings us to the use of bold prints in the west- streetwear is full of them. Now, however, we are seeing emoji patches on casualwear, accessories and even on shoes, which we think is a clear adaptation from the Kawaii trend. Much like the East that is using the trend to redefine the norms of gender, fashionistas in the West are using it to demonstrate individuality and add a hint of personalization. Glossier has gone so far as to provide individual stickers with each box to encourage people to express themselves through makeup.
The Future Of Fashion That Meets In The Middle
Trends have a way of being adapted and personalized to suit the sensibilities of the people who use them. We've observed this both in the case of the use of color as well as embellishments. Even lace, sequins and embroidery that are now becoming mainstream have strongly Asian roots and the Chinese stitch embroidery on silk dates as far back as 3rd century BC.
It wouldn't be an understatement to say that accessorizing clothes is a tale as old as time in the East. What trends, then, can we expect to see being adapted into mainstream western fashion from the East?
Here's what we think.
Cinch It!

Cinched cuffs were probably born as a way to protect one from the cold, but they're extremely versatile and work just as well on pants as they do on jackets and overlays. The best thing about cinched cuffs? They can make someone look taller than they are, and give more visibility to the shoes paired with them.

While we see this trend in the West as well, it is a more common feature of athleisure than haute couture. However, the Spring Summer '19 shows at both Seoul and Tokyo saw people dressed to the brim in cinched pants. It is probably only a matter of time before similar styles make it to the runways of New York City, particularly to match the needs of trendy jetsetters who like to be outdoors and make a style statement.
Ninja Shoes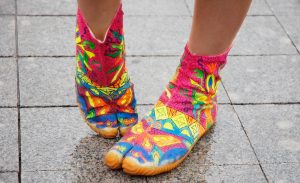 In all honesty, this is the one trend on the list that we are most looking forward to seeing on the runways, and soon. After all, Espadrilles and Gladiators have now become part of every good wardrobe capsule, so why not aim for something new?
Moreover, Ninja shoes are as comfortable to move in as they look, maybe more. A judicious combination of open and closed panels makes them ideal for hot and cool days alike, or to pair with dresses, pants and even shorts. What's more, Ninja shoes are material-agnostic and can be designed easily in a variety of different materials. It is time to channel our inner Arya Stark and move with as much function as with form.
Asian Goth:
If dark clothing and edgy cuts aren't what brands are looking for, there's a way to tone it down and make it look good. Enter, Asian Goth. With extensive use of tulle, embroidered accents and lacy collars, the gothic look finally has a chance for a gorgeous new upgrade. Moreover, these are motifs that needn't be limited to dark colors alone and can be used with just as stunning an effect to create formalwear, casual attire and everything in between.
In fact, we look forward to seeing more designers follow the non-traditional route to formalwear in the coming seasons, complete with netting, feathers and statement cuffs.
It's A Road That Goes Both Ways
We discussed the role of discovery-based social media apps and how they tend to influence consumer awareness, thus driving demand for trends across geographies. It is safe to say, then, that discovery goes both ways. Streetwear trends from the west are commonly spotted across cities in the East and pieces such as oversized jackets, transparent overlays and sneaker shoes are global phenomena today.
Moreover, special mention must be made of China which is the manufacturing hub for most European fashion houses as well. As a result, the average Chinese fashionista is in a better position to be aware of, and to aspire for, some of the designs we see so often on the runways in the other corner of the world.
Is it really time for a global fashion week? Not yet, perhaps. Moreover, we wouldn't want the unique pockets of creativity that blossom around the world to be condensed into one entity. That said, we can surely expect to see more amalgamation of trends, adaptations that suit the tastes of people on different places and eventually, a fashion spectrum that reflects the fact that in the end, we are all really just one.