Sustainable Clothing – Where It All Begins

8

min read
Reading Time:
6
minutes
Conversations around the environmental impact of the fashion industry is hitting a peak, and designers are taking notice. From talking about it through their designs and highlighting sustainability on the runway, every vertical in the fashion industry is adding to the conversation. The stakeholders who are helping deliver this message – Textile and fabric manufacturers and businesses.
Fabrics hold the power to influence fashion trends. Designers and brands in many ways rely on textile businesses to shift the narrative in the age of consciousness and sustainability. Major fabric brands that are industry leaders in the world of fashion & science laid emphasis on investing in the innovation-led supply chain. 
This effectively changed the course of the global fashion industry. The results of which can be seen through the sustainability filter that has been applied to the evolution of luxury brands, fast fashion, beauty businesses, and runway trends.
When Brands Become Enablers
Take, for example, Spanish apparel retailer Zara's latest announcement.
The fast fashion high-street brand declared that by 2025, the company would completely shift to using 100% sustainable fabrics to make all of its collections. Being a brand that produces 840 million garments (approximately) every year, this announcement by Zara offers a glimpse of the bright future that waits ahead when it comes to the green fashion movement. 
Inditex, the Spanish clothing retailer that owns Zara, is committed to producing zero landfill waste in the next six years. This is a big commitment that would require unwavering support of all those that are a part of the supply chain. Fortunately, for Zara, there's no dearth of enablers. 
The company's CEO Pablo Isla affirmed, "We need to be a force for change, not only in the company but in the whole sector. We are the ones establishing these targets: the strength and impulse for change is coming from the commercial team, the people who are working with our suppliers, the people working with fabrics. It is something that's happening inside our company."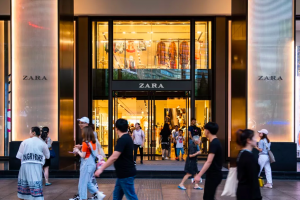 Many believe that the sole solution to fashion pollution is slow fashion. Indeed, less consumption would help to solve the climate crisis. But the ones who work within the industry have identified that the fast fashion business model is here to stay. What needs to be changed though is the raw material used to fuel the fast fashion trend, besides introducing alternate retail models like subscription, resale and rental to promote circular fashion economy. 
"While we as a manufacturing company we do believe that slow fashion and sustainable fashion will be the long-term solution to our planet's climate crisis, fast fashion will always be some part of the market. Fashion makes people good and that's what it's about at the end of the day. So we are really in the business of dressing people so that they can be confident… and comfortable," shared Dhruv Toshniwal, VP – Business Development at Banswara Syntex, an India-based global textile manufacturer.
As Isla succinctly stated, fashion brands are the ones that dictate the targets and sign the purchase orders. Environmental advocates and customers can put forth their demands, but it's the fashion houses, retailers and designers who have the resources to spearhead the change while meeting the design needs. This is why fabric brands have been developing textiles that make consumers look good without harming the planet. 
Sustainable Textile Initiatives
Zara and Inditex are just one of the many fashion brands that are enabling fabric companies to experiment with yarns & fibres. In 2017, fashion brands like H&M, ASOS, Eileen Fisher, Greenfibres, Lindex, Kering, Levi Strauss, Marks & Spencer, Nike, and F&F at Tesco pledged to switch to 100% sustainable cotton by 2025. 
In the Vue Podcast, Toshniwal shed light on his 43 year old company's sustainable fabric production process. Banswara Syntex that works with global brands such as Uniqlo, Marks & Spencer, Banana Republic, Ralph Lauren, GAP, Levis, and Nordstrom has a complex supply chain. And, fulfilling the demands of these global brands and also practicing sustainability is no mean feat. 
"We try to use as much natural fibre as we can, cotton or wool. But synthetic fibres do have their place in the apparel market. And polyester viscose is premium tailored suiting fabric. We are moving our production to 100% recycled polyester by 2021. That's a bold move given that we use 1800 tonnes of polyester every month. And we are currently at about 60% recycled…and this is recycled from plastic bottles that you find in landfills," Toshniwal disclosed. 
The fabric company is also switching to sustainable plant-based cellulose viscose 'Livaeco', which would be sourced from Grasim Industries. Ethically-sourced wool, organic cotton, and other eco fabrics would also be an integral part of the company's supply closet. It is also the single largest fibre-dyed mill in the world, which makes it earth-friendly compared to piece-dyed mills.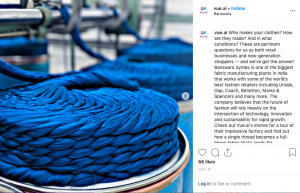 Besides making the end product as clean as possible, Banswara also diligently works towards making the manufacturing process clean and green. 
Toshniwal stated, "We have an affluent water treatment plant and 100% of the water that has gone through any chemical and dyeing process is passed through this treatment plant. We are ensuring that every drop of water that leaves our mill is zero discharge in terms of chemicals, so it is completely clean water. We are recycling 100% of that water, so we either reuse it in production… or we use the water to generate steam that runs our turbines that generates power."
While textile manufacturing companies like Banswara and Grasim are assisting top retail brands and luxury designers to follow environmentally-conscious business practices, top fabric brands like Gore-Tex are helping niche fashion labels to win with innovation. 
Driving Innovation
Arc'teryx, Canada-based outdoor high-end clothing brand credits Gore-Tex, a water-proof yet breathable fabric for its success. The fabric, invented by W. L. Gore and Associates in 1969, has empowered a host of outwear fashion labels like Arc'teryx to design technology-powered smart clothing. 
On its website, the Canadian label that started working with Gore-Tex in 1995, mentions, "Of all our suppliers there is one partner who was essential to the birth of our groundbreaking outwear. Our relationship with W.L. Gore is one of the reasons we are able to craft the world's best outerwear."
The fabric company's trademarked technology also helped Acronym to reach cult status in the fashion clothing world. Sustainability is an inherent part of the brand, which revolutionized the outwear industry with its technology. It focuses on fabric's durability and circular economy, which helps to scale down the percentage of textile waste and clothing that gets dumped in the landfill.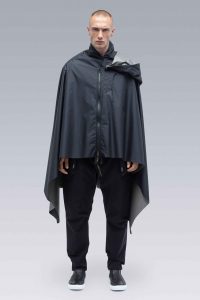 On the other hand, elastane fibre brand Lycra is going to recycle pre-used fabric and use it in the production process of its new fibre products – Coolmax and Thermolite, under its Planet Agenda sustainability platform.
Lycra's sustainability director, Jean Hegedus affirmed, "The Planet Agenda platform focuses on providing insights, technologies, products, and processes that can contribute to a more sustainable industry. Planet Agenda is built around three interdependent pillars: product sustainability, manufacturing excellence, and corporate responsibility. Through these pillars, we offer a variety of sustainable solutions focused on waste reduction, safe and transparent chemical usage, garment wear life, and sustainable resources."
It is this deep knowledge about the consumers, the market, fashion trends, challenges and available resources, which makes fabric companies one of the pillars of the fashion sustainability movement. After remaining away from the spotlight for decades, textile suppliers are stepping out and want to directly engage with the end consumers. 
Take, for instance, Tencel, Lenzing Groups's flagship textile brand. The company wants to be known as a sustainable brand amongst non-business consumers as well, the way Lycra and Gore-Tex are known. 
"We've completely repositioned the company; we've gone way beyond fibres. We've embarked on a very ambitious road to establish a brand recognised by consumers as innovative and sustainable," shared Lenzing's COO Robert van de Kerkhof, while speaking about their future plans. 
Future Through The Yarns
Lenzing is joined by many fabric companies and niche brands that want to ride the sustainable fashion wave to combat the climate crisis and reach the consumers directly.
Fortunately, innovators and inventors of today have access to technologies that could help big and new-age textile manufacturers to create clothes that don't harm the environment. 
Curious minds have already started working on e-textiles, bio-engineered clothes, and eco-friendly leather among other things. Big brands like Zara, H&M, and Madewell have rolled out recycling initiatives with the assistance of textile companies that are finding ways to incorporate waste into new collections. In addition, the sustainable fabrics that are produced in design accelerator programs and fashion communities show how mindful manufacturers have become about waste throughout the lifecycle of a product. 
The future looks green if textile companies and fashion brands remain relentlessly curious.