R-Vue: Crafting Alternative Futures for Retail

3

min read
Reading Time:
3
minutes
Vue.ai hosted its first ever Customer Conference R-Vue: Crafting Alternative Futures for Retail, in San Francisco on 15th November. We had Julia Dietmar, Chief Product Officer at Vue.ai, host some fantastic conversations with panelists like Keval Desai, General Partner, InterWest, Amod Setlur, Co-founder and VP of Products, Auryc Inc, Ravi N. Raj, CEO and Co-founder, Passage AI, Anand Vora, Strategic Partner Development Manager, Google Shopping, Meera Bhatia, COO, Stella & Dot Family of Brands Eileen Rizzo, Senior VP, IT, Ashley Stewart Inc.
This conference saw some deep retail insights on the future of retail, the evolution of retail technology and how AI is changing the way products are brought to the market and the rise of platforms of the future.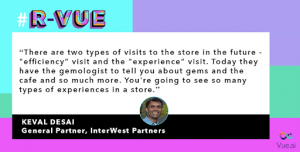 And we totally agree with Keval! With deep learning algorithms, retailers are readily adopting automation to get insights about their shoppers, and the information to the best of their advantage as well. AI can understand, learn and predict shopper behavior – faster, better and at scale.
Today, fashion brands and marketers are collecting consumer data to not only identify new customer segments but also gather a much more unified marketing view of the shoppers for "individualization". Today's customer needs individualization which takes into account their specific preferences and expects retailers to understand their intent real-time.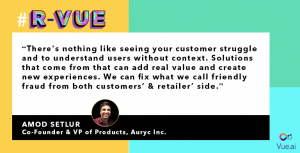 By helping marketers collect data, identify new customer segments, and create a more unified marketing and analytics system, AI can scale customer personalization and precision in ways that didn't exist before. Connecting customer data from sources like websites and social media enables companies to craft marketing messages that are more relevant to consumers' current needs. AI can deliver an ad experience that is more personalized for each user, shapes the customer journey, influences purchasing decisions, and builds brand loyalty.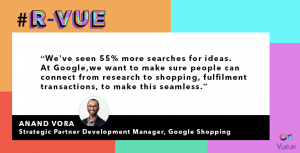 "Product data is everything!", stated Anand Vora from Google. And it is no surprise to see Google's continuous endeavor in reinventing their strategy and then bringing products to market. Chromecast with Pixel or Pixel with Daydream View is a great example to see technology-influenced user experience.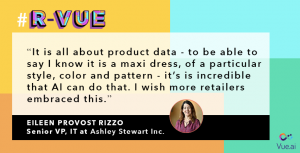 Retailers today are pushed beyond boundaries to transform their supply chain and customer experience. According to VoucherCodes.co.uk, 44% of retailers offer AI-powered chatbots to help shoppers while 54% are planning to in the next five years.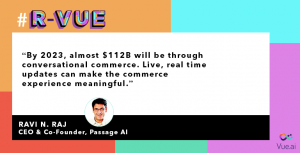 Bots and virtual agents have been interacting with us smoothly, helping our shopping journey, our experiences and interactions with the brands. Conversational commerce requires AI, more than ever before, to marry the true potential of artificial intelligence with the market intelligence.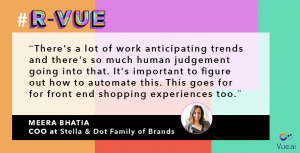 Is automation in retail a trend? Definitely! However, it is much more than that.  The retail industry is at a transformational point in history. Retailers today must cater to a large shopper base that has highly varied tastes and requirements.
It is incredible to see these leaders who are shaping up retail, talk about innovating with retail technology and automation, evoking conversational commerce, and transforming customer experiences. Retailers are increasingly experimenting with a different way to respond and also win their shoppers. And ultimately, it boils down to one thing – customer experience. Be it the evolving expectations of tech-savvy shoppers or the blurring lines between physical and digital experiences, the customer is clearly in the driver's seat. Today, it is no longer about selling your products, but selling experiences for your shoppers, to hook them to your brand.
Stay tuned for more updates on everything we learned from this amazing conference!