Five Tech Pop-Ups That Are Changing The Way People Shop

8

min read
Reading Time:
6
minutes
Marketing is different today. While outbound communication is still important, equally significant is bringing consumers into the brand experience organically. To do this, brands have been trying everything from Instagramable stores, to interactive mirrors and more. 
Joining the flurry of innovations are tech pop-ups. Usually, pop-ups last for a day or two but many brands are finding ways to install their solutions more permanently and to ensure that customers can interact with them in some interesting ways.
Here are five tech pop-ups that caught our eye recently.
The LEGO X Snapchat Clothing Pop-Up
Lego, Snapchat and clothing. As odd as the grouping sounds, their collaboration is the talk of the town. It goes to show how borders are swiftly blurring between fashion retail and other forms of retail. LEGO Wear's latest innovation, however, has no clothes in the store!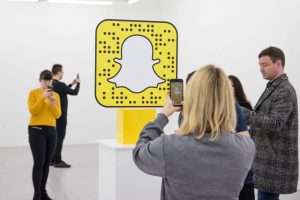 What's available instead is a Snap code that consumers can scan to enter a virtual world, complete with a DJ, arcade machines, even a LEGO bouncer and of course, products to be bought. What this allows LEGO to do is use its strongest brand recall elements- the LEGO block in ways that border some of the more famous movie counterparts in their visual appeal, while also offering a fun new way to buy clothes. Also, did we mention that everything is virtual, which means no money spent on an actual event, and it could be accessed at all times during the pop-up event.
Bridging the physical world with its digital counterpart is a viral trend that started with Pokemon Go, and is now being used as an effective sales strategy. After all, which tech-savvy adult shopper hasn't dreamt of being part of worlds that do not exist in reality?
AR-based innovations are a big trend in fashion retail because they allow people to gain a physical retail experience while never having to step out. Clothes and makeup can be tried on one's virtual self and, as the LEGO Wear experience proves, even a discotheque is not that far away.
Marie Claire's The Next Big Thing
Back in 2017, very few people had even heard of an experience store, much less been to one. Popular fashion and lifestyle editorial Marie Claire worked with MasterCard to launch a concept store, now better known as a pop-up, in New York City.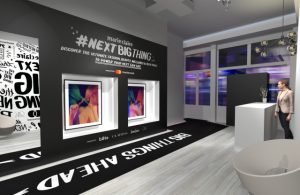 The concept was simple- what if you could walk into the magazine you love to read? The physical space was divided into the same three spaces as the magazine itself and customers could shop most looks instantly with the MasterCard stations installed everywhere. Oak Labs also provided smart mirrors that could recommend accessories based on every outfit, while Claire installed a skin analysis mirror. 
For fashion retail, this was a revolutionary new concept as customers were invited to immerse themselves in the experience of reading a magazine and interacting with the products mentioned therein in a more natural setting than having to scan a QR code.
If Instagram was as popular then as it is now, we are quite certain that #TheNextBigThing would have crashed the internet. 
This pop-up also clearly demonstrated just what is possible when brands put their minds to it. Much like LEGO's virtual disco, walking into a magazine was just one of those off hand ideas that found immense success and positioned Marie Claire as an innovative new partner in fashion retail.
Nike's Pop-Ups
If there's anything that Nike loves more than making a statement, it is technology. It has famously used plastic trash reclaimed from the oceans to build sports courts for those most in need. The flagship store on Fifth Avenue is an example of the wonderful customization that can take place when technology and fashion collide.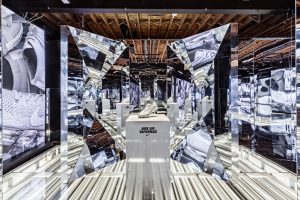 Taking streetwear and putting it to good use, quite literally, is what Nike achieved for its fourth Air Max Day. In order to find  Sneakeasy stores and be able to purchase select merchandise, enthusiasts had to log into a microsite (one for each location) and follow the brand's Twitter account to know where exactly a store was open. While that seems like a lot of effort for a shoe, fans of the brand seem to disagree because they showed up in huge numbers. The thrill of discovery was in itself a strong motivator for people to come, and to buy.
Nike has also had associations with pop-ups in Tokyo, where it has participated with other brands in a moving pop-up designed at a parking lot.
Even outside of tech, Nike is known for hosting pop-ups that give patrons a sense of exclusivity and increase sales by creating a demand-supply gap. Sneakers aren't going out of fashion anytime soon, and neither are Nike's pop-up concepts.
Luxury Tech Pop-Ups
While not in large numbers, luxury brands have also made a foray into using technology to host short, experiential events for their consumers.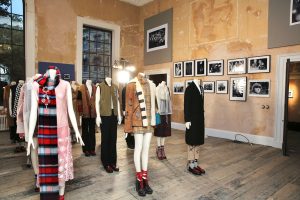 To celebrate the legacy of Christopher Bailey who stepped down from Burberry in March 2018, Burberry launched the Here We Are exhibit in London. It was, for all intents and purposes, a photography exhibition but it set itself apart by being shoppable through an iOS app. It quickly followed up with similar shows in Hong Kong and Paris.
Prada, too, debuted a rather quirky concept by launching a store with a Prada display but with no staff inside, perhaps in a nod to the rising tide of online retail.
The HermesMatic was a traveling pop-up that invited people to bring their Hermes scarves to the pop-up and have them dip-dyed in no time at all. Perhaps the most famous luxury pop-up of all time is the Louis Vuitton X Supreme collaboration that attracted attention by simply being the most unlikely one among them all.
Luxury brands are fairly traditional in their approach to sales since a majority of their consumer base still falls above the age of forty and is used to more intimate experiences. However, some brands are certainly waking up to the potential for advertising now to a newer, growing audience at a time when no one else is. 
Clinique's NYFW Pop-Up
If you've ever wanted to step into the world of color, Clinique's NYFW pop-up was THE place to be. In its first flagship store in the United States, Clinique did everything right including the use of technology.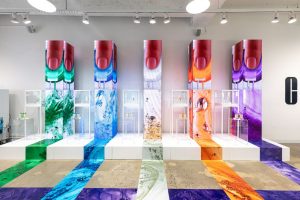 Launched in December 2018, the Clinique iD product range is a customized solution for several skin issues that Clinique hopes to address. Instead of making suggestions on a web portal, the Clinique pop-up during NYFW allowed users to have their faces scanned by an iPad to identify issues before being led to a personalized station for trying out the recommended product. But what's a beauty experience today without some very social media-worthy stickers? 
Adding a fun element to a relatively traditional brand, Clinique knew that it was targeting the millennials and GenZers- everyone else was buying as usual, in any case.
What pop-up stores do is help brands explore concepts that they may not be able to implement on a permanent basis without having adequate proof that their concepts will work. Particularly in the case of tech-enabled pop-ups, it is quite possible that the initial viral rush may fade and that the footfalls may fall. For bigger brands, this is a concern not just in terms of investment but also because an empty store does not bode well for business.
Instead, a pop-up allows room for experimentation while also coming with a short shelf life, thus prompting people to make more visits while the experience lasts.
Why Are Fashion Brands Launching Pop-Ups?
By 2020, millennials are expected to contribute 30% of all shopping revenues. Their annual spending will touch the $1 trillion mark, maybe even surpass it. What's more, millennials are also spending less on clothes and more on experiences. There's no better time than now for fashion retail brands to stop thinking of merchandise and start thinking in terms of experiences.
Pop-ups, around since the 2000s, are one way to achieve this target. Every pop-up is unique and thus stands a chance to be unique, to be different. After all, what's different is what trends online and brands know this. What's more, a pop-up is cheaper to host. Some reports suggest that it is 80% cheaper to open a pop-up than it is to open a retail outlet.
Also, something as short-lived as a pop-up has distinctive appeal because it generates FOMO, or the fear of missing out. Limited edition collections have always been successful for this very reason and pop-ups are no exception.
Adding modern, relevant technology to the mix helps brands develop concepts that would otherwise be unthinkable. Today, a pop-up store can just have VR glasses and gamify the shopping system to engage them. All of this with just a seating arrangement and a pair of glasses as opposed to investing in shelves, managing physical inventory, checkout- this is what is possible in the world of today.