Buying into the Brave New World

9

min read
Reading Time:
6
minutes
Thought to be the oldest shopping mall in the world — Trajan's market in Rome , built in 100 AD— was surprisingly modern. A multi-storey structure with stores, taverns, offices and warehouses, it brought hundreds of individual shops or 'tabernas' together into one convenient location. (One has to wonder if it was equally populated by nihilistic teenage mallrats.)
Two millenia later, the first online store was invented. Michael Aldrich connected a TV set, a phone line and a computer to create a makeshift teleshopping system called Videotex. The Internet was 11 years away.
"Videotex is more a new way of communicating, rather than another way of computing…" begins his paper, possibly explaining the wonders of remote shopping to his first customers, Thomson and Horizon Holidays, who sold packaged holidays.
And in between these two significant pivots in the normal course of events, Charles Frederick Worth was making another kind of history in France. He sewed a label onto his garments.
Just as the first 'byline' by princess Enheduanna, the high priestess of the Sumerian city of Ur who signed her poetry with her name, launched literature, this act of identity launched couture. The House of Worth opened in 1858. And as we go through the glamorous rigmarole of fashion weeks, it's nostalgic to note that Worth was one of the first fashion designers to create several designs for a season and show them on live models.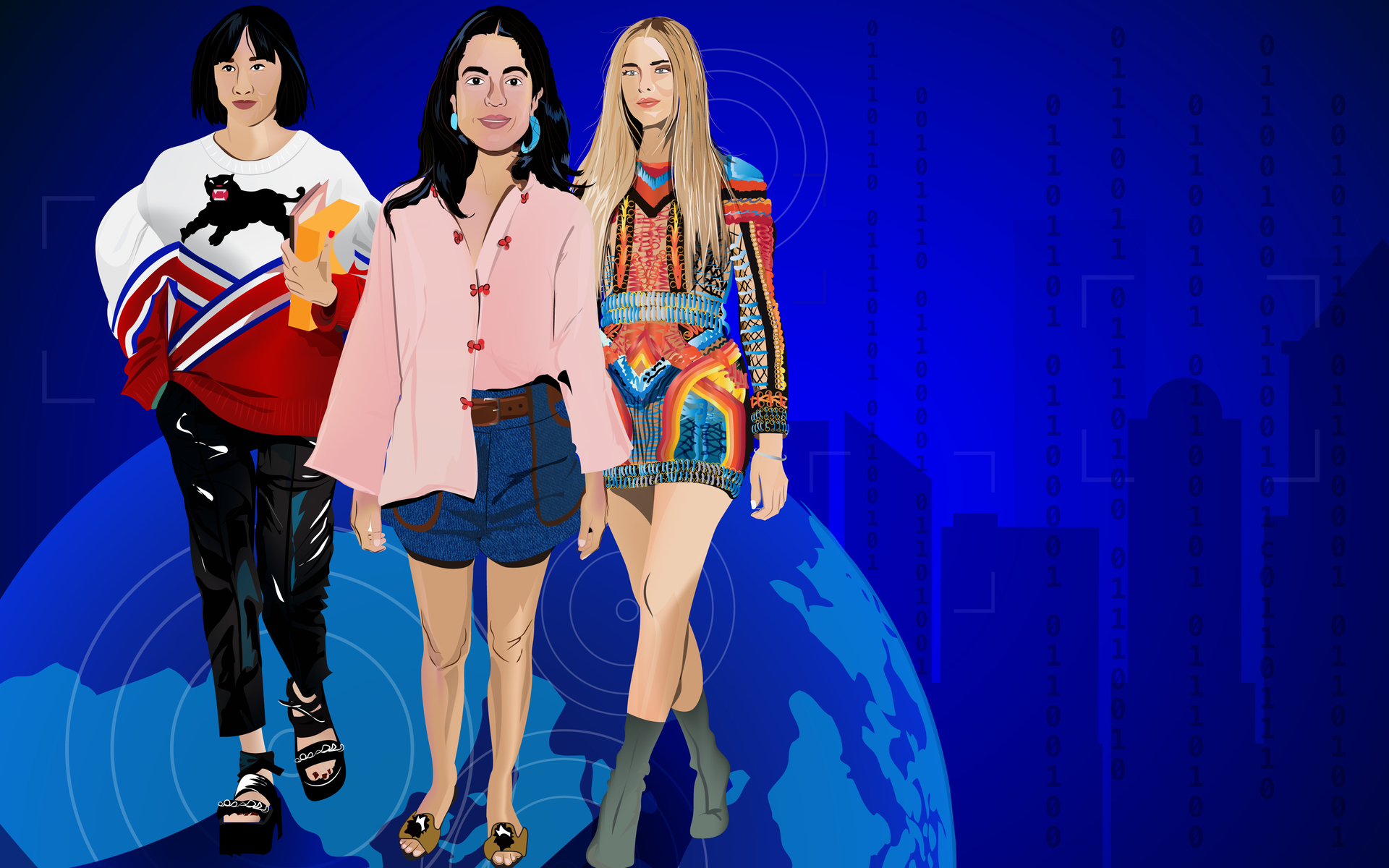 It's important to know this history. Because everything we've built since has been built on this foundation, this philosophy that lets us dip into the past for inspiration while we face constant change and technological advancement. The first Roman markets may have been very much like our own. Ecommerce was ahead of its time. Haute couture began with one man leaving his mark on his creations.
And now, the robots are here.
Hacks and Comebacks
The Internet exploded in the 90s.
When eCommerce started gathering momentum, surgical incisions and augmentations shaped it into something more sophisticated than the humble hack that started it all in the 70s, leaving physical stores lagging behind. The rift between online and offline began to widen.Then social media boomed.
Now hyper-connectivity rules the interwebs. Moving at a million miles a minute, user generated content pops up every second, public sentiment shifts at the drop of a hat and attention comes at a premium. Fashion immediacy was born under the aegis of new age bloggers and Instagrammers. Banner blindness progressed (or regressed, depending on your perspective) to social noise cancellation.
But if you can tap into this crazy network and make sense of it all, you hit gold.
Influencers like Leandra Medine, Eva Chen  and Chiara Ferragni are just as prominent at the coveted front row as fashion critics like Vanessa Friedman from the NY Times or editors like Anna Wintour. Passive communities are being replaced by ultra-active ones which follow influencers religiously, seeing them as more human and authentic alternatives to large, impersonal organizations.
And where was the physical store all this while? Growing, but at a slower pace than its digital counterpart. It wasn't until eCommerce plateaued that brick-and-mortar started catching up. There are still big, unexplored gaps in the online shopping experience, especially around catering to the idiosyncrasies of individuality, which are impossible to bridge without coming full circle to its physical origins.
Tom Kearnan, the Director of Global Fashion and Merchandising at Indochino—a menswear brand that has embraced the omnichannel model—says:
"I love that customers are able to move through channels seamlessly and interact with the brand when, and where and how they want.

[But] I'm still a little skeptical when it comes to online purchasing of unusual fabrics such as alpaca or yak, where the ability to touch and feel the fabric is more important."
With all this going on, eCommerce is facing a mid-life crisis of epic proportions. It's deviated from and is trying to get back to the two keystones that make shopping exciting: community and the human proclivity to own art and beauty.
The flickering computer screen is not always conducive to providing that (clichéd as it may sound) experience. Simon Forster, the executive director of Selfridges, recently said what's on everyone's mind, but no one wants to admit — that it's early days yet.
"The market is evolving at an increasingly fast rate. There are no retailers that I know who would say that they are there: that they are truly omnichannel, that they are truly digital. Everybody is trying to keep up with a customer that's evolving quicker than any organization can actually cope with."
Just as everyone prepared to down the shutters for good on physical retail, it became obvious that people were still visiting stores in droves. The social allure of shopping was alive and kicking. To see and to be seen in, to touch and to try, to have the experience of walking into a branded store and surrounding oneself with luxury— none of that went away.
Online shopping may be fairly young, but shopping itself is ancient. Bricks and mortar was suddenly hip again.
And technology started its slow-mo foray into retail with a more visceral twist, luring people back with desirability, wonder and romance. Take the Met Gala's Manus x Machina theme, or Minkoff's Store of the Future with magic mirrors and its flirtation with live-streaming VR at this year's NYFW.
Pause for a moment. Let that last bit sink in. I digress, but how often does a completely new medium become mainstream? Not a new channel, a new medium. Like print or film or electronic media.
We still haven't wrapped our heads around it. VR is so nascent that it's still a fancy way to get attention, rather than something that's tightly coupled with sales, which after all, is everything. The economies of scale is what's brought us to this point of advancement, and it's what will take us forward.
In the meanwhile, everyone wants a piece of the magic.
All eyes are on See Now, Buy Now. The idea that Burberry collections and the strictly guarded secrets of Tom Ford are now instantly available is a radical change from how the fashion industry has worked since the days of Charles Worth.
Snapchat and Instagram are the social channels of choice for brands because of their suitability for visual storytelling. Concept spaces, tech collaborations, pop-up shops, future fests and fashion tech activations are the order of the day.
But it has a more far-reaching impact on the fashion industry. For instance, Mr. Kearnan stresses that while social media plays a big part in today's world, buying is still a future-thinking process.
"As buyers, we have to remain ahead of the curve and use our influence in social media to create desire around what we have coming."
But for all the advanced technology that is being used, phygital is an ideal we are yet to reach. We're still using a hack over a hack over a hack. Each hack may be cool, but the fashion industry is still powering through growth pangs, fuzziness and uncertainty in the age of technology.
The Code Cracker
The system breakdown happens in real time. Retail fails when it attempts to go beyond its tech capabilities. Right now, it doesn't understand style or even its own visual nature. It's unable to take a ginormous swathe of users to distill what one person wants.
Customers switch devices and context every time they shop. They expect instant gratification. They don't draw lines around channels the way retailers do. They want access to what they see, wherever they see it. And they're constantly looking for anything that stands out in a sea of information overload. And they're puzzled and frustrated when it doesn't happen.
Consider this as we step into the fledgling era of fashion tech. We've reached the limits; our tech is straining at the seams trying to contain and make sense of the immense burst of consumer data. And the most promising way forward is not to make things bigger, but to make them smarter.
Computers, the Internet, virtual and augmented reality, 3-D printing technology and artificial intelligence all began as sci-fi lore, birthed in the minds of dreamers who had the uncomfortable task of thinking outside the box.
Some of them are now mainstream technologies powering systems across the world, attempting to crack the code of future commerce. And the rest are trying to get there. Because a hack over a hack, while it can complement the bleeding edge image of a modern brand is not quite so effective as a mature technology that's optimized for performance.
We already have intelligent robots working the warehouse floors, learning about user journeys as we browse websites, guiding us on the shop floor and delivering packages by air. However, they are neither 'common nor very good' yet.
But the possibility of thinking, reasoning machines taking us far beyond what we can achieve alone is the new goal to look forward to, the hope of our future. And like Aldrich, Worth and a host of other visionaries, the people who run with the promise of greatness and understand the past, are the ones who will lead the future.
So where do we go from here? What does being mindful mean in the era of technological revolution? How are brands going to tell the age-old stories of community, human emotions, knowledge, art and culture in new ways?
It comes down to one thing: the ability to pick out the right tech for the right reasons at the right time. Because, in spite of all the amazing things that something like artificial intelligence can do, it can't be fashion's silver bullet without mindful humans shaping its use.
Disclaimer: Mind Over Matter is an editorial series. The featured opinions in this article are not an endorsement of Vue.ai or Mad Street Den.