Top 5 Back-To-School Fashion Trends In 2018

6

min read
Reading Time:
6
minutes
Besides the major festive shopping seasons like Christmas and Thanksgiving, if there's another seasonal event where consumer spending rises, it is the back-to-school (BTS) season. According to Deloitte 2018 back-to-school survey report, 29 million families in the United States are likely to spend around $27.6 billion on back-to-school shopping in 2018. The average per household BTS spend is expected to be around $510 in 2018, compared to $501 in 2017.
Clothes and Fashion Accessories Dominate the Back-To-School Market
BTS shopping accounts for approximately 50% of the annual expenditure reserved for school related shopping. Out of the projected $27.6 billion, consumers plan to spend $15.1 billion on clothing and fashion accessories. The other categories that people are willing to spend on are school supplies ($6 billion), computer & hardware ($3.7 billion) and electronic gadgets ($2.8 billion).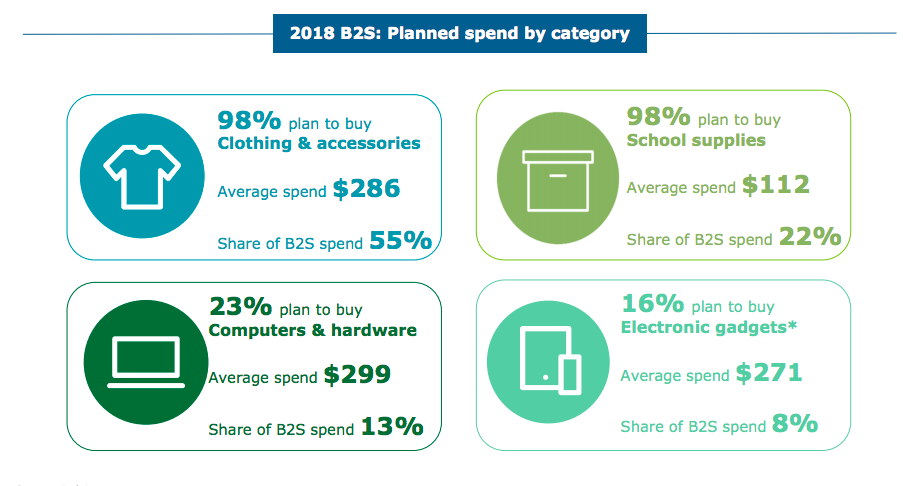 These estimates include in-store as well as online shopping sales of the retail industry. In order to capitalize on this shopping season, brands and retailers need to identify the latest trends & styles for 2018 and update their inventory accordingly.
Retailers can make it easy for families to take out the dollar bills while shopping for school, if their inventory features the hottest back-to-school fashion trends of the year 2018.
Falling For Autumnal Hues
The colour palette changes with the seasons and it highly influences the sartorial choices of adolescents, teenagers and young adults. The year of 2017 was all about green shades such as kale, treetop, moss, and lime. Last fall, people paired the various shades of green with neutrals, metallics, bright & deeper shades, and pastels.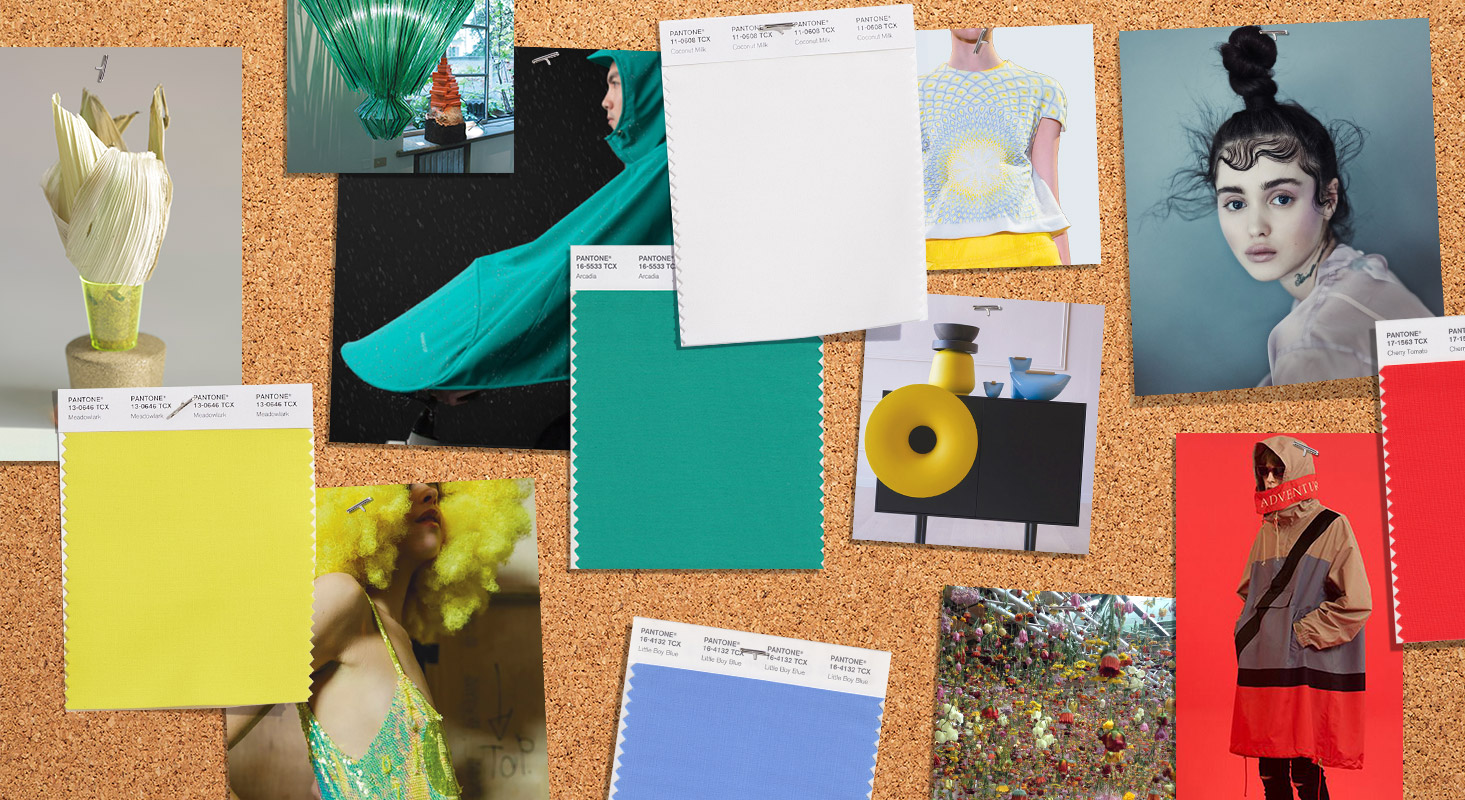 The Pantone Fashion Color Trend Report revealed that Fall 2018 hues include shades that 'evoke the feeling of leaves on the forest floor, rich plumage and twilight'.
Enigmatic ultra-violet, red pear, poppy red, twilight blue, ceylon yellow, crocus petal purple, olive green, quetzal green and russet orange are the unique colours of this season. The colourful explosion of red and orange is perfectly complemented by the classic shades of the season like camel brown, creamy tofu white, soft grey, toasty brown and Sargasso Sea blue. Harper's Bazaar declared brown as this season's unlikely key colour trend.
Checks for the Win
Check prints are in vogue and in all forms. The trend was hot in 2017 and still is, in 2018. Last year, the plaid patterns were limited to the classic colours such as grey, black, brown, deep red and dark green. The difference that we can see now is that checks are getting more colourful, experimental and layered in 2018.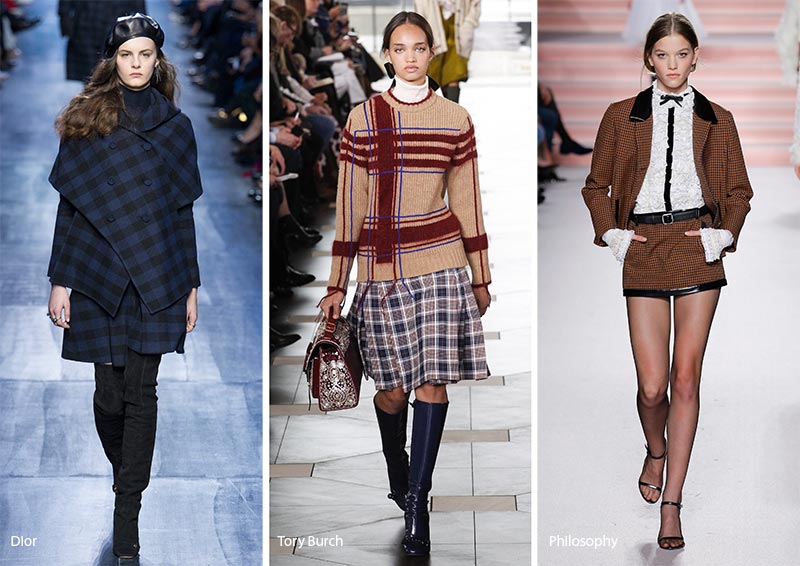 Teenagers and young adults are finding it hard to resist the unisex and timeless appeal of the classic checks, tartan, plaid, and gingham. From prepster to quirky chic, from hipster to nerdy, this pattern suits a range of personal styles. As these patterns are often imprinted on lightweight and soft but thick plain-woven cotton, flannel and/or wool cloth, the fabric is weather and dress-code appropriate for the school year.
Flannel check shirts are smash hits as it's versatile. The colourful plaid patterns have made their way to dorm rooms and classrooms after sashaying down the ramps. Layered plaid looks acquired by pairing colourful plaid pants, shirts and sweaters are extremely popular. Gingham skirts, ruffled trimmed gingham blouse, plaid maxi dresses, and plaid rompers in the shades of purple, orange, yellow and frosty pink are all the rage at the moment. Mixing plaid with floral prints, polka dot and slogan t-shirts is also creating waves in this space. Adults who are going back to school prefer to throw pastel blazer and sharp leather jackets over their plaid top/dress to embrace the quirkier and edgy look.
The Classic Denim
Denim never goes out of style. It is one piece of fabric that is stylish, adaptable, gender-fluid, long-lasting and school appropriate. However, the denim trends have changed.
2017 denim trends were all about high-rise cropped silhouettes with stovepipe straight fit. Throughout last year, high-school kids flaunted raw unwashed and embroidered denims.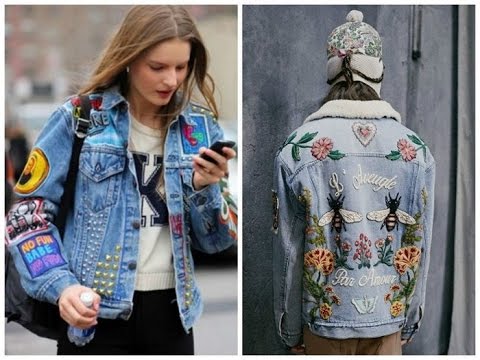 2018 is welcoming full-length jeans with a relaxed fit that sits comfortably below the natural waist, as opposed to high or low rise jeans. In terms of silhouette, straight and gently flared silhouettes with a little bit of stretch are trendy.
While a classic denim jacket can save any underwhelming outfit, BTS shopping trends for 2018 has brought forth other interesting denim styling tricks. Cropped patched-up shirt, jeans, skirt & jacket, denim-on-denim look, paper-bag jeans, mismatched denims, jeans with sewn patches, cropped overalls, and normcore romper & jumpsuit are all a part of 2018 Fall BTS trends.
Lounge Casual Wear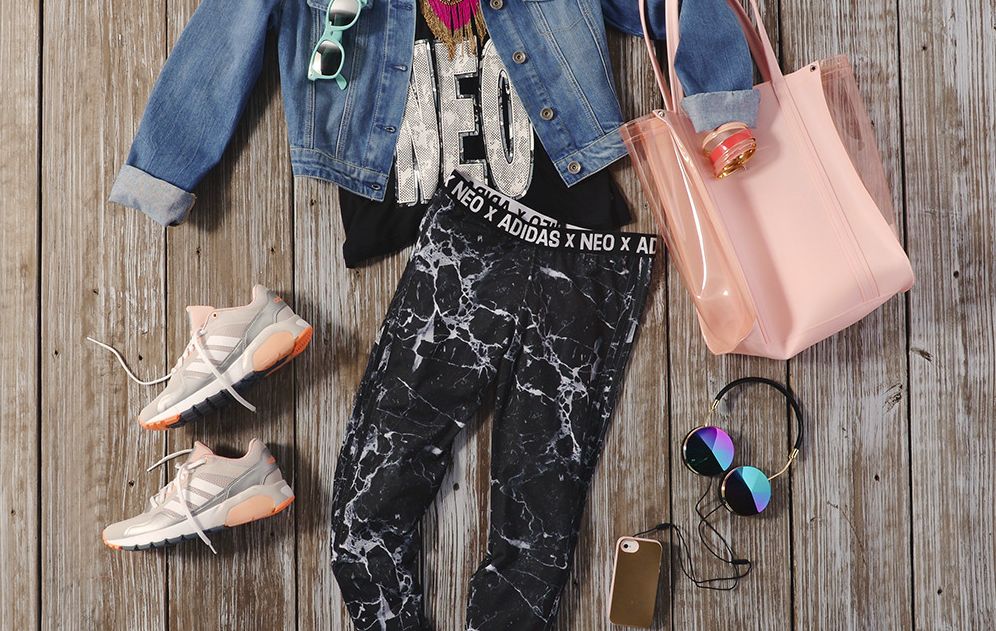 Clothing pieces like mesh jerseys, bomber jackets, running shorts, and tracksuits assist in styling the sporty athletic look. Polo shirts, rugby shirts, t-shirt dresses, leggings, yoga pants, pyjama shorts, varsity jackets, and jersey t-shirts are bestsellers well. As emphasis is on over-sized and comfy clothes this season, oversized pullover sweatshirts and lightweight hoodies sell by the dozens. Brands can get creative with the designs when it comes to sweatshirts, because acid wash, bleached, bright, cropped, colour block, slogan printed, floral, every design has a buyer.
Retro style is back, again!
The back-to-school fashion industry has travelled back in time. Iconic styles and prints from the 1970s, 80s and 90s are back in business. Retail industry experts are seeing a renewed interest in the 90s fashion trends, in particular the clothes featured on the massively popular American television show 'Friends'.
Urban Outfitters have stocked up shortall overalls and corduroy skirts; styles that were made popular by Friends sitcom character Rachel Green, which was played by Jennifer Aniston.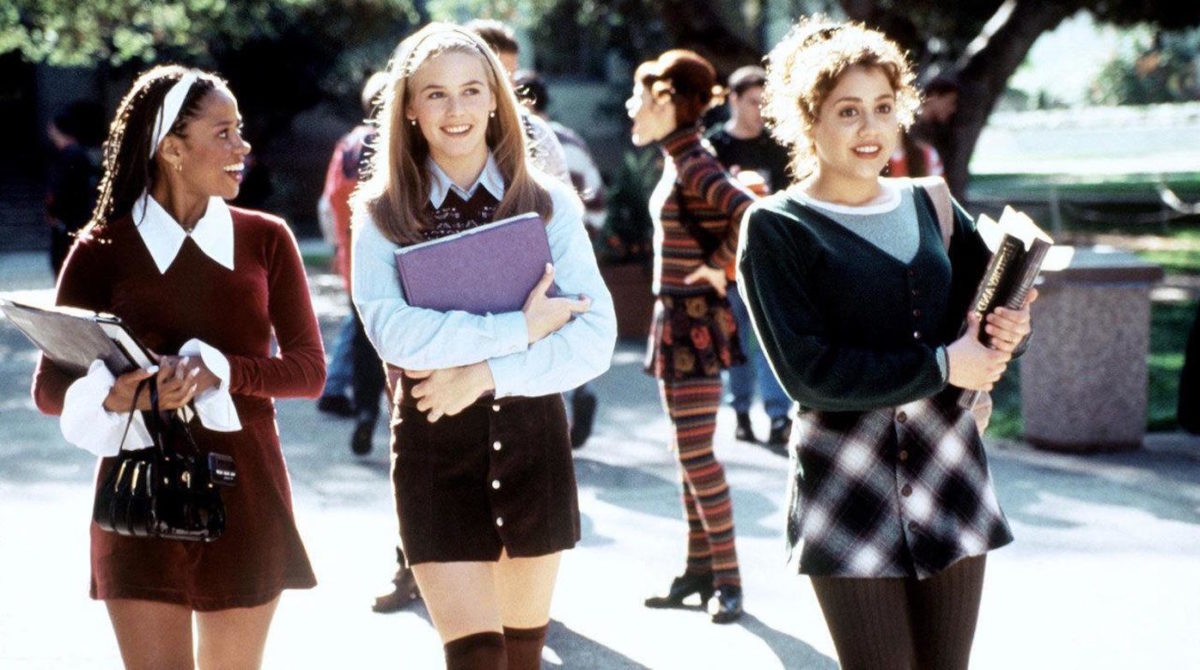 Katie Smith, Retail Analysis & Insights Director at Edited shared, "The trend is a leading back-to-school story, with a six-fold increase in the number of kidswear products described as 90s' style online in July… Chunky sneakers or Buffalo shoes alone, – a streetwear classic from the '90s with thick rubber soles – recorded a 76 percent rise in arrivals in kidswear this June."
The 70s and 80s design inspirations can also be found in denim, plaid and oversized trends that are in vogue right now. Be it velvet pants, grandma sweaters, flared jeans, prairie dresses, pedal pushers or chunky sneakers, the retro style has significantly influenced 2018's back-to-school shopping trends.
Celebrating Uniqueness
All the 2018 BTS fashion trends point to a bigger trend, which is Individualism.  Individualism is the dominant ethos; it is the reigning fashion trend. Teens and millennials' fashion choices are unconventional in the age of Netflix, Instagram and YouTube. The digital world has made it possible for the back-to-school generation to go back in time and cross geographical boundaries to discover fashion trends from across time and borders.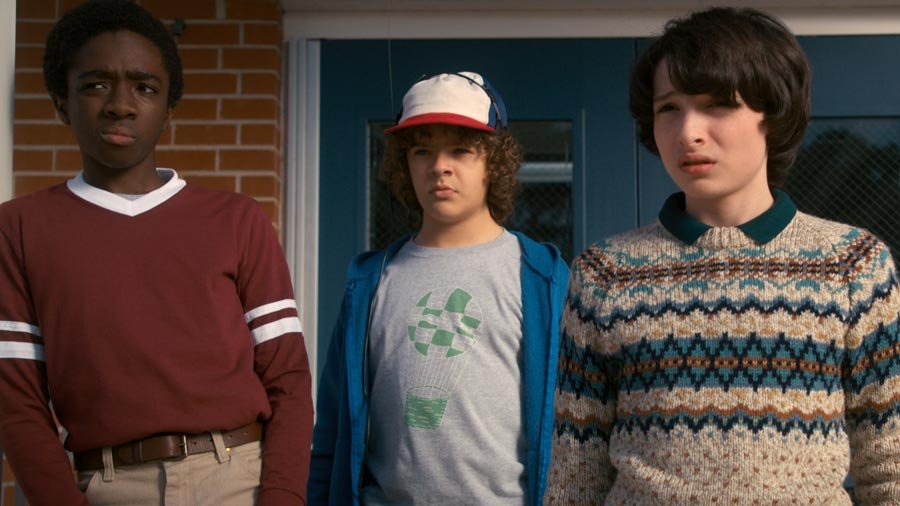 They want to wear clothes that infuse art, heritage and their identity into clothes. They are looking for retailers that enable them to buy a mustard yellow prairie dress, colour clock sweatshirt, denim patched-up jacket, thick white sneakers, and a plaid bag at one go.
Nearly 98% of the shoppers wish to buy clothing and/or accessories and are willing to spend about $300 on an average. Children's influence in purchase decisions of back-to-school clothing is as high as 80%, according to the Deloitte survey. With statistics on their side and an opportunity to pump up profits, retailers can lure customers with latest trends and the power of personalization, which would compel families to open up their wallet.